If you just can't find the perfect birthday present, Valentine's Day gift or Christmas present for that special man in your life, or you are just short of ideas for your own man cave, then this list of the best man cave gifts should help. Below are 100 unique man cave gift ideas from the extravagant to the small and affordable. There is a mixture of great gift ideas that should suit every wallet or purse.
100 Awesome, Unique & Unusual Man Cave Gifts That Will Make His Friends Envious
The 100 man cave gift ideas outlined below can fit into caves with many different designs and themes.
Man Cave Entrance Gifts
1. Secret entrance man cave gift
A really neat way to make a man cave truly a man-only space (no it's not sexist) is to conceal the entrance.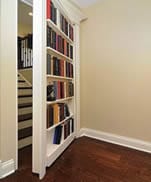 A concealed entrance is a great way to set your man cave apart from the rest of your home and it just looks cool.
You can install a hidden bookshelf entrance door as easily as any other normal door.
It will impress everyone to no end.
There are many different varieties of hidden door and many different price points.
By far the best type are hidden doors are those that are disguised by fully functional book shelves like this one
. You will need to supply the books to stack on it but absolutely no-one will know it is actually a door unless they already know one is there.
If you are on a strict budget and price is an issue then you can simply get a stick on adhesive wall mural that will disguise any door to look like a bookshelf for less than 40 bucks.
This fake bookshelf mural comes in different colors to match any type of door frame.
2. Guitdoorbell man cave gift
Let your visitors announce their arrival via a doorbell with a musical twist.
By installing a guitar-shaped doorbell at the entrance of your man cave you can have an extremely unique doorbell.
Every time the door is opened you will hear the plucking of guitar strings.
You can pick up a great looking cheap guitar for less than $50 on Amazon
and if space is an issue you you get this type of kids guitar
which is much smaller than a standard one.
A guitdoorbell is super easy to install and requires only a few cheap items (the most expensive being the guitar).
Installation instructions are in the video below which shows you just how easy it is to set up.
3. Man cave rules sign – the must-have man cave gift
Man cave rules signs come in various designs, shapes and sizes and are a hilarious way to lay down the law to your visitors and family members.
They spell out exactly the do's and don'ts for behavior in your man cave.
Place one prominently at the entrance to your cave to let everyone know that they are about to enter your personal space.
You can see a selection of great man cave signs on Amazon
but don't be afraid to shop around.

Man Cave Furniture Gifts
Below are some cool furniture pieces you can use in your man cave.
If you want a much more inclusive list and advice on how to properly furnish your man cave read the article outlining the steps to take to properly furnish your man cave.
4. The ultimate recliner – relaxing man cave gift
Forget having an ordinary seat or sofa in your man cave. Why not go for a recliner?
A man cave is really about relaxing and engaging in your favorite activities. So, what better way to kick back than in a recliner!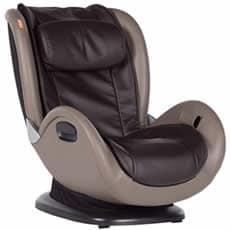 A recliner acts as your very own personal 'cockpit', from where you can watch TV, play video games, read books, have a drink and engage in your man cave activities in comfort.
There are some great very reasonably priced recliners available online
that would fit in well with any type of man cave.
5. Massage chair – taking man cave relaxation gifts to a new level
A massage chair is a recliner on steroids.
Not only can you recline and relax but you can get a massage while you do it.
If you decide to get a massage recliner you should go for a high-end massage chair like those that can be reprogrammed with 16 different massage sessions. Be aware though that the more reasonably priced recliners at the higher-end of the price scale pretty much do just as good a job as the super expensive ones.
Of course there is always an exception to the rule; if you have the budget then a deluxe massage chair like this one from Relaxonchair
can offer everything from a zero gravity massage experience with heating and air flow, to a deep tissue work-out and full body stretching.
If however price is a factor you must consider, then you can still get a great massage chair for much less money like this full body, zero gravity & air massage chair with foot roller, heater and a vibrating back
from Ootori which is half the price of the Relaxonchair.
6. The hammock man cave gift
This is very popular with pirate themed man caves.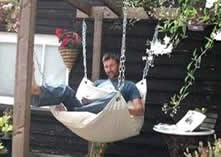 If a cot or a couch cramps up your space, your best option is to go for a hammock.
A wide variety of hammocks in different sizes are available online from stores such as Amazon
and you can also source them from your local hiking store though you will probably have to pay more as those types of hammocks will be heavy-duty water-proof models as they are designed for outdoor use.
Another option is a bean bag-hammock hybrid sometimes called a "beanock".
7. Beer barrel man bed – a man cave gift for the heavy sleeper
Although a bed is not something you would normally put into a man cave a bear-barrel bed is just too neat of an idea to leave off our list.
When you want to go in for something other than a regular bed, a beer barrel man bed is an amazing option that will give a distinctive look to your man cave.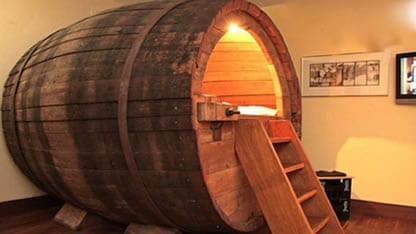 #Update: Unfortunately they have stopped making these specific beds but you can still get some neat ones if you shop around.
8. Cool man cave seating gift ideas
Seating is often the most important thing in a man cave, as I demonstrated in the article on man cave chairs.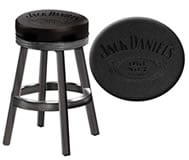 Stools and chairs are standard, but the latest trend is to place home theater or baseball stadium seats in your man cave instead.
Making the seating area unique to your interests is important for personalizing the space, so be creative in your choices.
There are a variety of different designs of seating from Harley Davidson chairs to Jack Daniels bar stools
and everything in-between.
If you are using a standard sofa consider getting a throw-over style blanket with a country flag
or your favorite sports team logo on it.
9. Baseball glove chair – the man cave gift that hits it out of the park
Although this could go under the heading of cool seating above, it is so unique it deserves its on place on our list.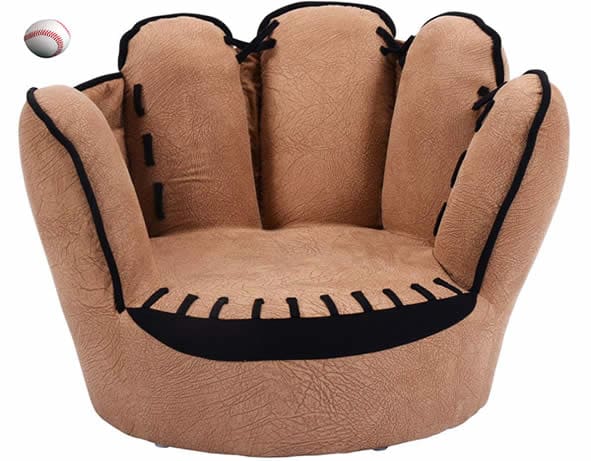 This chair announces what a great baseball fan you are.
It is snug and comfortable, and will look great in any man cave.
The fabric baseball chair
shown right is very well priced but it is not the only type available.
You can also opt for the more expensive leather baseball glove shaped chair with baseball shaped ottoman/foot stool (also available in football and a soccer styles).
10. Mounted alloy wheel table with glass top – an unusual man cave gift for the guy that has everything
For all you guys that love your cars there is a great table you can get.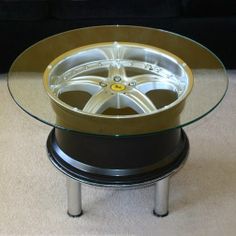 A table top made by mounting a racing car alloy wheel (or wheel from any car) with a glass top on a stand will nicely complement your formula car racing décor.
This type of table really helps make your man cave stand out.
However, as these tables are made from genuine Aston Martin parts they are only available from the UK. As it is only available from the UK you will have to pay extra for shipping but no-one else you know will have one of these.
Check it out here
.
There are many different types of unique table designs from those created from Formula One wheels to those using ship's wheels.
Check out the range of other tables available on eBay
.
11. Nintendo controller coffee table – a retro gaming man cave idea
Many men place old style arcade gaming machines in their man caves as a tribute to their childhood arcade visits. But what if you don't have the room or the budget for these large, bulky machines?
Well there is a great compromise available.
If you have grown up with video games, such as Donkey Kong, Super Mario Bros., and The Legend of Zelda then you'll have a soft spot for old-school Nintendo gaming. So, why not let yourself have hours of fun with a super cool Nintendo controller coffee table that adds to your man cave décor.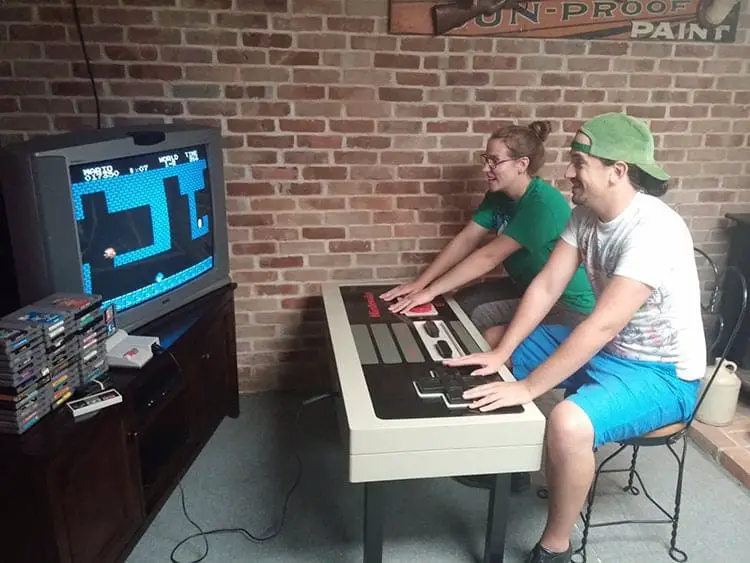 You can check out the latest gaming controller coffee table here
or the Nintendo Gameboy version here
.
Man Cave Fridges Gifts
12. A man cave mini fridge gift doesn't have to be boring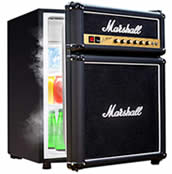 A fridge is in an essential item for almost every man cave.
Instead of the usual boring mini fridge why not go for a Jack Daniel's mini fridge or a Harley Davidson one?!
Or if you know a musician who has his man cave packed with guitars and musical instruments why not get the Marshall stack guitar amp mini fridge
.
13. Mini vending fridge – this man cave gift idea is super cool

You can take the mini fridge a step further with a mini vending machine fridge.
An old school mini vending fridge is certain to make you nostalgic.
Load it up with your favorite beverages and relive the old times!
There are a variety of designs you can choose from that include coca-cola themed large standing machines and the smaller 50's style machines that hold up to 16 cans (like the one pictured right).
You can see a huge variety of mini ridges here that should suit every taste, budget and man cave.
14. Star Wars fridge – this man cave gift is strong with the force
Remember Star Wars? Who doesn't!
If you loved Star Wars as a child then I'm sure wished you had your very own beloved R2D2.
Well now you can!
This remote control-enabled droid is available in the form of a moving fridge.
It not only cools for beverages, but also blinks its lights, produces authentic R2D2 sounds and has a projector function too.
On the downside, it's super expensive and only ships from Japan – see it here.
15. Han Solo in Carbonite LED fridge – may the force be with this man cave gift
A much more affordable Star Wars fridge alternative is the super cool LED fridge styled after Han Solo's capture in carbonite from Star Wars Episode V: The Empire Strikes Back?
This is the coolest man cave fridge I have ever seen (so I just ordered one).
You can also pick up Darth Vadar and other Star Wars character themed units.
This is the perfect gift for any Star Wars fan's man cave.
If you are a huge stars wars fan, or know someone who is, and are in need of a man cave fridge then check out the man stars war themed mini fridges on Amazon
.
Man Cave Bar/Drinking Gifts
Below are some great ideas for a man cave bar. Due to space restrictions I couldn't include everything I would have liked so if you don;t see what you like I suggest you visit Home Wet Bar for other great man cave gift ideas.
16. Draft beer on tap – a gift for the thirsty man caver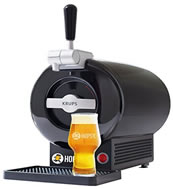 Does someone you know have a man cave bar or wishes he had one?
Consider getting this home draft beer appliance by Krups that comes with its own tap handle for easy pouring.
This is the perfect gift for the man caver who wants access to genuine draft beer in the comfort of his own man cave.
Check out the Krups man cave draft beer appliance here
or if you prefer the draft beer brewing kit then check it out this extremely popular model Amazon
.
17. Glow-in-the-dark beer pong set – fun man cave gift

Ping pong balls don't always come in boring white.
These pongs serve a dual purpose – they can brighten up any space (great for retro or futuristic man caves) and offer a chance to play some glow-in-the-dark beer pong games. Available here
.
18. Beer caramelizer – a gift for the beer connoisseur
Caramelizing is an ideal accompaniment to sweet beverages, since it creates a richer and smoother taste.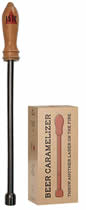 A beer caramelizer does all this by reacting with the sugars to provide a new tasty flavor to the beverage.
You will need a heat source for the tap handle (which makes it a great camping accessory).
It is great for outdoor man caves with a fire pit or open fire.
View many different types of beer caramelizers here
.
19. Fake gun holster wine bottle holder – yeehaw, this man cave gift goes west
Do you like a nice glass of chianti with Tim McGraw or Marty Robins playing in the background?

Then, you can introduce a Western flavor to your man cave by getting a fake gun holster wine bottle holder.
Made from high-quality resin, it has an embossed-leather design on the holster complete with revolver and bullets.
Of course there are other types of bottle holders that include motorcycles, cats, monkeys and even a gravity defying chain bottle holder
.
But by far the most impressive one (in my opinion) is the fake gun.
Checkout the neat fake gun and holster wine bottle holder here
.
20. Revolver and holster wine bottle opener – a western man cave gift
To continue the Western theme why not get a unique gunslinger wine bottle opener.
A silver or pink 6 shooter encased in holster will help complete the Country theme.
The bottle opener works to automatically uncork a bottle when it is placed in the barrel of the fake gun.
These bottle openers are available from Amazon
.
21. Cowboy boot bottle holder – a man gift in the same theme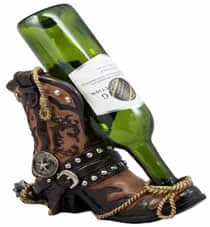 Does your man's man cave have a western feel?
Even if it doesn't you can infuse a Western flavor into any man cave with this giddy up cowboy boot bottle holder.
This authentic-looking boot holds a full liquor bottle and it's an item that fits perfectly with a cowboy's bar décor.
See the several different styles of cowboy boot bottle holder to choose from here
22. Lead-free handcrafted ship decanter – land ahoy! This man cave gift is pirate treasure
This beautiful decanter is sure to become a centerpiece of your man cave even if you don't have a man cave bar.
Even as an ornamental piece, in say a pirate themed man cave, it looks fabulous.
The glass ship inside this decanter is an eye-grabber and will double as a beautiful ornament as well as a liquor or beverage dispenser.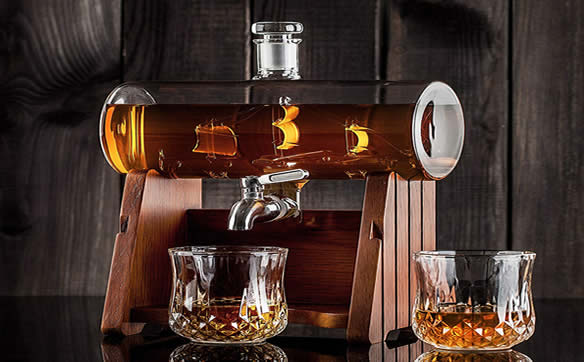 Check availability of the Milburga Sailing Ship Decanter with 2 Lead Free Scotch Glasses and Oak Stand
.
23. Etched world globe liquor decanter – a man cave gift from around the world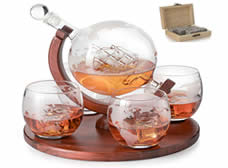 Staying with the nautical theme you can add a beautiful map to your setting instead with this world map decanter set.
This unique glass globe, etched with a map of world, is supported by a mahogany stained wood display.
Inside the decanter is a artfully worked detailed glass antique ship.
It is heat-resistant and lead-free with a glass stopper.
This beautiful bar piece comes with with 4 whiskey glasses each with a world map etched on it.
Check the availability of this Etched world globe liquor decanter here
.
24. Glass skull decanter – a gift for that badass man cave rocker
This is another striking decanter set.
If you want something more ghoulish, go in for this macabre glass skull decanter that comes with is very own skull glasses.
There are two different types of glasses to choose from; small tumblers with 3D style skulls inside or skull shaped tumblers.
This set is manufactured by Royal Decanters so you can be assured of both finish and glass quality.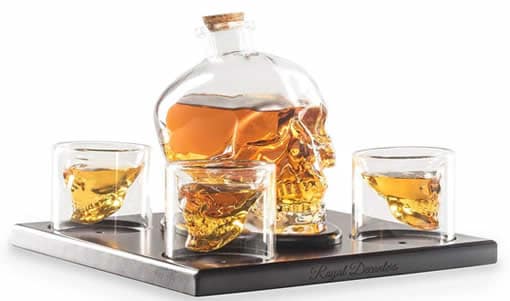 Check availability of Royal Decanters skull shaped decanter set here
25. Stone drink dispenser – the whiskey lovers gift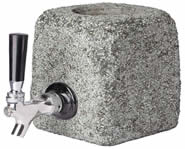 This dispenser from Wyndham House is the type one would imagine Fred Flintstone would use.
Made from a rough-textured granite block this dispenser has an opening at top to take in an inverted liquor bottle.
It is fitted with a tap and measures 7-1/4″ x 5-1/2″ x 5-1 /2″.
Check out the granite dispenser here
.
26. Thor's hammer bottle opener – Marvel at this man cave gift
Here's another neat bottle opener but this time for beer or soda bottles.
Opening beer bottles with Thor's hammer is sure to thrill your buddies.
Keep it handy on your bar counter.

Check out Thor's hammer bottle opener here
.
27. Engraved 50 caliber bullet bottle opener – this man cave gift hits the bullseye every time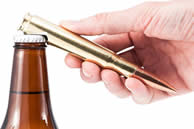 When you have a western or hunting, or military theme why not open your bottles with a bullet?!
Want to show off some real military stuff?
Get hold of this bottle opener made from a real 50 caliber US Military fired round. Perfect for veterans and patriots alike.
This personalized 50 caliber bullet opener is available on Amazon
.
Of course there are lots of other types of novelty bottle openers from snipers to the Millenium Falcon.
Check out the wide range of novelty bottle openers available here
.
28. Alcohol shotgun – this man cave gift shoots straight
This is really a fun shotgun. Aim it at your drinking buddy and fire.
It 'shoots' a steady stream of 1.5 ounces of alcohol straight into the mouth (as long as your aim is good).
This perfect accessory for drinking games.
Get the alcohol shotgun here
.
29. Shot glass checkers set – a man cave gift drinking game with class
Now here's an interesting way to drink and play!
The rules are simple: pour out the shot glasses with your favorite tipple and gulp it down once if you get jumped or fill it up again and down it twice, if you get crowned!
There are different types of boards available.
See the full range of shot glass checkers sets here
.
30. Shot glass roulette drinking set – a man cave gift game for the gambler
Ever played roulette? Well here's an interesting take on it.
You pour different types of drinks in numbered glasses, making sure you add a few glasses that contain awful tasting beverages into the mix and place them in the slots of the roulette table.
Place your bets and spin the wheel.
If the wheel comes up with your shot glass number you must gulp down the shot in one go.
You then get to spin the wheel and continue with the game until all of you are drunk silly.
It's a bit like Russian Roulette but with alcohol instead of bullets … and of course you get to play with a roulette table.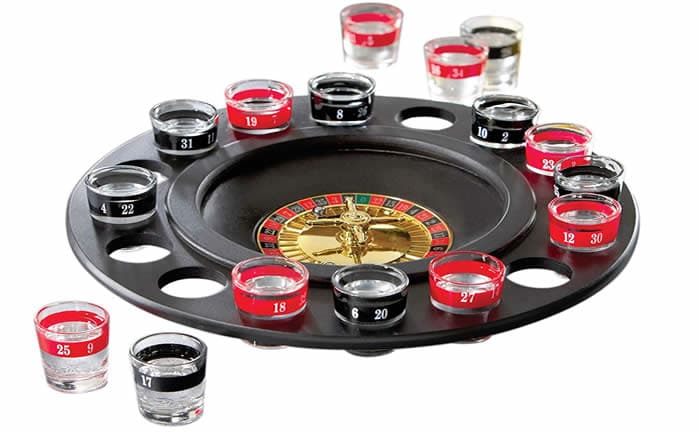 Pick up this shot glass roulette game here
.
31. Take the shot – man cave golf drinking game
This mini putting green playing board comprises six shot glasses complete with golf accessories and a mini 19th hole flag.
Gulping down a shot depends upon taking a shot, missing out or letting someone else take the shot.
Take the Shot game (also available in wheel of fortune and other designs) is available here.
32. Whisker dam – a man cave gift for the hairy faced man caver
Don't want an unsightly beverage soaked mustache while swigging beer or consuming other frothy drinks? Then a whisker dam will help you keep your whiskers clean.
This handmade copper product is adjustable and fits most glassware.
The perfect present for that hairy faced beast you know.
Find this 'umbrella for your face' on Amazon
.
33. Glass froster – a man cave gift that cooler than the others
This is for the man cave bar that has everything!
This one may seem a little expensive for a home bar but if you know a man caver who thinks his bar has everything just show him this.
Your chilled beer or wine becomes lukewarm in no time in a normal glass especially in warm weather or a heated room. So, why not instantly chill your glass by frosting it with the amazing glass froster.
It requires no power connection, just a CO2 tank.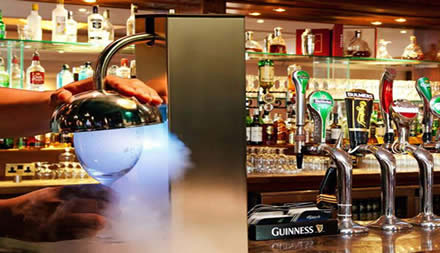 Get more information on the glass froster here
.
34. Whiskey stones – a man cave gift for single or double malt
How do you chill a drink at room temperature?
Add ice cubes, right?
Wrong!
Ice cubes dilute the drink. However, chilled whiskey stones won't.
These stones do the same job as ice cubes but they preserve the natural flavor and aroma of the drink.
If you or someone you know is a connoisseur of fine whiskey then these stones are a must-have item.
They also work great with just about any type of beverage that you wish to keep cold but don't ant to dilute the taste with ice cubes.
You can get standard round whiskey stones that look great but this whiskey stone bullet set
makes a great man cave gift for the whiskey drinker and it is available at a very reasonable price.

A sink that dispenses only liquor is sure to surprise all your man cave guests.
It has a panel with buttons that give a choice of liquor or soft drink you want.
Just press the button and get your preferred tipple.
You can get it here.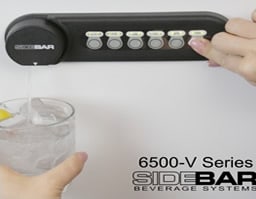 36. Gas pump beverage dispenser – retro man cave gift

If you'd prefer a more old-school antique feel to your beverage dispenser why not try a gas pump?
This quaint article can be filled with your favorite tipple and works just like the type of gas pump you see in ghost towns.
If you have a 40's, 50's or 60's themed man cave this gas pump will be a great addition to the decor while being fully functional.
It's cheap and tons of fun.
Get your gas pump beverage dispenser here
.
37. Personalized beer tap handle – man cave bar gift with a difference
A personalized beer tap handle visible behind your man cave bar looks oh-so-classy.
This beer handle is made of wood with a laser-engraved handle, and its glossy black base with golden accents is perfect for your man cave bar.
It is perfect for home bars or kegerators.
There are a few different popular designs available and you can check them out here
.
38. Wood beverage dispenser – eco-friendly man cave bar gift
Display and serve your man cave liquor in a unique way.
These liquor dispensers are handmade from urban harvested Ohio hardwood trees. They have a water-born clear finish.
Each log shaped dispenser is approximately 9″ tall and 4″-7″ wide and will weigh on average about 7 lbs. You can be assured that each one you get is completely unique as no two are alike.
The liquor or soft drink is always contained in a food and beverage safe material before it is poured from the classy brass spout.
It keeps your beverage sealed well and accommodates a larger variety of bottles.
Check out this real wood log dispenser here
.
39. Whiskey barrel trash can – a man cave gift for the country lover
I just love this.
This is perfect for a nautical or pirate themed man cave – like our Master of the Sea themed man cave design.
A whiskey barrel sitting in a corner of your man cave looks quaint but it is also practical.
It is fun to let your friends discover that it is actually a trash can.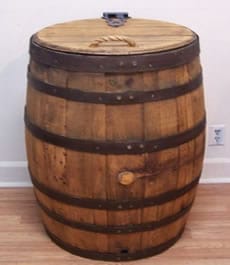 Get the old whiskey barrel trash can with double hinged lid here
.
40. Kegerator – the ultimate man cave bar gift
This is beer on tap when you don't have a man cave bar or if you want to build a beer pump cheaply.
A kegerator is especially good for man caves that have no bar but that are used to drink in.
With a kegerator you don't need a bar pump!
A kegerator gives you ice cold draft beer at the touch of a button.
The intuitive control panel lets you monitor, and adjust if necessary, the temperature settings to ensure your beer stays fresh and cold at all times.
Depending on your preference, and your beverage, you can set this kegerator to cool your beer or stout to any temperature between 32-50 °F for a cold glass every time.
The deep chill mode can be used for quick cooling of a new keg if you need to change it during a night of socializing in your man cave.
This is the perfect gift for a guy who would love a bar in his man cave but does not have the available space or the budget.
Kegerators come in different styles with prices to suit every budget.
Check out the wide range of Kegerators here
.
41. Alcohol vaporizer – a man cave gift with the sniffles
Don't feel like experiencing the hangover that comes from drinking your booze? Then why not sniff it.
This is where an alcohol vaporizer comes in handy. Inhaling the liquor vapors, gets it absorbed directly into your bloodstream producing similar effects to drinking but without talking into your system all those toxic chemicals.
This is a fun unique gift for a man cave without a bar.
This little item has mixed reviews from users. After a bit of research I discovered most of the negative experiences are due to the fact that some people expect this to get them drunk. It won't do that.
What you can expect from vaping alcohol is a slight pleasant buzz. In theory if you took enough you could probably get drunk but it is unlikely you'd want to use that amount of expensive alcohol when you could just drink it.
However, as an addition to a party or social gathering it is pretty neat and it's cheap enough to make the purchase worthwhile. All in all it's a good stocking filler.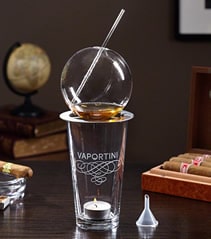 Check out this vaporizer here.
42. Handcrafted drink coasters – a man cave gift that protects the man cave furniture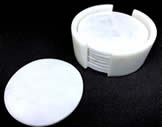 Decorate your bar top with handcrafted custom coaster set with engraved designs.
Or better still why not go for hand crafted Indian white marble coasters?
These not only look good, but also prevent glass bottom marks forming on table tops and staining furniture.
See the wide range of handcrafted drink coasters here
43. 16th Century Italian replica globe bar – the "figo" man cave gift for the history buff

If your man cave is missing a bar then this beautiful world globe cart could be the solution.
Infuse an old-world charm into your man cave with this antique Italian globe bar with an all-wood construction and metal rolling coasters for full mobility of movement.
It not only carries your favorite drinks, but can also be easily maneuvered anywhere inside your den.
Sixteenth-century Italian replica globe bar cabinet.
44. Espresso from an engine – a man cave gift that fires on all cylinders
Let's see, you have catered for liquor and soft beverages in your man cave, but how about coffee?
Why not install a technical looking espresso machine designed after the grand prix engines of the 90s?
If you have a sports man cave that focuses on Formula One racing, and have a budget of $9,000 for a coffee machine, then you could go for the stylish Espresso Veloce V12 coffee machine fashioned after a racing car engine.
It's price tag is a bit too rich for my blood but if you have the money why not?!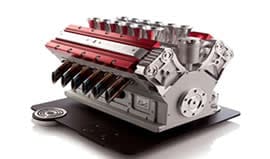 For those of us you don't have $9,000 to spend on a coffee machine a retro coffee machine
is a good stylish alternative.
Man Cave Entertainment Gifts
45. Television – a must-have man cave gift
Almost every man cave needs a TV, with only a few exceptions like one dedicated solely to reading.
If you are like most man cavers then you will be a fanatic sports fan.
However, if like most man cavers your wife is not a big fan sports (at least not in the way you like to watch them) and is instead a die-hard follower of daily soaps, reality TV or other non-sports related programming then the TV in the living room can often become a bone of contention.
Luckily, peace can reign again at game time if you just get a separate TV for your man cave.
Television sets vary in price depending on the size of the screen and the quality of the images it produces but you can get really good deals if shop you around.
If you want bigger but not pricier then consider getting a unbranded, or unknown brand name TV as the savings can be hundreds (and sometimes thousands) of dollars. But you can even get brand names TVs cheap if you know where to look.
For example, you can pick up a large High definition Smart TV for about 300 bucks like this 50 Smart LED TV HDR – Fire TV Edition Toshiba
.
Smaller TVs are considerably cheaper and may produce just as good a viewing experience in smaller man caves.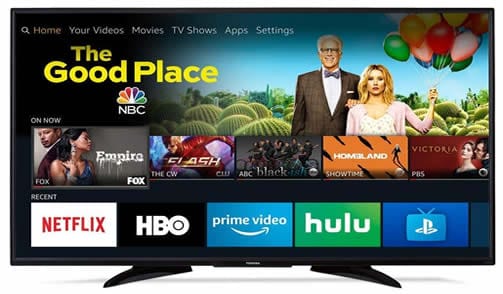 46. Music system – a man cave gift for the music lover
Sometimes a TV just isn't enough.
At those times when you need to kick back with some good vibes a TV speaker usually isn't good enough to create that perfect musical mood.
With a wireless speaker you can easily hook up your digital music devices and control them remotely. Most will also connect to your TV for better surround sound.
Prices range from about $100 for an entry level Alexa-controlled device to several hundred dollars for higher-end fully smart speakers. The one shown below is a
Bose Wave SoundTouch Music System IV
that can be fully integrated with Alexa for effort-free voice control.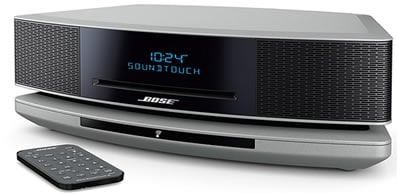 Of course if the man cave's deign is more retro or '70s, 80's or 90's themed then you may want to get a music system with an incorporated turn table for playing all those old vinyl records. I personally use this CD and vinyl player
as I have a large selection of old CDs and vinyl records – anyone born before the Millenium knows the superior sound produced by an inferior vinyl record (I know it's an oxymoron). Even Sony have realized this.
You can get a more vintage turntable
for a nostalgic look if you prefer.
You can get a wide variety of vinyl players and I especially like this Electrohome Signature 4 speaker natural wood vinyl player made to look like a vintage radio
which is super cheap but looks great and produces a fantastic sound.
47. Smart remote – a man cave gift to rule all man cave gifts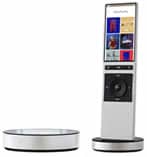 Now that you have your visual and audio entertainment sorted out it's time to make their controls high-tech.
This eyeball-grabbing universal smart remote is not only good for browsing TV channels on your Amazon Fire TV, firestick and/or Google Chromecast, but it can also function as a remote control for your lights with smart bulbs, thermostat, music system, PlayStation and so much more.
This is is the way to go if you want your man cave to be fully automated; the only thing you'll have to do is pour your own drinks!
The one shown to the right is the NEEO Combo smart remote that retails for about $350 but you can get alternatives for much less by shopping around in local electrical stores.
48. Pool table – a man cave gift that sinks the 9 ball
If your man cave can accommodate it, there is nothing better than a pool table to make your stay entertaining and to thrill your buddies.
You can pick up some great tables, like the Fat Cat 7 ft pool table
but if you are willing to downsize a little you can get a very good pool table that can also be used as a multi-purpose foosball table like the one mentioned in #49 below.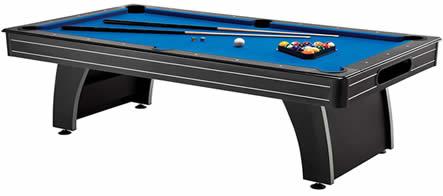 49. 3-in-1 Foosball table – the man cave gift that gives 3 times as much
Who doesn't like foosball?

But wouldn't it be better if your foosball table came with pool and slide hockey too?
You can get a 48″ 3-in-1 pool/billiard, slide hockey, foosball combo game table available from Amazon
!
50. Foosball cocktail/coffee table – a man cave gift that kicks it
A dedicated foosball table is only for playing foosball … right?
Not necessarily!
Why not have something that serves a dual purpose, like a foosball cocktail/coffee table that is a regular glass-top table with a fun foosball game underneath.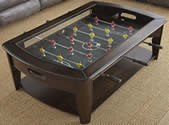 This fun, yet functional item, is available online here
.
Of course you can always just opt for a normal foosball table.
Foosball is addictive and gives you hours of fun. What's more a foosball table doesn't occupy a lot of space.
You can opt for the standard table or get one with foosball stormtroopers for a more unique gaming experience.
51. Card/Poker table – a man cave gift for the serious gamer
A card or poker table is a great way to socialize with buddies.
Place a card in your man cave to get hours of unadulterated joy playing poker, rummy or any other card game of your choice with your buddies.
There are even some drinking card games that can make your plays even more fun.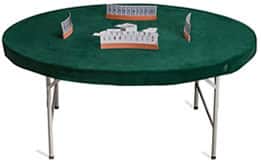 There are different styles and types of card tables available some round, others long and rectangular and you can even get hexagonal shaped ones.
Check out the wide variety of poker tables available here
.
52. Dart board – a British man cave gift idea
A dart board is a great game for playing with your buddies.
And when your male friends arrive, you can show off your skills by challenging them to a round or two of darts.
If your man cave has a bar in it then you really need a dart board though it would fit well with any type of man cave used for socializing.
Be sure to get one that comes with darts and a chalk scoreboard like this tournament size Viper League Pro.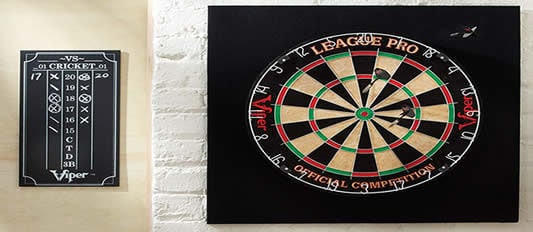 53. Movie pit – the man cave gift you can enjoy
Why not create a cool movie pit as a centerpiece in your man cave? Though it may take a lot of work to complete it will look amazing when finished.
Start by digging up a bed-sized pit in the floor and pad up its sides with faux leather. Then lay a thick foam mattress at the bottom.
Now dive into it and watch your favorite games or movies on your wall mounted TV.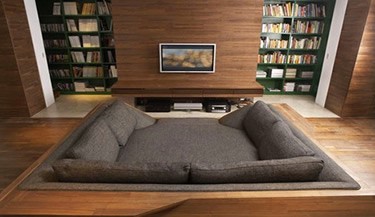 54. Chess set – gaming just got serious with this man cave gift
If you are a person who never gets tired of indoor games, especially if they are require deep thinking then consider getting a chess set for your man cave.
Place a chess table and lay out the chess pieces in your man cave to give it a more refined look.
Make the chess pieces unique by getting your own head etched on them or by buying a Trojan warrior set
.
There are many different kinds of characters available from star Wars to Harry Potter if you shop around.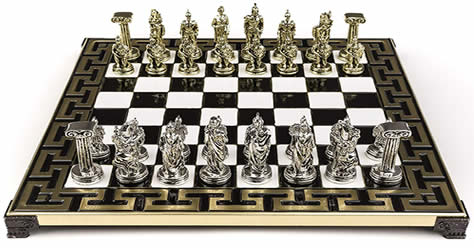 55. Virtual-reality headset – the man cave gift that has Max Headroom (pun from the '80s)
How much gaming do you do on a flat unimaginative TV screen?

Why not spice up your gameplay with a 3D display?!
Enjoy the mesmerizing 3D experience of a virtual reality headset and hook it up to your favorite gaming console for an all-immersive gaming experience.
There are stand-alone 3D headsets or ones that are specifically for gaming consoles like the latest PlayStation and Xbox consoles.
View the latest 3D headsets here
.
56. Golf simulator – the man cave gift that hits a hole in one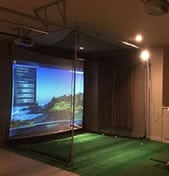 Enjoy golf within the confines of your man cave by installing a golf simulator.
These simulators range from the very small to the very large.
If you plan to create a gold themed man cave then one of these is a must-have item.
For the golf enthusiast with a good sized man cave the Optishot would be an excellent addition and if you really want to go all out then the Optishot with simulator, projector, lush green driving mat and a HP touchscreen laptop
is the way to go.
So, why not perfect your swing from the comfort of your own man cave.
57. Dining table come table tennis come pool table – 3-in-1 man cave gift
This dining table has a secret.
Like our foosball 3-in-1 table mentioned above this large dining table also has two other purposes; it has a pool table underneath that can be pulled out for playing and also converts into a table tennis table.
Play to your heart's content and then push it back inside once the game is over to have a fully functional table.
This is an ideal table to have in man cave because the felt top on the pool table can be protected when your buddies are getting a little rowdy and swilling their beer around.
Get this 7 foot Multi-Purpose Pool Table Set with 2 Benches
that can be also be used for table tennis.

The pool table has the same playability, same slate, same cushions, and the same cloth as a standard pool table.
As you can see from the image below his multi-purpose table not only features a dining table but also has a tennis top that comes with all tennis accessories and the two benches that act as seats for the table double-up as storage units for all game accessories.
Man Cave Décor and Memorabilia Gifts
By far the most amount of money you will spend in your man cave is on décor and especially memorabilia.
Although memorabilia, such as sports memorabilia, is difficult to obtain cheaply there are cheaper options for almost everything else. Check out the section How to build a man cave on a budget in the article How Much Does a Man Cave Cost.
58. Personalized man cave signs – a must-have man cave gift
What is a dedicated male space without some signs on the wall?!
This is the place you can hang those cool signs that your partner would never let you hang in other areas of your home.
There are a ton of different signs you can get from LED neon displays to wooden ones with funny sayings and adages.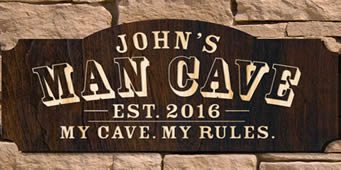 Personalized signs are a big favorite for man caves.
You can get anything you want printed on a personalized sign and they are cheap when you get them online.
I have bought several ones and love them all though you will undoubtedly be able to source them locally if you don't see one that you like.
You can get many different designs ranging from the funny to the bizarre like this range of man cave signs including personalized ones here
.
One of the most common areas that signs are hung is at the entrance. So don't be afraid to get a sign letting everyone know that they are entering your space.
I find that using one or two neon signs, like these ones
, are also a great addition to a man cave.
59. Vintage tin plaques – retro man cave gift idea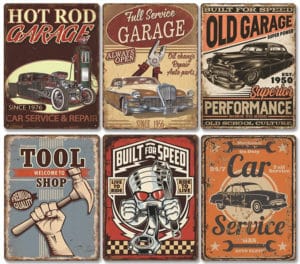 Vintage tin plaques have a charm of their own.
These not only look great when they adorn the walls and door, but also impart a vintage flavor especially if you have a rustic or nostalgic themed man cave.
And you have got plenty to choose from, such as a man cave retro vintage tin bar sign or rare retro metal tin sign warning plaque, etc.
You can usually pick up these fantastic vintage sings for less than ten bucks.
If you are interested in this type of décor for your man cave then be sure to browse through this large selection of vintage tin plaques
that has everything from retro designs to Harley Davidson.
See also the American flag and 2nd Amendment tin flag below at position #62 .
60. Posters – man cave gifts for walls
Posters are not just for band-loving teenagers. They come in a wide variety of designs, sizes and colors to fit just about every interest a man could have.
No man cave is complete without at least one or two posters.
Your choice of posters will be heavily influenced by the overall theme of your man cave or at the very least its color scheme.
If you are a Hollywood fan for example, you can decorate your man cave with movie posters or iconic Hollywood celebrity stars and iconic movies, like the Godfather, Reservoir Dogs, Scarface and the like.
Or, you could have pictures of classic cars or modern racers.
You can even get posters that have been designed specifically for a man cave
.
61. Sports memorabilia – must-have gifts for the sports man cave
Sports memorabilia is probably the most expensive décor you could buy for your man cave. But, let's face it you don't qualify as a sports buff until you display at least a couple of pieces of sports memorabilia.
But imagine having a display of your favorite sports stars and sports teams like the 1992 Dream Team, the US men's basketball Olympic team, the greatest basketball team ever assembled.
Or, imagine having your football team logo and signed jerseys framed and hanging on the wall.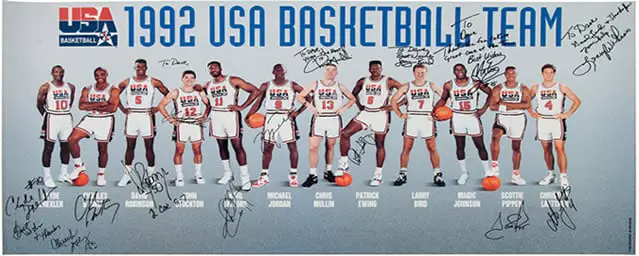 Signed and collectible sports memorabilia is available from specialist stores like like this one or you can check out more standard sports memorabilia available on Amazon
.
62. Country flags – man cave gifts for proud Americans with proud ancestral roots
Miniature flags related to various countries is a swell way to turn your man cave into a global-loving space and to make it more colorful.
Flags are popular in man cave bars especially if you are building a man cave bar on a budget.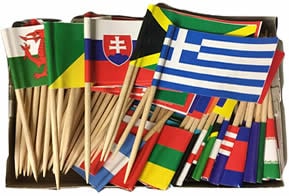 Flags may be large and adorn the walls or be small and displayed on shelves or counter tops.
There are flags that are free standing so they can be placed in different strategic places around the man cave. Alternatively you can go for the more traditional hanging flag though many man cave bars use bunting flags or patriotic bunting.
And these are great for playing a guessing game in parties – "what country does this flag belong to?" and if you get it wrong you have to drink a foul concoction of horribly mixed liquor.
You could instead go in for this vintage American flag tin sign bearing the 2nd Amendment
which looks particularly well hanging over the desk in a man cave office.
63. Fun framed photos – an absolute must-have man cave gift
This is probably the most overlooked aspect of man caves.
Photo frames with meaningful pictures are a great way to adjourn the walls of your man cave. Photos should include key moments and achievements in your life.
It can be a snap of your golf win, your first martial arts belt when you were a child or you could hang a photo of you receiving an award or even your graduation degree. These automatically showcase your achievements without you having to tell anyone about it.
A really cool way to use this type of man cave item is to get pictures of you photo-shopped in ways that inspire you or just make you laugh.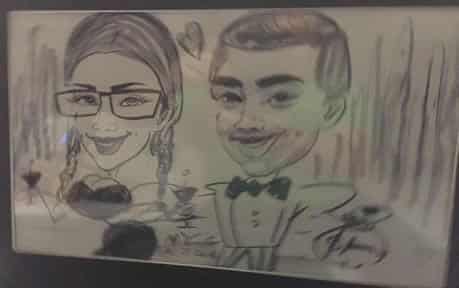 You can also get images of you as a character from Family Guy or The Simpsons and hang those on the walls.
You can get these type of photo-shopped and character-based images done for as little as 5 bucks on Fiverr.com. You then just print them out, or take them to a printer to print for you, and stick them in a photo frame.
Or, perhaps you'd prefer a caricature of yourself and your partner like the one on the right drawn by a New York street artist on my Honeymoon. It now has pride of place in my man cave.
You can also get caricature drawings of yourself on Fiverr.
64. Collections – the gift for the man cave collector
Many people have collectibles. Sometimes they have collections without even realizing that they do.
For example, is there anything you horde because it has particular sentimental value?
Perhaps you have a very recognizable collection such as figurines, stamps, matchboxes or beer cans.
If you are into formula racing, then you can display your favorite teams, such as Ferrari, Mercedes, Renault, McLaren and the like, in the form of car models.
If you have any collections you can easily display them in a glass cabinet or case.
If you have an individual item that you treasure and are afraid to put on show in its own glass display
.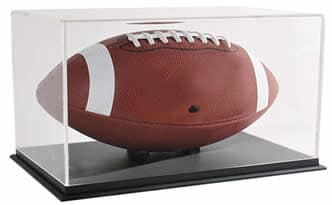 65. Musical instruments décor – man cave gifts for the musical cavers
You can easily showcase your taste for music by displaying various musical instruments on your man cave wall.
Musical items like a side drum or a cymbal themed light shade, a bass drum cabinet, a trumpet bed lamp or a drum wall clock will give your man cave a unique look.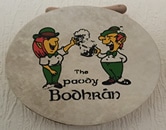 You can also mount cheap musical instruments on the wall.
Being Irish I have a Bodhrán (hand held drum) and cipín (stick) hanging on the wall of my man cave.
Likewise, you can display an instrument that is connected to part of your heritage or just pick one that you like.
There is also musical based wall art like this metal wall music notes musical sound bar
.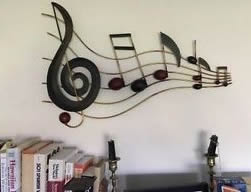 66. Replica firearms display – a man cave gift that celebrates American history
If you respect your Second Amendment rights but aren't crazy about having real guns in your home here is your chance to realize your passion by mounting replicas of your favorite shooting iron.
Nothing looks more impressive than wall mounted firearms.
Like this replica civil war rifle
.

You can get any number of good replicas for a reasonable price online. You could even showcase a Han Solo replica gun
.
Simply wall mount them or showcase them behind a glass cabinet.
Of course if you own real guns why not keep them and other valuables in a USA flag gun cabinet like this one
shown below.

67. Unusual clocks – man cave gifts don't have to be boring
Clocks come in various shapes and sizes, both wall-mounted and tabletop varieties.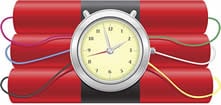 For a man cave you can get unique and fun clocks that will compliment the rest of the room and make it feel more masculine and more individual.
For example you could go for the smart Porsche wall mounted or tabletop clock, or maybe your prefer a James Bond style Aston Martin or perhaps snooker balls on baize cloth is a better fit for your man cave.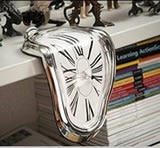 Better still, see what reaction a dynamite stick wall clock with digital timer will elicit?
Or, if your man cave is too hot to handle what about a meting clock?
There are many different types available. Have a look at the wide variety on Amazon
to give you ideas of what is best for your man cave.
68. Antique diving helmet – a man cave gift that goes deeper
This iron and aluminum, brass finished antique diving helmet would look great in any man cave but is especially fitting for one with a nautical theme.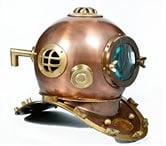 It is hand made and a replica of the diving helmets used by deep sea divers.
You can also get them made completely of brass (though I don't think they look as good) and in different styles.
This antique diving helmet is available here
.
69. Last call brass ship's bell – a man cave gift that can signal the presence of a VIP (you)
A ship's bell was traditionally used by the ships' captain to call sailors to deck. This type of bell will come in handy to call your mates to your bar.

Available in solid brass, it can be mounted on the wall and imparts a nautical flavor to your man cave.
So when it's time to let your buddies know the bar is open or even that they need to vacate your man cave simply ring this solid brass wall mounted last call ship's bell
.
70. Man cave cushion covers – a man cave gift that has that female touch of comfort
There are a variety of great cushions covers designed especially for man caves.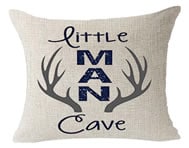 Like the beautiful handmade cushion covers with inscriptions such as 'Little Man Cave', and "MAN CAVE Reserved For Dad", and "Welcome To The Man Cave" they look great and fit in with any type of man cave theme.
There are a host of other slogans and designs to choose from.
These cushion covers are ideal for sofa in your man cave.
Check out the wide range of different types here
. You will need to get cushions as well unless you already have some.
71. Man Cave wall decal rustic décor – a rustic man cave gift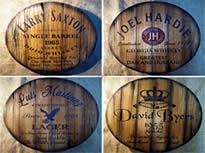 Does your special person have a rustic man cave? Then you need rustic man cave gift ideas.
You can make some great rustic and vintage Man Cave wall décor additions to a man cave.
Like the personalized barrel tops rustic wall décor
that is hand carved onto aged wood shown right.
Of course there are other great man cave wall hangings
that you can use that would work very well if you had a few vintage tin signs hanging to compliment them.
72. Art patent prints – the unusual man cave gift idea that looks great on any wall
These stylish prints of famous patents will look great in any man cave.
You can get patent prints for anything from a Harley Davidson to a tattoo gun or even Tesla's electric device and the baseball glove.
No matter what style or theme your man cave has you will find an patent print to compliment it.
Check out the large selection of patent prints here
.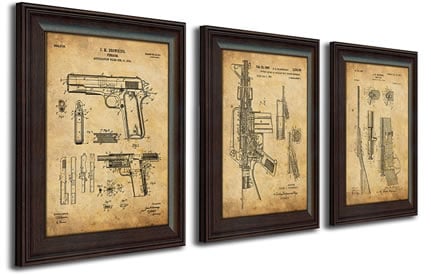 73. Airplane propeller blade sculpture – a man cave gift idea for the airborne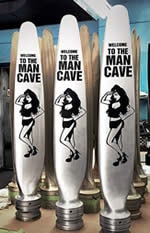 How cool would an airplane propeller blade look on your man cave wall?!
There are different styles and propeller types available from small one engine plane types to large triple blades.
You can get an authentic propeller blade from an actual plane that is custom painted with a gorgeous black and white army pinup girl and the words "Welcome to The Man Cave" on it. The pinup girl man cave propeller blade is available here
.
A nice item for your man cave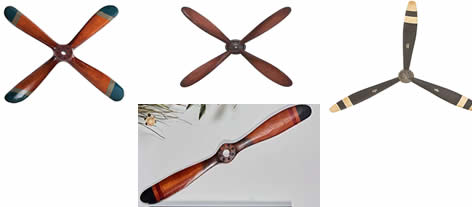 74. Golden age of aviation poster – man cave gifts for the history lover
This gorgeous framed poster comes in two different styles. One based on aviation in 1937 and one based on 1939.
Either one would fit well beside a propeller like the ones above or on its own as a piece of stylish wall décor.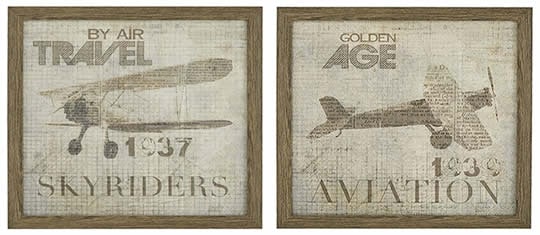 75. Irish whiskey distilleries map poster – a man cave gift from the little people with large thirsts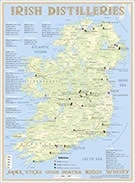 Do you or someone you know love Irish whiskey?
This poster not only displays the locations of 18 whiskey distilleries in Ireland, but also gives out the brands of Irish whiskies, location of their breweries and dates these were established.
I just ordered one of these for my Irish man cave.
You can get the Irish distilleries poster here
.
Fun Man Cave Gifts
Here are some fun man cave gifts for him, for dad, or just for Christmas, these great gift ideas make fantastic stocking fillers.
If you are looking for presents for a man cave that are great value, economically priced but tons of fun and super unique then look no further.
76. In case of emergency – the fun "urgent care" man cave gift idea
We have all seen the little fun wall décor boxes that state In Case of Emergency Break Glass.
They usually contain some item that may be a needed in a dire emergency like a cigarette and lighter, a chocolate bar or even a dollar bill.
But, with this neat little box you get to put in your own item. That makes this the perfect man cave gift as you can put in one or two items that are truly meaningful to the man caver you give it to.
Get a 'In case of emergency' box here
.
77. Novelty pizza cutter – a man cave gift that cuts to the chase
Sooner or later, if not very often, one or two pizzas will their way into your home's man cave. It's inevitable.
So why not use a novelty pizza cutter that fits with the theme of your man cave's décor?
You can take an axe to your pizza, ride a bike or motorbike over it, slice it with a vinyl record, or even cut it with a chainsaw or claw.
There are a variety of great novelty pizza cutters that would make excellent man cave presents and stocking filler. I found the best variety for fitting into just about any man cave are these novelty pizza cutters
.

78. Personalized cigar box – this man cave gift idea is smoking
Fond of cigars?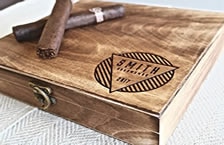 Store your favorite cigars in an elegant personalized cigar box made of solid light wood.
The box comes engraved with your name or initials and makes for a perfect man cave gift.
You could engrave it with something like, "Hands off the man cave smokes", or "For men only" or "Man Cavers Only".
Check the different brands and styles here
.
79. Black square

Monterrey

marble cigar ashtray – you have to put that cigar somewhere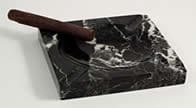 If you have a cigar box then you'll obviously need an ashtray.
This solid piece of black marble formed into an ashtray is perfect for the connoisseurs of cigars.
It accommodates up to four cigars or cigarettes.
Check it out here
.
80. Corkcicle glass with cigar rest – the man cave gift with ultimate class
And you can't really enjoy that cigar without a glass of whiskey.
So why not use a traditional old-fashioned whiskey glass with its own built-in cigar rest!
This ingenious glass is ergonomically designed to securely hold your favorite cigar and keep it from slipping and falling. Perfect when playing cards in your man cave.
Get the cigar rest glass here
.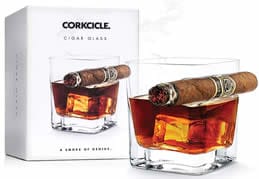 81. Instant photo prints – create old school pictures with this man cave gift

You may be old enough to remember the old instant cameras and how much fun they were. Before the digital age there was the Polaroid instant camera.
All you did was take a normal picture and your camera would print out a color photo. You may remember that you had to hold the picture at the side and wave it around to get the picture to appear.
Well these cameras are back and they are better than ever. Though they now come in the form of mini printers for your digital pics.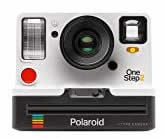 Just connect your smart phone or tablet via Wi-Fi and watch your portraits, selfies, and social media photos transform from digital images to physical pictures in an instant.
These are great for capturing man cave memories instantly. Just take a pic and tack the image to the wall.
You can get the mini printer here
.
If you prefer to have a camera that is modeled after the original instant cameras then this old-school style Polaroid instant camera
may interest you (pictured right).
82. Shadow box – a man cave gift for the patriot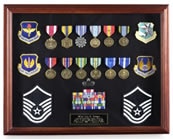 Do you have a collection of small items you'd like to show off?
A shadow box is a great way to display your favorite small collections such as beer tops, stamps or even medals.
You can get a standard shaped shadow box
or a veteran's one
with space at the top for a folded flag.
83. Vintage gumball machine – retro chewing man cave gift

Have a soft spot for candy? Why not brighten up your man cave with a gumball machine.
Standing tall at 42″ on its stand this gumball machine has a width of 7″ and a depth of 7″.
The machine has a gumball capacity of 375 one inch gumballs. And, don't worry about your buddies eating all candy as they will have to put a quarter in to get one.
The machine has a coin capacity of 150 quarters and accepts both US and Canadian quarters.
Check out the vintage gumball machine here
.
84. Black cast iron bottle opener and cap catcher set – open bottles the right way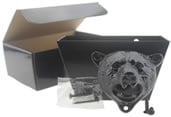 What's the unique about this bottle opener? In true cave style it takes a bear's mouth to open your bottle.
Open a bottle with the bear's mouth and cast the cap into the iron tray.
Bears live in caves so what better man cave present is there?!
See the bear bottle opener and cap catcher here.
85.

NCAA hover helmet & NFL snack helmet – these man cave gifts score a touchdown every time
What a great fun way to show your pride in your team.
Pick a helmet from your favorite NCAA team and watch it hover in mid air.
It's the electromagnetic force that allows the helmet to levitate and continually spin in mid-air!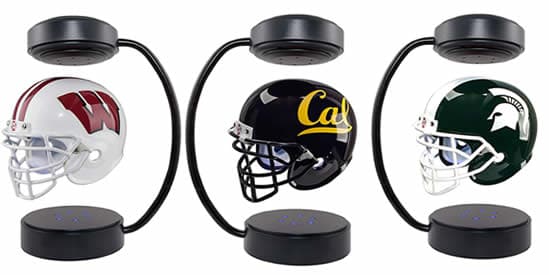 This is a high quality 1/2 scale replica football helmet and the manufacturers state that they we work closely with each team to ensure each helmet has the most accurate artwork and colors.
In addition, to the spinning helmet there is an LED light located at the base of the stand which illuminates the helmet as it spins.
This would make a great Christmas, birthday or special occasional present and, for the fan of college football that has everything, is one of the best man cave gifts on this list in my opinion.
Get your NCAA hover helmet here
.
If you love snacks with the game then these NFL and NCAA snack helmets
are a great way to serve snacks when watching the game.
They come in all NFL and NCAA team styles.

Man Cave Lighting Gifts
86. Flame light bulb – the flaming man cave gift that's too hot to handle
There are a few flame effect light bulbs on the market but unlike the typical flickering flame bulb, this one delivers a soft realistic flicker similar to a real fire.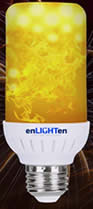 The bulbs are totally safe and very energy efficient; they save up to 90% more energy than the average flame light bulbs.
LED flame effect fire light bulbs can be used both indoors & outdoors.
Another great feature of these specific flame bulbs is that they can be used upside down unlike a standard LED flame light bulb. The flame will simply come up from the bottom.
These bulbs look great in lanterns, lamps & lighting fixtures.
They have been designed to be compatible with both E26 & E27 (American Standard) base fitting.
Get this unique flame effect LED light bulb here
.
87. Blue flame light bulb – the flaming man cave gift that's a bit cooler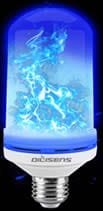 These blue flicker flame light bulbs can be used to create a soothing atmosphere in your man cave.
It flickers like the yellow flame bulb but with a beautiful cool blue hue.
These Dilisens blue fire bulbs
provide 4 modes for different atmospheric lighting.
You can also get these type of bulbs in red and green.
88. Edison vintage bulbs – forget retro, go steampunk
Why go in for modern man cave lighting when you can enjoy the ambiance of vintage Edison bulbs.
These bulbs come in a range of different watts and are available for both indoor and outdoor use.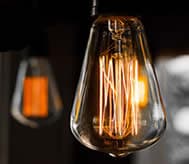 This squirrel cage filament light bulbs are 100% to 10% dimmable, providing smooth dimming control without flickering or humming.
The design of these attractive bulbs is based on Thomas Edison's original filament bulb that took him 10,000 attempts to invent.
The beautiful squirrel cage filament design, the ST64, not only looks stunning but allows the bulb to fit either an E26 or E27 screw base. This means it will fit standard home lighting sockets, as well as any pendant light fixture.
The bulbs are 2.6″ in size and offer more than 30000 hours of burn time, which equates to an almost unbelievable 2.7 years life based on 3 hours of daily use.
Although the filament in these bulbs looks stunning and is very old-school, it still produces the same amount of light as a standard bulb.
Check out the range of vintage dimmable Edison bulbs here
.
89. Dimmer Switch – a man cave gift that is illuminating
Of course having a fantastic looking flame or vintage Edison bulb that dims is no good to you with a dimmer switch.
But, even if the Edison vintage bulbs don't take your fancy that doesn't mean you should overlook the benefits of a dimmer switch.
Being able to dim the lights in your man cave allows you to create different types of ambiance from soft and serene all the way to bright and vibrant.
Check these different types of dimmer switch
all of which will work with an Edison light bulb.
90. Vintage table lamp – the man cave gift to go with the steampunk (Edison) light
If you like the vintage look of the Edison bulbs and need smaller lamps for use on a table check out this neat vintage table lamp
.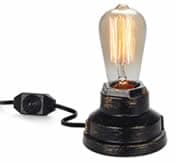 This lamp is fully dimmable.
It has a steampunk rustic old-school style that delivers real personality. Made from iron this antique-styled lamp base is perfect for using as a reading lamp or simply to add character to your man cave.
The lamp comes without a bulb so for the best effect you really need to use an Edison type bulb with it as shown in the picture to the right.
91. Man cave neon light – a man cave bar gift
Complete the man cave lighting scene with a neon lit man cave sign.
The sign not only displays 'Man Cave. Open 24/7' but is bright enough to illuminate the area around it. See it here
.
You can of course get a personalized one in a slightly different style; this one
gives the appearance of a drop down projector screen.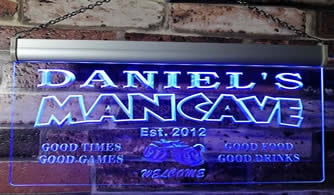 92. Football helmet light – score another touchdown with these man cave gift ideas
We all love football … right!
Well show off your love of the game and love for your team with this touch football helmet light.
The touch football lamp is made a 7″ tall acrylic plate that has seven different color choices.
It can be plugged directly into a socket or used with batteries making it perfect for both an indoor man cave and an outdoor man cave that has no connection to utilities.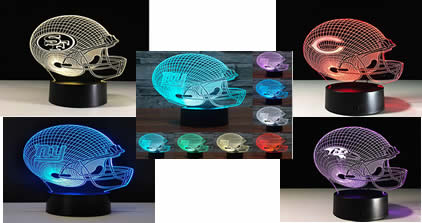 Check the range of football helmet teams available here
.
93. Ceiling fan with light – the cool, illuminating man cave gift
This is a great item for the man cave that is located in an area that stays hot even at night – like Las Vegas in the summer.
The contemporary beautiful polished modern gun metal black finish adds a real sophisticated look to the fan light. The fan holds 4 large matte black fan 50″ blades positioned around a frosted LED center light.
The fan creates a very good cooling effect.
The blades are reversible with 3 separate speeds.
The fan is controllable with two separate pull strings though it can be easily wired to a wall control switch.
The fan light has a 15 5/8″ drop from the ceiling and is completely safe to use in damp locations.
Although made of plastic the light diffuser is designed to look like glass. The diffuser covers an integrated 3000K, soft white, 80+ CRI, ,1100 Lumen, 17W, LED light.
The integrated LED light means there is no need for bulb replacements.

This ceiling fan light is available from Amazon
.
94. Retro video cassette lamp – go back to the future with this man cave gift idea
These retro video cassette lamps are so cool.
Handmade by Nancy Jars in the UK these retro light lamps are made from a VHS cassette (used in Europe as opposed to the smaller Betamax used in North America).
These cool night lights can be made to order for a special, one off, personal gift. So, now you can get that film that meant so much to you when you were younger made into a cool man cave lamp.
They can be made based on any film, band or actor or even a Football team.
This is a truly original man cave gift.
Unfortunately these seem to be only available from Britain but they should arrive anywhere in The USA in no more than a week or two.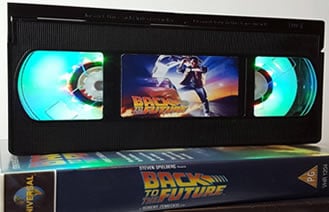 Check these lamps out here.
95. Scented candles – a man cave gift idea especially good for the smoker
Don't scoff at the idea of scented candles. They may be very popular with women but they can be a god-send for men!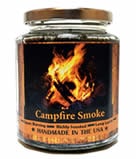 Scented candles, especially odor eliminating ones, can not only help set a nice relaxing atmosphere in your man cave but they can also help with the smell of smoke, stale beer and spilled wine!
There is a wide choice in scented candles available that also come in an array of different colors. So it is easy to get ones that match your décor as well as your preferred smell.
Many of them are hand made in the USA.
See the wide range of man cave scented candles here
.
Man Cave Flooring Gift Ideas
96. 3D flooring – the man cave gift you can stand on
Ordinary tile flooring is passé and outdated these days.
You can make your man cave flooring unique by laying thousands of vintage copper coins on the floor and firming it by pouring polyurethane over it.
Another idea is to lay a mirror and hammer it to pieces, cover it with polyurethane to get a broken mirror flooring.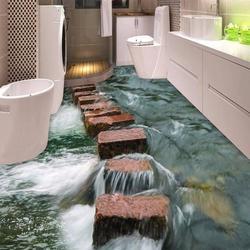 Get creative with your flooring ideas.
You can basically use almost anything for the overall design and then simply overlay it with polyurethane to make it usable and durable.
You can even create 3D type effects using a 3D epoxy flooring technique.
Although it is possible to lay this type of flooring yourself you can get it done by a professional at a fairly reasonable price or as a present for a man caver. Just do an Internet search of for "3D epoxy flooring" in your area to find someone who can lay it for you.
Alternatively you can lay it yourself by buying some 3D epoxy flooring wallpaper
and following the instructions in the video below. It is fairly easy to do and looks amazing.
97. Cool mats – fun man cave welcome gifts
If your man cave is situated in outbuilding then you'll need a mat for people to wipe their feet before entering your abode.
Why go for a boring average everyday mat when you could get a super cool one like this cool husband mat
?
There are also a variety of different man cave mats
available.
98. Man cave rugs – a man cave gift that adds comfort & floor protection
Rugs are a great way to change the flooring of your man cave without the expense of laying carpet, wood or tiles.
With one or two rugs you can also help set a scene or enhance the theme of your man cave.
With this collection of man cave rug designs
it is possible to both beautify your man cave and enhance its look while simultaneously protecting the floor and adding a level of comfort and style, especially if your man cave is in an outbuilding.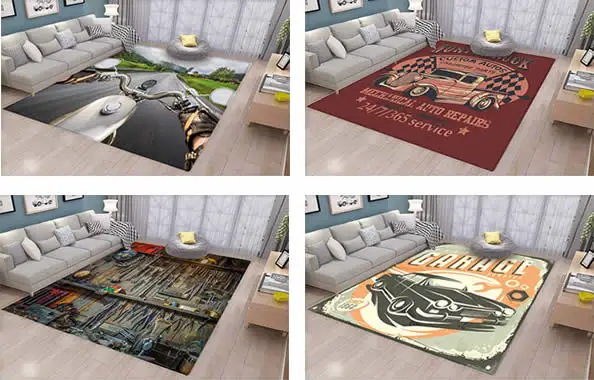 Man Cave Security Gifts
99. Smart lock – sa man cave gift that protects the man cave
If your man cave is located in an outbuilding then you will want to install some security measures to protect your stuff.
Forget the usual key locks, use a smart lock that does not require a key, but can be unlocked with your phone.
You can create virtual keys for giving access to anyone of your choice. It also lets you monitor who is entering your man cave man and when.
These types of locks come in types and at different price points to suit every pocket. Check the range of smart locks available here
.
This video shows how the August smart lock works.
Check out the August smart lock here
.
100. Security monitoring system – a man cave gift for securing all that man cave expensive décor
If you have a lot of expensive stuff in your man cave you may want a more advanced form of security that goes beyond just a lock.
This security camera detects sound and movement, and also live-streams it to your mobile phone.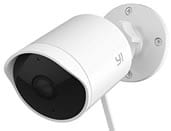 This neat security cam offers high resolution images in 1080p at 20 frames per second. Combined with a 110° lens and a universal ball mount it delivers clarity in every direction.
It is fully waterproof with an IP65 rating making it ideal for outdoor and well as indoor use.
The built-in microphone and speaker allows for two-way audio communication meaning you can communicate freely with welcome and unwelcome guests, and the deterrent alarm is loud enough to frighten off would-be thieves.
The camera has excellent night vision capability at up to a distance of 50 feet.
It offers cloud service in the form of YI Cloud, which is reputed to be the best anti-theft and cost effective cloud solution on the market.
See the wireless live streaming 1080p Cloud Cam here
.
In conclusion … 100 awesomely unique and unusual man cave gift ideas
Whether you are shopping for a man cave Christmas present, a birthday present or for some other special occasion, or if you are you just shopping for man cave stuff for yourself then hopefully this list of 100 man cave gifts will have given you some good ideas.