Ok, so there's a special woman in your life that has a unique place, that's not just in your heart, she has her very own she shed. You've seen this amazing nook for yourself and know how much she loves spending time there. You'd like to buy something to augment this space, but you have no idea where to start.
Well, you're in luck.
12 Awesome She Shed Gifts Every Woman Wants
In this article, we've found some she shed gift ideas that every woman will love. These gifts run the gamut from fun to functional, and everything in between, and will certainly wow her.
When you only have a man's perspective (unless you're a woman) then it's time to take a woman's advice.
Below are 12 great gift ideas that would suit any she shed.
1. The she shed welcome sign gift that speaks volumes
Any woman with a she shed will want to proudly display her ownership of it. A she shed welcome sign lets her do just that.
There are a many different types of designs available made from a variety of materials such as aluminum, tin and wood.
Signs also vary in sizes though the most popular signs measure 8″ x 12″.
Signs will almost always have gentle rounded corners with predrilled holes for mounting and are also rust-proof. Some signs, such as wooden ones will have hooks at the back for cord rather than holes for screws.
You can get fun signs, colorful signs, funny signs, eloquent signs or even personalized signs where you can choose whichever wording you like. There are also "She Shed Rules" signs.
Perhaps you'll go with one of the examples shown below or something entirely different. There's a ton of different styles and designs available and with personalized signs the only limit is your own creativity, so have fun with it!
Find a huge range of she sheds signs here
.

2. She shed fairy lights – a gift to illuminate that space in style
Fairy lights make just about everything look better, and that also applies to a she shed. The lights in the image below, from TaoTronics, are super popular and have a very high rating on Amazon because they offer great quality and value for money while helping to warm-up any space.
In fact, they're so loved by customers that they've earned the distinction of being an Amazon's Choice product.
You can buy the lights in two sizes: 33 feet or 66 feet. Each string of lights has 100 LEDs that are sure to glow for hundreds of hours. You also get an adaptor cord that stretches 5 feet for lots of decorating options.
The lights have copper wires with insulation for reducing heat when running. They're also weatherproof, so if your she shed owner wants to put them outside, she can.
An included remote control lets her set up her lights her way at the touch of a button. There's plenty of lighting options to choose from, such as strobe, smooth, and flash settings as well as various levels of brightness.
Be sure to check out the customer reviews on Amazon as some customers have included videos of their lights set-up and glowing in various locations.

3. iRobot Roomba – cuz cleaning  ain't for the she shed
It gets messy even in a she shed. Rather than have her drag the house vacuum all the way out there, or worse use a brush and pan, get her this amazing iRobot Roomba
instead. Hard floors, carpets, tiles, it matters not cuz this baby can clean 'em all.
And no … it's not sexist to get a woman a vacuum cleaner as a present if it's designed to clean her own space and not a man's!
The Roomba will run for over 90 continuous minutes if necessary, completely unaided. Then it will recharge itself at its docking station when done. How cool is that?
If you have Google Assistant or Amazon Alexa, you can sync the Roomba via the iRobot HOME App, which you can download for free. It can even be controlled from a Smartphone! This gives your she shed owner the ability to schedule her cleanings when she needs them most (probably when she's not there).
Being able to shift into even tight 27-degree angles the Roomba can fit into the tightest of spaces.
The iRobot Roomba includes an edge-sweeping brush for making quick work of corners and edges. It also has dirt detector sensors to target the dirtiest areas first. With a 3-Stage Cleaning System, no mess gets left behind.

4. Cozy throw blankets – comfy she shed gifts with a positive message
Sometimes it's nice to snuggle up in the privacy of one's she shed without anybody else around. Having a plush microfiber throw blanket, these ones from Chanasya
, will provide comfort and warmth in any space.
These throws come in a variety of different designs and colors and measure 65″ x 50″. They are super soft and these ultra plush throws make a really thoughtful present as they come with inspirational wording and beautiful colors.
The blankets are made entirely from microfiber polyester, a fabric that's less likely to stain and fade. This material should also last for years. With breathable and lightweight qualities, this type of throw will become a favorite in the winter, summer, and all throughout the year.
You get some really fun colors to choose from with choices that will complement any she shed interior décor. Colors include include harmony-aubergine,harmony-blue,harmony-grey,harmony-pink,hope-faith-aubergine and hope-faith-teal and more.
They are also reverse sherpa.

5. The she shed welcome mat
From the second anyone steps on the property, they'll know they're on the threshold of an awesome she shed with this she shed welcome mat
.
This unique she shed mat measures 15.7″ wide and 23.6″ long. The mat has a thickness of 3/16″, is durable and heat-resistant being made from a non-woven fabric top. It also has neoprene rubber non-slip backing.
It will absorb most water while retaining its anti-slip feature.
Ideal for both outdoor and indoor use, your she shed owner can clean this mat in any standard machine-washer if it gets dirty.
This welcome mat is adorable and would make a great gift for sure.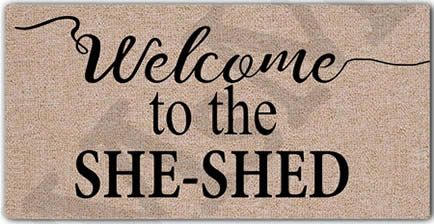 6. A she shed storage ottoman for she shed gifts
Not only will this ottoman from Otto & Ben
knock her socks off, but she'll love that she can use it for storage, too!
It's has a generous area for putting your feet up measuring in at 30″ long and has a weight capacity of 250 lbs so it can also be used as an extra seat.
The ample room inside the ottoman means your she shed owner can use the extra space to stash plenty of items and essentials.
The fiberboard base of this ottoman is medium-density. The top has padding so even if someone uses the ottoman for sitting, they don't have to worry about experiencing any discomfort.
With a width of 15″ there's surely room for this fantastic addition somewhere in the she shed. It is actually a great space-saver because it can be used for storage and seating.
You get three trendy hues to select from, including dark gray, light gray, and dark brown.

7. Reversible recliner – for when you wat to spend that little more on a she shed gift
The lap of luxury has never looked so good.
This Rose Home Fashions reversible oversized recliner
will let your she shed owner kick back and relax after a hard day. She's in her happy place after all so she might as well have a fabulous place to sit.
This recliner won't slip due to its elastic strap. It's also stain proof, and reversible. Switch the cushions anytime for a fun new look in the she shed.
The available hues include chocolate, dark gray, light blue, navy blue, burgundy, green, brown, and black.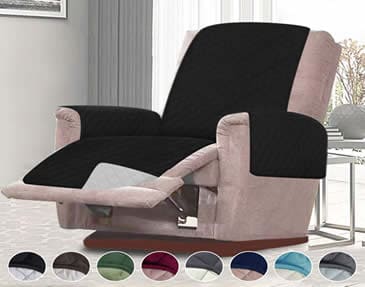 8. Chandelier – the she shed gift that oozes opulence
A simple chandelier adds eloquence and class to any she shed, such as this one from lifeholder
. This is a highly-rated pick with hundreds of customers loving it.
This mini chandelier, that measures just 8.66″ wide and 10.4″ high, may not be as big as those in mansions but it looks just as stunning and adds an air of elegance to any ceiling.
All the parts needed for installation come in the box, including mounting hardware and a silver plate. Your she shed lover can do the installation herself or pay extra to let a professional take care of the job though it's fairly simple to do.
The acrylic crystals look like the real deal but are far more cost-efficient. Using these type of crystals means you get a similar look to an heirloom chandelier but without the price tag. They're also less likely to break, meaning there's years of enjoyment to get out of this beauty.
The bulb base includes a G9 bulb while the rest of the 40-watt lights use 120 volts of power.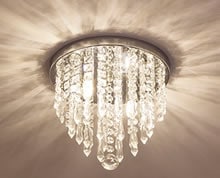 9. Decorative pillows/cushions are gifts that will comfify any she shed
For those eccentric women in your life with a she shed to match, how about a fuzzy throw pillow/cushion cover, or a cover with a retro space kiss or one that harbours a funky fox. Decorative cushions and cushion covers make for a fantastic gift.
There are a slew of covers available with a lot of sizes to pick from, including 22″ x 22″, 20″ x 20″, 18″ x 18″, or 12″ x 20″. So you can easily get cushions and covers for every type of she shed.
You can get covers only so she can use them to cover preexisting boring pillows/cushions that are dragging down her she shed décor, or you can get them as full cushions with inserts included.
The covers open via a zipper that's hidden amongst all the faux fur or located at the back and hidden behind the decorative design.
Fuzzy covers work great with any type of she shed. What's her favorite color? You have a rainbow of hues to choose from at your fingertips, like coffee, lavender, salmon pink, dark purple, navy blue, light gray, light blue, pale green, bright pink, white, and black. You can even get a color-blocked cover that combines hues like white and coffee, white and blue, or white and black.
Perhaps she'd prefer funky designs and far-out styles. They are all available.
See a wide range of covers here
for every size of insert. If you get the covers separately then don't forget to get some plump cushion/pillow inserts
as well.

10. Metal monogram wine cork holder – the she shed gift that says "go ahead … open that bottle!"
If she's as passionate about vino as she is about she sheds, then you've found the perfect gift in this metal monogram wine cork holder
from Made Easy Kit.
This Amazon Best Seller comes in any letter of the alphabet. Just choose the one that matches her name and you're all set. You can even get an "&" symbol so she can put initials up. Or, you could go the whole hog and spell out her name.
All letters have a width of 10″, a depth of 1.75″, and a height of 12″.
The metal used for this décor item has a black coating that adds to its durability.
Each monogrammed wine cork holder does not come with the corks. The recipient of your gift will have to provide some of her own (that's the fun bit). Each cork may be a reminder of a very specific memory of time spent with friends in the she shed!
You get the necessary drywall anchor and screws for mounting the sign to the wall. Though you can just as easily lean the letters on the floor or against a wall if mounting them is not an option.

11. The massage pillow she shed gift idea for easing those daily stresses
Help your "she sheder" de-stress with this Viktor Jurgen massage pillow.
With its powerful 3D rotating massage nodes, that give a deep-kneading shiatsu massage to relax overused and tight muscles, this pillow massager is a must-have for all she shed owners.
The gentle heating function is something that can be easily turned off or on to help soothe aching muscles.
The massage pillow is ergonomic designed to fit perfectly behind the neck and to nestle into the body contours of the shoulder for a complete massage.
It can also be used on the lower and upper back, the abdomen, the calf, and the thigh areas. So, it's pretty versatile.

12. Extra gift bag filler – for a fuller feel & scent
Lavender bundles are great for adding to your gift bag and the great thing is they can be used in the she shed as well.
Lavender bundles don't just smell great, but they provide an appealing décor touch to a feminine she shed.
These type of lavender bundles
have long stems between 18″ and 22″ making them an ideal décor item as well as a gift bag filler. You can choose to get two or three bundles for a single order if you prefer.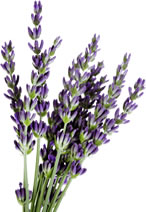 Each bundle of lavender comes from Northern California. The flowers there are grown and then picked by hand.
These bundles won't mold and can last for quite awhile. Once they start to die, make sure to compost them instead of throwing them away, as they will help fertilize your yard.
Lavender has many benefits (apart from smelling great). It helps clear your head, relaxes you and aides in sleep, and represents love. In short, what's not to like?
Conclusion: 12 unique she shed gifts for the woman who has it all
If you know someone with a she shed and you're stumped on a gift idea, you'll surely feel inspired after browsing our picks in this list.
For comfort, you might choose fuzzy throw pillow covers, soft blankets, a massage chair or neck massager. For color and light consider some fairy lights and cool pillow covers with retro designs.
You can also help your she shed owner keep her space clean with a iRobot Roomba and a welcome mat. There's no way to go wrong, just don't forget to add some lavender bundles or other fragrant scents to your gift bag!