She sheds are elegant female-only spaces that can be small or big, luxurious or spartan, elegant or plain. However, all she sheds have one thing in common; a she shed is a space where a woman can relax and escape from the hectic and mundane routines of life.
The whole point of a she shed
A shed shed is an oasis of femininity away from the pressures of the everyday world.
Although a she shed is a place that is usually used by the female of the house to kick-back and relax it is not confined to solitary use only.
A she shed can serve a myriad of purposes.
It can be used as a reading space, an entertainment area, a home office, and even a place for socializing with the girls or a romantic getaway place to enjoy with your other half.
A lot of women think that it is essential to have a backyard area or available space in the garden to be able to construct a top notch she shed but that's not true.
With a little bit of creativity, women can build a she shed in even the tightest of spaces.
Although the name "she shed" conjures images of an outbuilding this type of feminine space does not have to be outside your home.
Just as a man cave can be built in a spare room so too can a she shed. If you need to learn more about what a she shed is and its purpose read this article.
20 Awe-inspiring shed ideas
Here are 20 great she shed ideas – from the practical to the mystical
Below are 20 unique and wonderful she shed ideas for large or small sheds.
Feel free to mix and match ideas from the different she sheds shown – make your space your own.
1. The tiny she shed at the end of the garden
A she shed does not have to be a grand building.
Many fantastic she shed designs have started out with a simple garden shed.
6 x 8 Feet of she shed beauty
Your she shed doesn't need to be enormous, a simple 6 x 8 feet shed will do fine. It doesn't even need a door.
Start off by covering the she shed with brick colored paint making sure to use different colors for the roof and walls for contrast.
Decorate the entryway with pots and flowers for an elegant appearance and place some lanterns outside.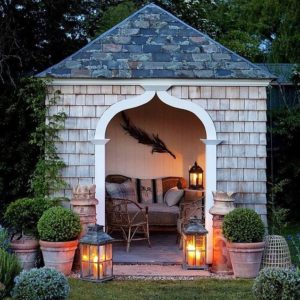 You can use drapes for privacy
Use white drapes to cover the door or windows (if the shed has any).
Drapes help keep place cool in the summer months while keeping out pesky bugs.
A torch or two can light your way
Using electrical lightning will require installing electricity in your she shed.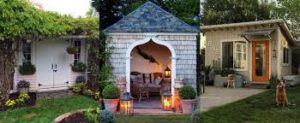 However, with the use of battery or solar-powered lights like these ones
, it is possible to fully illuminate your she shed without the cost associated with utility connections.
Attached several torch lights inside that face downwards. Place them on the entryway as well.
The torch light will illuminate the space.
She shed furnishings complete the look
Place 2-3 chairs inside and a small table or use a sofa.
Beauty the area with your favorite things.
This will serve as your retreat from home.
2. The reader's den – small she shed excellence
Women who are avid readers can turn a spare room in their house or an outbuilding into a readers' den.
Any place that has vibrant colors and good lighting can enhance the mood and automatically create the ideal spot for reading.
These guys created the perfect she shed reading retreat fairly cheaply.
This she shed is pretty in pink
Comfort is important when reading is the goal.
Pink looks soft and hence can be a good choice.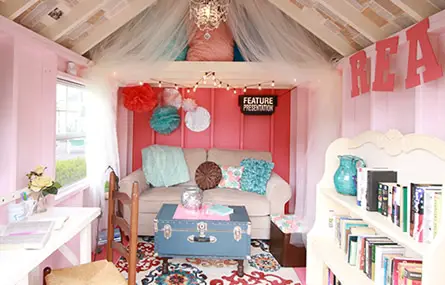 It works well to distribute the light as well and keeps the place feeling airy and bright.
Add some book shelves for aesthetics
Place one or two bookshelves into your new she shed. You can even turn it into a shed library.
If it doesn't match with the pink color then paint it white to blend in.
You can then keep all your books neatly in one place.
Don't forget the colorful carpet
Buy a centerpiece rug to uplift the overall look of the she shed.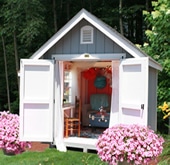 A rug will also mean you don't have to spend a lot of money preparing the flooring.
The more bright colors the she shed has, the brighter the room will feel and the more light will be distributed.
Then there's that styleful seating and writing desk
Get a couch that is foldable so that you can sit or lie down when reading.
Don't forget to add a small table and chair for writing.
3. The country cottage she shed scene
This is an excellent she shed for those that love the countryside.
It is picture perfect!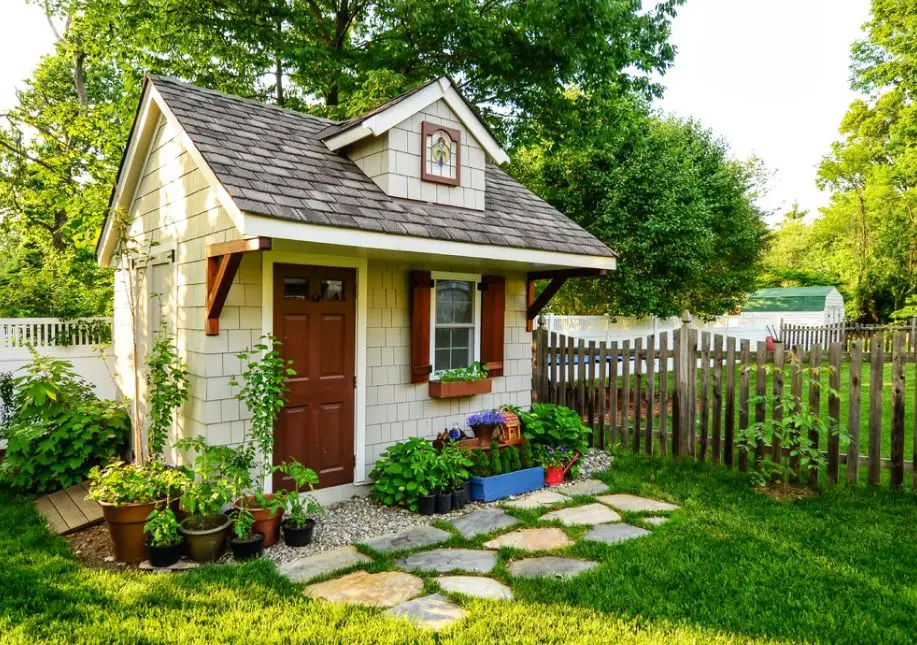 The tile gives a fairy tale look
This wooden shed gives a more robust look and feel by imitating a tile construction.
Plants and flowers add color & ambience
Place plants and flowers outside the shed to help with the country look.
You can even place a shelf outside the window and place a flower box on it.
The picket fence completes the look
Place white picket fencing outside to complete the look.
4. The movie house she shed
Just because it's a shed doesn't mean it can't be a home cinema!
Transforming your shed into a haven for just you, or you and and your friends, to chill and watch movies is doable.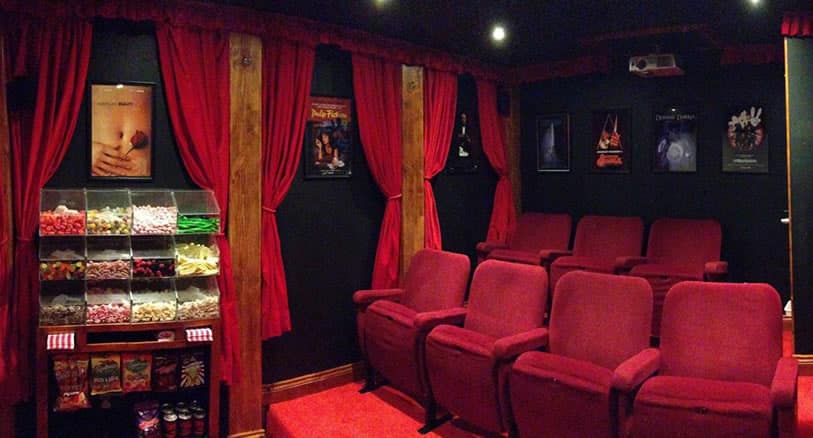 Simply use the space for movie night entertainment or as a place to chat and chill.
Entertainment is a must in this she shed
Start by hanging a large LED on the wall and place two or more single sofas side by side or a large sofa facing the TV.
If you can put a fireplace or electric fire with simulated flames, like this one
, underneath the TV to create a soft comforting glow.
Lamps to illuminate the scene
Place lamps in the corners to make the place nicely illuminated.
If the space is small then a big hanging lamp on the ceiling would suffice.
Room for air & a room with a view
When you are transforming a outbuilding into a she shed then you should install at least two windows to allow access to fresh air make sure to cover them with dark drapes for privacy.
If you can't fit windows then at least have a vent installed.
Modern sheds come in all shapes and sizes and if you are building your she shed from scratch then it is easy to get one that fits your needs completely and come with ventilation and windows if required.
5. The little boarding house retreat she shed
You can easily create a retreat away from normal life by having a bed in your she shed.
Likewise, you can also use your shed for both you and your partner to enjoy special date nights.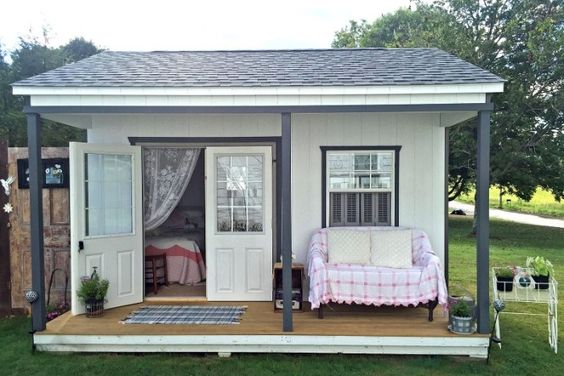 If you want your she shed to give off a romantic vibe then follow these steps.
Add a bed
Even the smallest of she sheds can accommodate a bed.
Although you can fit a permanent bed in your she shed, if space is at a premium then you can easily use a convertible sofa bed inside.
If the shed has windows make sure they are covered properly with drapes to provide adequate privacy.
Ventilate that space
Since you, and maybe your other half, will be spending nights in this she shed, make sure it is well ventilated and properly protected against cold and excessive heat.
If the space is big, you can have an HVAC contractor install an AC, too.
This she shed is not only a great way of spending time alone or with your partner but it also acts as a great guest room for visitors.
6. The elite she shed
If you love luxury and want to impress your friends, guests or just enjoy the finer things in life yourself then why not go for a luxurious shed that reflects sheer excellence.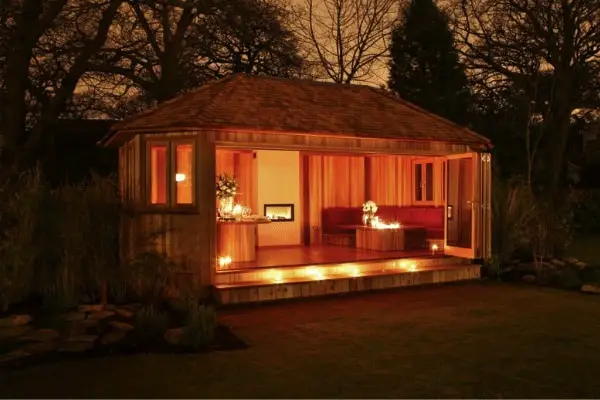 Color co-coordinated furnishings
Consider creating an interior that has the combination of red and black for a rich feel.
You can place red furniture and dress the floor with a cool black patterned carpet.
Classy décor is a must
Hang white drapes over the walls and choose a lamp with calming light that can uplift the entire look of the she shed.
Use a hanging lamp or one that sits on the table or a stand-alone.
The correct lighting in your she shed can help you create different types of atmospheres and for that reason many women will use dimmer lights.
Lay a rug or carpet on the ground
If you don't want to lay carpet then use use a large rug instead.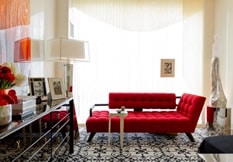 Covering the floor with carpeting can really help to create a rich feel.
By using the correct décor you can easily make the inside of a shed look like a room in your home.
Put in a table with drawers
Search for a table that has drawers underneath so that you can hide a lot of useful items in them rather than having them sitting out.
Place clear glass, mirrored glass or colored drapes over the table.
Decorate the top of the table with small souvenirs, pictures or show pieces to give off a classic vibe.
7. The wine shack she shed
This she shed is perfect for all you wine connoisseurs out there.
I mean if men can have beer nights with their buddies in their man caves then why can't women enjoy a glass or two of wine with their friends in their she sheds?
The seating must be right
If your she shed is built in a large space then you can easily accommodate four chairs or one or two sofas.
If you have limited she shed space then a table with a few chairs will suffice.
Mam's wine rack is always full
What good is a wine shack without wine?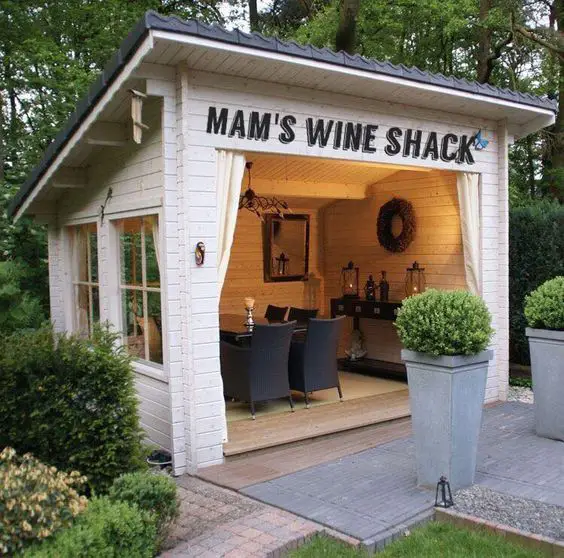 If your budget allows buy two long racks and set them against the walls. Fill them up with wine or the beverage of your choice.
This will eliminate the need to go to the kitchen every time you need a new bottle.
If space or budget is a concern, (or you just don't want to keep your expensive wine collection outdoors), then small novelty wine racks, like these novelty ones
, are a great way to keep a few wine bottles nearby.
You may also want to consider getting a small mini fridge to keep your beverages cold like these ones that are prefect for she sheds
.
8. The painter's she shed is pure uniqueness
If you're a woman who loves art then why not create a she shed that speaks and breathes art?
The painter's she shed can reflect your love of art by being an piece of art itself.
Add a wall painting
Choose a wall and show your artistic side on it by painting it. Or if you have full access to each wall why not paint the whole shed!
You may also find a professional to do the job for you if you are not a painter yourself.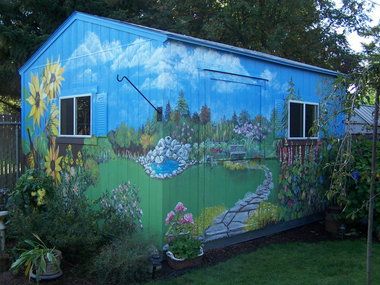 For a full effect make sure to cover at least one entire wall so that it serves as a focal point for the entire she shed.
A painting table for that budding Picasso
If you love to paint then get a table and a chair where you could sit in your leisure time and paint your heart out.
If space is an issue then look for a table that has small segments underneath to place brushes and paint kits.
Store brushes and paint in compartmentalized units placed against the wall and on selves.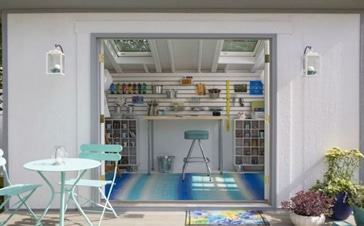 Lighting fixtures are crucial
As every artist knows lighting is crucial when you paint. You will know best how to light your painter's she shed but having sky lights and a large double opening door will help.
However you chose to encourage natural light into your she shed also make sure you also have a small lamp inside that gives a soft glow for those times when you just want to chill.
9. She shed office in the backyard
If you want your own personal working space then a she shed is a great way to create a home office.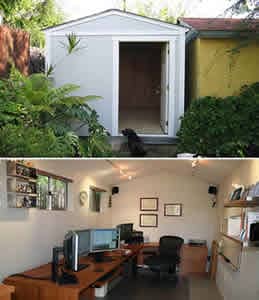 Transforming a shed, or spare room, into a she shed office is very simple.
As I outlined in the article how to create a man cave office you don't need a lot of space to pull this off.
The work area should be functional
Buy a study table or a computer table that will fit in your she shed.
A great way to optimize space is to fit a long table along the wall and continue it, via a corner fitting table, against the adjoining wall (as shown in picture to the right).
A few drawers underneath will be of great help when it comes to storing documents, files and books.
Choose a comfortable chair so that you can work for hours if need be.
Lighting the she shed doesn't have to be boring
You will need good lightning for this working she shed and so it is a good idea to place additional lamps, as well as ceiling lights, above the working area.
If your she shed has no windows then use vibrant white paint on the walls and ceiling to help reflect light.
Even if you have installed plenty of lighting in the she shed office, it will be an attractive element if you put a study lamp on the table.
10. The she shed diner
If you want to surprise guests with a trip back in time then invite them to your very own nostalgic she shed diner.
The diner style has a '50s retro feel
Give your she shed diner a Parisian café-like feel by placing brickwork styled wallpaper, like these ones
, on the walls.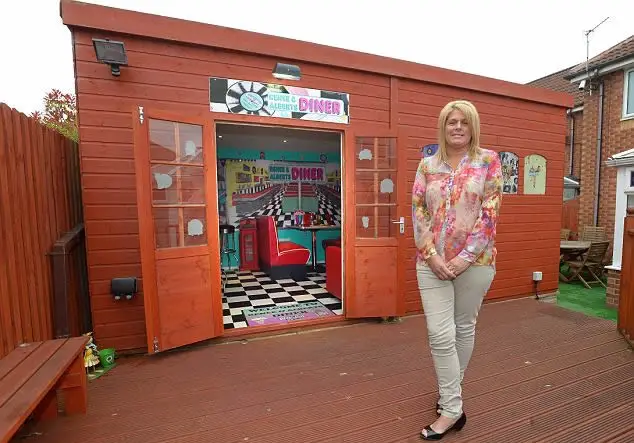 Add these types of cafe decor items
and even hang some vintage tin plagues for a more authentic look.
Look to old pictures of route 66 diners for inspiration.
The dining area fit for a queen's encourage
Get a large table in the center and surround it with as many chairs as possible.
However, make sure that the table fits the room properly.
That nostalgic look can take you back
Inside this retro she shed looks just as good as the outside!
You can easily create a nostalgic vintage 50's or 60's diner look by adding things like a jukebox and vintage furnishings.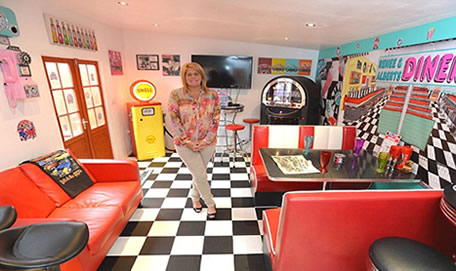 Be sure to use red and white furniture to complete the look.
If you have a serving counter or bar counter use these type of red and chrome bar stools
.
11. The little white she shed
A simple 8 X 8 shed can be turned into a lovey she shed with just a bit of paint, some colorful flowers and a bit of creativity.
Chic or vibrant white can be used to set the scene
Paint the she shed in chic white and have the surroundings dressed with pots of colorful flowers.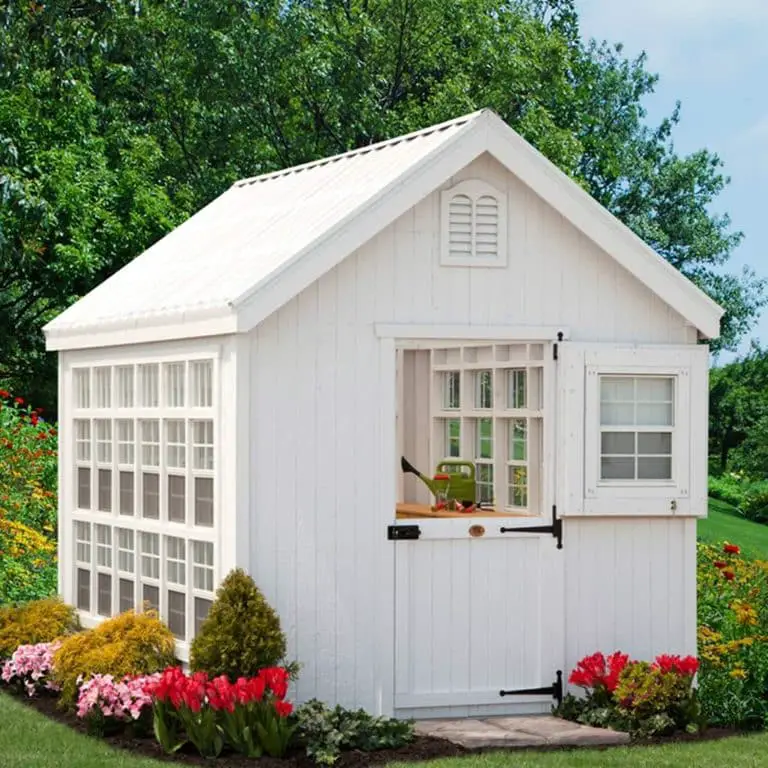 The contrast in colors will really make your she shed stand out.
Chic white wears well as it is slightly "dirty" looking in nature as it is designed to create that vintage used look.
However, if you use vibrant white white instead of chic white then the combination will be even more striking though you may need to paint the shed shed more often to keep the clean look.
The window wall lets in plenty of light
If there are no windows on the main walls then consider using 3D wallpaper to simulate windows.
However, reals windows will make the entire shed airy and the rich fragrances of the flowers will drift in and give the little white she shed a small cottage look.
If your she shed has no windows then you should at least consider 3D wallpaper windows for the inside to give the impression of a view. These sorts of window wallpaper work great for the inside of a she shed
.
12. Arabian nights she shed
What speaks more of luxury that the tents used by Arabian princesses in ancient times.
This Arabian nights tent-like affect that has been pulled off with this backyard shed is truly amazing. And it truly reflects romance and opulence.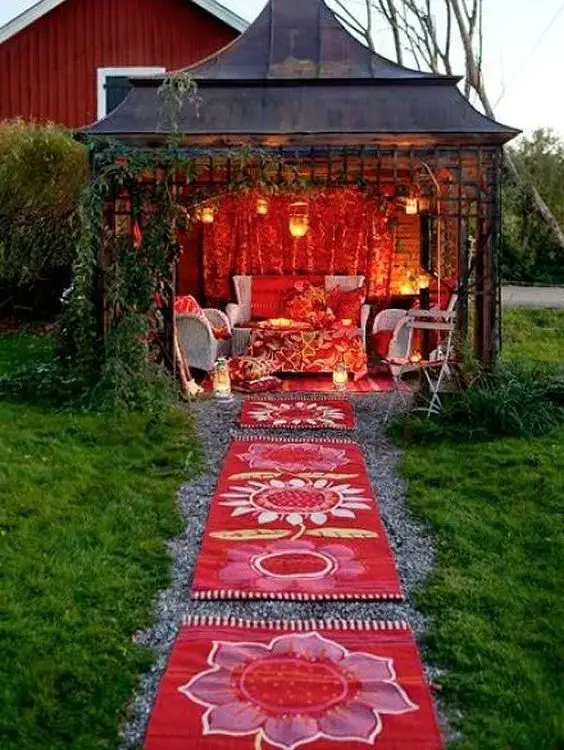 If you are a romantic at heart and want to create a she shed that looks and feels romantic then this Arabian nights theme offers it all.
If there's space in your garden area then creating this type of temple of luxury and love is easier than you may think.
Gazebo or double-door shed is a great foundational start
As you can see in this picture, this she shed has been created using a gazebo. So, obviously this type would only be appropriate for dry warm climates.
Though most gazebos have netting or drapes you can close they offer very little privacy so would be best situated in a secluded garden area.
However, if you live in a less dry climate and want more privacy then you recreate the same look with a shed that has large double doors and windows.
Fire lamps are must-have items
Use several artificial lights that simulate a fire lit lantern or lamp. You can get bulbs that simulate flickering fire light such as the flame bulb and look stunning in old-school lanterns..
They not only look romantic but can be used to illuminate the entire area as well depending on which wattage bulbs you use.
If you have no electrical connections then solar powered or battery powered vintage style lanterns, like these
, will work equally as well.
Red rugs for she shed royalty
Red is the color of love and is associated with Arabian decadence.
Place one or two red rugs on the ground leading up the to your shed shed and have at least one large one inside. This will enhance the look.
Eastern furniture adds pure opulence to the yard
You don't need much in the way of furniture except a lounger, a bed or large bean bags with cushions.
You may also want a sofa or a few comfortable seats.
Drape satin or silk coverings over your furnishings keeping the colors rich and vibrant.
13. From dingy basement to vibrant she shed – when a she shed becomes a lady lair
As I have already pointed out not all she sheds are located in actual garden sheds. She sheds can also be lady lairs that are located within the home.
A basement makes a great female-only environment and even the darkest of basements can be transformed into the brightest of she sheds.
White equals light
Basements are often dark and dingy with dark corners and dull lightning. So, if you want to create a she shed in the basement you'll need to take some simple steps to change that.
You can change the dingy feel of even the darkest basement by painting the walls and ceilings in bright vibrant white and spreading a white carpet on the floor.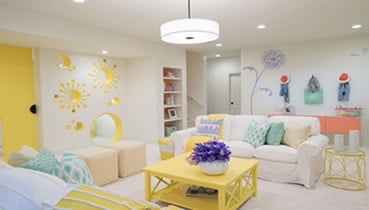 Contrasting colorful furnishings brighten the space
Since the walls and ceilings of your basement "she shed" are white, you need to place contrasting colorful furniture in it.
Of course you can use a cream couch and ottomans but make sure you decorate them with colorful cushions.
This not only offsets the clinical white of the walls but also helps to further brighten the space by reflecting light.
Yellow or other bright colored furnishing will really brighten the room. Try to avoid darker shades as they tend to draw light away from the room.
Light colors equals light rooms.
Wall art adds even more color
These types of colorful wall art
are a great way to decorate your basement she shed walls.
Adding splashes of color across the walls really helps to reflect even more light and create a feeling of brightness and airiness.
The lighting is soft
Obviously taking time to brighten the walls and floors with white reflective paint and colors is useless if you don't have sufficient lighting.
So, as well as having circular recessed lights in the ceiling place several white free standing lamps in key areas and consider placing lighting along the borders.
Use daylight bulbs in the main lamps and recessed light sockets though you may want to connect them to a dimmer switch.
There are a variety of daylight bulbs available
in different wattage available.
But, you should also make sure you have additional lamps with more subtle lighting, or install a dimmer switch on your lamps, so you can also create a more comforting environment when you just want to chill.

This entire décor theme will turn your dark dingy basement into one of the most lively bright places in your home.
14. The reality defying she shed
Have you ever taken a gonadal ride through The Venetian in Las Vegas as the sun goes down and been amazed as dusk turns to day inside the building?
Thanks to a fun and creative use of ceiling art and lighting The Venetian recreates day inside where there is night outside.
You can easily replicate this on a smaller scale in your she shed.
3D ceiling for romantic starry nights
You can make the impossible possible by mixing in a bit of creativity such as 3D wallpapers on the ceiling, cozy lights, and by following a unique theme.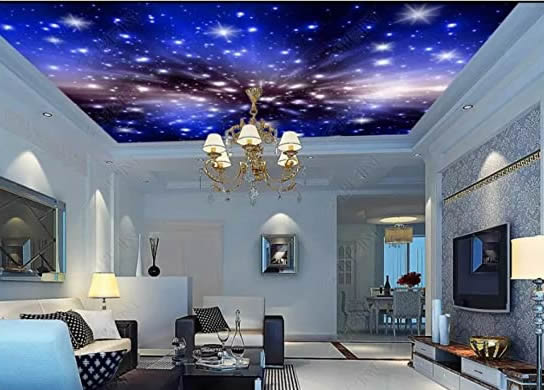 Flooring that matches
Consider having a 3D epoxy floor laid as well.
I have shown how easy it is to lay 3D flooring here.
3D Wallpaper adds to the effect
Choose a 3D wallpaper that either depicts a real sky or the galaxy and have it pasted on the ceiling.
There are a ton of great 3D wallpapers available that can be used to create a unique feel in your she shed.
3D wall art completes the look
You can also have 3D type wall art or ceilings installed professionally.
15. The small she shed shack
If you are very restricted to space then consider this small she shed hack. You can easily turn even the smallest of spaces into a she shed with the correct approach.
Here I show you how easy it is to create a female-only space where you can read, relax, and even take a nap in a small 8 x 8 shed.
Use mirrors to create a sense of space
The biggest problem with a very small she shed is not the lack of space for furnishings, as you can work around this, it is the sense of claustrophobia you get once the furnishings are added.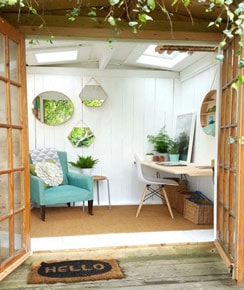 You will want your she shed to evoke feelings of comfort and relaxation so claustrophobia is a "no no".
You don't want the space to feel as though it is caving in on you but at the same time you need it to be functional and therefore have items in it that you can use. So, how do you overcome this challenge?
Well, it can be easily done with compact furniture and the use of a few mirrors.
Mirrors have always been used to create a feeling of expansion in rooms.
As the mirrors reflect back parts of the room they create the illusion of space. So use mirrors at key points in your she shed to create the illusion of having more space.
Use a compact approach
When it comes to populating your small she shed with items always think "compact".
Use corner wall selves on the wall where no-one usually walks, sits or stands. If you need storage then use small cabinets or baskets placed under a table.
Have a comfortable reading chair with a small side table beside it and if possible have double opening doors. Opening these on warm days also increases a feeling of space.
16. The rustic retreat she shed
A rustic she shed can come in two types, large and small.
Rustic she sheds are the easiest to create because a standard shed already has a rustic look to it and therefore requires no additional painting.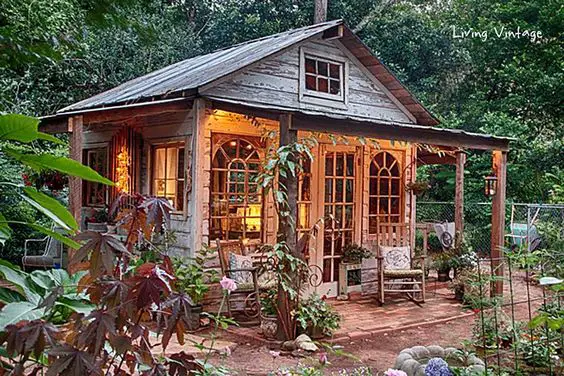 Suits a large shed best
A larger rustic she shed can be decorated inside with this type of outdoor furniture
as it greatly helps to create that rustic look but keeps it eloquent and luxurious.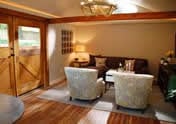 You can also place a large table decorated with wood and antique-styled items.
If you are short of ideas for rustic décor read this article.
Keep the look natural
Use cedar wood or pine and do not paint it so that the she shed looks natural.
Some women like to mix shabby-chic with natural wood to create a more mixed rustic look.
Small sheds can also be rustic she sheds too you know!
You can create an impressive rustic she shed even in a very small area.

Obviously you will be limited by what furnishings you can place inside but it can look just as impressive as a large one.
As with the small she shed shack mentioned above think "compact" when it comes to furnishings though you will want then to reflect a rustic feel.
17. The light house she shed
Although your garden is most likely landlocked, building a she shed that resembles a lighthouse may appeal to you.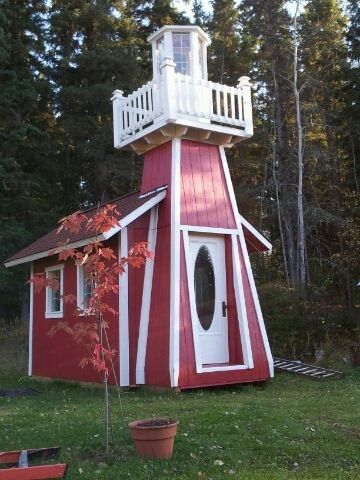 It is even better if you live near a lake or other body of water.
Light the way for she shed victors
Setting up solar powered lights or battery powered lights in the "lantern room" means the light part of the light house remains hassle-free.
You need inside lights as well
If budget allows, create a creative ceiling and leave hollow spaces to fix recessed lights in them.
They will illuminate the room and give off a vibrant feel in the entire she shed.
You can mix it up and go with a combination of 3 white lights and 2 orange ones.
18. The backyard barn cowgirl she shed
Just as a man can have a cowboy cabin man cave you can also have your own country cowgirl barn.
These type of sheds come in different sizes and the larger ones are ideal for she sheds.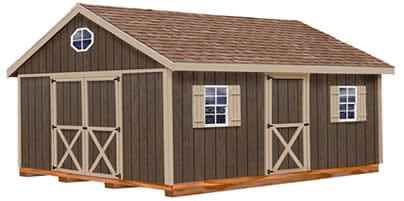 This stunning barn style shed is available from The Home Depot in a variety of sizes and has the option of several great addons.
Wild wild west
If you have a love of old fashioned things and hanker after the days of the pioneers then this barn style she shed would be a perfect fit for you.
Fill the inside with rustic styled décor such as an armoire cabinet and old stove.
A naturally rustic look lends to this style perfectly
Although this barn looks stunning left in its natural brown you can easily paint it white for a brighter look (or any color you want).
You can also add extra windows for additional ventilation and for anesthetic purposes.
The double doors give a true barn feel while the single door allows for easy access to the inside.
Barn dancing is optional
Even the smaller shed is roomy enough for sofas, tables and chairs and makes an ideal space for socializing with the girls.
19. The she shed for people in glass houses
A really unique way to build a she shed is to use a conservatory or greenhouse.
Although a greenhouse may seem like a strange choice for a she shed it offers many benefits over a standard shed.
Let there be light!
A she shed made from a green house offers exceptional natural light.
Simply drape some sheer curtains over the windows for privacy.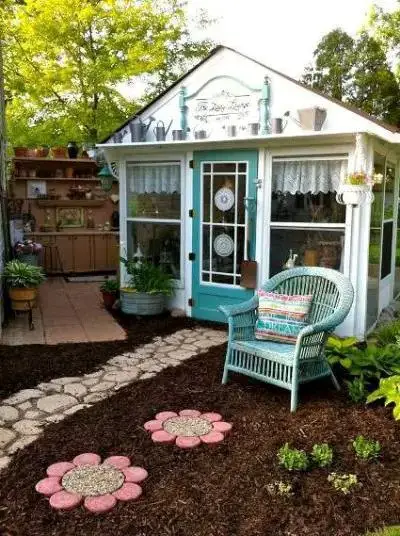 Extra ventilation is optional but recommended
One drawback to using a greenhouse as a she shed is the lack of proper ventilation and the build-up of heat.
A greenhouse is designed to protect plants from harsh weather and offer them a warm environment in which to grow. So, although the she shed would be easier to heat in the winter it stands to reason that such an environment may get warm and clammy in the hot summer months.
Make sure the greenhouse has adequate ventilation and use fans during the summer months to help cool you down. Battery powered fans work just as well if your she shed has no connection to utilities.
20. The little log cabin in the woods she shed
Who doesn't want a log cabin?
Well you may not be able to build your ideal log cabin in Lake Tahoe but you can certainly create an awesome she shed in a little log cabin in your garden.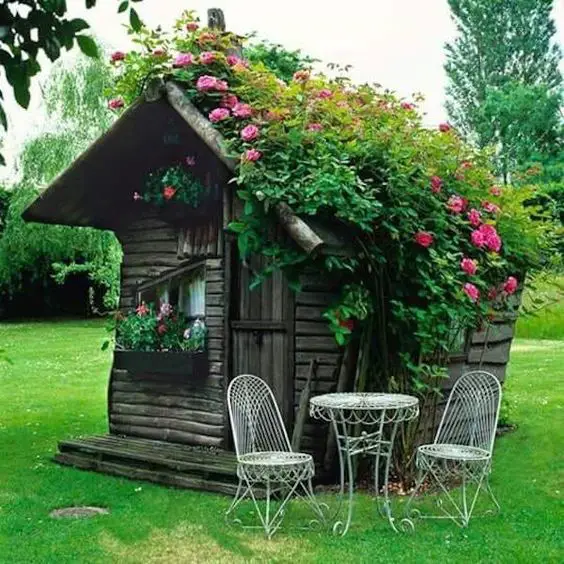 Utilize outside space to create the look
As this type of she shed is very small it is a good idea to make use of the outside space as much as possible.
Place a small table and chairs just outside.
Cover the cabin with creeping flowers to add color and an authentic feel.
Optimize space inside to complete the look
Space will be at a premium inside this little she shed.
Have a comfy sofa or chair and a small table inside where you can enjoy a beverage and just chill.
Light the inside with small battery powered lanterns like those mentioned in #12 Arabian nights she shed.
CONCLUSION: 20 awesome practical & mystical she shed ideas for large or small spaces
These 20 she shed designs are not only aesthetically appealing and easy to set up but they affordable as well.
If you want to know how much it costs to build your own she shed read this article.
Remember that although the term "she shed" evokes images of an outbuilding a she shed does not necessarily have to be created in a shed.
Just like a man cave you can create your own she shed in any location where you have the available space such as a spare room in your house, a garage or a basement.
You just need to creatively use the space, arrange for appropriate furniture, and decorate the space to your liking.