Whether he will admit it or not every man wants his own space. A man cave is an oasis of maleness where a man can kick back and relax. It's not just women who need their space. A growing number of men now understand the importance of having a haven of their own.
A man cave is a place designed by and for the male of the household. You design a man cave in way that creates your own space that's filled with things that you love that's free from female influence.
A man cave is a great place to seek solitude, especially, when you're exhausted and need some time off from life's struggles, mundane life or just as a break from the noise that fills your home.
7 Of The Very Best Man Cave Designs & Themes
Here's where men caves come into play.
A man cave is your dedicated corner of the house where you can chill and relax. It's your personal space that you can decorate and grace with the kind of treasures that are meaningful to you. If you want to know the key reasons why every man absolutely needs his own man cave read this article.
These decorative additions usually include billboards, baseball and football souvenirs, a large TV screen, video gaming area, pool table, darts board, and lounging area. However, these are not the only accessories you will find in a typical man cave.
For this reason the most common feature of a man cave in most homes is a bar area.
Mostly, man caves are made in one out of two places, the basement or the garage. This is because these places are usually not occupied, can be decorated easily, and are away from the prying eyes of visitors.
However, a man cave can be created in any area of your home where you have space and can retreat for some undisturbed "me-time".
If you're planning on creating your space within your home then check out these amazing ideas for the ultimate man cave.
1. Light it up with this neon man cave design
If you want a hip modern area where you can chill with your mates then a neon themed man cave could be right up your street.
Lighting up your cave with neon creates that chic modern bar feel that sets this room apart from the rest of your house and makes you feel like you have entered at different building the minute you set foot into it.
A neon man cave is one of the easiest to setup.
This type of theme can include elements that are extremely affordable but that allow for a lot of creativity as well.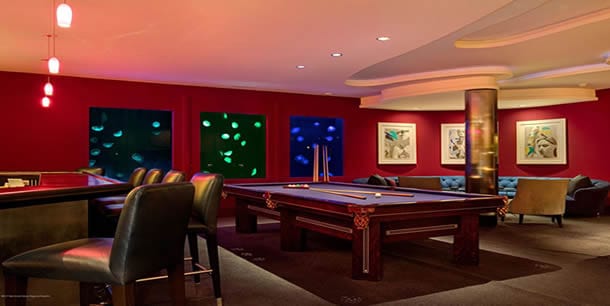 Here's a few ideas to get you started:
Recessed lighting illuminates the cave
Lighting is important especially if you build your man cave in a basement where it tends to be naturally dark and dingy. I've mentioned the importance of lighting in a basement here where I show how to counteract the effects of dark areas to create one of the brightest areas of your home.
The first step towards building a bar-like man cave is to go for recessed lighting.
Recessed light fixtures are small bright lights that are fixed into place in key places within your room.
For a more authentic feel you can add boarded ceilings to your man cave. Then add recessed lights into to the hollow spaces in the bordered ceilings.
Such ceiling recessed lights will drop a downward strong beam on the floor and can be used to create different types of lighting effects by simply using different colored bulbs. They are also quite powerful at illuminating the room when standard recessed bulbs are used.
The trick is to install these lights along the edges of the ceiling in a straight line. You can go with the combination of 4 white lights and a colored light to add variation. But if you want to try other combinations then feel free to do so.
If you have stairs leading to your man cave you can also add lights to each step to enhance the overall effect.
You can get more really cool lighting here that range from the modern to old Edison styled lamps to flickering flame bulbs.
Give it the neon design treatment for that special light touch
Neon lights or products look beautiful in the dark and if used correctly can easily simulate the same environmental feel as a modern club in any big city. You can search for neon ring walls, neon artwork, and other neon products to decorate your man cave.
Neon signs like the one I talk about here are an excellent way to light up your man cave.
Many men love to buy neon signs of their favorite sports team for their man caves. Other popular signs are those based on historic signs such as those from Las Vegas while a personalized neon bar sign will give your man cave that extra personal touch.
Buy these products in different colors so that the contrasting lights look good when the room is dark.
This can create a nice environment where you relax, watch a game or where you can just kick back with your buddies.
A pool table or a cool table completes this cool man cave design
Men and entertainment go hand in hand.
We men often need to get ourselves immersed in one or more activities to reduce the stress that we get from our daily life and work routine. One of the most popular forms of entertainment for a man cave is a pool table.
A tip for buying a pool table: wait until you have finished decorating your man cave before you buy one!
Look for a pool table that blends in well with the ambiance of the overall room.
You can go for wood pool tables as they look good but aluminum can also be a good choice for a neon lit man cave as it will reflect the myriad of colors in the room at night and looks great in the daytime.
If you have the space available go for a fantastic 7 foot pool table like this one.
Of course don't be satisfied just one table when you can have several – regardless of your limited space!
These days you can get pool tables that double-up or treble-up as other games. Like this 3-1 pool/foosball/slide-hockey table or this glass covered coffee and cocktail table that doubles-up as a foosball table.
2. Football freakism sports man cave design
If you happen to be a football fan, (what man isn't?), then turning your man cave into the home ground of your favorite team can be a good way to create your male-space.
As well as reflecting your love of your team a football themed man cave is a great place to kick back and enjoy games with your buddies. Perfect for an NFL man cave.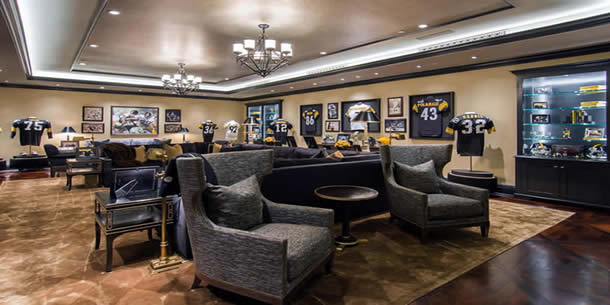 Here's some ideas to kick you off.
The football wall brings game to this man cave
You can start off with the walls and put up jerseys of your favorite team and players. If the space allows, place one or more showcases and decorate them with imitation trophies, miniature helmets or football models.
You can also post your favorite football posters and pictures on the walls. All in all, it's totally your own call. You can use anything football related to decorate the walls.
Football-based accessories completes the man cave décor
Invest in football-shaped accessories including lamps and furniture.
A truly excellent accessory for your football themed man cave are these NFL snack helmets
based on your team which can be filled with all your favorite snacks.
A haven to watch football games is not right without a TV
Your football man cave will not be complete unless it has a large TV screen for watching games. Although a TV can be placed anywhere in your cave if you hang it up on the wall it will help you better create that sports bar feel.
Keep the lighting strong in the room but not shining directly at the TV and arrange comfortable couches in a semi-circle around the TV so that you and your friends can enjoy the game while staying connected.
If space allows a good alternative to a TV screen is a wall projector. In many cases projectors can be cheaper than large TVs and can be retracted when not in use. They are very easy to manage.
You can also uplift the ambiance of any game by adding a nice separate speakers and positioning them in the room to give you a surround sound experience.
Be sure not to overpay for a TV as I outlined here.
Other sports man cave design ideas
Of course the above advice applies equally well to any other sport man cave design.
You can just as easily create a baseball themed man cave or one that centers on ice hockey, soccer, tennis or any other sport.
I have covered how to create the ultimate spots man cave in this article.
3. The luxury modern man cave design for the opulent minded
Many men dream of living the luxurious life. While this may be difficult for those of us who are not among the mega-wealthy you can make this dream come true by creating a surreal and luxurious man cave in your basement or attic space.
This will require a little more investment than the standard man cave but, hey, you're worth it!
You can spice up your space with unique luxury furniture pieces, dazzling wall and ceiling lights, and by applying high-end paint and with solid flooring.
If you intend to spend a lot of time in your man cave then it is worth investing in décor that that is at the higher-end of the market than you would normally go for. This man cave design can make all the difference to the overall experience you get from this room.
If you like the finer things of life that are often beyond your personal budget but you're willing to spend that little bit more than usual you will create a space that is not only your own but that offers real tangible refuge from the world and its troubles.
Remember, your man cave is where you will go to recharge your batteries thus helping to make you a better person, husband and father, so cost should not be an issue.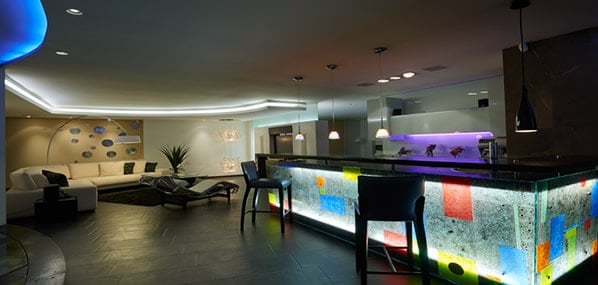 Here's some ideas to help you start.
The lit-up counter – man cave style
Large counters have many uses so if you have the space do get one for your man cave.
You can use a large lit counter to showcase collectibles or for more mundane purposes such as preparing food and snacks or holding your drinks.
However, don't let it stand there looking boring. Instead, create a counter that stands out from conventional counters.
You can do this by installing flat neon lighting on the counter top and placing a large sheet of glass over it. You can either go for monotonous lighting (one color lights) or use a blend of different colors.
The same applies to the sides of the counter.
The luxury ceiling adds to this man cave design
There are many options to choose from when it comes to decorating the ceiling.
You can use the ceiling to show your creative side and turn it into a thing of beauty.
You can place mirrors on the ceilings, wallpaper it with luxurious designs, have an expert plaster it with swirling designs, place fake beams along its length, nail floor panels to it or even have it painted in a Sistine chapel style.
The options are limitless.
Furniture ideas beyond the boring
Invest in comfortable furniture including luxurious chairs and couches.
You can also lay a few chairs next to the counter-top to use it as a bar. If you don't want to build your own bar then a stylish 16th Century Italian globe bar stand can make a great luxurious addition to the room.
I recommend you use something for storing your drinks if you do not intend to build a bar as no cave is complete without an easy-to-reach beverage dispenser, even if all you are consuming is soft drinks.
You can check the great furniture ideas I've included in a previous article here.
Flooring ideas for those who want to walk on style
You can tile the floor or go with wooden flooring. Both option offer benefits.
For example, tiles can be easy to clean making them the easy option while wood flooring often looks more expensive and adds to the ambiance of any room.
I covered man cave flooring more in-depth here.
Technology & gadgets are a must with this man cave design
In the 21st Century luxury equals technology.
Keep your man cave technologically advanced by taking care of music, TV, temperature and other such factors.
You can also get Alexa to work as your personal assistant to adjust the lighting and regulate the temperature while also giving you voice control over the TV, music system and every other piece of technology you own.
Truly when creating a luxurious man cave (or any other type) the small extra investment required to fully automate your entire man cave can turn this personal space into your mini-millionaire-mansion.
There is a myriad of ways to allow Alexa to control devices< from simple plugs to specialized light fittings. Be sure to check out just how easy it is to automate your technology via some simple Alexa controllers.
This is a great option if you have budget and extra space to create a luxurious man cave.
4. Go golf goofy man cave design
The main aim of a man cave is to make you feel comfortable, relaxed, and happy. Sometimes, the sports you love can help you achieve that.
Football is not the only option for a sport themed man cave. I have already mentioned that baseball, ice hockey and soccer are also popular themes but one of the biggest is golf.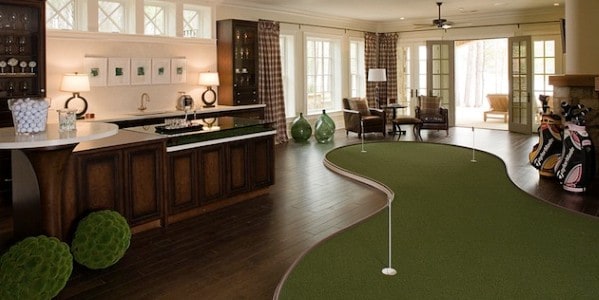 There are some neat golf games you can add to this themed man cave like the large golf simulator I reviewed here.
Here's a few ideas to get you swinging in the right direction.
The grass carpet you can putt on
No golf themed man cave is complete without some type of fairway or green.
Shop for a grass-like carpet and have it laid on the ground either directly on the floor on laid over the floor and encased in its own golf course design.
You may need professional help to get it installed, especially if you opt for a design that resembles a golf green.
Of course you could use a golf themed rug like these ones
instead.
The flag & golf clubs add to the feel
Shop for a set of cheap golf clubs that you can use for ornamental purposes.
Buy a tall flag as well and have it fixed into the ground just to make it look like a proper golf course set up.
If you have the space you can actually build a mini putting green but for most guys, due to limited space, the green itself will be the floor of the man cave.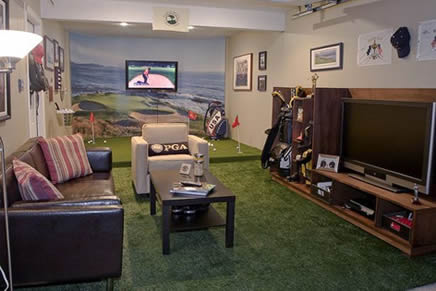 This does not mean you should forgo placing flags on the ground.
Regardless of your space limitations using appropriately sized golf flags can make all the difference to the overall feel of the room.
These flags can be placed in strategic places and your clubs can be propped up against furniture or kept near the TV.
An example of this can be seen in the picture to the right.
Seating should be golf inspired
Golf themed furniture can be difficult to come by so adding themed cushions is a great way to change your existing sofa into a PGA one.
If you are buying new go for sofas with dark hues so that they blend in well with the green carpet.
You can also decorate the walls with golf posters, pictures of golf courses, and even get a large TV screen attached to the wall to watch the golf and other sports and movies.
5. Down the alley man cave design
Sometimes, a bar, a large TV screen, and a sitting area aren't enough and you crave for something more exciting.
This is where you can go for a bowling alley if you have a large space in your basement and of course, if you have the funds in your account.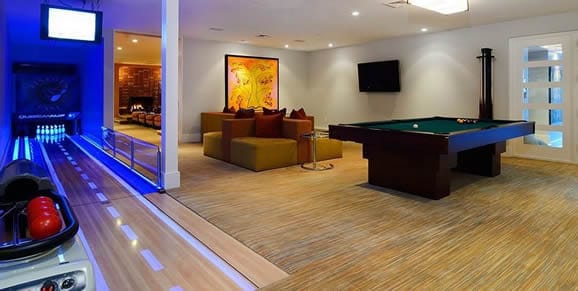 The wooden floor adds to the ten-pin ambience
Call a floor contracting company and get an estimate for installing a wooden floor in the entire basement.
Wooden floors are smooth and will roll the bowl smoothly. Call in relevant people to install a complete bowling set up consisting of at least 2 lanes so that you can play with your friends as well.
The lighting has a neon touch
It's important to install lots of lighting on the ceiling, especially above the bowling area.
You can go for lamp lights that hang downwards or pick traditional ceiling lights.
Including reflective stickers on the pins and runway for a cheap way of creating a neon type effect.
Music is a must
To take it up a notch, install a music system setup.
Using a type of jukebox like these ones is an excellent touch for a bowling alley man cave.
If you are building your man cave in a shed
or other outdoor space, such as a garage, ensure the room is well insulated so that the music doesn't disturb others and to ensure the electrics are water-proofed.
Other games can be added
Creating a gaming setup can uplift the appeal of your man cave. Get your PlayStation or Xbox ready and go for a large TV screen.
Place sofas in strategic places and consider enjoying a realistic gaming experience with a fully immersive gaming chair and surround sound speakers.
You can also add a pool table if you want to ad some non technological gaming choices to your space.
6. Master of the seas man cave design
Pirates of the Caribbean has taught us how classy and flamboyant sea life can be.
A nautical deign is an excellent way to bring the feel of the high seas to your man cave and encourage your naughtier side to come out if you decorate it in the theme of a pirate ship.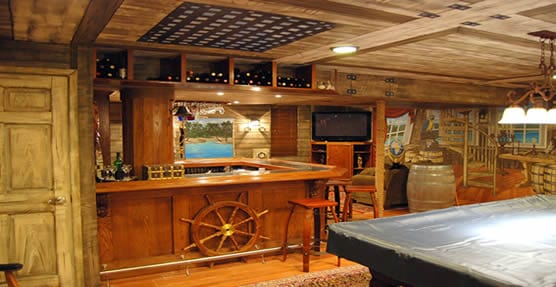 Here's a few ideas to get you sailing in the right direction:
Wood it up me hearties
The best ships are made of wood.
Use a wooden ceiling in the shape of planks for a old-school ship-like appearance. You can also go for an inverted V-shaped roof supported with long rods.
Install a counter that is made of wood making sure of have plenty of rum and whiskey bottles for decoration.
Place wooden tables, a wooden pool table and a large wooden compass or replica ship wheel on the wall or bar.
Wooden barrels and a pirate flag will help with the overall ambiance.
The brown aura ahoy!
Install dim brown color hanging lamps and lights make it look like the interior of a ship.
You can get old lantern style light fixtures or simply place replica lanterns in key areas.
You can also get a table designed like a ship and place it in a corner.
Ship souvenirs & pieces of eight
Purchase small ship-related ornaments or get real used items from ships and boats that have been decommissioned.
When placing the items think strategically by spacing them out and you will be able to create a pirate feel with very little items even if you have limited space.
If you want to add some colors in keeping with your nautical theme you can add an aquarium with real fish. Keep in mind that you'll have to take care of the inhabitants with regular feeding, cleaning of the tank and adding fresh water.
If looking after real fish sounds like too much work consider getting one of the walls 3D-painted to look like you're in the middle of the ocean.
If you do go down a nautical or pirate themed path then you definitely need to include a ship's wheel in your man cave. Have a look through these different varieties of wheels that are available
7. Classic bar man cave design
If swaying on the high seas is not for you then then you can go classic.
By introducing a a full functional bar, a jukebox, arcade games or table games, and neon lights into the mix you can create a classic bar feel to your man cave.
What you may not realise is that it doesn't have to cost that much to build your own man cave bar.
Add a bar or bar-type theme by using wooden bar stools and standard bar pumps. Add some sports memorabilia and you have a classic bar man cave.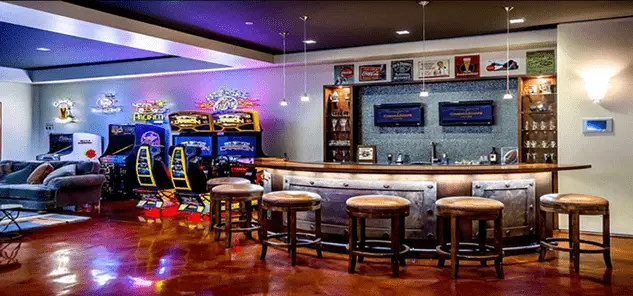 Here's what you need:
Jukebox heroes wanted
Jukeboxes are a must-have item for this type of design. Unfortunately, most jukeboxes are expensive.
Do a little research to see what is available in the type of deign you like and get one that's within your budget but that fits well with the theme of your room.
The more colors the jukebox has the better.
As I mentioned earlier these types of jukeboxes are excellent choices.
Games, games, games
The saying that a man never really ages (inside) is quite true. Place him before a video game and see his inner child come out.
You can relive those classic childhood moments by placing Pacman type arcade type games and a few slot machines where you can even chill with your mates.
As well as modern gaming systems such as a PlayStation or Xbox consider adding a table football game, pool table and if your budget can stretch to it get a few free standing arcade gaming machines.
Of course if space and/or budget is a concern consider getting a table that has multiple functions and can be transformed into different games like the ones I mentioned here.
The bar counter design must be just right
Playing video and arcade games for hours can make you thirsty. So, you'll need somewhere to get refreshments.
Building a bar where you can have iced water or something a little stronger is always a plus.
Neon lights for neon nights
A classic style is incomplete without neon lights and lamps.
Install them strategically behind the bar and close to the gaming machines to get that classic bar look.
You can browse through the many different types of neon bar lights and signs here
.
Bar stools are not optional!
It will look bad if you call friends over and there's no proper seating arrangements.
Shop for a large couch and add a few chairs close the TV to make sure the space can accommodate everyone.
Man cave bar stools are a must if you want to complete the classic bar look.
A Few Things to Remember
Make sure to pay attention to the following factors when designing your man cave:
Ensure you take into consideration the need for adequate seating before bulking up on other items. Get the seating sorted out first.
Make sure you have some form of entertainment, it can be a pool table, a gaming setup, or television.
Keep a mini-refrigerator in your man cave to make sure you never run out of cold beverages.
Consider having a kettle at hand for hot beverages as well.
Always keep the snack bar stacked up as well.
Garages and basements can be very hot or cold. Take care of the temperature by paying attention to the HVAC system.
Get the area insulated and make sure it is fully water-proofed so that you can enjoy your time in private without causing disturbance to anyone and your electrics are safe.
You can always shop within your budget and still create the type of theme you want! You just need to shop around and get creative.
Conclusion: 7 Best Man Cave Designs
These seven designs are some of the most adored man cave designs out there.
I hope they have given you some ideas or at least ignited your own creative spark to design your own special man cave. For ideas for populating your man cave with cool items be sure to read this article.