One of the most popular locations for a man cave is the basement. This is because a basement offers a large open-space area away from the main part of the house, and is thus an ideal place for creating your own personal play area. However, creating a man cave in a basement requires a bit more attention to detail than is required with other locations.
4 Steps To Making An Awesome Basement Man Cave
There are only four steps you need to follow to create a truly awesome man cave in your basement.
If needed, clean and mold-proof the basement and have extra electrical sockets fitted.
As basements are usually dark with limited light, you need to brighten the space with the use of specific lighting and light reflective colors.
Install proper climate control.
Then you can populate the area with design specific items, and furniture.
Once you have completed the first 3 steps in making a basement man cave you will probably want to deck out the cellar space with a specific man cave design. You can find some cool basement man cave ideas in the article how to build a garage, basement or outdoor man cave bar.
Be sure to browse through the is website as there are a ton of different man cave ideas for a basement from ultra modern man cave designs to sci fi man caves and more.
Before you do that though, let's look at the above steps you need to follow to create the ultimate basement man cave in detail.
Creating a basement man cave in 4 simple steps
To convert a dingy, dark basement into a vibrant bright man cave is not that difficult a task. However it does require an understanding how light works in a dark place and how to utilize that light to your advantage.
1. Prepare the basement for the man cave conversion
The first steps to your basement to man cave conversion involve preparing the space.
Most basements are dark, dingy environments that are used for storage and/or as utility rooms. In order to prepare it to become a man cave you will need to change your basement from a dark foreboding room underneath your house into a light inviting open addition to your house.
Although most modern basements will be fully waterproofed and damp proofed to protect against mold not all of them are. Obviously if your basement has not been treated against mold you will need to do that.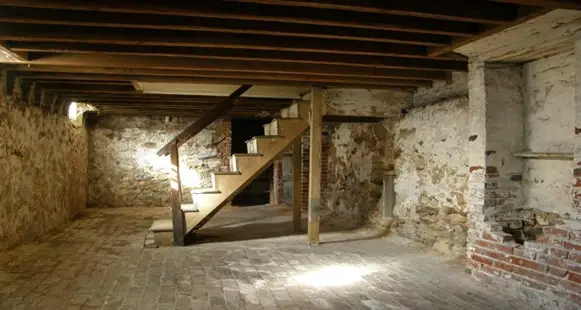 It is also best to begin your conversion by emptying out the basement completely, or as much as possible, so you have a "blank canvas" with which to work.
Before applying any anti-mold paint (if needed) you will need to ensure your basement has adequate access to electricity and if needed water – in the case where you want to build a man cave bar for example. Most basements will already have access to electric, but it may be limited to just one or two electrical sockets which is not enough for a man cave.
It doesn't cost that much to get an electrician to install additional electrical sockets at key points around the basement.
If you have no access to water in the basement and you need it, then it may cost considerably more to plumb the area. If the basement already has access to your home's water supply then installing additional water features needed for a bar should not cost that much.
If costs are a concern though and you intend to build a basement bar I recommend you read the article How to Build a Man Cave Bar on a Budget for some really neat ways to cut on costs without having to cut on quality.
Once the basement has adequate utility connections and after you have thoroughly cleaned the entire space, and applied anti-mold paint, you will be ready to start the fun bit of the conversion.
2. The importance of lighting in a basement man cave cannot be overstated
As most basements have no windows, or very small windows with limited access to outside light, they tend to be very dark places even during daylight hours.
Also, because they are mostly used as utility rooms and for storage basements often have inferior electrical lighting.
Many basements will have just one bulb to light the entire area that gives off only enough light to fumble around in the junk or empty the washing machine.
You will need to rectify this. There are several ways to do this.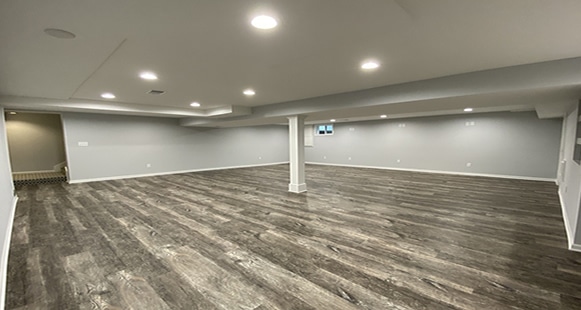 If you have already decided to get an electrician to install additional electrical sockets then it would be a good idea to also have him install additional light sockets in the ceiling.
If you have the budget you should consider adding a dry wall ceiling with flush ceilings lights connected to a dimmer switch or use Alexa controlled bulbs.
However, although this is the ideal action to take it is not completely necessary.
With a clever use of daylight bulbs, like these ones
, and strategically placed standing lamps you can create a lot of light in a basement that has limited light fittings.
Be aware that if you go down this route you will need plenty of electrical outlet sockets and if you need to have them installed you may as well get the electrician to install light fittings while he is there.
Of course just because you need to use lighting effectively this doesn't mean you are stuck with boring light fixtures.
As I outlined in the article on man cave lighting there are a ton of ways to light your basement man cave with fun items from beer bottle tracking lights, to the cool Harley Davidson headlamp table lamp.
3. Adding color strategically is vital in a basement man cave
Lighting isn't the only way to brighten up a dark, dingy basement. Color can play a crucial role in brightening up the area as well.
As I outlined here in the article about creating a basement lady lair (a lady lair, or she shed, is just the name given to a female man cave – it doesn't have to be built in a shed), the use of color is very important in dark spaces.
Bright, vibrant color reflects light and can make a room look and feel brighter, lighter and bigger.
On the flip side, if you use dark colors in a basement then it can be difficult to light the area.
Although you can make dark colors work, in most cases using them will lead to an overall gloomy look.
If you like that look then that's fine but be aware that if you use bright colors and bright lights with a dimmer switch then you can easily darken your basement man cave as much as you like but if it is dark to begin with you will struggle to make it bright.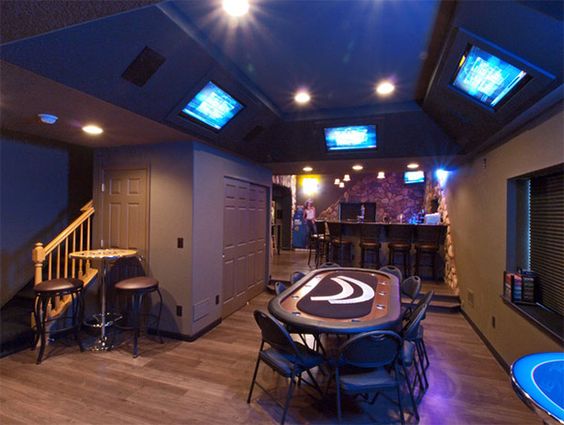 The truth is that using bright colors and bright decor in your basement man cave can make the difference between a gloomy get-away and a vibrant playroom.
So as much as possible use light reflective colors. Obviously a brilliant white will offer the most reflective surface but don't discount light color shades such as yellow, pastel greens, powder blue etc.
There are a myriad of light reflective colors you can use to help brighten up your basement man cave. Delux created this wide range of Light and Space paint
specifically for this purpose.
These bright light reflective shades can be offset by vibrant darker colored decor. For example, a yellow wall have make a deep red or royal blue wall-mounted plague or piece of furniture really stand out.
If you plan to build a sports man cave in the basement, as I outlined how to do here, then choosing bright contrasting wall colors, that will compliment wall hanging décor is important.
Wall art or posters that have your team colors or logo, is a must. But, if your colors are dark then consider using bright frames or extra lights to offset the dark hues.
The contrasting color will give those wall hangings. and other décor, a real punch and make them really come alive (see the pic of the Virginia Tech football man cave above).
If you team colors are already bright then all the better.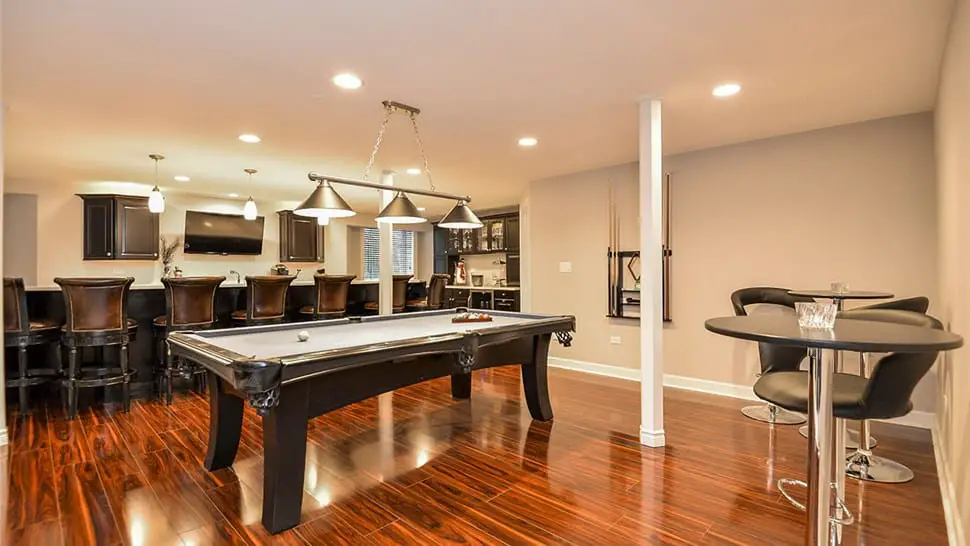 4. Climate control is something you will definitely need
You may want to have HVAC installed in the basement or at the very least have some form of climate control.
If HVAC installation pushes your budget past its safety line then be sure to incorporate some standing fans. You can install ceiling or wall fans at key points for the warmer months and have electric heaters for those colder days.
There are some really good electric fans that would fit well with a man cave, like these remote controlled fans
or you could use a timer controlled fan like this one
.
You can pick up relatively inexpensive, but very effective, heaters like these
.
Basement man cave essentials
There are some things that a basement man cave must have.
What are they?
Well, for a start we have already covered the need for good lighting, climate control and bright decor but what about the fun stuff?
Here is a short list of the most popular items found in a basement man cave:
13 Basement man cave ideas
Although a theme is popular among many man cavers it is not to everyone's taste. Some guys just want a private space and don't need it to be decorated in any special way.
However, if you think a man cave should be unique and reflect your personality and interests then here are some cool man cave themes to consider.
A sample selection of man cave theme ideas:
Sports man cave dedicated to a specific team or sport. Fill it with memorabilia and sports decor like these fun floating team football helmets, hang jerseys etc.
Racing man cave. Such as Motorsport, motor cycle road racing, Grand Prix,etc. You can even get an Aston Martin wheel coffee table or an espresso machine shaped as a formula one engine!
Monster truck man cave.
Nautical man cave designed to resemble a pirate ship or tavern.
Aeronautical man cave with propeller sculptors are other airplane items.
Casino with one arm bandits, card tale and roulette wheel.
Old-school gaming arcade with arcade game machines.
Homage to a brand (like Harley Davidson or Jack Daniels).
Nostalgic man cave. You can theme from the quiet 30's to the Rock infused 80's.
Modern high-tech ma cave. Fill it with all the latest gadgets and gizmos.
Movie specific man cave. Like Star Wars or Indiana Jones. You can also just create a Hollywood theme or Golden Era them.
Band specific or music era specific man cave. Posters, band memorabilia, framed album covers etc.
Music mayhem man cave. Fill it with musical instrument decor like a Marshal amp style fridge or a Marshall amp styled Bluetooth speaker some even come with Alexa built-in.
Many, many more.
Be sure to browse the internet for other man cave ideas. Seeing what other people do with their man caves can spark a lot of creativity. Pinterest is a good place to see how other guys have designed their man caves.
What about furniture?
Believe it or not many guys struggle to find the right furniture for their man caves . This is due to a lack of true understanding of what they want their man cave to do for them.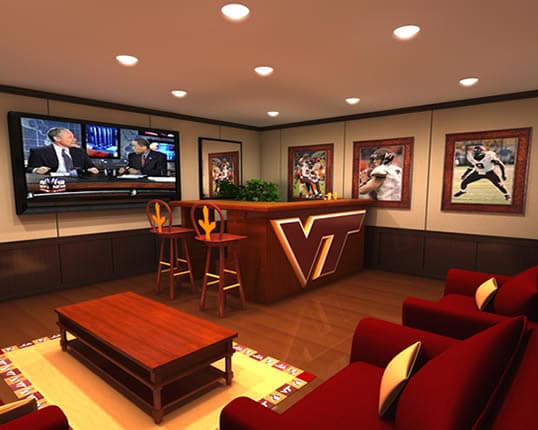 A lack of purpose associated with their man cave is the main reason many guys get stuck about what furniture to put in it.
I covered the subject of man cave furniture fully here where I give some great tips for sourcing cool and unique, yet functional and comfortable, man cave furniture based on your specific and personal needs.
When it comes to the décor the key to man-caving your basement is to choose décor that is meaningful to you, stuff that matches your theme and that is practical for the purpose it is intended.
Basement man cave ideas on a budget
Building a basement man cave on a budget is not only possible but you can do such a good job that your man cave will rival any other one out there.
I covered the subject of budget man-cave-building in this article. You will get some great cost-cutting ideas from reading it.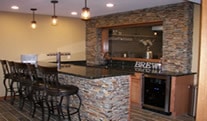 One way to cut costs is to DIY as much of the work as possible, though this is probably something you will intend to do anyway.
Whatever you do, do not try to perform utility work, such as electrical work, yourself unless you are a trained and qualified professional in that field. It is dangerous to mess with electricity. Even something like HVAC installation is so dangerous that it's illegal.
The biggest outlay you will probably face in a basement conversion is the décor and furniture costs. This will be substantially greater even than the cost of having extra utility connections fitted.
You can save a huge amount of money by upcycling old junk. As I have already demonstrated, a lot furniture can be made by upcycling old junk. This furniture is not only cheap to make but is makes your man cave look truly unique and one-of-a-kind.
There are also ways to source man cave items at lower prices than you would normally pay in local stores. I outlined those methods here.
Again, I urge you to read the article How to Build a Man Cave on a Budget for a more in-depth look at ways for creating a great basement man cave at very low cost. That article is bursting with money-saving tips.
Where to find a even more cool basement man cave ideas
There are a ton of different themes you can use in a basement man cave.
Whether you are an avid sports fan who loves the company of a bunch of rowdy sports fans or a veracious book lover who prefers a quiet place to relax and read, there is a theme for that and a theme for everyone in-between.
Whatever it is you enjoy doing you can be sure there is a man cave theme to fit it.
In a previous article I outlined the 7 most popular man cave deigns but there are as many deigns and themes as there are man cavers to build them.
Before you begin populating your basement man cave with furniture and décor though be sure to take time to really think about what you want to accomplish in this space. What will this man cave mean to you? What will it offer you in terms of activities or downtime?
Here are some ideas that will illustrate what I mean.
What is the point?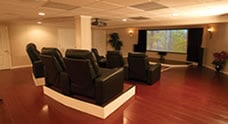 A sample selection of purposes for a man cave:
Somewhere to socialize with buddies.
Your own home bar.
A private space for chilling.
A reading room.
A games room for tables based sports, card games or even playing golf (yes its possible – see this).
A gaming room for digital games or full arcade games.
Your own cinema.
A trophies or collectibles room.
A hobbies room.
A home office (I show you how to create a man cave office here).
Whatever you need your personal space to do for you.
Once you know what purpose you want your man cave to have and what you want it to offer you, you will be better suited to the task of its interior design.
Once you have decided on the purpose of your man cave it is relatively easy to get the interior sorted out. Many guys go with a theme.
Recap: How To Make A Basement Man Cave
It all starts with some simple preparations.
First clear out the basement and clean it thoroughly.
If you basement has no, or limited, electrical outlet sockets then you will need to hire a qualified electrician to install some.
While the electrician is there you may as well get him to install more light fittings in the ceiling as your basement will most likely have insufficient lighting. Getting the lighting right in a basement man cave is crucial.
You can of course make do with standing lights as long as you position them properly and they give off strong enough light to illuminate a large area but they take up prime real estate in the man cave that could be used for better things. Ceiling light is much better for illuminating the area.
As well as using ceiling lights and/or lamps to help illuminate the basement you should also strongly consider using light reflective paint. This type of paint, like the examples I give below, is excellent at distributing light and with the aid of some daylight bulbs will brighten up even the darkest of basements.
Light reflective paint in conjunction with good lighting will also allow you to use dark furniture or dark décor in what would normally be a dark basement.
Once the preparations have been finished you can get to work furnishing your basement man cave and adding décor.
Before you add a single piece of furniture or even one item of décor you must give some real thought about what you want your man cave to do for you! The purpose of your man cave will determine how you populate it.
Purpose-driven furniture and theme-based décor are what makes a man cave look like a man cave.
However, like the use of light reflective paint, your choice of décor should to some degree include the consideration of distributing light.
Although you can use contrasting dark colored décor and furniture, which can really make them stand out, keep in mind that including some light reflective items, such as mirrors, chrome items or light colored artwork or posters will help brighten up the entire room, especially if your basement is large.
The furnishing you include will largely depend on the purpose of your man cave and/or the theme you choose (if you choose to use a theme).