Although we have already covered the creation of a sports man cave in depth readers have asked us to write guides for creating man caves dedicated to specific sports. One of the most popular sports is basketball.
So, to celebrate the upcoming NBA season, you may have decided to carve out your own nook in the form of a basketball man cave. If you are ready, then we are here to help you make that dream a reality.
10 AWESOME & DOABLE BASKETBALL MAN CAVE IDEAS
Maybe you have a lot of your own basketball merch you'd like to transfer down into your man cave, but what else can you do to the space to make it a perfect basketball lovers haven?
We're so glad you asked. Here are 10 awesome basketball man cave ideas to get your mental gears turning.
Go wildcats!
This man caver stands proud in the basketball room he created.
It's a homage to the Kentucky Wildcats, and the way it's done is quite great.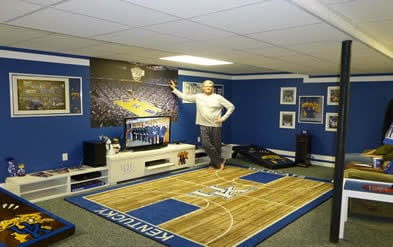 He started by painting the walls blue with white accents to match the Wildcats' colors. Then, rather than get the carpeting ripped out and hardwood put in its place (quite a costly venture for certain), he got a Wildcats carpet that looks like a real mini basketball court right in the center of the room.
A large print-out of the Wildcats' court on the wall as well as other framed memorabilia makes this space feel cozy.
Also lending to the nice feel of this man cave, you've got a sizable TV, customized shelving, and other Wildcat merch scattered about.
Sometimes Bulls are small in a basketball man cave
This small but cool man cave is within the same vein as our first example, but on a much less grand scale.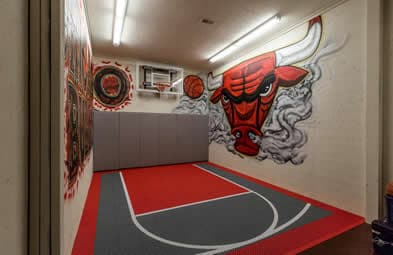 This man caver took a concrete open room and painted the Bulls logos on the three walls.
Although you can recreate this with wall decals this example has been painted by hand. The logo looks good enough on its own, but the man caver didn't stop there.
Next, he got flooring installed that looks like what you'd see on a real pro basketball court.
He also blocked the walls with a protective covering and then installed a working basketball hoop. We assume you can't really play in here but it looks awesome!
The subtle touch – generic basketball man cave
Don't feel like you necessarily have to go out of your way to make your man cave a completely themed basketball space. Subtle nods work just as well, such as our next comfy-looking basement man cave.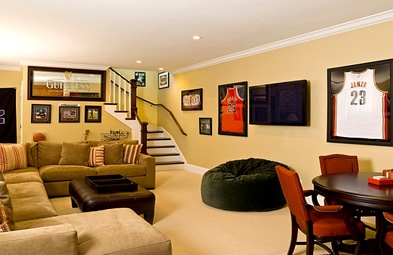 The man caver didn't change much here, just adding a few of his favorite framed basketball jerseys and autographed "Dream Team" memorabilia.
You will also spot a framed basketball beneath the glass Guinness mirror.
These autographed collectibles, especially autographed basketballs, not only look great but are actually a very good long-term investment as they will increase in price with each passing year.
We always try to include at least one subtler option in case you share a home with a partner or spouse who would prefer you scale back your man cave aspirations.
This space still looks tasteful, and it does show your love as a basketball fan.
It just doesn't scream that love from the rafters but it does enough to show your appreciation of the game.
The basketball bedroom takes the man cave to a new level
Speaking of "subtle", this basketball bedroom is the definition of that word.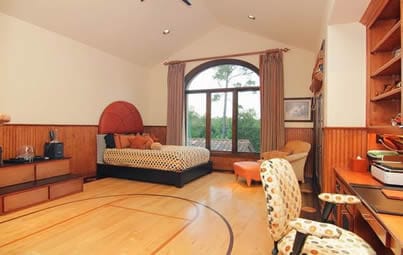 We don't often talk about bedrooms because most man cavers don't use this space for their man cave activities but this one looks so good we couldn't resist sharing it. And, it has enough basketball themed ideas to help spark some ideas of your own for a non-bedroom space.
However, if you have the freedom to, or if you just want a bed in your man cave, try decorating the room like this.
The hardwood flooring with basketball lines is the most obvious nod to the sport. Otherwise, this man caver took b-ball colors like orange and spread them across the room, from the chair in the corner by the window to the warm wood accents.
The bed has a basketball-shaped headboard and orange throw pillows to really get the theme across.
We think this man caver did quite a good job of that. Obviously you can use other types of
basketball furniture
to help create the look you want.
A Bulls basketball man cave with a more relaxed feel
Here's a second Bulls-themed man cave that's less about playing b-ball and more about watching and enjoying it.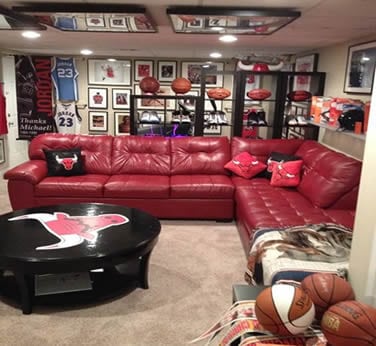 This man caver didn't paint his walls, but instead covered them in every type of basketball memorabilia imaginable.
From hanging jerseys to signs, framed photos, and posters, he's got 'em all. Both Sports Memorabilia and Steiner Sports offer a great range of basketball memorabilia for kitting out your cave.
Rather than change the walls or floors to match the Bulls' signature red color, the man caver decided to get some vivid red leather furniture set up in his space instead.
Then, Bulls throw pillows and a black circular coffee table with a decal of the Bulls logo front and center also show his love for his favorite team.
There are a range of basketball throw pillows
to suit all tastes and decor from team specific to basketball themed.
The ceiling mirrors are used to reflect back the theme which is a unique touch as well.
The hall of jerseys basketball man cave
This incredibly large room already inspires awe just looking at it.
From the rows of square-shaped lights to the oversized U-shaped wraparound leather couch with an endless cascade of pillows, who wouldn't want this man cave to be theirs?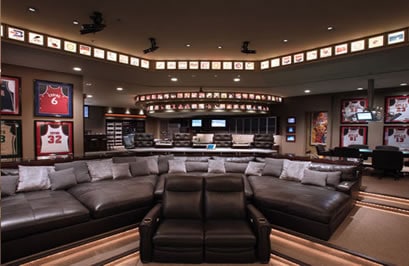 Yet despite its large size this is one of the coziest rooms we've ever featured for sure.
The man caver behind this amazing space decided not to get in the way of the natural flow of the room too much and only added framed jerseys on the walls.
With a man cave like this you could have all your friends over and everyone would have plenty of room to spread out and watch the basketball highlights in total comfort.
Although it is unlikely you will have the same type of space to work with this large basketball man cave may just give you some inspiration for your own cave.
The upscale basketball man cave
At first glance, you might wonder what it is about this room that makes it a basketball-themed man cave. Look a little harder. It's not as obvious, but the sporty touches are there.
The most obvious one is the rows of shelves, each that holds its own glass-framed signed basketball (with at least one football in there as well).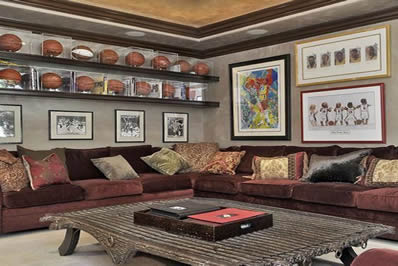 Below that, you'll spot a couple of black and white sports photos.
To the wall adjacent, this man caver has some quality basketball art adorning the walls.
The large L-shaped maroon couch with throw pillows and the low-standing coffee table aren't really related to basketball, that's true but with some basketball themed throw pillows and a basketball table cover
it would be.
If you're the type who prefers a posher room or doesn't want to rip apart a space and start over, this example should give you some ideas.
The basketball home bar for when you need a cold one during the game
Who doesn't love a beer with the game?
You already decided to make a nice home bar in your man cave, but now you want to go one step further and add some basketball touches as well.
Do you really have to gut the space or could you marry the two concepts?
Yes, you definitely can use an existing space to help out with this. This man caver did just that.
He took a large utility room with access to water and an an existing home bar and added some standard furniture while slipping in some meaningful basketball merch.
On the one wall, he's got a framed jersey from the beloved Michael Jordan. As for the glass wall behind the bar, you'll see some basketball figurines and a few framed basketball photos.
The centerpiece is undoubtedly the man cave basketball hoop above the bar – you can get similar hoops here.
It'll get you all amped up for your favorite team's game! If you want to shoot a few balls yourself, we recommend doing so outside so you don't break the glass in this man cave or use a small rubber ball.
The Lakers basketball space
Here's a great example of how you don't necessarily need tons of room to make a phenomenal man cave all your friends will love.
A Los Angeles Lakers superfan created his man cave in a converted attic first by painting the walls that signature Lakers purple and built-up the room from there.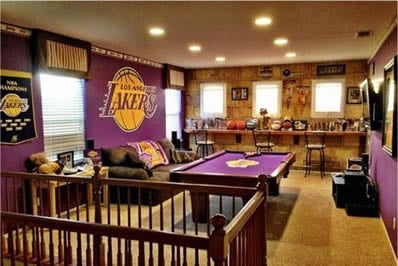 The man caver got the Lakers logo hand-painted on one of the walls, though a decal would do the job just as well at a fraction of the cost. To accent that, he's got more team merch hanging on the wall as well.
The wall furthest back is not purple, but is painted a much lighter color to, not only help spread light throughout the room but to also, draw the eye to a row of basketball memorabilia which includes sports balls and more.
On the couch, you can't miss the purple Lakers throw blanket.
In the center of the room, this man caver has a pool table in that same purple with the Lakers logo, printed on the felt, once again making an appearance.
The room uses color expertly making sure the Lakers purple is not too overpowering; if the entire room was painted purple it would create a very dark space.
The purple is offset perfectly with light colored carpet, a cream ceiling with plenty of recessed ceiling lighting and light colored feature wall.
The bar stools are also covered with light colored padding.
The man cave court – cuz we need to include one BIG one
Let's start with a bang, shall we? This man caver did the seemingly impossible, getting his very own basketball court installed in his home.
And no, we're not talking in the garage or basement, either, but a main room in the house.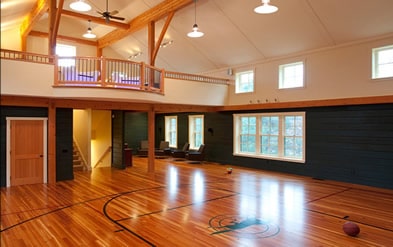 Now, you will need an extraordinarily large room to make this happen, one with very high ceilings that seemingly stretch to the heavens.
You'll also have to get hardwood flooring installed if you don't already have it. Then you'll have to get the basketball lines adhered to the floor, but you could do this with tape and a reference photo.
While you won't see a basketball hoop here as this is one of those man caves where you're meant to just admire it rather than actually use it as a court, the space is large enough to actually play a game in – you'd just need to be careful as there are many windows are within the vicinity!
With a bit of basketball memorabilia, from autographed game used NBA memorabilia to autographed basketball photos, jerseys and balls, and some basketball themed furniture this would make the best basketball man cave.
If you are at a loss as to which types of furniture to put in your man cave, and for some great man cave furniture ideas, read this article.
CONCLUSION: Basketball MAN CAVE IDEAS YOU CAN ACTUALLY BUILD
If you're chomping at the bit for basketball to come back on TV, having a themed man cave will make the torturous wait more bearable.
From the rooms that look like real b-ball courts to the tamer dedications to your favorite sports teams, you have countless ways in which to decorate and design your man cave.
This is one of the most fun parts of the process, so make sure you savor the moment. Good luck!