You have high hopes for your man cave. But is it always a work in progress? You quite enjoy looking through this blog to inspire your project ideas, but sometimes you wish all the best man caves were compiled in one place.
Well, your wish has been granted. In this article, we're sharing what we think are the 10 best man caves in existence.
10 Of The Very Best Man Caves You Can Replicate Today
The following man caves are the crème de la crème for sports-themed, rustic, sci-fi, even budget man caves though we could have added many more. Prepare for your creativity to go into overdrive once you see these epic picks.
1. When You have a large space that needs decked out: the best large man cave
Whether you have a large garage, a huge attic, or a ginormous spare room, you'll have tons of space in which to craft your man cave. You may wonder, what do you can do with all that space.
This is admittedly a good problem to have.
For the answer, look to what this man caver did in the image below.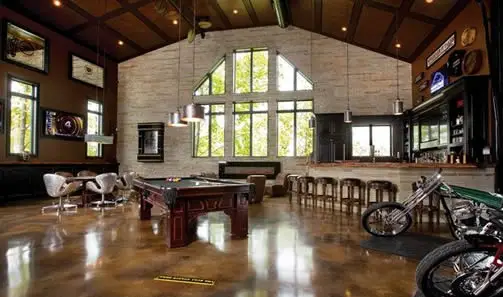 He has a very large room in the form of a barn conversion. The angled ceilings stretch high for an even more expansive feel.
Hanging lights and skylights illuminate the room well when daylight fades, but it's the oversized wall windows that really make this man cave bright.
Smooth, polished floors look so clean you could probably see your reflection in 'em and have been created by using epoxy resin.
If you have a large room like this to work with, then resist the urge to fill every last ounce of space with something. Some blank space can look really good, as this example shows you. Having this much space gives you the freedom to add huge décor items and accessories though, like a pool table, home bar, and even a motorcycle or classic car if you feel so inclined.
If you prefer a more rustic feel then consider adding vehicle parts and incorporating them into your décor, as we demonstrated in this article, and/or upcycling them as furniture pieces as we showed readers how to do here.
It's okay if you don't have even half the space for your man cave as in the image above. You can still make something extraordinary out of the available room is yours.
Our recommendation? Keep it cozy and comfortable.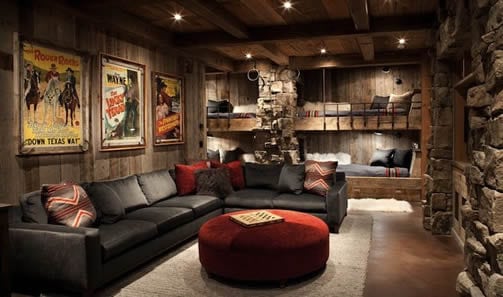 For our pick of the best small man cave we were torn between the one we have included in the image below and the man cave with a hunter's cabin theme that we covered in our article about rustic man caves.
This man cave also has a rustic flavor through and through. It's in the basic wood-paneled walls and the stone inlaid pillars. Although it isn't a cowboy man cave, like the ones we covered here, the old western posters give it a slight cowboy feel.
The ambiance here is stunning.
The concrete floors help to add to the rustic feel but the coldness that they would project if left alone is offset by the plush faux sheepskin throw rugs – though this type of rug would look better
. If you want to continue the Old West theme then you could also add a faux cowhide rug, like this one
, to the mix.
The plush adjoining couches have tons of fuzzy, plushy pillows for cozying up to. You could always kick your feet up on the red velvet ottoman as well.
If you're feeling sleepy after a night of fun, there's two cubbies that can double as sleeping quarters. These add to the feel of this small but peaceful man cave, a space you might never want to leave.
3. When you want opulence: the best expensive man cave
While we'll share a budget option next, let's first imagine money is no object – maybe it isn't for some of you.
If you have the cash to burn then why not go as lavish with your man cave as money will allow?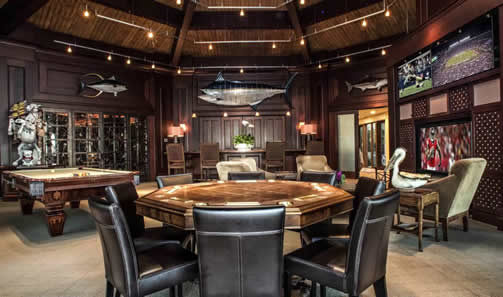 There were countless expensive man caves out there that we liked, but we're calling this one the best.
Of course it could be argued that creating a modern man cave, or creating the ultimate sports man cave with lots of autographed collectibles, is by far the easiest way to spend a lot of cash on your cave but rather than just relying on gadgets to hike up the price or sports collectibles we decided to pick a man cave that was expensive because of its man cave decor.
Believe it or not a lot of other pricy man caves are often sparsely decorated and not very functional having a big price-tag due to high-priced products rather than useable items. This man cave pick is both expensive and functional.
You've got several playing tables, including one for billiards and another for poker as well as the casino gaming table of course. Towards the back of the room, there's a fancy home bar replete with wicker chairs and sliding wooden doors.
This luxe haven with high ceilings feels warm yet posh, what with its hanging bar lighting, giant fish sculptures on the walls, and upscale wooden interiors.
There are three televisions to watch all those big sports moments from several different angles.
A glass case across from that could hold wine bottles or pricy collectibles you want to boast about.
4. Basement basics: the best budget man cave
There's nothing at all wrong with a budget man cave, especially if yours looks like this.
Gutting a basement and making it a cool recreational space will always lead to a winner.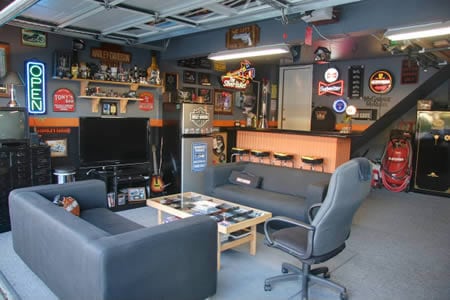 Thin carpet tiling is better than walking on cold concrete and cheaper than laying epoxy resin though a few throw rugs on top would add to comfort levels and create a plusher feel.
The furniture here doesn't break the bank, including the repurposed computer chair and a simple bar stool (for man cave bar stool ideas visit this page).
This man caver had tons of fun decorating his space, filling the walls with homemade shelves, a Harley-Davidson metal sign, and neon lights for illumination on dark nights.
His silver fridge has more Harley signage, as does the single pillow on the couch. There's even a home bar here (we demonstrated how to build a man cave bar on a budget in this article).
Sometimes, when you save on the rest of your man cave, you can splurge for an addition or two.
For more ideas about building a man cave on a budget read this article or read our ultimate guide to building a man cave on a budget.
5. When you need structure: the best themed cave
It was difficult to choose a winner for this category as there are so many great sci-fi themed man caves to choose from, as we demonstrated in our article about great sci-fi man cave ideas.
You have tons of options to choose from when creating a man cave with a sci-fi theme, but have you ever considered making it into the deck of a starship?
If you have the space for such an endeavor, it's very possible to do.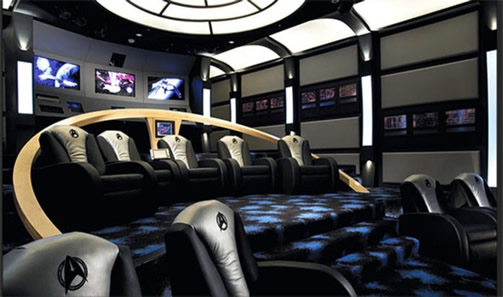 This Star Trek-loving man caver took a large space, a basement would work well for this, and made something out of this world.
The rows of carpeted steps make the room feel like a cinema (which is the main purpose of this man cave), as do the many screens around the walls. We showed how to create this look in our article about creating a sci-fi man cave.
The rounded control panel that encircles some of the seats will have all your friends oohing and ahhing.
You could watch sports here, a star show, or your favorite sci-fi flicks. All feel equally welcome in an incredible man cave such as this one.
If we were to make one change to this man cave it would be to make the chairs on the lower area either face each other or swivel so the man cave could be used for socializing with buddies just as easily as it is for watching movies and sports games.
6. That takes me back : the best retro man cave for the gamers
No, this isn't a picture of an arcade you're looking at, but an actual man cave.
This man cave's retro gaming feel shines through as bright as those neon lights.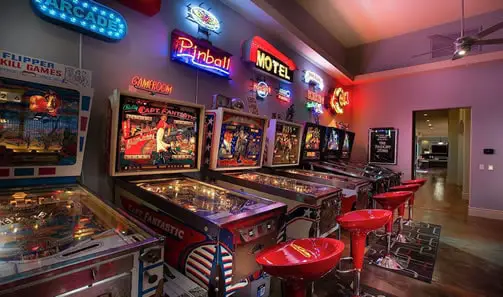 From the old-school arcade and pinball machines to the vivid colors and plastic bar seats, there'll practically never be any need to leave home again if you can make your man cave look like this.
We recommend you start slowly and add more machines here and there. Original arcade machines can cost several thousand dollars a pop. You'd have to have an extravagant budget to buy several at once.
Start with one machine, maybe two if you can find a deal, and keep building on your man cave from there.
7. When you like a more natural feel: the best rustic man cave
The cabin of your dreams can exist right in your garage!
The crafty man caver who owns the man cave in the image below has covered his large outbuilding with wood paneling on pretty much every visible surface.
That includes the high ceilings, in which beams dangle which adds some structure to the room.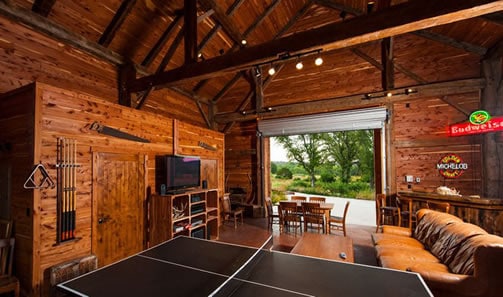 Although this man cave has been created in a large existing outbuilding it could very easily be replicated in a garage, albeit on a smaller scale. But, whether in a barn or a garage, with this design, there's space for a lot of stuff. In this example there is a home bar, an oversized armoire or second mini room.
A couch with a coffee table and TV, and a ping-pong table are furniture items with colors to complement the rustic feel.
This man caver has kept his décor limited, just a few neon beer signs around the bar and some saws on the wall for a rustic feel. We quite like the simplicity, as it adds to the hominess a good rustic man cave should have.
For more rustic man cave ideas read this article.
8. For the contemporary minded: the best modern man cave
As the next exemplary man cave shows, you don't need to break the bank to create an ode to all things sleek and modern.
The dark colors and variety of textures give this man cave plenty of visual appeal.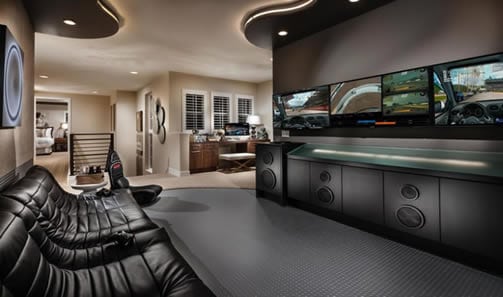 Can't you just see yourself melting into those curved leather recliners?
With several TV screens all arranged in a row, you certainly wouldn't have a hard time finding something to watch in this man cave.
These screens would be well suited to gaming as well as being great for watching a movie or a big game. The giant speakers beneath the screens undoubtedly offer the best sound in the neighborhood.
For more ideas on modern man caves, including modernized as well as modern-feel spaces, go here.
9. Game on: the best sports man cave
For the classiest sports man cave around, we had to pick this one.
It is a little understated for many sports fans but looks so much like a sports bar that we had to include it.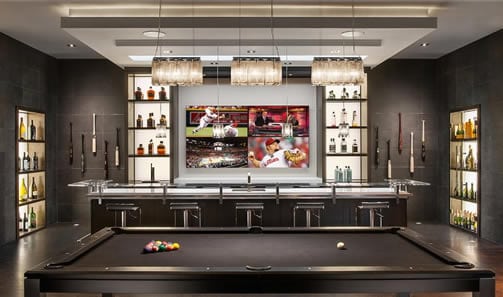 The décor looks like something straight out of an exclusive nightclub or a Michelin-starred restaurant. That's in part due to the architecture and the glowing white lights that abound.
With four big-screened TVs arranged into one behind the home bar, you can see replays and highlights from past games while never missing the big game itself. The glass, wood, and metal home bar will make all your friends feel like they're drinking at the most exclusive spot in town, but without all the crowds.
If you prefer your sports man cave to be a bit more in your face then read our article that shows you how to create the ultimate sports man cave.
10. The best of both worlds: half garage/half man cave
Your garage may be one of the biggest rooms in the house, giving you the freedom to run with your most extravagant man cave ideas.
You don't have to dedicate the entire space to a man cave, though.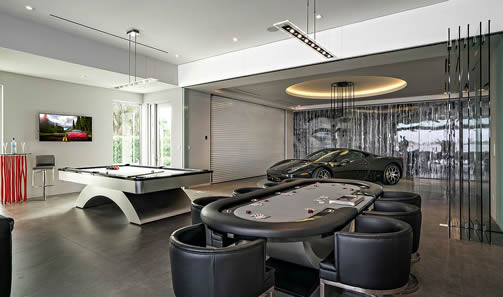 Just take a look at what this man caver did with his garage. He has a very nice car, so of course he wants to keep it in sight to show off to all his buddies. The overhead lighting makes the car look like something on a showroom floor.
The rest of the garage is man cave central. The curvy, leather-padded poker table, complete with high-backed, rounded leather seats, looks very high-end. A futuristic pool table across the room sits perfectly beneath hanging lights.
On the wall, there's a large TV. You may also spy the edge of a leather couch across from the pool table just out of frame.
While simple in its décor, the items here give off an opulent and modern feel.
Rounding up our 10 best man caves
No matter your tastes, interests, and budget, the perfect man cave you've always wanted can be within reach.
This list of the best man caves is far from being perfect as a proper list would include hundreds, if not thousands, of different types of caves. However this pick of 10 of the best spans many themes and price points, showing what you can do with a little room and a lot of creativity.