A man cave is by far the best way to create an escape from the world, somewhere that you can kick-back and enjoy some "me time" or time with your buddies. Although your man cave will be a reflection of your personality and interests an often overlooked, but vitally important, part of the design is the lightning.
Lighting is important in a man cave. But, getting the lighting correct doesn't mean compromising on design. You can use unique designs from beer bottle tacking lights to snare drum hanging lights to sports lamps which will actually enhance the look of your man cave.
Before we delve into the art of creating super cool lighting effects in your man, and take a look at some of the neat man cave lighting options available in the marketplace, it is important you get an understanding of the role that light plays in an indoor space and to learn how to use light effectively to enhance your man cave.
In certain types of man cave getting the lighting correct is not just a good idea it is actually essential as you will learn below.
Why you shouldn't understand the importance of man cave lighting
Proper strategically placed lights can make a man cave come alive. Lighting can not just illuminate the room but it can be used to create specific atmospheres. In addition, lighting can used to highlight specific areas of interest in a man cave, as well as being used to highlight specific man cave items such as a prized piece of sports memorabilia.
But just as proper lighting can enhance a man cave, poor use of light can diminish it.
It has been known for some time that lighting can affect productivity in work environments. But, that's work and it's related to work productivity, in a work-related environment. So, why would light and its effects on productivity be important in your man cave when it is not designed as a working environment?
That's a god question … with a good answer.

Why lighting is important in a man cave
It is not just productivity that is affected by lighting. Lighting can be used to greatly affect the mood and emotional wellbeing of people in any environment. Because of this light plays an important role in any room and it is never more important than it is in a man cave.
Why?
A man cave is designed to give you the ultimate escape from the normal world. It is somewhere that you can kick-back and just be yourself away from the stresses of everyday life. Therefore your man cave must feel light and offer you solace and a place to recharge your batteries.
A properly lit and decorated man cave that is filled with things you love will rejuvenate you, even if you feel miserable before you go in.
A gloomy man cave that has an oppressive dark atmosphere and poor lighting can make you feel worse coming out than you felt going in.
Light affects your mind and body
Most of us are aware of the negative effects on mind and body that are associated with lack of sunlight. Lack of vitamin D, that we get from the sun, can make a person lethargic and even feel depressed. In fact there are more health dangers involved with insufficient exposure to the sun than you might realise. But, it seems that natural light is not the only type of illumination that can affect us.
According to the latest research indoor lighting can affect us just as much as sunlight. In fact, indoor light can have a greater impact on our mood than sunlight because most of us spend the majority of our indoors.
So it is really important to get the lighting right in your man cave because you want it to be the optimal chill-out space where you feel totally at home whether you use it for rest or play or both.
So how can you do that?
Well, artificial light can be used in many different ways to help us improve the atmosphere of a room. Correct lighting can be used to create a warm, inviting environment. Likewise, avoiding poor lighting means you avoid creating a dull, cold and uninviting space. As you will see below the use of decor color also plays a key role in this.
So, before you run off to choose specific light fixtures or lamps be sure to take just a little time to fully understand how light will interact with your specific man cave layout.
Here are a few questions to ask yourself:
Are there nooks and crannies or corners that may require extra lighting or that may be light-traps?
Will the current light fixtures be enough to illuminate the entire room or will you need to install more?
Will the light fixtures you have, or plan to use, distribute light evenly throughout the entire room or leave patches of light and shadow?
It is important to to understand the lighting requirements of your man cave before you embark on a buying spree. The rest of this article will help you do that.
Why you should choose wall colors that reflect light
Just as dim lighting and poorly placed lights can darken a man cave and create a dull or oppressive atmosphere, dark colors can have the same effect.
Although it is always advisable to use as many bright colors as possible, as it will lighten the room and reflect more light, it is especially important in naturally dark man caves such as basements or sheds with no windows. As I outlined in this article, basement man caves require a little extra effort to get right.
For the above mentioned reasons it is often best to avoid very dark shades in your man cave and instead opt for brighter or lighter colors.
Dark colors absorb light.

Light colors help reflect light.

Mirrors are a great economical way to distribute light. You can brighten a space up to twice as much without the need for additional lighting simply by placing mirrors at key points in a room.
Buy using mirrors, and light reflective décor (anything covered in chrome for example), you can reflect light throughout your man cave and make it bright and inviting.
When you dim the lights the mirrors reflect back less light and thus you can have both a bright and a dim man cave for specific occasions and uses.
10 awesome man cave lighting ideas
Lights in your man cave need not be just for room illumination.
You can use lighting effects for many different reasons from creating a specific atmosphere to enhancing a theme to highlighting specific items.
Let's look at some creative use of light now.
1. Why dimmer switches are not optional when it comes to man cave lights
Of course creating a bright and vibrant space isn't always advantageous. There are lots of reasons why you would want a more dimly lit man cave for some occasions while you'll want it bright and vibrant for others. Perhaps you need a darker room to watch TV, or you need more subtle lighting to help create a relaxing environment.
Many guys think that if they make their man cave too bright and vibrant then they'll lose the ability to darken the room when it's needed. Bright, vibrant rooms are also very often difficult to relax in. This is where a dimmer switch is king.
The use of a dimmer switch, or smart bulb that dims on voice command, is a great way to have full control over your man cave lighting and thus its atmosphere.
Apart from neon lights, and light-up man cave signs, every light in your man cave should have the capacity for dimming.
When the lights in your man cave can be brightened or dimmed on command you have full control over the atmosphere of the room.
You can even use daylight bulbs, like these
, to create the maximum amount of light possible. But, with the aid of a dimmer switch you can easily reduce that light to a comfortable glow when you want to.
If you also include additional light fixtures, and/or standing lamps and table lamps with warmer bulb types, you will have the ability to create any type of atmosphere you want.
2. Themed man cave lighting ideas always work best
Themed lighting is a great way to reinforce any theme you have incorporated into the design of your man cave.
For example, a sports man cave can have light fixtures that reflect your love of the game like this sports themed table lamp. You can also get plug-in sports and team specific lamps, sports light switch covers and sports themed ceiling light fixtures.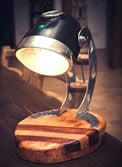 And, the themed lighting isn't restricted to sports.
With a bit of online research you can find lighting to match any man cave theme or design from the Bat Cave to Star Wars.
For example, if you have a rustic man cave, or just love old-world styled decor, then be sure to use Edison light bulbs in lamps and wall fixtures and also in areas where you and visitors will see the light fixture. These Edison bulbs
are so striking that they require no lamp cover.
If you have created a nautical styled man cave, or a rustic man cave, then replica oil lamp electric lights would be a great choice, like this dimmable electric lantern that comes complete with Edison bulb
.
3. Basement man cave lighting ideas
If there were ever a type of man cave that needed to have its lighting organized exactly right it's a basement man cave.
A basement is naturally dark and difficult to illuminate with standard lighting techniques. Although you can make do with limited light fixtures, and get by with the use of standing lamps, a basement really needs an ample supply of ceiling lights in order to be properly illuminated.
Dimmer switches then allow you to control the brightness of the lights.
With the use of a dimmer switch you can create any type of mood in a basement man cave. You will be able to create a soft and subdued vibe if needed while having the option of lighting-up the entire basement.
However, even with dimmer capability it is much more difficult to control the amount of light in the room when the light is coming from multiple different sources in different locations instead of coming directly from the ceiling. Ceiling bulbs should therefore be your main source of light if possible. All other light sources should be for cosmetic reasons or to offer atmospheric options.
You must also get the wall colors in your basement man cave correct or you risk creating a space that is difficult to light.
I covered the importance of light and color in basement conversions in this article which gives key information on choice of wall color and how it distributes light to create a bright, vibrant atmosphere. Although the article is about creating the perfect female man cave ( a she shed) the information applies equally as much to any basement conversion.
Do also consider the use of SAD lighting
if you intend to spend a lot of time in a basement man cave as even during the day you will be dependent on artificial light. According to the Mayo clinic light therapy such as SAD really does work.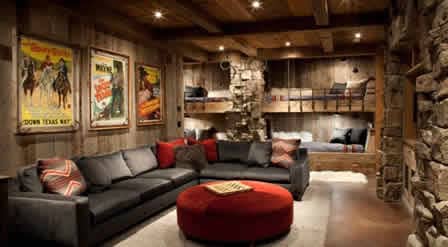 4. Garage man cave lighting ideas
Although a garage is not usually as dim and dark as a basement it does suffer from the same lighting problems, albeit to a lesser degree.
Depending on your garage design it may well have plenty of access to natural light and be an easy area to illuminate at night. However, most garages are limited to only a door as their access to daylight. This means no access to daylight at all when your using is it as a man cave – unless you want to sit in it with the door open.
So, the same rules that apply to creating sufficient lighting in a basement apply to creating light in a garage, though you may be able to skip ceiling lights if installing them proves to be problematic or expensive.
5. Showcase key items with your man cave lights
Wall lights can be used to highlight items in your man cave that have a significant meaning to you such as a specific piece of memorabilia or a sports icon.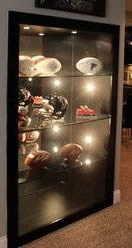 Think of how shops display their top items using light to draw shopper's attention to specific goods.
If you have multiple display items that you want to show-off then consider a display cabinet with lights.
Most display cases with built-in lights are expensive though but the good news is that you can create exactly the same effect with a normal display unit, or even a cheap one from Walmart. By simply placing these types of cheap cabinet display lights
inside the unit you can create a display case for your most cherished man cave items at a fraction of the cost.
6. Draw attention to specific areas through clever use of lights
There may be areas in your man cave, such as a bar for example, that you want to draw attention to or that deserves their own light source.
Bar areas often have their own lighting as do reading areas or socializing areas for buddies.
The great thing about additional lighting (not really intended to illuminate the entire room) is that you can get super creative with the designs.
7. Get creative with your man cave lighting ideas
There are a ton of ways to create very unique light features for your man cave.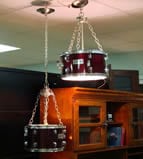 Let's assume you have a man cave bar. Instead of just relying on the ceiling lights or using overhead bar lights above the counter why not take some old empty liquor bottles and fill them with battery powered fairy lights and hey presto you have some neat countertop lamps.
Alternatively, you can use the same bottles and place lamp fittings in the bottle opening and place a lamp shade on top to create a table lamp. You can even get themed lamp shades to match the bottle. Of course you can just buy them ready-made
but there's no reason you wouldn't be able to create your own.
What about snare drum hanging lights or a football helmet light.
8. Neon lights can change a man cave into a cool cave
If you have a man cave bar then neon lights are almost essential. However, even you have no bar in your man cave and don't intend to drink in it, neon lights can still look really cool.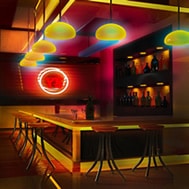 Cool neon bar lights will give your man cave bar a professional feel while helping to create a relaxed atmosphere.
Standard neon lights can be used to help light-up an area with a low comfortable glow.
Just be sure that neon lights are not the only source of illumination in the room.
You can also get neon-type lampshades that project a colored glow.
9. Man cave LED lighting
Neon lights are great for creating mood and atmosphere but if you want something a little different these type of LED man cave signs
can also be used to compliment your existing man cave décor.
Standard non-lit man cave signs offer unique wall hangings for your man cave but LED man cave signs go that little bit further. If you have a man cave bar you will definitely want a few LED signs, though they fit in equally well with any type of man cave.
There are a huge range of LED man cave signs
to suit every type of space so be sure to browse through them to get some ideas. And, don't forget to hang an lit exit sign over the door as well.
10. Super cool beer can track man cave lighting idea
Track lighting is very popular and can even be used to help display key items and areas of your cave just like wall lighting. But don't bother with boring standard track lights when you can have super cool innovative ones.
Just as there are unique lamps made from bottles and cans so too there are unique tacking lights made from the same. Like the bottle and can tack lighting in the image below.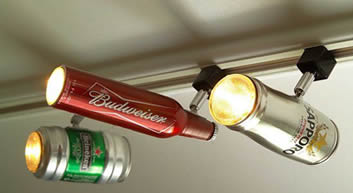 However, unlike lamps, even if you are handy with DIY it is unlikely you will be able to create this type of track lighting yourself.
So can you buy these cool tracking lights? Yes, but there is good news and bad news on that front.
Firstly, the bad news is that you need to have them shipped from the UK.
The good news is that it is highly unlikely anyone you know (and anyone they know) will have these type of lights because they need to be shipped from Britain and most Americans don;t know about them!
If you are interested in these lights you can get them here. They also offer large beer keg tracker lighting that looks equally as cool.
Final thoughts
Hopefully this article has given you some ideas for creating cool lighting effects in your man cave.
The types of lights you can use are only limited by your imagination. If you can think of it then it probably already exists somewhere. If it doesn't exist then you will likely be able to find a specialist company to make it for you.
So, now that you have some idea of how best to light your man cave, and know how creative you can be with lighting, and now have a sample of what is on offer in the marketplace, be sure to shop around for items that will fit in with your personal man cave. And have fun with it!