One of the most popular locations for creating a man cave is the garage. A garage offers enough of a separation from the main house to feel individual and private while having access to electric and being within easy reach of water, unlike a shed for example.
Creating a garage man cave is as easy as it would be in any other location. However, careful consideration should be given to flooring, lighting and climate control. If lighting is poor you will also need to choose light reflective paint hues.
8 Simple steps for creating the ultimate garage man cave
A garage offers the perfect space for a man cave as it can easily be adapted into a useable room. Garages are often an overlooked extra room in a home. But, instead of being considered a usable addition to the home they tend to become littered with old junk that seldom gets used.
Garages often become storage rooms when they could instead be turned into the envy of your friends and neighbors!
When it comes to creating a man cave, a garage usually offers more space than other locations. This means that when you are considering how to design your garage man cave you usually have a lot of options that would not necessarily be open to you in other locations, such as a small spare room or a shed.
Double garages, or large single garages, can even be designed to be hybrids; it is easy to create a garage man cave that can accommodate both your vehicle and your recreational items.
Most modern garages are attached to the house and are already weather proofed and have been treated on the inside against mold. These type of garages usually also have electrical connections and some even have access to water.
However, if you have a garage that is separate from the main building of your home, or that is need of some TLC, then you may want to begin the process of a man cave conversion by weathering proofing the outside and damp-proofing the inside to protect it from mold.
You may also need to lay a new floor if your garage has bare broken concrete.
I outlined the process of weathering proofing an outbuilding in the article how to turn your shed into a man cave in 10 easy steps. Weather proofing a garage is similar.
Prepare the garage for a man cave conversion
Depending on the initial state of your garage it may require several initial steps before you actually create the man cave.
Preparatory steps:
Weather proofing.
Protection against mold.
Adding insulation.
Installation of climate control.
Adding flooring.
Weather proof the outside to keep the inside dry
If your garage does not have sufficient weather proofing then you will need to take care of this.
Weathering proofing the outside is an easy task and only requires the correct type of paint.
You don't have to opt for an expensive brand of waterproof paint, a cheaper alternative is fence paint
which works just as well, as does a cheap patio and floor latex paint.
You should also ensure the roof is also fully waterproof as I outlined how to do here.
Waterproofing the outside of the garage is only the first step. Next you must protect the inside against mold.
Protect the inside against mold for health & safety
Mold can be dangerous and, as outlined by the CDC, can cause respiratory problems as well as a host of other illnesses.
Mold is caused by damp conditions usually, but not always, due to poor weatherproofing of a building. It can also be caused by inadequate ventilation.
If your garage has mold on the walls or floors etc., make sure you wear proper protection. such as a mask, before attempting to clean it.
Warm soapy water with bleach will kill most of the mold but once the affected area has dried you will need to treat it with a good anti-mold paint, such as a latex primer anti-mold paint.
If you have removable installations, like cupboards, that have been infected with mold you will want to dispose of them.
Add insulation to maintain good temperatures year-round
Due to the lack of proper ventilation, and lack of windows, garages can be chilly in the winter and sticky-warm in the summer (and thus they can encourage mold growth). So, it's a good idea to add a layer of insulation to the walls especially if you already intend to put new drywall up.
Although insulation is not completely necessary if you have the opportunity to install it you should do so.
At this point you may want to put wood planking on the walls instead of drywall as the effect can be striking (see the featured image at the top of this page).
Install climate control for full temperature control
Your garage will rarely be attached to the HVAC system of your house. This means a garage rarely offers the same protection from the seasons as the rest of your house. You will therefore probably want to install some type of climate control.
This does not always mean an expensive HVAC installation however.
Electrical fans and heaters are often all that is needed to properly cool and heat a garage man cave, especially if you will spend limited time in it and/or you live in a reasonably moderate climate zone. Obviously if you live in Alaska or Las Vegas you will likely require something a little more extensive.
Upgrade the floor for ultimate aesthetics
If you have a modern garage that is attached to your house then it will likely already have sufficient flooring that is more than good enough to work in your man cave.
If your garage flooring is bare concrete then you may want to take steps to create something that looks better.
If the floor is damaged then you will need to take action to repair it so there is less chance of accidents occurring, due to tripping for example.
Fixing a garage floor does not have to involve expensive re-concreting, though if you have the budget you should do this.
A cheaper option for garage flooring, and a popular one, is to use epoxy resin. This hard-wearing, durable substance is easy to install and very cost effective. It can also be used to create a range of creative and unique designs.
Just about any material you can think of, including 3D wallpaper art, can be laid on the ground and then covered with epoxy resin to create amazing flooring designs.
You can even create a wooden floor look by placing the appropriate fake wood wallpaper on the floor and covering it with epoxy resin, to help turn your garage into a cabin with a rustic look.
If the floor is damaged you can add a layer of epoxy resin first to fill in the dents, cracks and crevices. Then simply allow it to dry before creating your new floor.

Be clever with color and lighting
Once you have finished the preparations it's time to tackle the actual man cave conversion.
I have mentioned the importance of using color in light-challenged areas in other articles but it is so important it is worth repeating.
In areas that have limited light the use of color can really help to brighten the space. This is not just about aesthetics. Certain colors draw in light while others reflect it. The use of color can either brighten or darken your man cave.
Although color choices are most important in basement man caves, where there is usually no natural light, it also applies to most garages.
Pastel colors and bright vibrant colors will help to reflect the light in the garage and this can also be enhanced with the use of mirrors and other light reflective decor.
However, no matter how careful you are with your color choices it will be to no avail if you don't get the lighting right! Man cave lighting is so important I wrote an entire article about it (which also shows you how to create some really cool man cave lighting effects).
If your garage is naturally dark then you will need to install sufficient lighting. Ceiling lights are best though they are far from the only option.
Wall lighting is very useful for both illuminating the space and highlighting specific areas of the man cave – where you may have memorabilia or family photos for example.
Although standing lights can be used they do take up space. If you have enough room then standing lights are a very cheap way to illuminate a man cave garage but you will likely need daylight bulbs to ensure they give off enough light to cover the area.
If you do use daylight bulbs be sure to incorporate some type of dimmer capability as you will want bright light at some times and dimmed light at others. In fact, as I've mentioned numerous times on this website, dimmer switches or smart bulbs
, are a good investment to make in a man cave as they allow you to create different atmospheres.
You can create some really cool lighting effects with these unique items.
Get creative with your garage man cave furniture
The furniture you put into your garage man cave will greatly depend on how you intend to use the space. For example, a garage bar will require bar stools and at least one table, while those items would be inappropriate for a reading den or gaming cave.
As I covered in a previous article the first step in designing your man cave is to be 100% clear on its purpose. Once you know what you intend to do in your man cave it becomes really easy to furnish it.
If you intend to design your man cave around a theme, like one of these top 7 designs, or want it to be a reflection of your love of sport, like a sports man cave, then your furniture choices should reflect that.
The key to getting the right furniture for your man cave is to pick items for functionality and comfort first and then for aesthetics second.
I have covered how to source the right furniture for your man cave in the article what furniture should you put in your man cave which includes a guide on how to source furniture cheaply and how to create your own unique pieces of furniture from what other people would consider old junk.
6 awe-inspiring garage man cave ideas to make your friends jealous
Below are a few man cave garage conversions to inspire you and get your creative juices flowing.
Biker cave or biker bar garage man cave
Love your bike? Then why not create a biker man cave garage.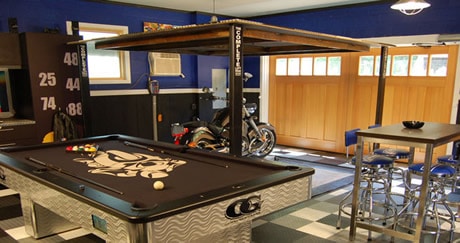 If you own a Hog then there are a ton of Harley Davidson decor items
and furnishings that you could put in your man cave to complete the look.
If you have the budget to create a small bar then add that to the theme.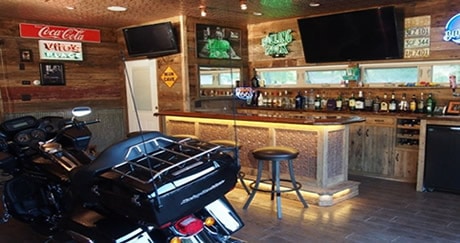 Building a man cave bar doesn't have to cost a fortune, it can be done very cheaply as I demonstrated here.
Rustic garage man cave
There are a ton of different ways you can create a rustic man cave. Below are just two examples.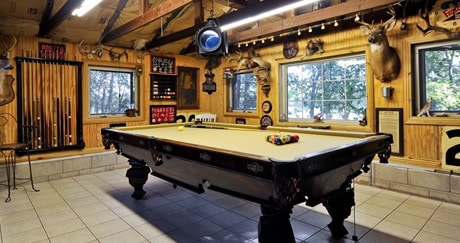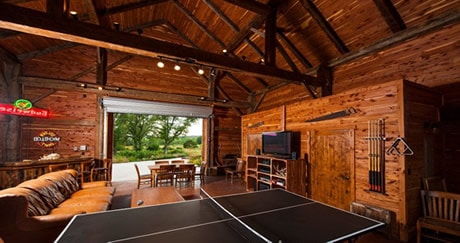 Sports man cave garage
If you love your sports then why not create a sports man cave in your garage?
You can easily create a man cave that reflects your love of a certain sport like the baseball garage man cave shown below.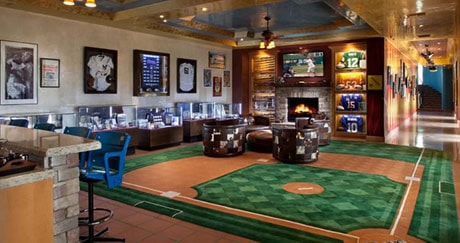 Or, you can create a team specific garage man cave.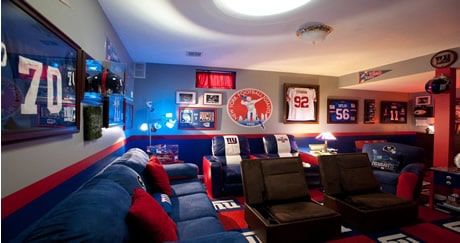 Don't forget to add some sports memorabilia into the mix to complete the look.
Half garage, half man cave
Some of you guys will need to use your garage to store your vehicle in as well as for man cave activities.
Below are a few images to help you see how easy it is to create that type of dual-identify in your garage.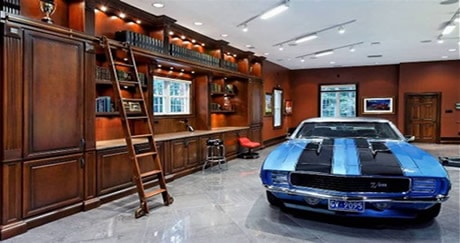 If you own a motorcycle it is even easier to create a half garage half man cave even with much less space.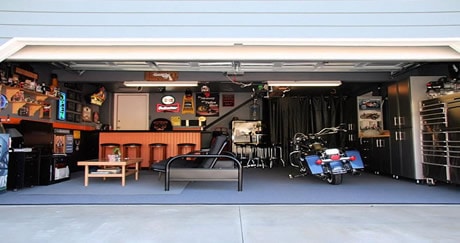 Garage man cave bar. Your home from home
A garage lends itself really well to a bar conversion.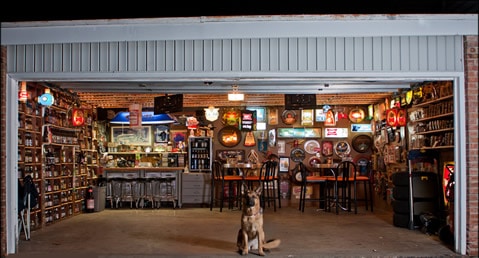 Even if you have a small garage you can pull this off.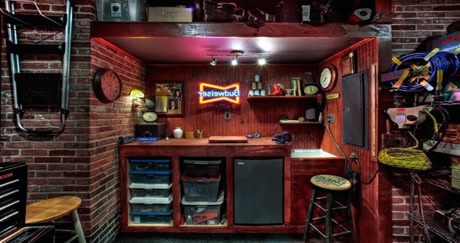 Awesome 2 car garage man cave ideas
If you have a 2 car garage available for conversion then you can create just about any type of man cave you want.
The space offered from such a large garage offers itself to a whole host of design ideas.
Here are some cool ideas for a 2 car garage man cave:
Retro man cave
Bowling alley
Vintage man cave (50s, 80s, or 90s theme etc.)
For more amazing ideas read the article 24 Incredible Man Cave Ideas & How to Implement Them.
Garage plus man cave ideas
Some guys need to use their garage to store a vehicle or for the storage of equipment and tools. In such cases you can create a half garage half man cave area that doubles-up as both.
If you do this right then having a half garage, half man cave can actually look better than having just a man cave on its own.
I have included a few images in the section above – Inspiring Man Cave Ideas.
For the most appropriate design for this type of garage man cave though, you really need to incorporate the vehicle into the theme of the cave.
For example, styling the man cave after a retro 50's mechanic or body shop could be one way to go or you could simply divide the garage in 2 separate areas, one for the vehicle and one for the man cave but keep it color coordinated.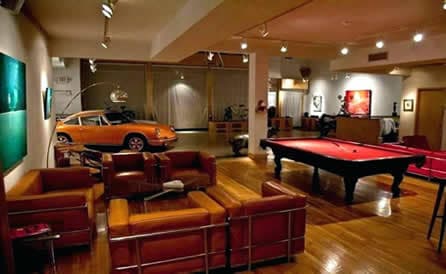 Although you can easily create a garage man cave that also stores your jeep or car, a garage that doubles as a man cave is usually best suited to the owners of motorcycles.
A motorcycle garage that is also a man cave works better for the obvious reason that parking a bike in the garage takes up less space than a four-wheeled vehicle.
Bike-brand themed garage man caves are very popular, as are biker cafes. Biker bar themes are the most popular type of motorcycle themed man caves though.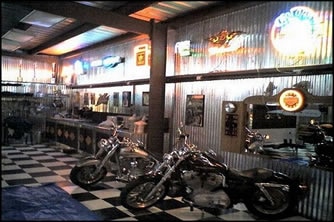 Whatever the design you choose for garage man cave (when you want to use it also for storing items or vehicles) it must work well with the space you have available.
This means the them you pick will depend largely on the space you have available as well as the things you need store in the garage. For example, if you store fishing equipment in your garage then you could go with a tackle shop man cave theme or a mariner's diner or an old fisherman's tavern because your stored fishing equipment will actually help complete the look of the man cave.
You could also just use your stored items as a showcase piece in your man cave like the fishing rods in the image below.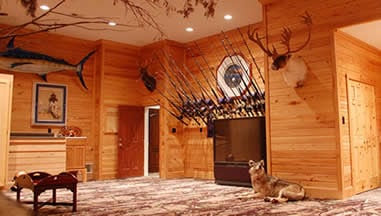 If you keep woodworking tools in your garage, like a circular saw for example, then why not create a rustic man cave.
The key is to incorporate either your vehicle or garage-stored items into the man cave design.
The ultimate gifts for the man with a man cave garage
There are a ton of things you can get for a garage man cave. The gifts you get depend on the person you are buying for and the theme and purpose of the man cave.
There are varied items that are completely different from one and other but that would fit in any man cave, such as a racing car engine table, cowboy man cave bar novelty bottle holders, baseball glove chairs and floating football helmets that compliment football helmet snack holders.
You can see these items and many more in my 100 great man cave gifts. That will give you a lot of ideas to get you started.