Some of us just can't wait for the beginning of hockey season (on October 4th). The time between seasons seems so slow and agonizingly long, so why not to do something productive with that time. Instead of waiting for hockey to come to you bring it on yourself!
If you're goal is to create a man cave dedicated to your favorite sport then the following hockey man cave ideas should be right on target.
10 Epic Hockey Man Cave Ideas That Are Just Pucking Perfect!
You want your man cave to be the ultimate hockey man cave, but you're not quite sure what an ultimate hockey man cave should look like then you're in luck. In this article, we will showcase our favorite designs and ideas all centered around the great game of ice hockey.
By the time you're done reading, you'll have some great ideas for your future hockey man cave!
1. Ice cold hockey man cave
Here's an idea that has a big impact but won't take a whole lot of your time or effort to create. By getting shiny white flooring installed in your man cave, it very much resembles ice.
This is easily done by using ice rick wallpaper and epoxy. We demonstrate how to do that here.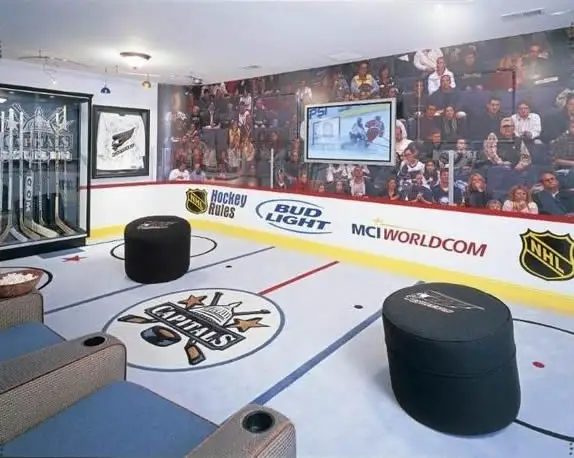 The key to creating an ice rick feel here is the lighting. If you don't have the right overhead lights in the room, then the illumination can't bounce off the floor and create that translucent, frosty look of ice.
If you can't get your hands of ice rink wallpaper you can paint the hockey lines detailed on the floor, such as in the first image or you could add a decal logo of your favorite team and have it emblazoned in the center of the floor.
Some wallpapering to mimic a live crowd on the wall really does bring that hockey atmosphere home, as do the chairs that resemble over-sized hockey pucks.
You could also add additional colorful hockey decals
to the wall to warm the room as this ice look can feel cold or just go for striking black and white decals or prints.
2. Ice hockey arena at home
This next example borrows some ideas from the first, such as wallpapering one wall with a large image of a crowd.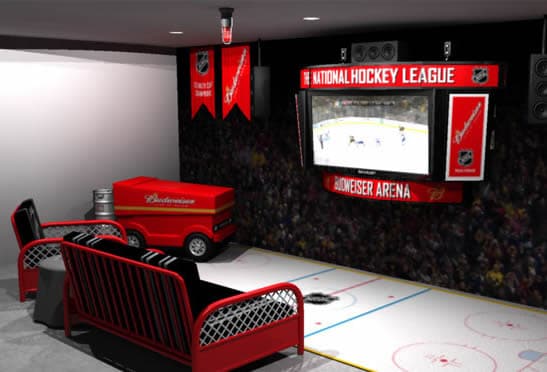 Now it's like you're sitting in your favorite place, your local hockey arena. Instead of going for the white floors, this man caver got grey carpeting instead and offset the cold colors with a warm bright red.
He does have a little mat that resembles an ice hockey rink though over his grey carpet.
It's the other features of this man cave that make it such a standout hockey cave though.
The 3D TV, complete with logos for the Budweiser Arena, as well as large surround sound speakers, some red banners, and even the faux Zamboni are all phenomenal. There's even a hockey buzzer light if your team scores!
3. The Hockey wall of fame
If you have so much hockey coins, trophies, and plaques or other hockey merch to make even a seasoned veteran blush, then you might do up your man cave sort of like this one.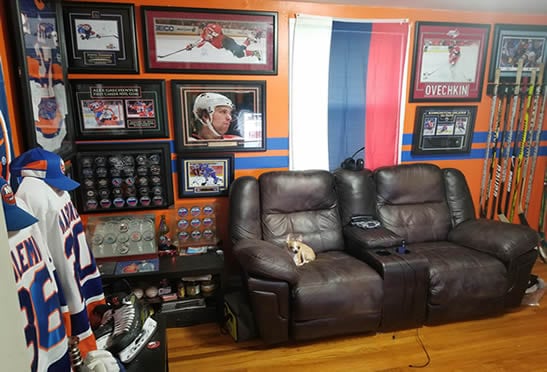 This hockey man cave is mostly all about having the wall space which is used to show off a wealth of prizes, accolades, and other cool items including a few signed framed posters.
Although this man caver has filled his hockey cave with sticks, pucks, jerseys, caps and smaller pieces of memorabilia the rest of the space can look like pretty much whatever you want.
We do like the cohesion here. This man caver got curtains in white, blue, and red to match his favorite hockey team's colors so the team you choose to pay homage to in your man cave will mean your space will likely have a different color scheme.
We can easily imagine a giant TV in front of these 2 faux leather recliners
that have compartments for your drinks and nibbles. Hey, the dog certainly seems to like it.
4. Get into the team spirit
If you really love your team, such as this Edmonton Oilers fan does, then you don't necessarily need a lot merch or memorabilia that stretches as far as the eye can see.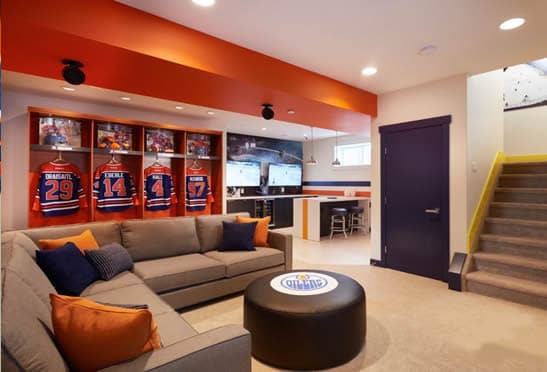 You can take the team's colors and run with them, simply injecting them into every part of the man cave.
This stylish, what could even be called chic, man cave takes those familiar orange and blue colors of the Oilers and features them prominently. There's the orange walls, the painted strips of orange and white in the corner by the TV, and the throw pillows on the couch.
Then, of course, this man caver chose a warm wooden shelf stained in a light brown, that almost looks orange, in which to showcase his top Oilers jerseys.
The best part is the leather ottoman. It resembles a hockey puck (we're sensing a theme here) and has the Oilers logo smack dab in the middle. This kind of man cave relies less on stuff to complete the theme and more on colors.
The jerseys complete the look and the recessed ceiling lights help to illuminate the space and contrasting colors.
5. Hockey home bar on ice
Why not combine two of your favorite loves, beer and sports, into one with a man cave like this?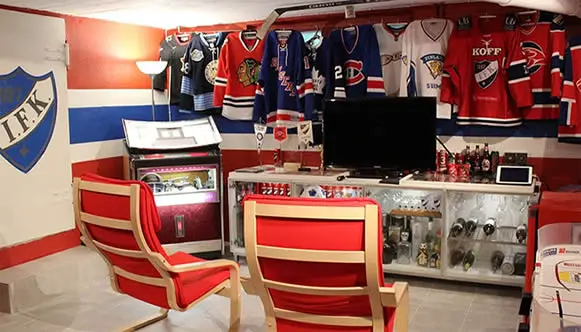 Here we have a very simple home bar setup that you could pull this off yourself even if you are very restricted as far as space goes or don't have a particularly large budget to work with.
The man cave bar is really just a lengthy glass-door cabinet. The shelf on top of the cabinet acts as a small table for keeping some drinks on tap and showing off sports-themed glasses. Due to space restrictions a small TV is placed on top of the cabinet though you could get a much bigger one if you wall mounted it.
Behind the bar, jerseys from all sorts of hockey teams add some color and visual interest to the space.
A foosball table and a hockey themed jukebox make this a fun place to hang out with a buddy or two for hours on end even after the game has finished.
6. The puck perfect hockey man cave
Don't fall into the trap that your man cave must be bright and flashy to be cool. Nor does it need to be big and flashy.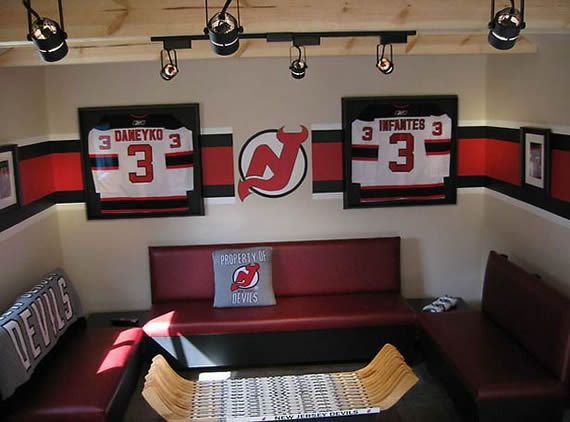 At the end of the day, it's completely your decision how you decorate the space though sometimes less means more.
Sometimes, a simpler, stripped-down approach looks just as nice as a big fancy sports man cave. It's all in the colors.
Take, for instance, this haven to the New Jersey Devils. This man caver took what was originally a sparse room and used the exposed wooden beams on the ceiling as a staging place for lights. He painted the walls a cool calming beige to help contrast and highlight the red, navy and white colors of his team.
He used strips of black, white, and red on the walls, then got the Devils logo for the center. On either side, he hung two framed jerseys framed with black background for further contrast with the beige walls.
Using a cool color is always advised when you have bright on strong team colors as it helps to harmonize the room. If team colors, or just darker shades, had been used on the walls this man cave would look too dark and gloomy.
Alternatively, the man caver could have used a warmer cream for the walls or even white (an off-white color would be best) though this would detract from the white in the jerseys.
All in all we think this man caver got his color scheme spot on.
The red leather bench seating has a pillow that says in white "property of the Devils" on one grey logo printed cushion and a grey and white Devils throw on another. This use of a light grey further helps offset the impact of the deep reds and vibrant white.
We like the centerpiece most of all, as it's a series of Devils hockey sticks arranged into a center coffee table perfect for snack bowls and drinks.
With the overhead movable spotlighting that can be dimmed for the game and brightened for socializing, we're sure this place is great to watch games in both day and night.
7. Hold the ice hockey man cave
Oftentimes with a man cave it's not about what you put in the room but what the room itself looks like.
Take this hockey man cave for instance.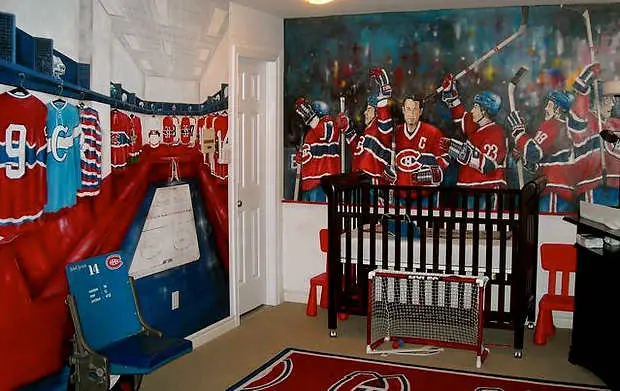 This man cave has painted walls that appear to have been done by hand. On the one wall, we've got a glimpse into the interior of a locker room. The colorful array of hanging jerseys complete with a replica hockey table in the center is an amazing piece of art.
On the other wall hangs a painting of a victorious team celebrating. The background has a blur of colors and lights meant to mimic a raucous crowd.
The rest of the items here are a little on the sparse side: a play hockey net, a single seat, and a team rug, but that's okay. With art like this, you'll surely impress all your friends when they come to visit your man cave.
8. Bruins paradise hockey man cave
You might be a huge fan of the Boston Bruins like the creator of this awesome hockey man cave.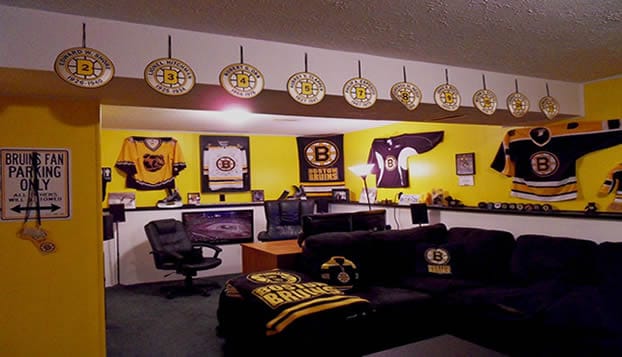 The man caver behind this unique space is a true Bruins fan. His whole space is a testament to his passion for this team. He painted the walls a bright Bruins yellow but painted the ceilings and lower wall white for some nice contrast against the yellow and purples.
The Bruins hanging signs on the ceiling beam help add color to the all white.
A fantastic and creative touch is the metal Bruins parking sign which is a great way to tell man cave guests they they better know which side their bread is buttered on when they enter this man cave. All man cave guests are Bruins fans when they enter this space – whether they like it or not!
Inside this medium-sized, but cozy, man cave there are hanging jerseys, signs, posters, blankets, and throw pillows.
The signed jersey is protected by its own frame while different tops are simply tacked to the walls.
Just almost out of frame on the right you can see a kid's jersey which this man caver added to the wall to make the space his son's as well and to help him learn the many benefits of having a man cave (did you know that having a man cave can even save our marriage?).
All the little extras have the Bruins logo, of course. The swiveling leather office chairs and small-ish TV complete this comfy-looking nook.
9. The subtle hockey home bar
Whether it's because of budget restraints or because your spouse isn't crazy about your man cave plans, you can't plaster every visible surface with logos of your favorite team.
That doesn't mean you still can't create a tasteful space where you can chill out.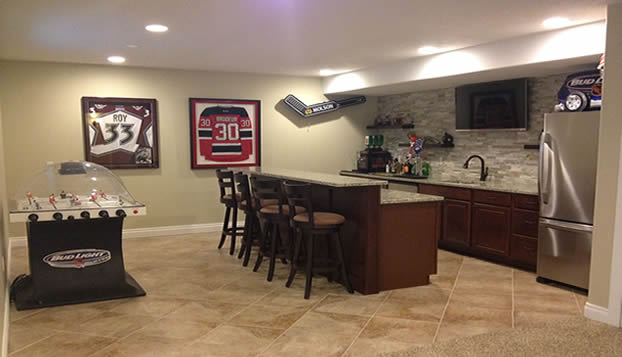 What was originally a basement kitchen conversion has been turned into a basement hockey man cave bar with just some paint, a few framed posters and accessories and a bit of creativity.
This understated home bar does have some nods to hockey, but they're not super overt. There are two framed jerseys, a Molson sign shaped like a hockey stick, and a hockey table. The rest of home bar doesn't have any hockey mentions at all.
The kitchen counter-tops act as storage spots for drinks and drink accessories while the ice hockey foosball table completes the theme.
If we were to make any adjustments to this hockey man cave it would be to add at least one good quality hockey decal
and a small hockey rug
. Maybe a few team specific or NHL drinks coasters would be good for the counter-tops as well.
10. Jersey shore hockey mayhem
Here's a less than an understated man cave that allows you to show off your undying love for hockey in a nice flamboyant manner.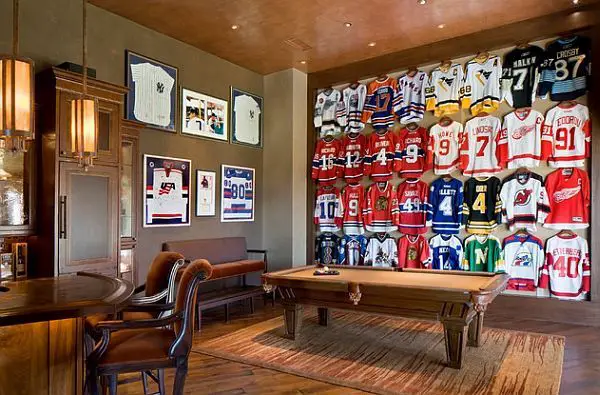 This man caver, for the most part, left this utterly appealing high-ceiling room alone as far as furniture and flooring are concerned. From the hardwood floors, the beautiful wooden shelves and bar to the velvet upholstery, and those stunning hanging lights, we can understand not wanting to mess too much with, what is, perfection.
However, when hockey is in your blood you just can't stop from showing it!
This man caver took two spare walls and touched them up. On one wall he has signed photo memorabilia and four framed signed jerseys, although two of them are from a well known baseball team.
On the adjoining wall are four rows of hockey jerseys from an assortment of teams showing just how much love for the game this man caver has.
If you like more than one hockey team, not only does a setup like this let you show off that love, but look at those colors! This makes such an impact.
With the uniform hues of the rest of this space, your eye naturally gets drawn to that awe-inspiring wall of jerseys. Everything else is almost an afterthought, as nice as this space is.
Conclusion: 10 Epic Hockey Man Cave Ideas That Got Stick
The NFL might be responsible for the inspiration behind the most common type of man caves out there but it isn't the only type of sports man cave that is popular in across America and Canada. After basketball its hockey that is behind a huge portion of American man cave designs.
The NHL is truly loved in both the US and Canada and so it isn't surprising that there are some really cool hockey man caves in North America (and beyond).
Hopefully the ideas we showcased above have given you some inspiration for creating your own hockey man cave as they are doable for most budgets. Whatever way you plan to decorate your man cave we wish you good luck with your awesome hockey man cave project!