The cost associated with a man cave is an important thing to consider before you decide to create one. Creating your own personalized space is going to cost money and it is important to keep this in mind as you contemplate potential man cave conversions. So, how much does a man cave cost?
Creating a man cave costs, on average, between $5,000 to $20,000 though it can be done cheaper if you are on a strict budget. The cost will depend largely on the size of the room you plan to convert, the purpose of the man cave and the theme that you choose for it.
So, how much does a man cave cost?
The 2 main costs associated with building a man cave
Obviously a futuristic man cave with lots of high-tech gadgets will cost more than a minimalistic nautical man cave with a pirate theme. The first option would require expensive 21st Century electronic toys while the second can be built with old wooden planks and salvage from a boat yard. Both will look spectacular when finished but one will cost a lot more than the other.
You should bear in mind that there will be specific costs unique to the particular theme and purpose of your man cave and so you should adjust your budget accordingly. However, there are ways to keep costs down without compromising on quality and I will here discuss them in detail.
You may wonder why the cost of a man cave provided above is not a specific number but is given as a fairly wide price range.
Man cave costs can vary for two main reasons
The 2 main contributors to man cave costs:
Location of the man cave.
The purpose of the man cave.
1. The location can affect the cost of a man cave
Man caves can be built at different locations from a small indoor room in your home, to an attached or unattached garage, to the basement or a shed.
It can cost more to convert an outdoor building than to merely transform an existing room in your home or to convert an attached garage that already has weatherproofing and connection to utilities.
Cost to convert a room in your home into a man cave
Taking an existing room in your home, that already has adequate climate control and connection to the necessary utilities, and transforming it into a man cave usually only requires decoration and the adding of some furniture and other man cave related items.
Many times this involves merely putting all your existing stuff in one place and adding only a few new items – thus saving hugely on costs.
With this type of man cave room conversion your budget will largely depend on the room's dimensions and the materials and items you need to add for the transformation process to be complete. Converting a small room into a man cave can be very inexpensive as I have shown here.
Cost of a man cave garage cost
A man cave garage conversion will cost the same as a room conversion – providing your garage already has access to utilities like electricity.
Cost of a basement man cave
To convert your basement into a man cave, you will need to do the above and more.
You will also most probably need to ensure it is treated with an anti-mold paint and proper climate control is added.
It will also probably need additional lighting added as basements are usually dark places. I covered the how to convert a basement into an awesome man cave here.
Man cave shed cost
Likewise building a man cave in your shed will incur even more costs.
To convert your existing shed into a man cave or if you intend to build a new man cave shed then you will need to ensure the building has good foundational support that protects it against groundwater. You will also need to waterproof it outside and mold proof it inside. If it does not already have access to utilities then this will be another cost to factor in.
2. The purpose & theme can affect the man cave cost
Each man cave will also have a different theme and purpose. Each theme and purpose will come with its own requirements and each will have a difference in cost.
Because the chosen location affects costs and the theme and purpose also affect costs, giving a single price for all man cave conversions is not realistic.

However, an average conversion cost between $5,000 to $20,000 is realistic for most man cave builds.
It is also worth stating that in addition to stocking the space with the much-needed man cave essentials, if you have a specific primary purpose for it beyond the usual man cave, such as using it as a home office home gym, then additional costs may be involved.
The primary purpose of your man cave will determine the kind of furniture and gadgets you want to include in it and these items will affect costs.
So, we can see that the purpose of a man cave can affect the price it costs to create it just as much as the location.
Breakdown of the overall cost to build a man cave
There are different costs associated with different types of man caves.
For instance, a man cave designed for reading and just chilling out will be cheaper to build than one designed after the Millennium Falcon.
Man cave price list
Common man caves costs are:
Shed (if you plan on building a man cave from scratch outdoors)
Waterproofing outside (if an outbuilding is used)
Mold proofing inside (if not using a room in your home)
Paint – $30 + per gallon
TV – $800+
Music System $1000+
Furniture $1500+
Décor, such as sports or film memorabilia – $1500+
Additional costs:
Utility connection $100+ per hour
Refrigeration – $100 – $1000
Bar – $2,000 – $12,000 (though it can be done on a tight budget)
Gadgets $600 – $10,000
Gaming & entertainment systems – $300 – $2,000
Man cave shed, cost to build
Buying a shed new can be cheap or costly depending on the size of shed you want.
It is often much more cost-effective to simply build it yourself.
Shed range in price from a few hundred dollars to thousands of dollars.
Browse through this range of sheds
to give you an idea of costs.
Weatherproofing outbuildings and underground man caves
I have covered weathering proof in detail here outlining both the procedure and costs. But, a quick breakdown is as follow:
Waterproofing outside – $30 per gallon of waterproof paint
Anti-mold protection inside – $50 per gallon of anti-mold paint.
Insulation –
A fairly cheap outdoor waterproof paint is all you need to complete this job. I use the economically priced fence paint
though you can use the even cheaper, but equally as waterproof, patio and floor latex paint.
For anti-mold protection use a latex primer anti-mold paint
which is slightly more expensive that normal waterproof paint but it will kill any existing mold and stop new growths from forming so it is well worth the small amount of extra money.
Paint cost
Unless you are converting an existing shed into a man cave or building a new one (which requires waterproof outdoor paint and indoor anti-mold paint), two gallons of standard paint should be enough for a room of about 800 square foot – considering it gets a second coat coverage.
Designer paint brands may cost as much as $120 per gallon, but on the average, high-end paints can cost an between $30 to $40 per gallon. Shop around for shop-branded cheaper options and you could save a lot of paint costs.
Hiring professionals – the true cost
Other costs to consider are the cost of hiring someone to do the skilled work such as installing utilities like water and electric. If you are converting a room in your home you will obviously not have these costs, but you will probably have to factor them in if you are converting an outdoor building.
If you do want to hire others to do the work for you then they will charge based on how much work is needed to be done. You can expect to pay between $55 to $125 per hour for plumbing and electrical work while painters are usually cheaper, though you can really complete the painting work yourself to save on dollars.
Furniture costs
Equally worth considering is the type of furniture you want for your man cave.
Furniture can range in price from the very expensive, like an authentic Yankee Stadium seat sold as a pair for $1,500, to the incredibly cheap, like a used couch or plastic chairs you can pick up for a few bucks.
There are ways to save a lot of money on furniture and you can even upcycle old items to create truly unique man cave furniture that elicits awe from everyone who see it.
I have covered this topic in detail in this article about man cave furniture.
Specialized item costs
The thing that really sets a man cave apart from the rest of your home is its uniqueness.
Your man cave should be a reflection of your personality and should mirror your tastes. It is your haven from the world after all. This means populating it with things that are meaningful to you.
You will know the costs of the things that you like better than anyone else and it is these items that will consume the bulk of your man cave decor budget.
But do consider adding unique touches that make your man cave stand out even more. For example, if you have an additional $2,000 to spend you can use it to conceal the entrance to your man cave with a hidden bookcase opening, like this one, or you can let visitors announce their arrival with a Guitdoorbell for less than $50 as I demonstrated in a short video here.
You may want your own personalized man cave sign, like these really cool ones, as well.
Gadget costs
Gadgets are a big part of many man caves. Filling your own personal space with the latest in high-tech toys just screams "fun"! No modern man cave is complete with high-tech gadgetry.
The type of gadgets that you may personally want in your man cave will greatly affect the costs associated with setting it up though there are ways to curb your spending.
If you like gaming for example then you can keep costs down by using a gaming console and large screen television. But, if you have a bigger budget, and bigger space to play with, then there are other options available to you. You can place old school gaming arcade machines or slot machines in your man cave and easily create an arcade or casino themed space.
Imagine having a $2,950 Pac-Man Arcade Party Machine
to compliment your 21st Century gaming console.
You can also get this Chicago Gaming Arcade Legends vintage styled machine with up to 150 games or the more modern Prime Arcade cocktail style table machine
that comes with 2 chrome stools.
The type and amount of gadgets you have in your man cave will be dependent on its theme and purpose.

This will in turn affect costs.
For example, if you build a man cave for reading or playing poker with your buddies then you can have a minimalist approach to 21st century hardware.
On the other hand, a futuristic, space station or star wars themed man cave will require a much bigger budget. The fridge alone cost cost you a bundle.
An R2-D2 Moving Refrigerator for keeping beer cool will cost you about $8,800 (though you can get a non-moving one for less than 150 bucks). But, this remote-control-enabled beverage-chilling droid can ensure you always have a cool beer to hand.
A golf themed man cave could include a this reasonably priced full size OptiShot 360 golf simulator for about $300 bucks but of course you will need to hook it up to a 55″ TV at a cost of around $380 though I listed several cheaper options here.
Other cool gadgets you may want to include are a high-end virtual-reality headset at $800, an Instant Post Photo Booth for capturing your man cave memories at $12,000 though you can go for the much cheaper option of a handheld instant photo printer or old school Polaroid camera for top quality instant photo prints at a fraction of the cost.
If security is an issue you can always keep out unwanted guests with a keyless door lock at $230 or this type of reasonably priced smart lock security system. If you build your man cave in an outbuilding and have expensive equipment in it then security is definitely something you should take seriously.
If your man cave has a retro or vintage feel to it then you can get the best of both worlds by getting a Bluetooth speaker that resembles an old school radio or Marshall guitar amp
like these
.
I have listed many other great gadgets in the article 100 man cave gift ideas.
Memorabilia costs
This can be a huge expense especially if you want top-end memorabilia like signed sports jerseys.
Sports memorabilia is not cheap. Neither are collectibles associated with any other interest. For instance you won't get an NFL signed jersey or football for less than a thousand bucks.
You can usually get a variety of signed items on Amazon
though there are plenty of specialist shops that deal entirely with sports memorabilia like this one.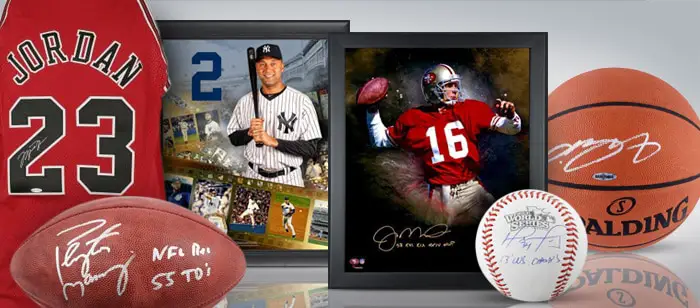 Typical man cave costs – examples
Here are some examples of the costs associated with specific man caves.
Cost of building a sport themed man cave
The most popular man cave design usually follows a Sports Theme. There are lots of amazing ways to go about creating this type of man cave depending on your taste and your budget.
Below is an example of the costs involved with creating a football themed man cave.
To start out you may want to paint your man cave in your team's colors. That will cost you about $30 per gallon of paint.
Next you will need football stuff.
Generic football paraphernalia can be bought fairly cheaply, like a standard jersey which you can frame and hang on the wall. Other more specialized or personalized items, such as signed footballs and jerseys, are a lot more expensive.
Hanging pictures of historic moments connected to your team is a must for any sports man cave. This can be done by simply printing off pictures, if you have a printer connected to a computer, and then framing them in picture frames bought from Walmart.
If you don't have access to a printer then simply save the pictures to your phone and have a printing shop print them for you – most will also have the option of framing them as well.
Of course you may be able to source the framed pictures online or in a local shop but the beauty of doing it yourself is that you will have exactly the type of pictures you want in exactly the size and frame you want them in. You will also have pictures that most other people do not.
A small cabinet containing memorabilia can also help set the right scene. You can fill it with small items from replica trophies to miniature player figurines for very little cost.
You can also add simple small items that help to create a sporty fan atmosphere, like a 3D football helmet in your team colors complete with logo for less than 20 bucks or a floating NCAA helmet.
A snack helmet in your favorite team's colors and logo for example costs around $55 while a simple team-based bottle opener is less than $15.
You will of course need a large screen television such as a 55″ TV that is big enough for enjoying a game for approximately $800.
A 1.7 cubic-foot fridge capable of holding 60 cans of beer is a must-have item and should cost around $100.
I have detailed exactly how to create a sports man cave in the article How to Create the Ultimate Sports Man Cave.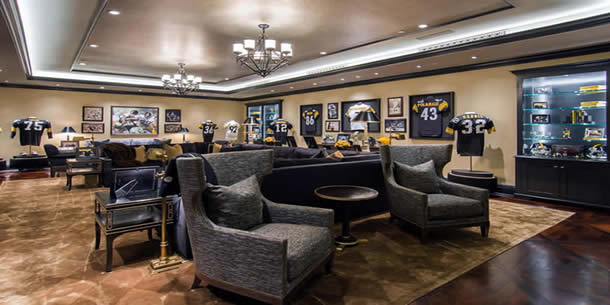 Cost of building a man cave in the garden
You can create a good-sized man cave in your garden by converting your existing shed or by building a new one.
An outdoor man cave can be fitted with a fully functional bar if your budget can stretch that far. I showed how to build a man cave bar cheaply here.
To create a cool vibe, you can also place quality outdoor furniture just outside the man cave for enjoying the outdoors on a sunny day. Be aware though that good quality outdoor furniture can be pricey ranging from $1000 right up to $10,000.
You can read the article how to build a man cave in backyard for more ideas.
Cost of man cave shed kits
A ready-made shed in the shape of a mini-house is perfect for a man cave.
If you have the shed installed by professionals make sure they place it off the ground on a foundation for protection against groundwater.
If you buy a cheap shed or plan to convert your existing one then you may need to waterproof it yourself by painting it with anti-mold paint on the inside and waterproof paint on the outside.
Most anti-mold paint is roughly the same price as standard paint while outdoor waterproof paint can set you back between $35 – $70 a gallon. It really is worth spending the extra on a good anti-mold paint though if your man cave is situated outdoors as damp can cause much more expensive problems later down the line.
Many sheds will come fully waterproofed already – at least on the outside. You should check with the seller before you buy. Depending on the company that you are buying from, this will usually cost you from $1000 for a small one to around $10,00 for a very large one. So ready-made is not a cheap option.
You will also need to ensure the necessary utilities are installed in any outdoor building.
If you are building a bar in your man cave then you will need probably a water connection. Regardless of the design you choose for your man cave you will most likely need an electrical connection and multiple electrical sockets.
The other associated costs with building the ultimate man cave shed depends on your theme and how you intend to use the cave.
When you have waterproofed your backyard shed and ensured it has access to utilities you can easily transform it into an awesome man cave with a bit of creativity and just a TV, stereo system, and a couple recliners for fairly cheap.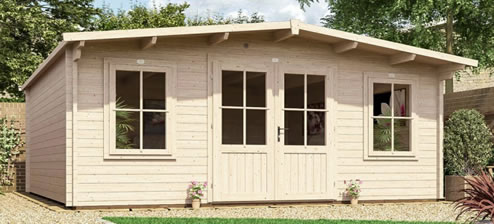 Man cave flooring costs
When it comes to flooring don't just opt for the usual concrete, wood or carpet. There are lots of options you can choose from that will set your man cave apart and make it feel really special and unique.
There are flooring options that range from elaborate polyurethane or 3D epoxy flooring than can be enhanced with the use of lighting such as 3D moon lights and 3D optical illusion lighting.
You can do lay an epoxy floor yourself by doing a little research and putting in a bit of work but the effect is well worth it. The only cost involved would be the materials and your time.
Of course you can pay a professional to lay your floor but this is a costly option.
Here is an example of how you can create a 3D epoxy floor.
You ca read the article about man cave flooring for more flooring ideas.
Can building a man cave be done cheaper if you're on a budget?
Coughing out a minimum of $5,000 may sound extreme to many budget-minded men. So can it be done cheaper?
One of the options to reduce costs is to do everything yourself.
So long as you are creative and have the time to spare to bring your ideas to life, this is a great option. It eliminates the need to hire the services of a professional which range in price from $55 per hour to $125 per hour, depending on your location and whether the professional is working independently or as part of a larger business.
Never try to do electrical work yourself!
The drawback with a do-it-yourself approach is that you may never get around to building the man cave with so much distractions from work and in the home. This means you may have to consider the option of buying a man cave ready-made, which is expensive.
Another great idea is to bargain hunt for man cave items.
Look for deals on items that fit in well with your theme and be open to adding things that you had not previously considered. I covered how to build a man cave on a budget in this article.
How to build a man cave on a budget
With a good dose of creativity and willingness to do it yourself, it is possible to create any type of man cave on a budget with the only exception being an ultra modern futuristic man cave which requires lots of expensive gadgets.
There is a work-around for this though; you can create a nostalgic future man cave – for example you can model your man cave on how a person in the 1950's thought the future would be like!
You would not only end-up with a fun man cave but it would be super retro and totally unique.
Ideas for populating your themed man cave cheaply
If you have a specific theme that requires memorabilia consider acquiring lower-end items.
For instance, if you have a motorcycle themed man cave then instead of buying expensive branded Harley Davidson items consider sourcing Harley parts from a junkyard; an old battered and rusted Harley tank can look every bit as impressive as an expensive alternative when set in the right scene.
Another great place to get themed items on the cheap is to source them used from online stores like eBay, Amazon and Craigslist. Be sure to look at the items in the 100 man cave gift ideas article as it contains quite a few really cool cheap items.
You can read the article how to build a man cave on a budget for mire money-saving tips.
Upcycle old junk
Not everyone is blessed with infinite resources. You can still get your man cave looking exactly the way you want without having to spend a fortune if you are willing to get creative, do the work yourself and are prepared to bargain hunt.
It is totally possible to get creative with old useless items you can find in your attic or at a garage sale.
For instance, if you are on a strict budget but are in need of a cool mirror for your tennis-themed man cave, converting an old tennis racket into a wall mirror is one way to save money while staying true to your theme.
One man cave office that was designed around a 1980's theme used cassette tapes glued together for use as a pen holder and old vinyl records that were slightly melted to create groovy snack bowls. One was even converted into a wall clock while others were fused together and used a business card holder.
Taking this creative approach to using old items will save you a lot of money while helping the environment by recycling old junk.
In addition to using stuff that you already own, go to yard sales and take advantage of discounts in malls and used stores.