Hooray! After much persuasion, your wife has finally agreed to let you have your very own man cave bar. You may be biting at the bit to get started but then you realise that you have a very limited budget available to pull this off. So how are you going to build your man cave bar on a tight budget without compromising on quality and functionality?
How do you build a man cave bar on a budget?
To build a man cave bar on a budget, source your materials cheaper online, in garage sales, by buying ex-display items etc. Do the conversion work yourself. You can create a bar with the same look and functionality of an expensive one by using cheaper non-branded alternatives and by making parts yourself. It is even possible to create stylish bar items from old junk.
The 3 keys to building a man cave bar on a tight budget
Although I have already covered the steps for building a man cave on a budget adding a bar to the man cave mix will add to the appeal and functionality of your cave but, unfortunately, it will also the expense. If you have not yet created the man cave in which your bar will be located then I recommend you read the aforementioned post so you can free up some cash for the bar build.
The key to building a man cave bar on a budget is to firstly source your materials cheaper. There are ways to create the same look, feel and functionality offered by premium bar items with the use of much cheaper alternatives.
Taking a DIY approach to the actual building of the bar will also save you a lot on labor costs and it is actually easier to build your own bar than you might think.
Populating the bar with fun unique and usable items can also be done very cheaply as I demonstrated here. In fact, it is even possible to make a very stylish and unique bar from items most people would consider junk.
There are a few things to consider before you embark on your bar building.
Firstly, you need to decide exactly how much space you will allocate to your bar. This will include the bar counter, areas where you store your alcohol and soft drinks and also the seating area where you and your friends can enjoy your drinks.
Before we begin looking at the main components needed to build your bar I think it's a good idea to revisit the ways to source your constriction materials cheaper, which I outlined in a previous article.
Initial cost-saving steps for your home bar
Below are the initial steps you need to take to reduce the costs of sourcing materials and doing the actual bar building work.
Ways to source materials and items cheaper
Below is a list of the most effective ways to source your bar building materials and also the items for your bar such as furniture much, much cheaper than buying them retail.
Look in local shops rather than large mall
Consider ex-display items
Haggle
Watch for new product releases
Take advantage of online savings
Bargain hunt offline
Visit garage sales
Shop at used/second-hand stores
Try charity shops
Look-out for house clearance sales
Rummage around in junkyards
I covered these in detail here.
DIY works wonders for a man cave bar
When it comes to the labor intensive work required to build and fit out your bar … do-it-yourself!
Taking a DIY approach to the building of your man cave bar will be the biggest saving you make on the entire project. Unless you need specialist help, such as from an electrician or plumber, try your best to do as much of the physical work yourself as you can.
How to get the anatomy of the bar correct, right from the start
Now that you know how to source your construction materials cheaply, or for free, it's now time to see how we can use them to build your bar.
Although every bar has the essential elements of a serving counter and seating, at and near the serving counter, your bar will not be just a counter with stools. It needs to have the feel and the look of an actual bar.
So, let's consider a typical bar and what it constitutes.
The 3 things every man cave bar needs (even when building it on a budget)
The Anatomy of a Bar:
A bar counter

bar height
bar ledge & overhang
foot rail

Bar stools
Taps and optics.
Refrigerated storage.
The bar counter is the centerpiece of a man cave bar
The bar counter is where your drinks are served and shots are poured.
Obviously the overall width of this counter will be dependent on the available space you have but as a rule-of-thumb try to keep the width of this counter between 16″ to 20″. This includes the molding. There is no point in extending it beyond this at that amounts to taking up more man cave space unnecessarily. A wider counter will also add to the expense of the materials.
You can buy used bar counters online from places like eBay
for only a few hundred bucks but if this is beyond your budget then there are a few steps you can take to greatly reduce this cost.
I have covered the benefits of trawling junk yards in more than one article on this website and here I will again sing its praises. The incredible finds you can get from junkyards are, arguably, best suited to the building of a man cave bar especially when you are working under the constraints of a strict budget.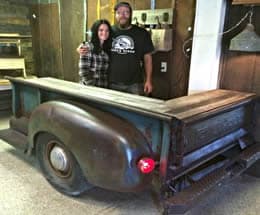 If buying a bar counter new, or even used one, is beyond your budget then consider recycling old junk and repurposing it for your bar. Not only is this a super cheap, or even free, way to source bar counter materials but the finished article will set your man cave apart and make it look really unique.
Right is an image of a very creative counter. The counter is made from the back-end of a broken down Chevy and this type of build works perfectly for a small man cave bar.
Alternatively you can build your counter from scratch using pallets as shown in the image below.
Both these approaches will require additional hardwood for the actual countertop but that would be your only real expense in the process.
You can pick up a nice 1½" thick walnut counter top with oil finish
for about $200 or you can simply source some cheap hardwood from a local store and stain it yourself.
If you do use store-bought untreated hardwood, or stuff you have sourced elsewhere that's untreated, then be sure to cover it with a good wood floor varnish
after staining it to protect the wood from liquid spills.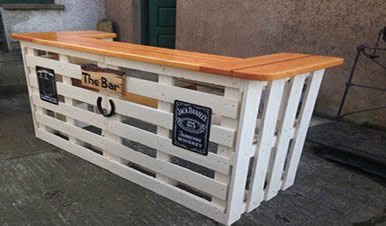 Getting the bar height right is essential
Before building the counter you should consider its ideal height.
The bar should measure 42″ from the ground. This is the standard height of an average bar.
You can vary the counter height as per the size of your man cave, but be aware that creating a counter that is higher than normal ,or lower than normal, will mean that finding compatible bar stools may become a problem.
Of course, those sitting on bar stools will need some leg space to enable them to rest their elbows comfortably on the bar top.
This problem is solved by an overhang.
The bar ledge and overhang can make the difference
A molding on the bar top edges does more than just beautify it, it provides a comfortable armrest to place your elbows on and sit over your beer.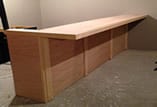 It also keeps the spilled drinks on the table top from dribbling off the bar and onto your lap.
Ideally, the overhang should be at least 8″ wide. However, although extending it out further will certainly add to the comfort of bar users you need to be aware that doing this will encroach on space in your man cave.
The foot rail adds that finishing touch
Although a foot rail is not a necessity in a man cave bar it will add a professional stylish look to it and make sitting at the bar a lot more comfortable for you and your guests.
An 8 foot brass or stainless steel foot railing, like this one
, costs around $200 while a hardwood one, like this beauty made from red oak
is considerably cheaper.
The height of the railing from the floor should be between 7″ and 9″ to provide maximum comfort.
Bar stools should blend seamlessly with your man cave design
This is one item of your man cave bar that you need to get right as your comfort and the comfort of man cave bar guests depend on it
Having said that, you do not have to spend a fortune, or even more than $10 per stool, to get high quality seating. As demonstrated in the video below you can make sturdy classical-styled bars stools for just $10 each.
For maximum comfort at a bar counter a standard bar stool is between 24″ and 30″ high and this is what you should aim for if making your own. Store bought stools will almost always fall between this range.
For any other size, you may have to browse the market looking online or get them specially made for you or make them yourself.
The standard spacing between bar stools is 24″ in bars primarily to boost business. In your case, keep it at about 30″ for maximum comfort if space allows.
Although you can pick up really comfortable and stylish bar stools cheaply, from both eBay
and Amazon
it is possible to make them for about $10 each as outlined in the video below.
You can even make your own – DIY bar stools
Use cheap professional bar taps and optics for that perfect pour
You don't have to break the bank to have a fully functional bar with taps and optics.
A simple optic set will usually cost below $30 and hold up to 4 liquor bottles.
Wyndham House make a great 4-bottle liquor dispenser
that offers great value for money and that has aesthetically pleasing looks.
I covered the advantages of using a home kegerator before, here, and most come with their own single or double taps. A kegerator is a great cheap way to have beer on tap without the expense of installing pumps and counter taps etc.
Kegerators are not the only type of cheaper alternative though, there are different and even cheaper types of draft beer dispensers available to suit every pocket and bar type
and I have covered some of them here.
Refrigerated storage doesn't have to be boring!
No bar can operate, no matter how small, without some type of refrigeration unit. Who wants to drink cold beer?!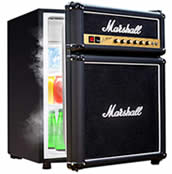 Mini fridges work really well in man cave bars and can be picked up super cheap online. However, don't just buy a boring standard mini fridge when you can get a novelty one for the same price. A man cave is supposed to be a fun place to be and what better way to liven up the atmosphere in your home bar than with cool bar items.
There are a myriad of different types of fridges to suit everyone from the music lover to the nostalgist or the sci-fi fan.
Check out my take on man cave fridges here which includes the Marshall mini fridge shown right.
14 Super cool design ideas for a man cave bar on a budget
There are many ideas for making a man cave bar on a shoestring budget. Keep in mind that these mostly involve DIY projects though so you will have to be willing to get your hands dirty.
The type of budget required and the amount of work it involves will depend mostly on the size of your man cave and the size of the bar you intend to build. So, I have split the ideas into 2 categories:
Small sized man cave bar ideas for those with extremely limited space.
Medium to large sized man cave bar ideas. These will appeal to most of my readers.
7 Awesome budget ideas for small sized budget man cave bars
If you have limited space, you can go in for a small sized bar.
Below are some space-saving bar ideas for those of you who have very limited space available.
TV bar cabinet
Get an old cathode ray tube TV from a thrift store or a junkyard. Simply remove the tubes and internal workings and you have instantly turn it into a drinks cabinet.

Place your liquor bottles in where the tubes were and use the TV top as bar top.
You can add some shelving inside if you wish.
This petite TV bar can snugly fit into any corner of your man cave.
Globe bar
If you prefer your bar cabinet to be a little more old-worldly then why not go for a 16th Century Italian globe replica like this one?
This vintage piece consists of a large globe of the world on wheels, which opens up and allows storage of bottles and glasses.
Use the shelves provided underneath to keep other bar accessories.
This beautiful globe bar promises to give a touch of class to your man cave.
Suitcase bar
This is the tiniest bar yet and will cost you next to nothing to make.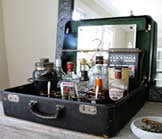 Find an old suitcase or a vintage trunk, fit a mirror on the inside of the flap.
Place the bottles inside the suitcase and you are ready to serve.
Pallet bar
A pallet is used for moving or storing goods. It also makes an ideal bar on a shoestring budget.
Just place it on its side and use some stone blocks as the bar top.
Looks snazzy and occupies little space.
Crate bar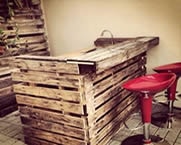 Akin to a pallet bar, it uses a crate or a number of crates instead of a pallet.
Old shipping crates are ideal for bars.
Pipe bar
A bar frame made of pipes certainly symbolizes liquor flowing unabated.
Build a framework of pipes and add two wooden shelves to it.
Now place the bottles and glasses on the shelves and your bar is ready.
Record bar
Get nostalgic by opting for this type of retro bar.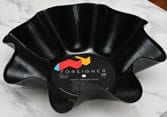 A Record Bar consists of a liquor cabinet with a vintage record player placed on the top with vinyl records lined up on the first shelf.
The bottom shelf can hold the bottles and bar accessories.
You can also melt old vinyl records to act as snack bowls to complete the look.
7 eye-popping ideas for medium to large sized budget man cave bars
If you have adequate space, a medium to full size bar is a great option.
Here are some ideas for those of you with a little more space to be more creative.
Old piano bar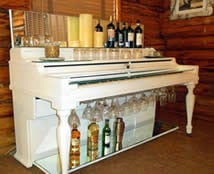 If you can lay your hands on an old piano, you can turn it into an impressive musically-inspired man cave bar.
The top half of the piano becomes the bar top, the other half is turned into a liquor cabinet and the piano keys' cover is for placing the drinks.
Complement it with piano-styled bar stools.
Bookcase bar
Convert your bookcase into a 'boozecase'.
This bookcase bar has all that a functional bar should have. The bookshelves are where you keep the liquor bottles.
The bookcase top becomes your bar top and the cabinet below is to keep all your nitty-gritty bar accouterments.
Junkyard vehicle bar
Repurposing a junkyard vehicle is an excellent idea for a man cave bar.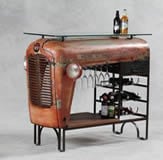 Use the rear or front part of the vehicle's body, cut suitably to fit into your man cave.
The type of vehicle models you can use will depend upon the size of your man cave and your available space. You may also be limited to what you can get your hands on though most large junkyards will have a wide variety of vehicles to pick from.
Such bars make for an excellent conversation piece and bring a vintage vibe to the whole man cave setting.
Drop down tailgate bar
Even simpler is this tailgate bar.
Find an old tailgate and build a frame on the wall of your man cave and then attach it with hinges and a chain.
It not only looks great, tail lights and all, but can also hide liquor bottles, if you so desire.
Just drop down the tailgate and start serving when you are ready for a drink!
Firefighter bar

This is much like tailgate bar, since is has a bar designed as the rear end of a fire engine.
The red and steel décor looks great. The only thing missing is a pole to slide down!
Of course you can use any other type of theme that fits with your overall man cave look. For some ideas review the article 7 Top Designs for the Ultimate Man Cave.
Armoire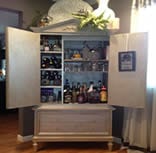 Check your basement or attic for an old armoire or source one at a garage sale.
This type of cupboard with shelves and drawers makes a great bar and will give a Victorian touch to your man cave.
It can also invoke feelings of the old west as this type of furniture would have been commonplace in homes back then.
Workbench bar
Ideal for a garage converted into a man cave, this design is totally suited to it.
Make it using car parts and workbench tools.
Cheap man cave furniture ideas for your man cave bar
Building a bar in your man cave will cost money, but you don't have to go broke building one.
As you can see there are a ton of great creative ways to build a man cave bar on a budget. But, aside from the liquor and actual bar the next biggest expensive will be the furniture.
Upcycling junk and repurposing it into neat, unique pieces of furniture will save you huge amounts of money.
Review the article on how to build a man cave on a budget for some really fantastic ways to fill your man cave with creative, comfortable furniture cheaply.
Large spool bar furniture
A great example of unique upcycled furniture is the large spool type.
Ever laid your eyes on those big cable spools lying on the roadside.
Although these spools can be used to make an interesting bar, by far the best way to use them is as bar furniture, as shown below.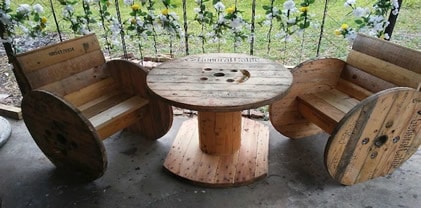 Where to source unique, cheap man cave bar items
Once you have your man cave bar built and furnished you need to populate it with bar items that make it not only functional but unique and fun as well.
By far the best place I found for man cave bar items is Home Wet Bar. The only problem you may with this supplier is that their items can be a bit pricey when you're on a budget, so by all means check them out but be sure to shop around and keep your eyes open for bargains as you never know when you'll see something truly unique that would be perfect for your man cave.
Be sure to check out the 100 Unique Man Cave Gift Ideas for some cheap and creative items to populate your man cave bar with, from skull decanters to handcrafted drinks coasters to novelty bottle holders and openers.