The man cave is fast becoming a common part of the modern home. Men are discovering the many benefits of having their own space to kick back in. Though many guys love a rustic look there are a growing number of men who want to know how to create a modern man cave.
Though its purpose will be the same as any other man cave, a modern man cave will usually be filled with state-of-the-art high-tech gadgets.
However, some types of modern man cave are merely styled in a modern design or made to look like a high-tech future or modeled on a futuristic theme.
12 Modern Man Cave Ideas From The Futuristic To The Stylish
Below are 12 super cool yet modern man cave ideas that will knock your socks off!
Modern man cave décor with a retro feel – a futuristic man cave from the '50s
The décor of a man cave is so important that I wrote an entire article about the subject.
Modern décor should complement the furniture of the man cave. Like the furniture, décor can look very modern by using contrasting colors especially darker shades.
However, be aware that light and color play a vital role in the décor of basement man caves and garage man caves due to a lack of natural light in those locations. In such cases chromed decor and items with light reflective surfaces will give a modern feel to the space while simultaneously distributing light around the area.
Contemporary art and sculptures will also help to modernize the room.
Even small simple items, like this electrical humidifier
which is designed to look like it's made from marble, can help create a modern and stylish feel to the room.
I also find that including an item designed to look the way people in the 1950's thought the future would look actually helps to create a modern feel in a room. Like this super cool atomic light
for example.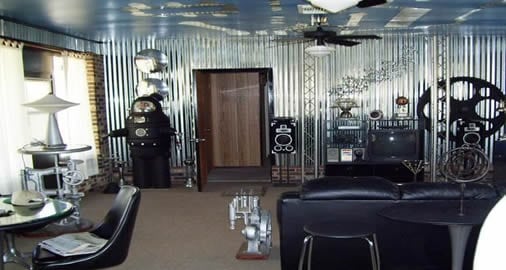 Be sure to also consider using 3D wallpaper on the floor and covering it with epoxy resin for an amazing futuristic man cave look.
If you don't want 3D flooring epoxy still works really well for creating a modern feel.
Bar ideas with a modern man cave feel
The best way to bring your man cave bar into the 21st Century is through high-tech bar gadgets and the use of neon lights.
Neon lights reflecting off chrome give a really modern vibe. So, use chrome bar fittings and chrome stools in conjunction with strategically placed neon lights to create a truly modern man cave bar feel and look.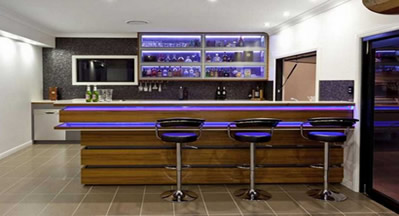 Modern man cave shed ideas
As long as your shed in fully protected against rain and mold, and it has access to electricity, you can easily create a modern man cave in it.
In fact, nothing is more striking and memorable to visitors than a man cave that has the appearance of a rustic shed on the outside but has an interior filled with spaceship-like technology.
By far the most impressive way to create a modern man cave shed though is to design the building, and build it from scratch to your exact specifications. Building your man cave is not as difficult as you think as I demonstrated here.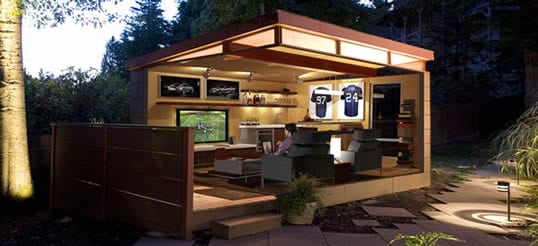 Man cave garage ideas with a modern twist
A garage is a great place to create a modern man cave because there is usually so much space available to you.
A garage can accommodate sculptures and modern wall art as well as a plethora of modern furniture.
As well as modernizing the garage with 21st Century gadgets, and having them voice-activated, either through Alexa or Google Home and the use of smart plugs, be sure to also include a smart garage door opener
.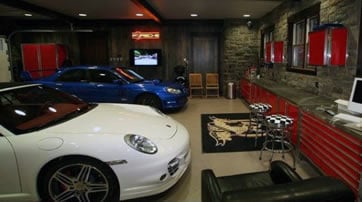 Large room modern man cave ideas
You can create a modern man cave in a spare room in your home very easily because that room will already have full access to utilities.
Keep the furniture as modern as possible. Consider including a massage recliner and some of the smart-tech furniture items mentioned above.
Be sure to incorporate modern gadgets into the design and if possible make everything voice-activated (as shown above) and fill the space with modern decor.
Neon lighting is always a great way to add a modern feel to any space as long as it is done tastefully.
Chrome stools and décor items help create a modern feel as will wooden flooring.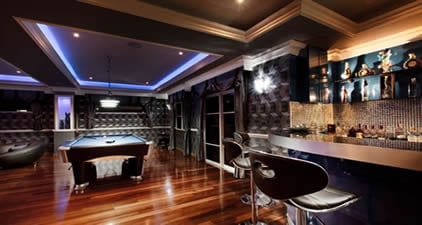 The space age modern man cave
If you want to take the modernization of your man cave one step further, or don't want to invest in expensive tech, then consider giving it a futuristic theme.
Space-based film themed man caves are among the most popular type of modern themed man caves about but you aren't limited to the movies for inspiration. You can use any futuristic fiction idea you want from literature, TV and cinema to your own imagination.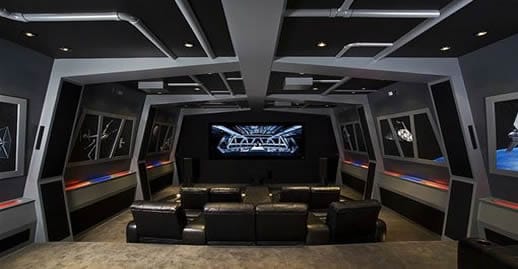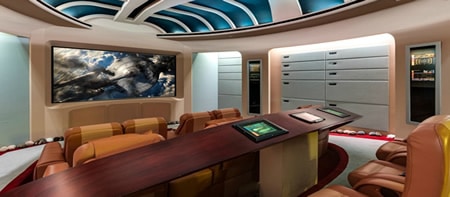 If fiction isn't your bat then why not create a modern man cave based on the Space shuttle or NASA?
6 More modern man cave ideas with a little bit of style
Below are a few images of modern man caves to give you some idea of what you can create.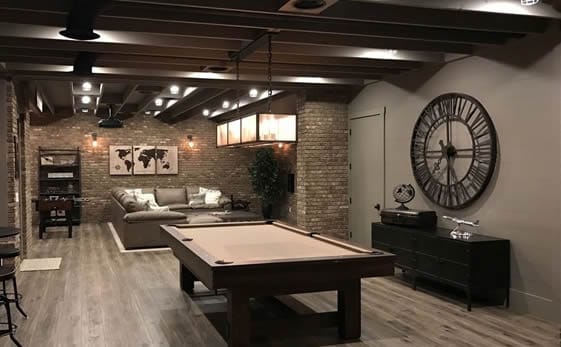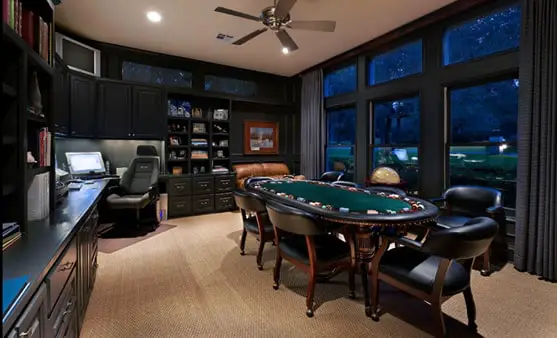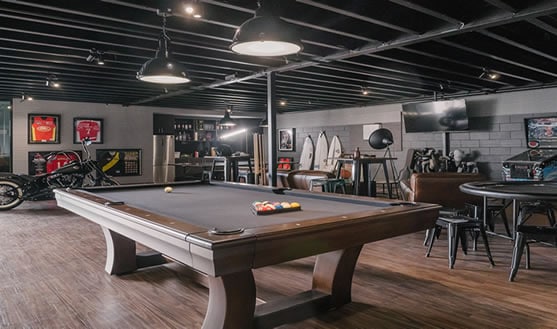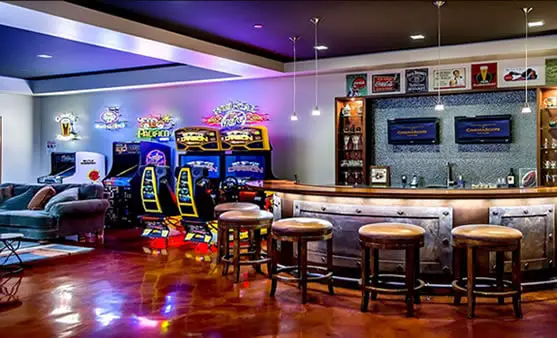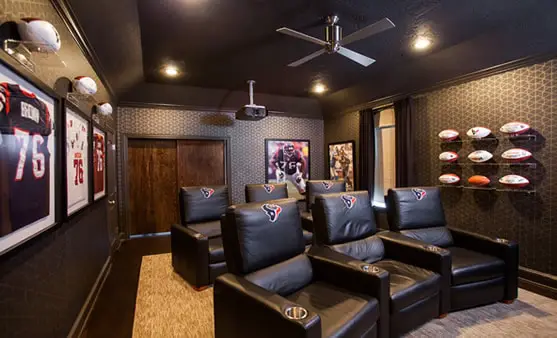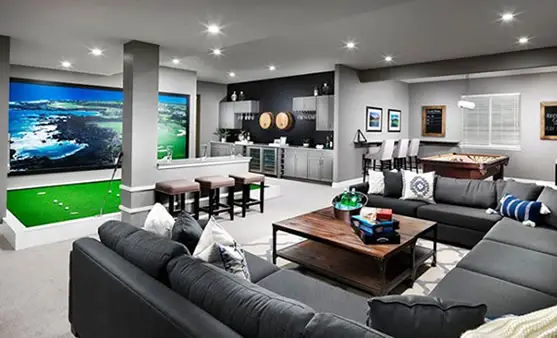 If you want more styles or design concepts for your man cave be sure to read my article outlining a ton of different man cave ideas.
A Modern Man Cave Needs Futuristic Man Cave Gadgets
When it comes to the design of a modern man you should not take a cookie-cutter approach. Each modern man cave will differ from the next just as much as any other themed man cave differs from its contemporaries.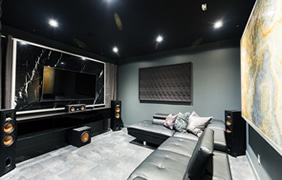 However, the style that most guys choose for a modern man cave is usually in alignment with modern technology.
Having said that, some modern man caves have no theme at all – rather than setting an actual theme for a man cave, it is possible to simply let the high-tech gadgets do their own "talking". Populating a space with high-tech toys tends to make it look modern anyway.
It is not unheard of though, nor is it a bad idea, to design your man cave in a rustic or old-fashioned style while kitting-it-out with the newest in high-tech equipment. Consider how Ridley Scott used film noir so cleverly in the film Blade Runner, where he blended futuristic technology with a mid-20th Century backdrop and design, and you will get the idea.
High tech innovation = futuristic man cave gadgets
The one thing all modern man caves have in common though is their dependence on 21st Century tech … right?!
I mean, you can't really say you have a modern man cave if it isn't filled with the latest gizmos and gadgets.
Or can you?
Modern gadgets and high-tech toys aren't the only way to create a modern man cave.
Rather than creating a modernized man cave through gadgetry many guys will settle for a modern look without the high-tech (and expensive) gadgets. The easiest way to do this is to design your man cave after a well-known literary work that is set in the future. You can also give your cave a theme based on a form of futuristic fictional arts such as the films Star Wars or Star Trek.
Although there are different approaches to creating a modern man cave let's start by taking a look at the ultra modernized man cave that heavily relies on high-tech gadgetry. Later I will touch on the other types of modern man cave.
11 Super Cool Man Cave Gadgets To Modernize Your Space
Modernizing a man cave with 21st Century gadgets can become expensive but if you have the budget it is well worth the investment.
Imagine having a man cave where every type of mechanical and electrical device is under your voice control. Well, it's easier to create that than you may think and it's not nearly as expensive as you might fear.
Here is a list of some essential gadgets to modernize a man cave.
Alexa
Google Home.
Smart bulbs.
Voice controlled TV.
High-tech sound for when you need to hear that beat.
Smart plugs to control everything.
Smart thermostat.
Video surveillance man cave style.
Smart lock for securing those modern man cave gadgets.
Smart security – when locks aren't enough!
Smart cleaning – cuz the maid isn't allowed in the cave!
Let's take a look at these in closer detail.
Alexa – the star trek computer of the modern age
Alexa is a great way to modernize your man cave. Contrary to popular belief, Alexa is much more than just a smart speaker.
Although Alexa has limited knowledge about subjects (it can be infuriating trying to get a straight answer from "her" sometimes) she does offer some great ways to modernize your home.
Alexa can be used to control just about any electronic device in your man cave, as you will see from the other gadgets listed below.
There are other smart home hub devices on the market, with Google Home being a notable one, but at the moment Alexa offers great flexibility and the best control over many smart devices. It is therefore still the number 1 choice at the time of writing.
Check out the Alexa range here
.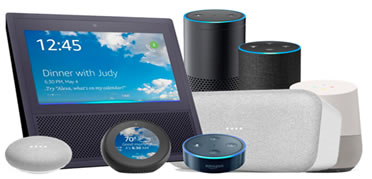 Instant internet without a device – Google Home takes Alexa to the next level
Alexa may be a great piece of tech but if you want access to instant information Google Home may be a better choice.
When you want access to the internet without having to fumble for your phone, open up a laptop, or type a search query into an iPad then the Google Home device is the gadget to have.
The great thing about Google Home is that it can also be used to control most Smart devices in the same way Alexa can.
Many modern man caves will have both Alexa and Google Home so they have the best of both technologies, or just because they can!
Smart bulbs so you don't have to get up to turn on the lights
Obviously in a modernized man cave you don't want to have to physically turn-on and turn-off lights. So, your man cave lights will need to be activated and dimmed in 21st Century style.
However, not even remote controlled lighting is futuristic enough in this day and age for a modern man cave. You need voice-controlled lights.
Having voice controlled lighting is as simple as getting these Alexa and Google Home compliant bulbs
that you can control via a smartphone app and your hub.
Voice-controlled TV
A smart voice-controlled TV is a must-have item for the modern man caver.
Some TVs come with their own voice-control mechanism while others can be controlled via your preferred home hub device, such as Google Home or Alexa.
There are a wide range of these types of TVs available with varying price tags.
A great cheap way to get full voice control over your TV, without having to buy the latest TV model, is to use your existing set with one of these cheap smart TV boxes
.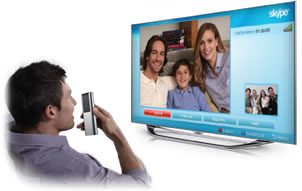 High-tech sound – the must-have man cave gadget
Although both Alexa and Google Home have their own speakers no modernized man cave would rely on such rudimentary sound technology.
Instead you should use Smart wireless music systems with surround sound that fills the room.
The great thing about investing in wireless speakers for your music system is that they can also be connected to your Smart TV for a great surround sound movie experience.
Most smart music systems can play CDs as well as being able to access your online music library and online radio stations.
The really good ones are also voice activated like this this Bose Wave SoundTouch system
that has both Wi-Fi and Bluetooth connectivity.
Why not just voice-activate everything?!
If you want your entire man cave to be voice-activated then investing in smart plugs is the way to go.
A smart plug is simply a plug that you insert into an electrical socket before you put your appliance plug in. In other words, the appliance plug is inserted into the smart plug and then the Smart plug is inserted into the electrical socket.
You can then control the on/off function of the plug to turn on or off the device connected to the smart plug.
Smart plugs are simple, but oh so handy and very affordable. They are a really cheap way to modernize all the electrically-powered devices in your man cave.
There are a wide range of different types of smart plug available that can be controlled from your phone, Alexa or Google Home. Check them out here
.
Smart thermostat – the cool (and hot) man cave gadget
Forget having to get off your couch, or bar stool, to change the temperature settings in your man cave. With a simple command you can instantly alter the climate to your preference.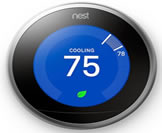 Not that long ago the latest in modern thermostat technology meant you could interact with the slick touch-screen interface that monitored the remote sensors in the room but it still meant getting off your butt. Not anymore.
Touch screens are so the noughties. Time to upgrade.
Now you can control your thermostat via your smartphone. But, it gets even better. You can now control your thermostat with voice commands.
The newest thermostats don't even need access to a home hub device like Alexa or Google Home because they have Alexa built-in.
There are a variety of different smart thermostats
available.
Video doorbell to keep away unwanted man cave visitors
This may be a little decadent but it screams high-tech modern man cave.
Screen your man cave visitors before allowing them entry with a simple video doorbell complete with built-in microphone.
Modern systems are very small but offer continuous recording and can be programmed to let you know when someone approaches specific areas of your home.
They can usually be connected to the door's smart lock.
Good smart video doorbell systems
can be purchased for less than 70 bucks.
Smart lock to keep those expensive man cave gadgets safe
A smart lock is more than just a lock for your man cave door.
Modern smart locks can inform you when the door is ajar or even when someone is trying to open it.
They can be fully integrated with other smart devices and home hubs, from Alexa to HomeKit and Google Home.
Check out the different types of smart locks here.
Smart security – when your man cave gadgets get serious
This is actually something that is worth investing in. A modern man cave will typically be filled with expensive modern devices that need protected against potential theft or malicious damage.
Smart security systems can be controlled via home hub devices and your phone. You can also access the cameras on your phone at any time via your phone's standard internet connection.
Cameras are equipped with night vision, movement sensors and an impressive array of anti-theft and monitoring options, including video playback.
Although most smart security systems are reasonably prices, starting as low as $115 for a 4-camera set-up, they do require a monthly subscription to a cloud-monitoring service. Security monitoring is also very reasonably priced with plans available from $4.99 to $9.99 per month from services like Zmodo.
Check out the latest in smart security systems here
.
Smart cleaning (because the maid isn't allowed in your man cave)
As a man cave is a space dedicated to just you, it stands to reason that it is you alone that should be the person responsible for cleaning it.
Right?!
Well with a modern man cave you may expect the place to be able to clean itself but, unfortunately, the tech hasn't quite got to the stage where you can have your robot or cyborg do the tidying-up for you. You'll have to clear up those beer bottles yourself!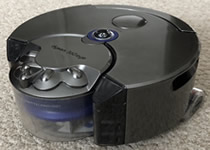 Luckily though you don't have to worry about sweeping the floor.
With a modern Smart robotic vacuum cleaner you can set the little guy down and just let it do its stuff. It will even autocharge when low on power.
Some of the best machines are self-cleaning, even emptying their own trays.
See a range of smart vacuum cleaners here
.
Modern Man Cave Furniture – Man Cave Gadgets You Can Sit On!
Old style sofas and chairs do not help create a modern look. A modern man cave needs modern furniture.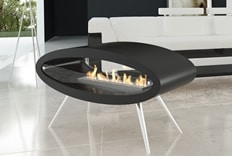 If you want modern then think in terms of futuristic and stylish furniture.
Imagine a central fire that looks like a table or one of these stylish table-top fires
sitting in the center of your man cave atop its own table.
Chairs or sofas shaped in unusual patterns are also modern looking.
Furniture that looks different from the norm and is upholstered in contrasting colors also lends itself to a modern feel. Like the barrel shaped black and white sofas shown below.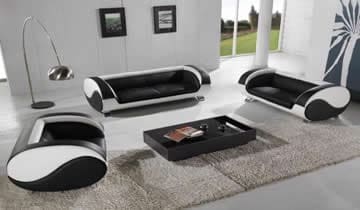 But, if you really want your man cave to be modern you'll want high-tech furniture.
Transforming-furniture is the latest in high tech space-savers.
Take the small coffee table that can be quickly transformed into a full size dinner table or the bookcase that turns into a bed with its own mattress and reading lights attached.
There are lots of creative furniture ideas that would fit really well into a modern man cave.
Smart furniture (video) – cool modern man cave furniture ideas that will leave you speechless
For a better understanding of how to furnish your man cave and for some great furniture ideas, including how to make your own, read this article.