You live for baseball season. The weather is warm, the day's long, and the game's incredible. Your summer project for the year is to make a man cave, and you've tossed around the idea of dedicating it to your favorite sport and hobby. Well, we're here to help.
In this article, we'll tell you everything you need to create a baseball man cave. From choosing your space and decor to even some products you can buy to help create that ballpark look, you can finally get your man cave project underway with spectacular results.
Build it and they will come – where to put your baseball man cave
So you want to build a man cave that will both be a place your buddies enjoy and one where they will wish they had themselves.
You're a go big or go home type of guy. That's the attitude you embody each day, so even in a small man cave you want to make a big statement.
Keeping that in mind, here are a few rooms you might consider for your man cave.
Basement baseball man cave
A basement affords you space while also being away from the hustle and bustle of the rest of the home. You will have to take several considerations into account if you're interested in building your man cave in your basement.
For instance, is the room insulated? Does it have climate control in the form of heating or air conditioning? Do you have any electricity or plumbing down there? Depending on how you answer those questions, your basement may be ready to go or it may take some time and work before you can use it.
We have a guide to creating a basement man cave that walks you through the entire process of creating your man cave below the house.
An outdoor shed or outbuilding can be converted
If you're the handy type, then you can always go to the backyard and build a shed or structure that can become your man cave which we showed how to do here. You can go as big as the yard lets you, but do keep in mind zoning regulations and even Homeowner's Association rules if applicable.
The upside of building your own man cave is that you can create it to your exact vision. However, you will have to provide insulation, climate control, plumbing, electricity, and all other amenities yourself since you're starting from scratch.
The garage is perfect for a baseball man cave
Speaking of go big or go home, it doesn't get much bigger than the garage.
Take a walk through your garage with a set of fresh eyes. Is it the perfect location for the man cave you've always wanted?
Again, you will have to ensure you have climate control especially, or you'll shiver in the fall and sweat all summer. That's probably not part of your dream.
We have covered garage man cave conversions previously and if you plan to use this location that article will give you plenty of actionable ideas.
4 Cool baseball man cave ideas that knock it out of the park
Congratulations on choosing the ideal space for your man cave. Now it's time to start jotting down all the ideas you have for that space. From the attainable to the fantastical, write it all out.
Do you have a general idea of how you'd arrange it all or could you use some suggestions? If you answered the latter, then you won't want to miss these real baseball-themed man caves.
The following baseball man cave ideas could serve as the inspiration you need.
Get team specific – teamwork makes the dream work
Do you have a favorite team? Why are we even asking? Of course you do!
The man caver who created the baseball man cave in the image below made his space an ode to the Chicago White Sox.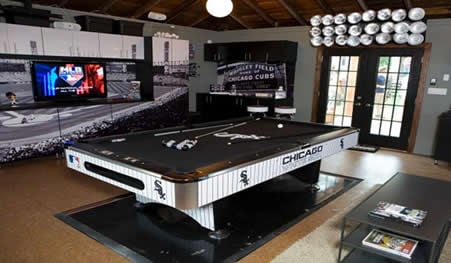 It doesn't scream baseball, and that's okay.
The subtle nods, such as the custom cabinetry, the pool table with the Sox logo on the sides, and the bobbleheads and other memorabilia get the point across just fine.
The rest of this bar-like man cave is a love note to Chicago.
Strike one – baseball & bat brilliance
If the room used for your man cave has more of a rustic feel, you can still work with it.
Take a page out of the book of this man caver and create a giant wall in honor of your favorite sport.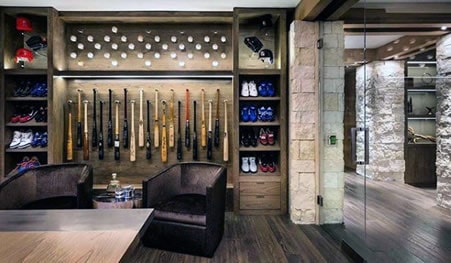 The oversized wooden shelving houses row upon row of baseballs, over a dozen bats, and some helmets.
We're not sure if those are baseball shoes or just part of the man caver's personal collection, but either way, it works.
Attitude is everything!
We included this one in case your spouse or partner isn't totally onboard with this whole baseball man cave idea.
You can still make an upscale, classy nook that augments your home's décor rather than detracts from it.
The image below proves it!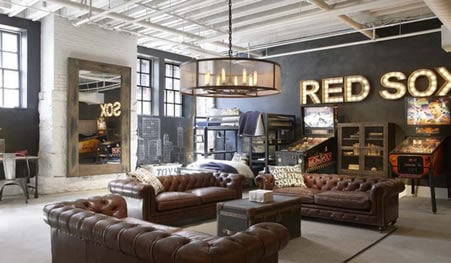 The only baseball reference is the giant light-up Red Sox sign, but hey, it's better than nothing, right?
If this were my man cave I would add some baseball carpet (see below) and maybe a few pieces of memorabilia.
Watch the junk – the hall of fame baseball man cave
If you collect baseball memorabilia like it's your job, then you'll finally have a place to show it all off when your man cave's ready.
In our example below dark wooden shelves with cubbies of all sizes are used to accommodate almost every type of baseball merch you can think of.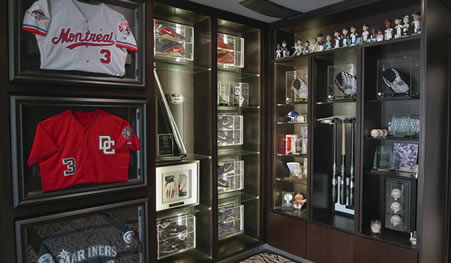 That includes baseball jerseys, plaques, trophies, bobbleheads, balls, bats, and more.
The more precious items are safely stored in glass display cabinets.
Could you see your man cave looking like this?
9 Inspiring décor ideas for your baseball man cave
Now that you have a few basic ideas of how to style your baseball man cave let's get onto what's arguably the most fun part of making a man cave: decorating it.
In this section, we'll share some awesome baseball products we think are worthy of any baseball man cave.
The baseball bat American flag
Show your love of your country and a sport that is as American as apple pie with this baseball bat wall art
from Amazon.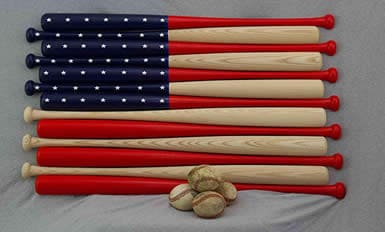 The Ohio-based company Banner Bats makes their own customized pieces, such as this one. Each bat is painted to represent the stars and stripes of the United States flag.
This awesome wall art features 13 bats total, each 30 inches.
The standard version comes with natural wood as the white, but the seller will paint the white if you leave a message at checkout.
When you need somewhere to sit your beer
It almost doesn't matter what kind of man cave you have when you own this awesome baseball-themed table.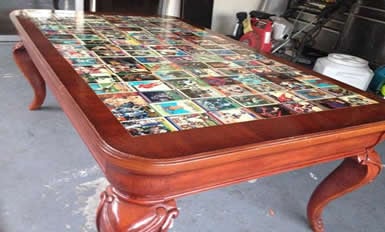 A man caver with a very extensive (and vintage, from the looks of it) baseball card collection took their favorites and laid them across a table. Then, he covered them with a glass sheet.
You can do the same and really wow your friends when they come over.
Baseball cards are not optional
You can't make a baseball card table without baseball cards!
If you want to make a table showcasing your baseball cards like we presented in the last section, then you might want to browse these baseball cards available at Sports Memorabila.com. This way, you can complete any gaps your collection may have.
The list of cards changes all the time, with most of the cards available being the very last one of its kind. If you see one you like then, don't delay! You can't guarantee how long it'll be there.
If you want to go bigger and better then check out this range of autographed baseball cards.
Glass display cases are a must for collectibles
No matter what the memorabilia you'd like to boast about, you can surely find a dedicated display case to match at Steiner Sports.
From cases for bats, hats, helmets, plaques, or even several balls at once, you can fill spaces on your shelves, entertainment center, and even your floor.
These cases are designed specifically for showcasing sports memorabilia.
Framed collages of your favorite players
Another cool type of wall art that will have all your friends talking comes from Steiner Sports baseball collection. This time, it's their framed collages.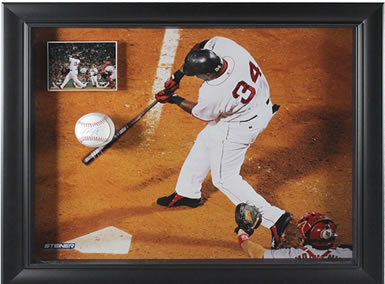 Although they're expensive, each collage is authenticated for autograph legitimacy. There are usually only a limited number of collages made, so once they're gone, they're gone for good.
The players showcased will often sign the baseball or piece of bat attached and also the plaque itself? That increases the value of this collectible quite a bit!
Signed baseball jerseys are needed to cover those walls
For the ultimate statement maker for your man cave, you need at least one signed baseball jersey.
From the New York Yankees to the Mets, the Los Angeles Angels to the Chicago Cubs or the Houston Astros, there are signed jerseys for all fan.
New jerseys go up all the time from popular players.
With their authentication through the MLB themselves, you never have to second-guess if you're getting the real deal.
The prices for these jerseys are appropriately high, but man, oh man, how jealous would your friends feel if you hung a framed legit signed baseball jersey?
Autographed bats are a great talking piece
If you have a signed baseball jersey or two, then why not augment your collection with an autographed bat as well?
Steiner Sports usually has a few bats on offer and even sometimes sells bats from real Hall of Famers, so you could get some one-of-a-kind merch from your favorite legendary player. If you prefer today's players more, you might find a bat signed by one of them, too.
Baseball artwork can help with ambience
If you still have a few naked walls in your man cave, just turn to Sports Memorabilia.com.
Their slew of baseball art will certainly impress.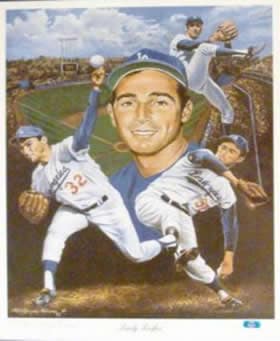 While it's not all signed, most of their artwork includes framed photos of the classic players like Joe DiMaggio, Babe Ruth, or Mickey Mantle, to name a few.
You can also find art featuring more modern stars like Derek Jeter, but it all depends on what's available at the time.
If the artwork below piques your interest, then shop now! These items have very limited quantities, so don't miss your chance to decorate your man cave in the coolest way possible.
Baseball carpeting that brings the park to you
From full-floor carpeting laid to look like a pitch to individual rugs with amazing baseball designs on them you will need to choose something to cover your man cave floor.
There are some truly fantastic baseball themed carpets to choose from, like this selection
, and there is a style and color to suit every type of baseball man cave.
Conclusion: 13 Baseball Man Cave Ideas That Make The Dream Work
If this is the summer you decide to make your own man cave, then dedicate it something you really care about, like baseball. It's easier than you ever thought possible to make a baseball man cave with the ideas and guidance we shared in this article.
Be sure to also check out the fantastic baseball decor items we included here.
If you are interested in created a man cave based on other sports be sure to check out our ultimate guide to creating a sports man cave.