Yee-haw! You want to corral your friends and saddle up for nights of fun and incredible memories in your western man cave. The only problem? You don't have the type of man cave you really want.
If you're craving a cowboy man cave but you're not entirely sure where to start, you won't want to miss the information in this article. We'll tell you how to choose your western man cave location, how to prep the space, what kinds of items and décor will fit well with an old western theme, and how much the whole thing will likely cost you. So, saddle up!
Where To Saddle Up Your Horse – Potential Western Man Cave Locations
First thing's first: where do you want your cowboy man cave?
Depending on where you live and how onboard your spouse/partner is with the whole man cave idea, you could have a wealth of options to choose from or you may just have the choice of one small room. Although a cowboy man cave will look best in a larger space such as an outbuilding, garage or basement it is more than possible to create a man cave in a small room as we have previously demonstrated.
Here's the most common locations other man cavers use for their cowboy man cave.
Outbuilding or shed cowboy man cave
A cowboy man cave that's based outdoors would encompass the theme especially well. You could set up the space to look like weathered stables or an old-timey saloon.
There are shed kits available that are perfect for cowboy man caves as they are already designed with a saloon type feel, like this ranch style one
, while others are designed to look like typical country barns, like this 12ft by 20ft one
.
If you already have an outdoor shed or structure that would work for these purposes, then great! You should check out this article on our website about prepping your shed for a man cave conversion.
To recap that article, you'll want to begin by cleaning the shed inside and out. Then you want to weatherproof it (more on this later, so keep reading!), mold-proof it, and get utilities installed if you don't already have them. You also need to insulate the space, possibly add drywall, and get some climate control in there.
Since you can't watch your man cave shed 24/7, exterior lighting and a security system won't hurt either if you have the budget.
If you're building a shed or structure from scratch, then read this article that walks you through the entire process from start to finish.
From planning your outdoor shed to successfully erecting it and reinforcing it, you'll have all the info you need for a truly phenomenal outdoor shed.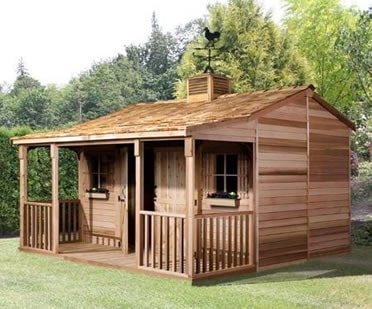 Spare room western man cave
Taking a spare room that no one else is using and repurposing it into your man cave makes for a smart, convenient, and cost-effective option. That said, it's not truly your own space if it's among all the hustle and bustle of family life. Still, sometimes it's the only option you've got.
The good news? You hardly have to do any extra work with this setup. This room should already have climate control, electricity, and fully finished walls and floors. You might want to strip the carpeting and repaint the walls, but you're not building something from scratch.
Garage cowboy man cave
One of the largest spaces in most homes, the garage makes for a great place for your cowboy man cave. You can easily give it a rustic feel by adding wood paneling and warmer, yellow lighting.
Before you get overexcited and begin inviting all your buddies over to the garage, truly think about if this is where you want your man cave. If you or the previous homeowner never got climate control for the garage, then you'll freeze in the winter and sit in a sweatbox all summer.
Also, most garages have hard concrete floors that don't retain warmth particularly well though there are workarounds as you'll see below in the section on flooring.
We have covered garage man cave conversions here.
Basement western man cave
Last but certainly not least, you can take your man cave and put it down in the basement.
Like garages, basements can get very toasty in the warm weather and downright frosty in the cold if yours isn't climate controlled.
Older basements may suffer from issues like dampness (and thus mold), ruined flooring, and damaged pipes. You could spend hundreds to thousands of dollars for these repairs, and that's before you start doing any shopping for décor.
You might also want to have an exterminator come by and ensure there's no insects or critters making the basement their home.
Then there's lighting to consider, since, like garages, basements can look kind of dim.
You also have to take into account utilities. Perhaps your basement already gets electricity, but do you have enough outlets to plug in lamps, TVs, gaming consoles, and the like? If not, you'll need 'em.
We have covered basement man cave conversions here.
After location selection convert and measure the space
Okay, so you've selected an appropriate space for your man cave. Now you need to get to work renovating.
Where do you begin? Measure, measure, measure. You wouldn't want a carpet that's too small for the floor or a wall-mounted TV that's cartoonishly large. If you don't measure your space, you're likely to end up in a situation where everything's the wrong size.
Consider your cowboy man cave and how it'll look. You probably have a vision for your dream space, after all. If not, we have some ideas in the next section to help you out. Think about exactly what you want in there and where you want to put it. Do you have room for a bar or would it take up too much space? How big of a TV can you fit in there?
If you want to convert the door to the push style saloon ones of the Wild West days, then you need measurements for the door. Then, when you shop online or in home improvement stores, you should keep these measurements handy.
6 Cowboy Man Cave Ideas With A Western Theme
The man cave ideas in this section should inspire you to create something extraordinary.
The old ranch saloon doors lead the way to the cowboy man cave
Here's a perfect man cave in which to relax with your buddies all weekend long.
The man caver who build this beauty took his basement and repurposed it beautifully. The wood paneling throughout has a distressed rawness that makes it look like a place where the cowboys roam.
Here you see saloon style doors which give way to the semi-hidden home bar. The man caver kept the furniture inside simple, brown leather couches and recliners. A pool table makes for a nice addition as well.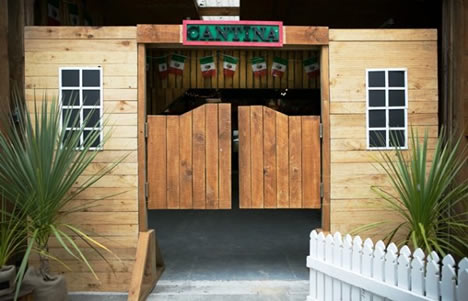 Saddle up with these awesomely unique western man cave saloon seating ideas
If a home bar is a must-have for your man cave, then make it a point to invest in it with these truly unique saddle seats.
To recreate this project, you'll need some weather-worn old saddles. Then, glue or otherwise attach them securely to several plain wooden bar stools. Voila you have the perfect cowboy man cave seat!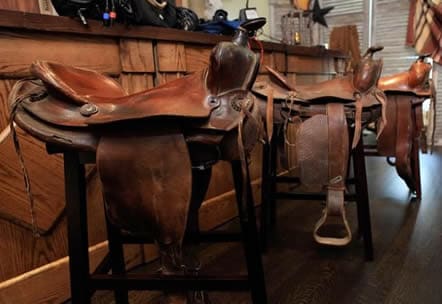 No cowboy man cave is complete without a frontier bar
Subtle touches here and there can bring your cowboy theme to life. The wood paneling throughout this man cave already creates the right atmosphere, as does the décor. Antler pillows and piles of real antlers add to the cohesiveness.
Since this is a bar, there's plenty of bar lights to give it a sense of hominess and comfort though this takes away the feel of the cowboy theme slightly.
The only changes I would make to this frontier styled man cave is to the lighting. I would lessen the neon signs and keep just one, or two at most, behind the bar counter. Instead of modern lighting I'd go for a more traditional and old-timey feel with a few Edison lamps and some old-school electric miner's lamps as mentioned above in the "Vintage styled lighting" section.
I'd probably through in a few wooden bar stools as well just to add to the atmosphere.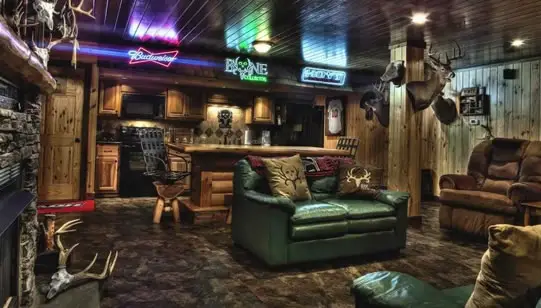 The rustic spare room western man cave conversion
Here's an example of how a spare room can get converted into a cowboy-themed man cave. The almost overwhelming amount of animal busts clearly mark this space as yours.
Once again, warm lighting, leather furniture, lots of browns, and a pool table all make an appearance to give a pioneer feel to the cave.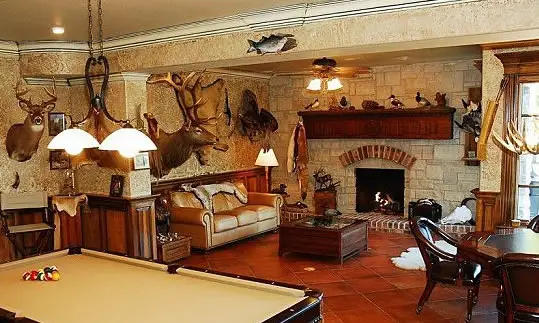 The western man cave cowboy style barn bar
If you're clambering for an outdoor man cave shed, this ought to get your motor running.
Although it is unlikely you will have the same type of expansive space in which to build your man cave as the one pictured below you can still borrow elements from this one and use them in a much smaller space.
The rustic feel of this barn-turned-bar gets accentuated with all the unfinished wood. To add some western touches to it, this man caver placed a large American flag, hung some pelts high up on the walls, and installed a leather U-shaped bench.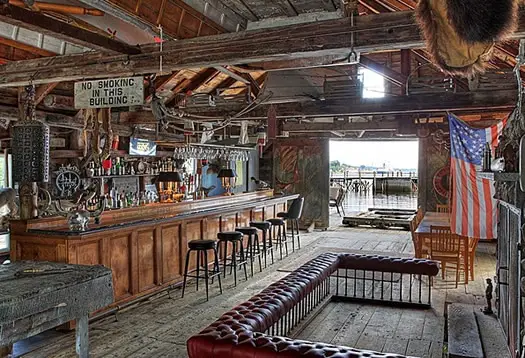 Home on the small room range
This small room man cave doesn't offer much space but it goes to show what you can do on in a tight space with some wood and a bit of creativity.
This warm space has bright wood paneling. Certain boards protrude to create slim, streamlined shelves for keeping small bottles of liquor.
The bar itself looks made from scratch. With curvy wooden bar stools, an old barrel that is actually a bin, an antique typewriter, and horseshoes attached to the wall, the theme comes together perfectly.
Due to the lack of space the owner of this man cave has opted to put a mini saloon door covering over the window to create the same feel as a saloon – very creative and it perfectly completes the cowboy look!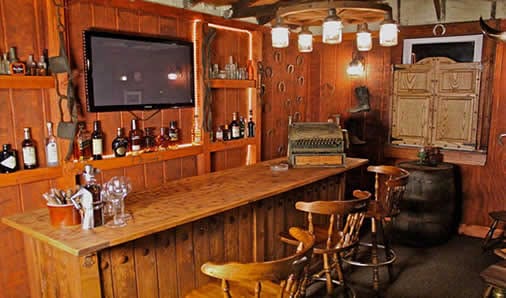 9 Western Man Cave Must-Haves
Below are 3 key features that your cowboy man cave must have if it is to look authentic.
Get these three elements wrong and all your efforts will be in vain.
Appropriate western style flooring is a must
For a cowboy man cave you'll want wooden floors or the illusion of wood, for example with these type of laminate vinyl flooring planks
that are peel and stick but look like real wooden floor planks.
Proper wall coverings are not optional for the cowboy in you
The walls should likewise resemble wood.
If you build your cowboy man cave in a shed or wooden outbuilding then this will not be a problem but for other locations you will need to use decals or take the steps you would for the flooring by applying laminate vinyl to the walls though using decals is by far the best option as there are lots of designs to choose from
.
Vintage styled lighting sets a western theme
Unlike a modern man cave lighting in your cowboy man cave shouldn't be super spectacular, but instead should be understated.
You have two choices for cowboy type lighting:
Electric or battery powered lamps that resemble old miner's gas lamps – like this dimmer controlled lantern.
Vintage electric or battery powered lamps with Edison light bulbs that resemble turn-of-the-century lamps – like this one.
As the ideas above show, there's countless ways to make your cowboy man cave your own.
Here's some specific items you might want to source to furnish your space.
Antler horns for hanging over the cowboy bar
A good set (or two or three) of antler horns affixed to the wall really gives off the right vibes in your cowboy man cave.
If you don't want real skulls nowadays you can find antler horns made from just about anything. For instance, this set from Etsy is made from resin but looks like the real thing.
Animal busts can help set the western scene
A single animal bust hung in the middle of the room makes for an awesome centerpiece for your cowboy-themed man cave.
Once again, if you have qualms about using real animals as décor, there's plenty of fake versions out there that look like the real thing and are usually considerably cheaper.
You can also get these busts made of porcelain, resin, or metal to give your man cave a statelier air.
Saloon doors make for an awesome cowboy entrance
While you can always buy a set of saloon doors, like these ones, why not consider making your own?! You only need plywood or another inexpensive type of wood.
Measure your door, including the length and width. Then cut your saloon doors down to size.
Make sure you sand any rough edges so people don't get splinters. Otherwise, the raw look should work well.
Faux throw pelts releases the trapper in you without the hurt
As your cowboy man cave should have hardwood, vinyl or exposed floors instead of carpeting, a faux throw pelt will keep feet warm. A pelt also starts the old west cabin vibe going.
Faux pelts look and feel very similar to the real thing but can be purchased at a fraction of the cost making them, not only a great first-buying option but also, very easy to replace when they become worn. Faux pelts are also washable making them easier to maintain.
This one
comes in several sizes, including two feet by three feet, two feet by six feet, two feet by nine feet, and three feet by five feet. You can also select the color so it matches the rest of your décor.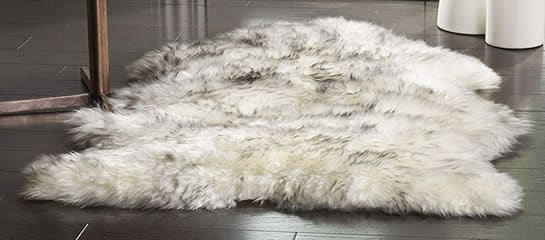 Pool table – for the modern cowboy who loves to play
There's something about cowboy man caves and pool tables that just go together. Your friends will certainly want to come over all the time to play well into the night.
This is one item where you'll want to spend a bit more money. A higher-quality pool table will last, even if your pals are a little heavy-handed with the pool cue.
If space is tight consider getting one of the multi-purpose tables I covered here.
Western & cowboy wall signs with a man cave feel
Don't forget to decorate your walls!
You might opt for this type of wall mounted patent print of various guns, revolvers, and pistols
from the olden days or a cast iron welcome sign that'll have all your guests tipping their hats.
You can also hang old replica firearms such as the ones I covered here that come in all types from replica Smith and Wesson revolvers to old Civil War rifles.
Man Cave Costs And Additional Western Items
With the ideas and item suggestions we made in the prior two sections, you're all ready to get started building your cowboy man cave. But, how much will this project cost you?
As we outlined on this article on our website you can spend anywhere from $5,000 to $20,000 for your man cave. It depends on where you want it, how much work the space needs, and how big and opulent you want to go.
You can also squeak by with a cool man cave on a budget if the above costs seem too far out of your price range as we demonstrated in our guide to building a man cave on a budget. In fact, you can even build a bar on the cheap as we outlined in this article.
Here's a breakdown of the typical expenses that will be involved in the average cowboy man cave build with additional optional items you may want to add to your western man cave.
Costs associated with building a new man cave or remodeling a space in your home
Undoubtedly, you'll probably spend the least amount of money on choosing to fix up an existing space for your cowboy man cave. It's easier to take a room that already exists and convert it than start from nothing.
If you decide to build your own shed or structure, then for each square foot of shed, you might pay $17 to $24. Those costs add up quickly when you need to also add utility connections and weather proofing.
Western man cave décor will be your biggest outlay
Besides getting your space ready, the second area in which you'll likely spend the most is decorating. Even if you make stuff yourself or shop at flea markets, garage sales or used stores, to have a truly authentic cowboy-themed man cave, you're going to have to spend some money.
If you feel financially strained, then here's what we recommend. Choose one single décor item at a time, like a pair of deer antlers. Then scour the Internet until you find a price you can live with.
However, don't always go super cheap, because you often get what you pay for.
You might get excited you scored deer antlers for $10…until they arrive on your doorstep. Then you see they look very cheap and badly done.
Splurge for the more important items and scrimp elsewhere when you can, being sure to upcycle old junk when appropriate to do so.
The beauty about a cowboy man cave is that creating a rustic look can be done fairly cheaply because old rusty junk actually suits the feel of the space!
Old west furniture can be had cheap
Furniture includes everything from couches to recliners, coffee tables, dining tables, bar stools, and even a TV.
If you already own a large TV that you don't mind moving from one room to your man cave, that can save you a lot of money.
Otherwise, you may be shelling out several hundred dollars, maybe even a thousand bucks for a good TV unless you take our advice given here and go for an unbranded model that is just as good but a fraction of the cost.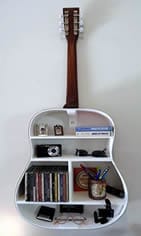 Furniture can also cost thousands of dollars under normal conditions and for other styled man caves but with a western man cave it can be had a lot cheaper. Rustic furniture fits really well with a western theme and the older the better!
Bar stools are always a winner in any western styled man cave. Homemade bar stools work even better than store-bought alternatives. See our article on man cave bar stools to see how to make some.
Consider upcycling old junk to make awesome old-time furniture and wall hangings. For example you could remove the front of a guitar and use the inside for shelving. This would go great with generic rustic man cave shelving for décor or bar items.
Again, anything you have handy that fits the theme that you can move into your man cave, do it. You'll cut down on your overall costs in a big way.
You will find some great ideas for cowboy themed furniture in our guide to sourcing man cave furniture which includes some really neat whiskey barrel seats.
You can also disguise the modern functional pieces of furniture, such a glass table, with a rustic foundation like the one in the image below.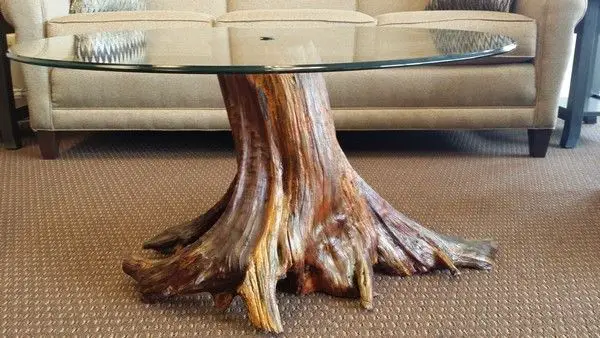 Expensive or modern appliances should be functional but underplayed
If you opt to get a fridge/freezer, or want a sink installed in your man cave (practically a must for those spaces with a large bar), then this is another expense to factor in.
Like furniture, you could spend several hundred to several thousand dollars on appliances alone.
Be sure to disguise these 21st century additions. Having some high tech gadgets in a western man cave may be a great idea for comfort but they can diminish your fun by ruining the aesthetics of the den – cowboys never had glass front fridges and kegerators.
Unless you want to use your 10-gallon hat as a fan, climate control may be necessary
Climate control includes an air conditioning and heating unit, often called an HVAC system.
You could pay up to $8,000 for the unit alone. Then there's the installation costs, in which you'll have to tack on an extra $2,000 or more to get everything set up.
Every six months or so (maybe more often, maybe less), a technician will have to come out and do maintenance on the HVAC system. That's several hundred dollars more a year.
You can't really go without climate control, but these costs are are not unavoidable as I already covered here.
Insulation can also be helpful and inexpensive if you use fans and heaters.
With insulation, you can retain the heat your HVAC unit or other climate control devices generated.
If you're using a spare room in your home for your man cave, then it probably already came insulated. For the garage, basement, or a homebuilt shed, you're out of luck. You'll have to do the insulation yourself.
Luckily, this isn't difficult or expensive. Loose fill and batt insulation especially won't cost you an arm or a leg. If you do decide to let a pro take care of installation, that will add to your expenses.
Consider soundproofing your man cave while you are at it as this can be done very cheaply at the same time you are fitting insulation.
Utilities are often handy unless you really want to go all out western frontier style
Do you want water delivered by tap to your man cave? You'll need a plumber for the job, in which you might get charged $150 and up for each hour the plumber works. Ouch! Once you get running water, you may have to pay for maintenance every now and then as well.
What about electricity? You need that too, right? If you don't already have it, then you should anticipate spending about $500 for an electrician to do the job.
The beauty of a cowboy man cave is that the rustic look and feel lends itself well to a space without electricity. The dimmable lanterns I mentioned above are battery powered and work well to both light the man cave and add to the old west feel of the place.
Weatherproofing is non-negotiable if you have a cowboy man cave shed
You also must consider weatherproofing. This will prevent moisture and condensation from building up in your space, causing mold and ruining wallpaper and décor.
You'll need to use damp-proof weatherproof paint on parts of your man cave like the roof if you built a shed. This way, when it rains, water doesn't seep down into your room.
Make sure you apply some of that paint to the exterior walls as well to keep them safe from damage.
For each gallon of paint, you might pay $30, so not bad. Don't skip or gloss over this job (excuse the pun). Failing to weatherproof your man cave will cause a steady degradation in quality. Eventually, the structure won't be safe to use.
Full instructions for a man cave conversion can be found in our article How to Build a Man Cave.