It may be that the military is a big part of your life. Maybe you've served in the military or you have a family member who did, or perhaps you just have a special place in your heart for the service this organization gives to God and country. If so, then it seems only natural to dedicate your man cave to all things military.
MILITARY MAN CAVE IDEAS PERFECT FOR THE GI, JARHEAD OR AIRMAN
While you have some ideas bouncing around in your head of how you can do this, you're not quite sure how to make them into reality.
This may be your first man cave, or your umpteenth one but either way you want to ensure you get it right and do justice to your idea and the military it represents. With the information in this article, you will.
Let's get started.
Best places for a military man cave
First thing's first: where will you station your very own military man cave? You don't necessarily need an oversized hangar in which to do it.
In some instances, having too much space can make the man cave seem vast and empty.
You can just as easily get away with using a smaller room if you get the décor and furnishings right.
Here are some options that might interest you.
The spare room just became the LZ
Is that room upstairs that your spouse had marked for a guest bedroom is still empty nearly a year later?
Downstairs, does the closet-like space continue to sit unused or is it filled with old useless junk?
Even if you only have a very small space to work with, you can still create a truly awesome man cave with a little bit of ingenuity and the right know-how. For detailed instructions on converting a small room into a man cave read this article.
The basement is perfect for the tunnel rats
What do you currently use your basement for? If it's already a recreation space, then you'll have a much easier time converting it into a man cave.
Most basements are not utilized properly and tend to be dumping grounds for all sorts of unused household items. Even if you currently use your basement as a utility room you can still create a really kick-ass man cave in it by following the instructions we gave here.
Shed military man cave – when a bush soldier needs cover
If your basement is not available because you're using it for storage or something else then fear not. This is not a problem. You can always build your own man cave right in the backyard as we demonstrated here.
If you have an existing shed then be sure to follow our 10 simple steps for converting your shed into a man cave before you start considering adding decor and furnishings.
A shed has the military barracks feel you might favor anyway, so it's worth considering.
Garage military man cave – ATS awesomeness
Another beloved spot for a man cave, is the garage because it offers both seclusion from the rest of the family and tons of space.
We have lots of tips for creating the ultimate garage man cave in this article.
Of course, if you already use your garage for parking cars or storing lawn mowers and other outdoor equipment, then you can always create a half garage half man cave.
10 MILITARY MAN CAVE IDEAS – DECOR  JUST GOT DANGEROUS!
The essence of a military man cave lies in the décor.
Below are some excellent décor items to help you see what you can do with a military style man cave setup.
Camo gaming –

Fatigues don't have to be fatiguing
There's something about camo netting that really gives you the authenticity you crave for your military man cave.
Just take a look at the image below to see what we mean.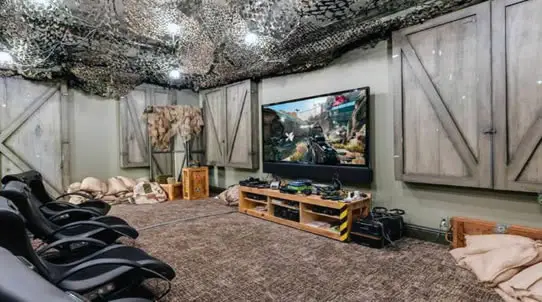 Without the netting on the ceiling, this man cave wouldn't stand out nearly as much nor would it give off that military vibe.
This type of setup would suit any man cave location both big and small.
In our example below the military style fits perfectly with this gaming equipment in this man cave.
Veterans pride
You bleed red, white, and blue. To scream your American pride loud and clear, a flag with the stars and stripes should be a prominent feature of your man cave.
But, don't limit yourself exclusively to a fabric flag!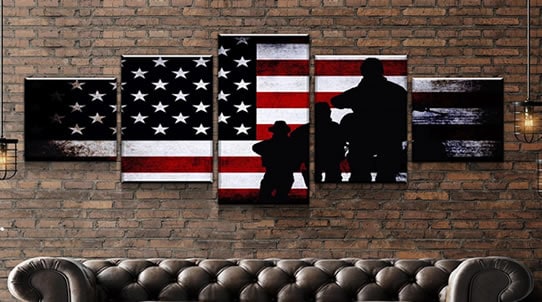 Make it bigger and better … this is your man cave after all.
This canvas set from Canvas Freaks has an American flag with the silhouettes of soldiers in the foreground. You can get it in three, four, or five pieces.
These pieces can all be the same height or you can get them in various heights (like our example below).
A piece like this will make a major impact in your man cave.
Truck yeah! – WWII military man cave madness
Why have a boring TV stand when you can use the front end of a US army jeep?!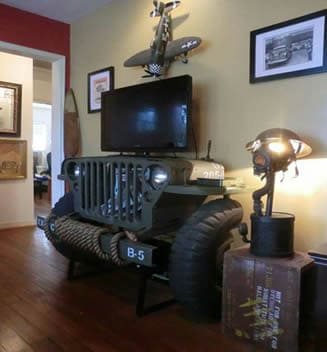 We demonstrated previously how you can upcycle parts of vehicles for man cave furniture so why not take that idea further and use it with old military vehicles.
Though the one in the picture below is a replica you can use the real thing if you can get your hands on old junk military vehicles.
There's no doubt at all that this man caver strongly supports the troops.
While we love the gas mask lamp on the faux crate nightstand and the WWII plane replica above the TV, we have to talk about the standout in this space. That is of course the entertainment center.
Now, on first glance, this probably doesn't even look like an entertainment center to you, but that's what it is. It's a painstaking recreation of the front portion of a military truck.
This replica has the camo green paint job, a huge front grille, rope coiled around the front fender, and oversized tires.
There are even two little shelves on either side you can use for showing off more related memorabilia.
Military helmets
One man caver decorated his cave with a collection of legit, vintage military helmets as you can see in the image below.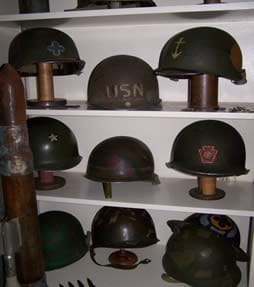 If you don't happen to own a used helmet, or can't get your hands on the real article, then you could take a new or replica helmet.
You can get replica helmets that have never seen battle or service.
By covering it in mess rope, make it look more authentic and used. You can see what we mean in the picture below.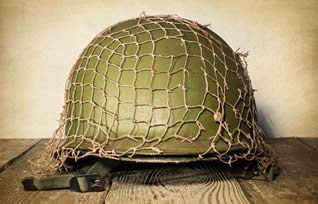 If you'd prefer your helmets to be more functional, then this amazing vintage army helmet desk lamp
ought to suit you well.
Bullet clock
Wall clocks create a nice ambiance in a man cave. If you opt to add one, make sure it's a bullet clock.
This bullet clock from ClocknLoad on Etsy has real, though inert, ammunition.
The hours are represented by .223 dummy rounds while the minutes use smaller dummy rounds, each nine millimeters.
The authentic NRA B-8 target also impresses.
M16 patent print wall art
Wall art doesn't come much better than this for a military man cave. A hand-drawn M16 framed patent print poster.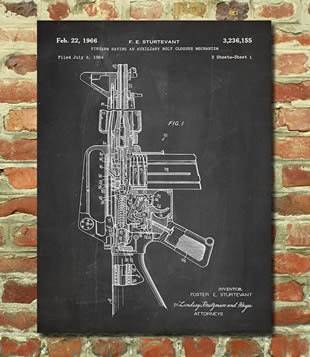 If you have some wall space to fill consider hanging some military wall art such as this M16 rifle patent print poster from Etsy user PatentPress.
The print is designed in a patent style so you can see all the parts of the gun in amazing, hand-drawn detail.
You can choose to order this poster in antique or chalkboard style. Both have that awesome rustic flavor that would suit any type of military man cave.
There are many other various gun patent print wall art pieces available from Amazon also so be sure to check those out
.
Camo print furniture
You don't want just any type of furniture for your military man cave, do you?
Couches and recliners with a camo pattern throughout will add to the military air of your space.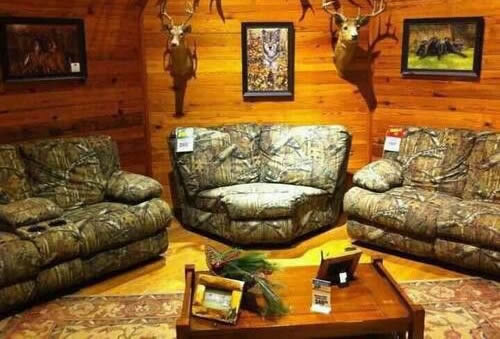 This type of furniture looks best in a room with warm wooden paneling, but you can make the chairs work in just about any space if you have some ingenuity and creativity.
If don't want to go all out and have your couches professionally covered with camo cloth then simply use some of these camo throw blankets
to create the same effect.
Camo print throw rug
To continue with the camo "throw" theme, a throw rug, like this one
, will blend in with your camo furniture well.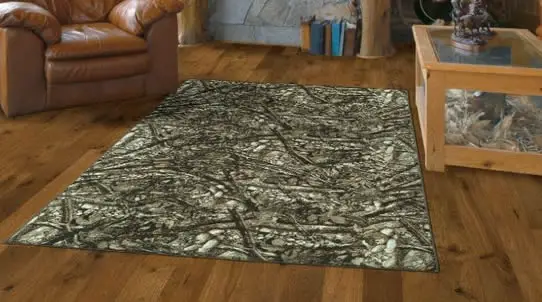 If your man cave lacks carpeting, such as a basement or garage would, then throw rugs are a must. These keep your feet warm, provide a plush walking surface, and they look nice, too.
Alternatively this military rug
would look just as good.
He "war" it with pride – uniform presentations
Depending on whether you've served in the military or you have a friend or family member who has, you might decide to add authentic military uniforms to your man cave.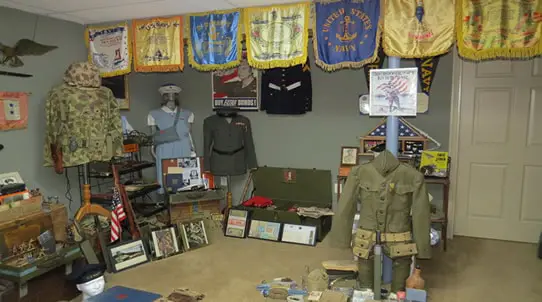 This man caver decorated his space with Navy banners, flags, and army prints as well as uniforms.
If you don't have any of your old uniforms (that you can no longer fit into) laying about then you can buy them.
You can pick up authentic military uniforms online from platforms such as Ebay, including authentic WWII ones.
The eagle has landed with this heavy driver
The American eagle not only represents the USA but it is a symbol that is ingrained into the mind and soul of every serving, and veteran, air force and army service person.
So, show your loyalty to your country with an eagle sculpture such as this one from Bull Market Gifts.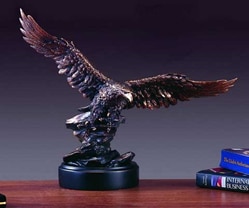 This one is made of bronze and measures 15 inches tall and 17 inches wide.
The eagle is posed in mid flight, its wings open to enormous proportions. Each feather has careful detailing to bring the sculpture to life and have your heart swell with pride when you see it.
Your eagle statue comes with a decorative base so it is free standing. This circular base has beveling to add to the overall look of the statue.
Weighing about eight pounds, you could use this statue as a paperweight, put it on your entertainment center, or display it just about anywhere in your man cave.
We recommend you place just in front of a framed American flag for dramatic effect.
Conclusion: 10 AWESOME MILITARY MAN CAVE IDEAS FOR ALL SERVICE PERSONEL
A military-themed man cave can let you relive your Army days, but in the safety of your home (or right outside your home), or simply let you show your love of your country. It also works really well for a gaming man cave where military-based first and third person shooters are often played.
By following the tips, pointers, and ideas in this article, you can make a space that honors your country and remembers your service. You'll be proud to show it off to all your favorite pals!