Man caves are the perfect hideout where men can release their inner child and have some fun. A man cave is also a space where a man can relax and indulge in his own unique masculine pursuits without the interference of a female influence. But what happens if you don't have the space to build the ultimate man cave and only have a small box room? Well, we have 9 awesome ideas for you! How do you make a man cave in a small room?
Lack of space does not have to be a hindering factor in the building of your own man cave.
Even the smallest of rooms can be transformed into your very own personal sanctum. Thinking "micro" is the first step. The use of specific décor, like mirrors, to create a sense of space and multi-purpose furniture to save on space are also advised.
When you only have a small space for your man cave
Owing to the restrictions of space in the home, due to limited rooms a growing family or relocation to a smaller home, small man caves are becoming more and more popular with men every day. But how do you make a man cave in a small room?
Most of us do not have a large space in our homes to dedicate to our own personal use. That is why the perfect place for designing a man cave is usually in an outdoor building such as a shed or garage. But, even if you have just a small room within your house you can easily kit it out with everything you need to make a place where you can kick-back and recharge your batteries.
How to create a small man cave
You can build a small man cave within your home or create a man cave shed no matter how small it is.
Here is a step-by-step guide to help you create a small man cave.
Step 1: Decide on a purpose
The first step you need to take before you do anything else is to decide on the purpose of the man cave which you are creating. An example is a sports themed man cave and I have covered how to create the ultimate sports man cave here.
Knowing what you intend to use your man cave for is the first, and most vital, step you must take before starting to create one.
Ask yourself the following questions:
Do you intend to use your man cave for just yourself or will you have friends in it?
Will you use it for playing games, like card games, or just for relaxing?
Will you watch sports and movies in the cave?
If you like socializing with your friends will you want some way to serve cool drinks?
Although the overall design of your man cave should revolve around your likes and dislikes it must also be designed in a way that maximizes the space you have available for doing the things you want to do in it.
When you know exactly what you want from your man cave you will have given it a purpose.

The purpose of the man cave will then help you to decide its theme and overall design.
One thing which you have to keep in mind is that you have to always take into account the size of the room before deciding upon a theme. For example, a small shed can easily be transformed into a rustic hunter's cabin or a fisherman's cabin on a room on a pirate ship as these original spaces are small anyway but aiming to create a fully functioning bar may just highlight the lack of space.
Step 2: Analyze the layout of the room
Once you have decided on a theme of the mini man cave, now is the time to checkout the layout of the room to determine how you will start your design.
The layout will help you understand not only the amount of space which you have but also which parts of the room can accommodate larger furnishings and things like a TV or music system.
The fixtures and the furniture pieces which you set up in the small man cave shed, for example, will be dependent on the type of layout and space which you have. The best thing to do is to take the exact measurements of the man cave area. This will help you plan better.
Step 3: Paint the Room
After you have shortlisted some ideas which you want to incorporate into your man cave, it is time to start with the painting of the area.
You can choose from any of the light colors to help give a feeling of space – dark colors tend to make spaces feel smaller while light colors tend to give them a more expansive feel.
If you choose colors that are traditionally dark be sure to pick lighter shades. It has been demonstrated that lighter shades can deceptively induce a sense of spaciousness.
The importance of using bright vibrant white paint and light colors in man caves that are located in dark areas, such as basements or sheds without windows, can not be overstated. I covered this very point in an article about she sheds (which is a female man cave) – although the article is about creating a female space the advice is just as relevant to a man cave and well worth reading.
If you choose to ignore this advice and use darker colors your man cave will not only be dark and dingy but will also seem cramped and cluttered and probably have an impressive feel to it.
In order to further accentuate the feeling of spaciousness you can use reflective surfaces and mirrors in key points that reflect back places in the room. The use of mirrors, when positioned correctly, can make a room look twice as big as it really is. Mirrors also reflect back light making dark places look brighter.
Step 4: Choose the right furniture and equipment
With the basic painting done, now is the time to pick the best pieces of furniture for a small man cave.
In most cases the furniture will be the focal point of the man cave. It can be a sofa or a folding bed, or even a just a chair or two, coupled with a table.
One thing which you have to keep in mind is that when you are opting for a large piece of furniture, you must opt for a single piece.
On the other hand, if you're choosing a chair set, you have to make sure that the chairs are pretty compact. Ensure that there is enough room to place them in the man cave without them causing you trouble when it comes to navigating the space. If space is really tight then get folding chairs, there are lots of different types to choose from
, so it's easy to find ones that will fit well with your decor and theme.
If your man cave is very space-challenged then you may want to opt for a single one person couch or this type of recliner. This will ensure that the man cave does not look cluttered while making sure your seat still offers you exceptional comfort.
Keep in mind that the more pieces of furniture you add, the more cluttered the room will look. Multiple pieces of furniture will also occupy more space and leave less space for moving around and for other important man cave items.
It is a much better idea to choose multipurpose furniture pieces so that you are able to utilize the space available up to its maximum efficiency. A prime example of this is a center table that has inbuilt storage
or these multipurpose gaming tables.
You should also position your equipment in the most space-saving manner possible. Although it may be obvious to hang your television on the wall you may not have considered placing your speakers in the very corners of the room close to the ceiling. This will not only save you space but will also help produce better surround sound especially when gaming or watching a movie.
I have written an entire article about man cave furniture which outlines exactly how to go about getting the right furniture for your cave regardless of its size and purpose.
Step 5: Set up the focal point
When space is at a premium and you just don't have enough room to kit your man cave out exactly the way you'd like a focal point in the room can help.
By setting up just one small area of the man cave that draws attention and kitting-it-out with cool man cave decor and man cave items it helps you to create the feel of a themed man cave while allowing you to use more conventional and "boring but practical" furniture items in the rest of the cave to help you save on space.
The focal point of a man cave is usually some form of entertainment or a gadget which will help you pursue your hobby. For example, it can be a poker table or a television or a bar. Setting up a focal point in a small man cave can help detract from the lack of space.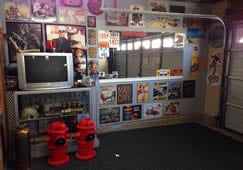 As each man cave is a very personalized space this focal point will be personal to you.
Obviously you will know what the focal point of your man cave will be because it will revolve around you own personal interests and hobbies. However, you have to try and keep it as compact as possible so that there is still space left for other things after setting the scene.
Additionally, you can choose to highlight the focal point by the use of a focus light. While choosing the highlight, you have to again stick to the layout and the space available.
When designing your small man cave be sure to consider the focal point first.

Everything else must fit in around that!
Step 6: Personalize the space
Now that the basic structure of the small man cave has been finalized, it is time to personalize the space.
You can do so with the help of various options like:
Photo frames
Memorabilia
Trophies
In order to personalize the space, it might require either the installing of a shelves or hanging memorabilia on walls or using decals.
At the same point in time, you have to do so sparingly to ensure that the space does not look cluttered. Hanging too many things on the wall or even covering them with decals or wall art will make the room look smaller.
Be sure to check out the 100 man cave gift ideas for a ton of great items that you can use to personalize your space.
Step 7: Get the lighting right

All of this can effort can be in vain if the lighting is not right in a small room.
Since the space is small, there is very little chance of there being a lot of natural light coming in. That is why it's a good idea to ensure the light sources are positioned in the correct way and at optimum points.
When it comes to lighting a small man cave, extra light is always better but that does not mean extra light fittings are always better. Remember that space is important so if you intend to use a standing lamp, or wall lamps, chose ones with two or more bulbs.
A bright and well-lit man cave will make the man cave appear larger and more comfortable especially if you use mirrors as I outlined above. You can even install mood-based lighting to dim the lights whenever you want.
If your room is very dark then these type of daylight bulbs
offer a great way to distribute light and will brighten up even the darkest of spaces. These type of bulbs will also work well with a bright color scheme as mentioned above under the section titled painting the room.
Step 8: Add some flair to the room
Because your man cave is small you need to take additional steps to help set it apart from the rest of your home even though you don't have the space to fill it with lots of unique items. You can do this by adding a little flair to the room.
Flair can be easily added with the help of a few simple additions to the room. A prime example of adding some flair is to use contrasting colors. Another way is to add an epoxy 3D floor (which is super simple and cheap to do but looks amazing).
Of course if you choose an overall theme and design your man cave around that you will give it all the flair it needs.
Step 9: Think Micro
Although having a powerful surround sound system and a 60″ TV may sound good in theory, if you don't have the adequate space to accommodate these gadgets comfortably then adding them to your man cave will just spoil the feel of the room rather than adding to it.
If you must have a very large TV then ensure you dedicate an entire wall to its placement and ensure you can postilion your seating far enough away from it so that you can enjoy watching it comfortably.
In a small room a small TV can act in exactly the same way as a very large one can in a large room.

The smaller space and the fact that you are in closer approximately to the screen will give the TV a larger feel.
When it comes to sound and music you don't have to compromise on quality even though you need to compromise on size.
A small iPod or MP3 wirelessly connected to some quality wall speakers or these really cool retro Bluetooth speakers
can produce the same effect in a small room as a huge expensive sound system.
13 cool small man cave ideas
Although you will now have a better idea of how to organize your space in a small room you may still be somewhat confused about the type of small man cave designs available. Hopefully, after reviewing some of the ideas below you will be able to better envision the best theme to fit the purpose of your man cave.
The purposes of creating a man cave can be for multiple purposes but you need to have a theme to truly make it a man cave.
Here are some ideas for small man cave designs:
A hunter's cabin
A pirate ship cabin
Country/State/County specific
A poker room
A sports room for watching sports and TV
A video game parlor
A reading room
A childhood/teenage themed room (such as a 80's theme)
A reading room/library
A hobbies room
A room for showcasing your collectibles
A hangout for friends
The key to creating a small man cave that is personal to you is to get creative and to include the things that are important and meaningful to you but that don't take up too much space.
I have covered the 7 top designs for a modern man cave previously and reviewing that article may give you some additional ideas. However, your man cave should be a reflection of your interests rather than a copy of someone else's.
It doesn't matter how unconnected they are to each other or the overall theme of the man cave, if they are important to you then you should add them – space permitting.
You should also check out the 100 man cave gift ideas article if you need some inspiration for man cave items.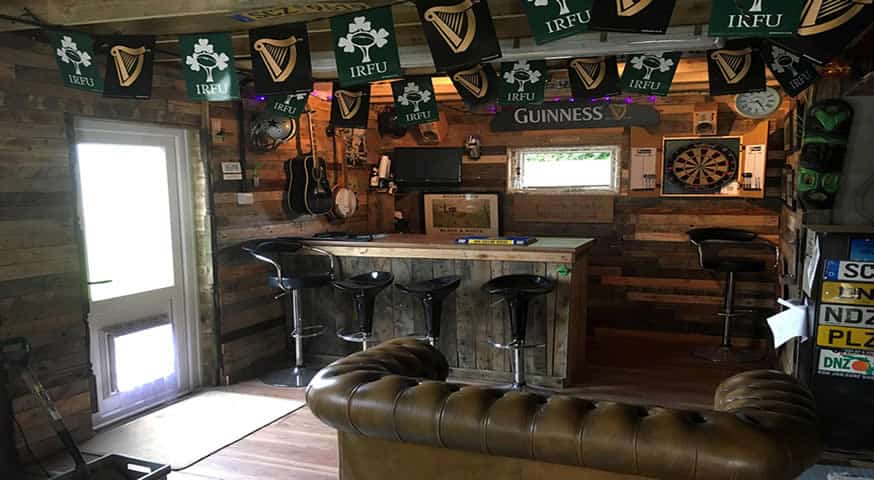 Recap & additional tips on creating small room man caves
Now that you are aware of some of the restrictions placed on you when creating a small man cave, I will share with you a few tips which you need to take into account before you begin transforming any small room, shed or garage.
Design everything in your small man cave for practicality & comfort
You have to keep in mind that you are creating a man cave as a place to chill-out and so that you can engage in hobbies that you enjoy. For that reason your man cave should be practical but also comfortable.
There may be one or two things that seem like a great idea initially but if you give it deeper thought you may realise that adding such a feature will only impair your enjoyment of the room because it will require too much of the valuable space available.
Remember that space is limited, so some things may just be impractical.
Correct lighting is essential in a small man cave room
As we stated above, lighting can make or break the man cave. Lots of light will help expand the sense of space.
More light is better. However, adding too many light fixtures can create a feeling of claustrophobia as the room will seem to shrink from too many items in it.
Using ceiling and wall light fixtures that have more than one bulb instead of standing lights can save space. You should be able to position each bulb separately so you can project the most amount of light from the smallest amount of space.
Adding mirrors at key points in the room will not only help to reflect light but larger ones can create the illusion of extra space as they reflect back parts of the room.
Be minimalistic to maximize space in a small man cave
Man cave spaces are often smaller than other room sin the home but when you have a very small space in which to create your man cave you will need engage in some "micro thinking". This is one time in your life when "thinking big" is definitely not a good idea.
Instead of cluttering your space with large furniture or other stuff, it is a good idea to use multi-purpose items – like an expanding table or table with inbuilt compartments.
If you will use this room alone then a single comfortable chair is all that is needed. If you will have friends visit your man cave then you will need folding chairs or multi-purpose furniture items such as a storage ottoman that can hold items and be used as a seat.
You don'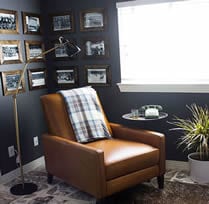 t have to compromise on quality when it comes to entertainment just because you need to downsize due to space restrictions. By using wireless technology as much as possible you can have great quality without losing space.
Position your speakers in the corners of the walls near the ceiling facing downward and toward the middle of the room.
Use an MP3 player with a good quality MP3 docking station
or Bluetooth speakers
instead of large sound systems and hang your television on the wall. Avoid very large TVs as smaller ones will serve exactly the same purpose and give the same effect. In fact, very large TVs can be uncomfortable to watch in a small room.
Choose your single focal point & build everything around that
When dealing with a small space you should always decide on your focal point before anything else.
Will you use your man cave for watching games on TV or for gaming? Then the TV and seating are the most important things to consider and everything else should fit around them.
Do you intend to party with your buddies in your man cave? Then you need to maximize your space as much as possible with perhaps a table as the focal point and seating arranged around it.
Do you love to read and drink coffee? Then you need a chair, reading lamp and shelves for books. You should get a localized light that is ideal for reading and ensure you have the capacity to dim the main lights for effect.
Consider adding a coffee machine and a mini fridge if space allows.
Choose the furniture in such a way that it blends well with the focal point and does not distract from it. Furniture should also be minimalistic as much as possible for the sake of space.
Final thoughts for small man caves
If you're looking to create a small man cave in your house, following the above steps will help you create a truly interesting and rewarding space. You don't have to compromise on comfort and entertainment just because you need to compromise on space.
The featured photo of this article is a small man cave this guy built for just $107. So you don't have to spend a fortune either; it is totally possible to design and create an awesome man cave even if you are on a budget and you can still fit in all the man cave essentials that your cave needs.