A man cave is a perfect option to escape the stresses of a modern fast-paced lifestyle. Most men who are familiar with the concept of a man cave will often try to find a suitable space for creating one in their home.
Unfortunately, the men who need a man cave most i.e. family men who have commitments to wife and children, are usually limited by space restrictions. This is a problem however which can be easily solved with the use of a shed. So, how do you turn a shed into a man cave?
The most difficult part of the turning a shed into a man cave is weather-proofing the shed by making sure it is damp and water proof. It may also need connected to utilities such as electricity. Then it's simply a matter of designing the interior to reflect you interests.
How to turn your shed into a man cave
Here I will detail how to convert an existing shed into a man cave. If you intend to build a new shed from scratch then you should read the article How to Build a Man Cave in the Backyard first.
If you already have a shed then let's start by covering the hardware and equipment that you will need in order to complete the man shed conversion.
10 steps to convert a shed into a man cave
Prepare your shed or erect a new one.
Measure the shed interior & choose a man cave design
Waterproof the outside of the shed.
Mold-proof the inside.
Install the desired utilities.
Insulate the shed.
Install drywall.
Add climate control.
Setup adequate security measures.
Accessorize the shed according to your man cave design.
Before I cover each of these 10 steps for converting a shed into a man cave I'll quickly highlight the things that you will need before you begin your conversion product.
Things you will need before you begin
Below is a list of essential items you will need to turn your existing shed into a man cave.
If you buy a new shed make sure it comes with complete weather-proofing and is fully fitted with electrical sockets and can be connected to the main electrical outlet source without much trouble.
Things you need:
Ground support for protection against groundwater
Waterproofing materials for the outside
Anti-mold protection for the inside
Fiberglass insulation (optional)
Drywall (optional)
Some form of climate control
Lighting
Furniture
Power and electrical equipment such as TV, music system, gaming system etc.
Man cave accessories such as signs and memorabilia etc. (I have listed some very cool man cave decor items here)
Optional extras – like a bar
Once you have looked over the above list and acquired the items that your particular man cave will need, you can begin the conversion process by following the step-by-step guide below.
1: Prepare your shed or erect a new one
Sheds are great places to store things we use only infrequently such as lawn mowers and other outdoor garden equipment. However, most of us use them as dumping grounds and fill our sheds with the stuff which we are on the verge of discarding but never do.
That is why it is important to first empty the contents of the shed and throw-out or give-away anything you haven't used in over a year. Unless you positively, absolutely know that you will need it again in the future, get rid of it!
Once you have whittled down the contents of the shed to a reasonable amount of items you should be able to find an alternative storage space for them. It is not a good idea to try to find a spot in your newly designed man cave for storage items as it will:
Take up space you need for man cave stuff.
Completely ruin the atmosphere of your man cave.
Man Cave rule:
Your man cave is not a storage unit, so put your shed stuff somewhere else or get a new utilities shed!
The only exception to the above rule is when you store items that can actually compliment your man cave design. Things like fishing rods, tackle boxes etc., can be stored in a man cave designed look like a fisherman's cabin for example.
It is a good idea to wash the site making sure it is completely clean before starting. Apart from giving you a blank canvas on which to create your man cave it will also highlight any areas where mold by be growing. If you encounter mold make sure you wear a mask and clean the entire areas with bleach before treating it with an anti-mold paint.
Garden sheds are sometimes essential items for storing so you may need to start from scratch by building a brand new shed or buy/build an additional small shed for storage..
2: Take the interior measurements of the shed for easier design planning
Once you have removed all the stuff from the shed, now is the time to take the measurements and understand the layout of the area. This will play a very important role in creating the man cave.
Obviously some sheds are larger than others and not all sheds have the same shape and dimensions. So, it is important to understand what you are working with before you design the layout of your man cave.
You will use the measurements you take now at a later stage of the process. It is a good idea to take them now so you have all the essential information you need to create a man cave design while you wait on the weatherproofing to be finished (i.e. finishing the job and letting the paint dry).
Planning the Modifications
With the measurement and layout information to hand, now is the time to plan the conversion.
It is usually a good idea to know what theme you will use before you proceed with the rest of the conversion though. However, you must positively know what you intend to use the man cave for.
When you know what you intend to use the man cave for then you will know what type of furniture and décor items you need for it as well as other essential man cave items such as a TV or a music system.
plan to put into your man cave then you will know what utilities you require.
Do you need a lot of electrical sockets?
Do you need running water?
3: Weatherproof the shed
This is by far the most laborious and time consuming part of converting your shed into a man cave – but it is by far the most important.
If you fail to protect your man cave from wind, rain and mold then you will end up spending a lot of time and energy converting your shed only to lose all its contents to the weather.
You must weatherproof the building!
You can do this is simple stages as I outline below.
Protect it from groundwater
Your shed should be build off of the ground to protect it from damp which in turn leads to rot and mold build-up.
If you are going to be using a new shed for your man cave then it is vital that you place it on some form of support rather than building it directly on the ground.
You can build a concrete foundation, though this tends to be an expensive option. A cheaper option, which is just as effective, is to use cinder blocks or some other type of thick stone supports.
An even cheaper option, though one that will deteriorate with age more quickly, is to use treated wood as a framework for keeping the shed off the ground.
I have covered the subject of foundations and how to build them in more detail here.
If you are using an existing shed then your options are limited. If you have a large shed then chances are it already has some form of foundational support to protect it against groundwater but you should definitely check this out before starting your conversion.
If your existing shed does not have ground support then you can always use heavy machinery to lift it and then add a support structure before placing it back in position. Again this could be a costly action to take and it may just be better to build a new shed.
If your shed was installed by professionals then there is a very high probability that it has sufficient ground support for protection against ground water.
Waterproof the outside and roof
I have mentioned the importance of waterproofing a shed many time son this site. In previous articles I recommend you use use an economically priced fence paint
though you can use the even cheaper, but equally as waterproof, patio and floor latex paint on the outside of the building and a latex primer anti-mold paint on the inside. I still hold that view.
You should also use roof felt to protect the roof from rainwater.
The actual process of protecting a roof is more difficult to explain than it is to actually do it. For this reason I have included a video outlining the entire process below. But I will briefing cover the subject here anyway.
Begin by ensuring the shed's roof is clean and free of debris.
Make sure to take accurate measurements before you begin adding felt. If your measurements are correct then the rest of the process will be very straightforward.
Starting at the bottom roll the felt along the roof ensuring you leave an adequate overhang of 50 mm at the sides and 75 mm at the front and back, as outlined in the video below. These overhangs will be tucked underneath the roof for better water protection.
You will know how many pieces of felt you need to cut by comparing the width of your felt roll against the width of your shed's roof.
Tack the end of the felt as you roll, and then nail in with felting nails.
Here is a very good video resource showing you how to do this:
4: Mold-proof inside the shed
Waterproofing a shed is not the only weather protection it needs. You must also protect the inside from damp and mold. Mold carries health risks that result is some nasty conditions as outlined by the CDC.
For most sheds a few coats of simple anti-mold paint is more than enough to protect the inside against damp and the build-up of mold and as I mentioned earlier you can do this by using a fairly cheap latex primer anti-mold paint. Latex anti-mold paint is your best option for both value for money and total damp and mold protection.
Of course you will also need to ensure your man cave is properly ventilated to keep mold at bay.
5: Install the utilities
You might not need every type of utility connection in your man cave but some of them are more essential than others, such as electrical connections for instance.
Although you can certainly create a functional and fun man cave without any utility connections at all most guys will want to have at least a TV in the cave and for this reason I also advise getting your man cave connected to an electrical source (by a professional electrician).
If you're planning a man cave that uses a lot of electricity, such a gaming arcade or a home theater, you may need proper circuit breakers as well.
Similarly, if you want to put a mini bar (or large bar) in your man cave then you will probably want a water connection as well.
The utility requirements of your man cave will depend largely on the purpose of it.
If you need to wire or rewire your shed for electrical appliances then you should always get a professional to do the job. DIY and electricity do not mix well!
You must ensure the utility installation is completed and all utilities are fully functional before moving on to the next step.
6: Insulation the shed

For most sheds insulation is a good idea. A cheap option is to use bubble wrap but the better choice would be to use breathable membranes that will stop moisture build-up.
Insulation will make heating and cooling the finished man cave much easier and a lot cheaper. The money saved on energy costs will usually well outweigh the initial cost of the insulation materials.
The installation of the insulation will take place after you have installed the necessary utility connections and before you erect the drywall.
7: Install drywall
With the installation out of the way, now is the time to hang the drywall.
This will allow you to hide the insulation as well as the utility connections while giving you smooth walls ready to be filled with decor.
Only the fixtures of the utility connections should be visible inside the man cave. You can use wood panels instead of drywall if your prefer a rustic look.
8. Install climate control systems
As your man cave is situated outdoors you will need to install some form of climate control.
If you live in an area that has very diverse seasons then you will need both good heating and cool air conditioning.
Take this into account as you design the overall look of your man cave ensuring you leave enough space for a stove, heaters, fans etc.
When the installation of utility connections is complete, and the drywall has been erected you will want to install any permanent climate control system you want to use.
Of course you can simply use free standing or wall mounted fans in summer and electric powered mobile heaters in winter if you live in a reasonably moderate climate zone.
9: Provide adequate security measures
Even though the shed is on your own premises, it is a good idea to add some security – especially if your man cave contains expensive electrical equipment or a fully stocked bar!
If currently your shed does not have a sturdy door, you have to first replace it with one. Additionally, you should opt for a sturdy padlock and thick chain to secure the door.
You can also install a CCTV camera to provide added security to your man cave if your budget will stretch that far. Although there are some very high-tech security options available there are also very reasonably priced security systems available as well with ones that even have 24 monitoring for only a few bucks per month.
For most people a security light will be more than enough to deter would-be burglars but if you do have expensive items in your man cave then I urge you to consider taking some type of security measures to protect them.
10: Accessorize according to your man cave design
Now that you have transformed your shed from a regular garden storehouse into a potentially fully functioning mini-abode it is time to begin the best part of the conversion – turning it into a usable man cave.
In this step, you will not only be adding the interior items according to the purpose of the man cave but also be adding all the accessories as well. If you need some inspiration on design ideas read the this article and be sure to also check out the article 100 Man Cave Gift Ideas for some really neat accessories.
Unless you have a very large shed then you will have to ensure that you are opting for a minimalistic design rather than cluttering the entire space with too much furniture and decor. Building a man cave in a small space is different and somewhat limits your options but when done correctly your small man cave can be just as functional and cool and a large one.
Getting the interior of your man cave right involves:
Decorating tastefully but with fun in mind
Ensuring the lighting is correct
Picking the correct furniture and placing it optimally
Picking your gadgets
Personalizing the man cave
I will stress again that the interior items you choose for your man cave will always be dependent on the exact purpose of the cave. Your furniture should be functional first and fun/themed second. The subject of acquiring functional, but fun, furniture was covered in this article.
Small man shed ideas
Here are several ideas for the theme and design of your man cave if you have a small shed.
Mini home theater
A home theater is one of the most popular uses for a man cave.
If you're just planning to create a home theater for your family, you can do so in a small shed quite easily.
For ideas on cool man cave entertainment items go here.
Audio man cave
A man cave shed works just as well for lovers of music than those who like to watch movies.
If you like composing your own music or mixing and matching of audio tracks, creating an audio workshop in your man cave is the perfect option for you.
Just make sure your cave is fully waterproofed with all that electrical equipment about.
Wine shed and drinking room
Who doesn't like a good wine with their meal (or at any other time)?
When you create a wine cellar type vibe in your man cave you can store your entire collection of wine in your backyard and use it for "wine tasting".
I have included many different types of accessories for guys who drink in their man cave here.
Vintage display arena
With the interiors of a home becoming more and more modern, vintage decor is being pushed out. If you are facing the same situation, you can create a vintage display arena with vintage items in your shed.
There are some really great vintage tin plagues like the ones I mentioned here which work great in all types of man cave. You can use them to help your man cave reflect the feel of a lost golden era.
Retro man cave shed
Following in this same vein as the above idea why not recreate your childhood years in your man cave. Seek out sings from that time and post pictures of your favorite bands when you were young.
Put in an old style turntable that plays vinyl records and have a selection of movies from that era.
Every time you enter your man cave you can step back in time.
You can get some really neat items from these retro vinyl record disk coasters for drinks
to old school classic retro vinyl and dual cassette players
.
Home shed office
One of the most efficient ways to utilize a man cave is to create a home office in it.
A man cave office will not only help you to enjoy working from home but it can actually help to boost your productivity significantly.
A small man cave shed can be an ideal place to situate your home office. I covered how to create a man cave office here.
Reading room
If you like to read on a regular basis, creating a man cave with a small library inside it is the perfect option for you. Reading room spaces are very popular with she shed owners.
Romantic getaway for two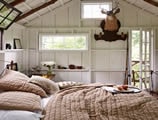 With an adult-themed play area right in your backyard, there will be no need to travel to expensive resorts for that romantic rendezvous with your partner. It will be your and your partner's perfect hideout in your own backyard.
This is a super cheap way to take some time to yourselves and feel like you are getting-away from it all.
Just make sure you can fit in a bed.
Pinball gaming zone man cave shed
Pinball is one of the most immersive as well as iconic games of all time.
Pinball machines are also great memorabilia to collect.
Needless to say, creating a pinball gaming zone in your man cave is a pretty good idea. You can also add casino style gaming machines to complete a casino man cave. I covered the different types of gaming man cave you can create here.
Larger man cave shed ideas
If you have the luxury of a larger shed, you can easily execute any one of the man cave ideas which we have listed below.
Billiards/pool room man cave shed
When you create a billiards or pool room in your man cave, it will not only help you relax but also give you a great place to socialize with your friends.
If your man cave area is very small then consider getting multi-purpose tables such as a cool 3-in-1 pool table like this one that is interchangeable between pool table, foosball table and slide hockey table.
Sports room man cave shed
There is nothing better than cheering your favorite team along with your friends in your own sports themed man cave.
Place memorabilia of your favorite sports teams up on the walls and have a large TV for viewing games.
Make sure you keep a large mini fridge well stocked with beer and serve your snacks in the appropriate NFL or NCAA snack helmet!
If you are interested in this type of theme then you should read the full article on How to Create the Ultimate Sports Man Cave.
Collector's room man cave shed
Many of us like to collect different types of memorabilia from sports related memorabilia items to comics and collectibles. You can easily create a collector's room in your man cave and put your entire collection on display.
You can also display the various man shed gifts which you receive from your family and friends in this room or your favorite collections as I outlined how to do previously.
Many guys who build a man cave in the theme of a hunter's cabin will display old replica firearms and there are some great collections available such as these.
Art gallery man cave shed
Artworks and sculptures are timeless.
The right artwork can generate a significant ROI if you ever feel like selling because so many people collect them there is a bigger demand than there is supply.
Rather than trying to fit all your artwork into your home it is a good idea to create an art gallery in your own man cave to not only protect your artworks but also put them up for display.
A very popular type of artwork for man caves are patented prints. These framed prints of old patents are copies of the original patents. Some patent prints that look really good in a man cave are the steam engine and the hand gun. I covered these patent prints and where to get them here.
Smoking man cave shed
Whether you like cigars or cigarettes no-one likes the smell of stale smoke in their home. For this reason many smokers are banished to the cold outdoors to enjoy their habit.
A man cave smoking room can provide you with an opportunity to relax and unwind and smoke without worrying about the effects on the building or those around you.
Poker man cave shed
Poker is a pretty common pastime with guys at most house parties. However, it is also a huge distraction for the non-poker players at the party.
With your own poker room in your man cave, you can invite all your buddies in to play in privacy.
There are some great items you can add to your man cave from this fun small card table to these poker sets that come with super cool full size poker tables
.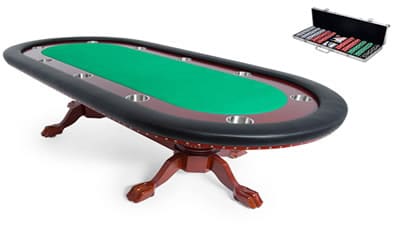 Shed conversion to bar
This is by far the most popular type of shed-to-man-cave-conversion out there.
The benefit of building your own bar really requires no explanation.
However, what you may be unaware of is the low cost involved in creating a bar. In the article How to Build a Man Cave Bar on a Budget I demonstrated just how easy it is to build a home bar cheaply.
Man cave gaming arcade shed
Most of us love playing games on our consoles. Believe it or not the average gamer is male and in his late 30s, so it's clearly not just a kid's pastime.
Gaming for guys is much more than just playing a video game. It gives us time to recharge our batteries and just kick back. So, a dedicated gaming arcade man cave provides you with that opportunity.
A gaming man cave is the perfect rejuvenation option for men. All you need is a gaming console, a TV and a comfortable chair.
There are many different types of arcade games that you can pick up now like these classics
.
Hunter's cabin hideout man cave
A large shed is the perfect place for a hunter's cabin conversion.
With a bit of imagination and a few key items you can have your man shed looking like a rustic backwater cabin in no time.
As I mentioned before old replica firearms displays are an excellent accessory for this type of man cave as are the framed gun patent prints available here
.
Nature's retreat man cave shed
The creation of nature's retreat can involve creating a small man cave based on the design resembling a countryside cottage.
The interior will involve things like stone based or wooden-based furniture and an iron stove.
Workshop man cave shed
If you like creating things, then this idea will certainly appeal you.
You can opt to create a workshop in your shed. This type of man cave is great if you need to use your cave to also store your tools. You can easily incorporate the tools into the design.
Such a man cave will help you keep occupied for long hours as well as appeal to your creative side.
Spare bedroom or hideaway in the shed
This might be one of the simplest man cave ideas but it can be pretty functional as well. You can create a spare bedroom which can help you when you need some "me time". It can also function as a guest room when you have friends or family staying.
To make sure it still remains a man cave make sure it reflects your personality and can be a place you retreat to when you need some space. So, fill it with fun items.