Let there be light! You've created your she shed, now you need to light it up. To make your she shed feel more like a home, and less like a … well… shed then you have to provide some illumination. Whether you're a fan of romantic dimness or you want your she shed to be brighter than a Christmas tree, this is the article for you!
Ahead, we'll share some of the most creative ideas we've come across for lighting up even the darkest she shed.
These real she shed examples can inspire you to try new ideas with your own shed that you otherwise might not have.
9 Bright Ideas to Illuminate Your Shed.
Below are 9 great shed lighting ideas to help you illuminate your outbuilding whether it be a plain old boring storage shed, a ticked-out man cave or an awesome she shed.
Let's get started!
1. Outdoor sconces – shed lights for outside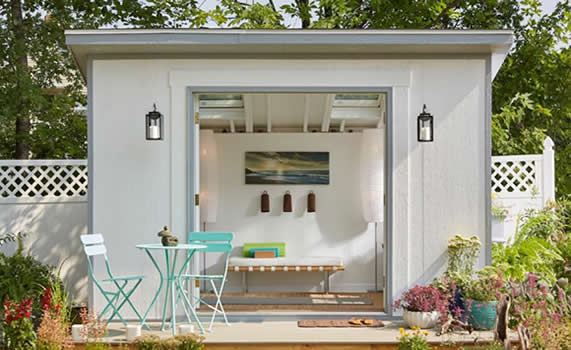 With a wide-open she shed such as this one, the strong daylight naturally spills in just about every corner. The white walls help to reflect this natural light around the entire she shed.
The shed even has skylights to welcome in more sunlight. When day turns into dusk, the twin sconces on either side of this shed's exterior flip on, providing illumination in the dark.
A she shed setup like this is ideal for the ladies who love a dimly lit spot but don't want to be sitting out in the blackness. You can easily spend summer evenings out here with the door wide open, drinking in the waning light until it finally goes out later in the evening.
The three wall lights over the comfy pillowed bench gives illumination when the natural light begins to fade.
This is one of the best outdoor shed lighting ideas we've found.
2. Candlelight ambience – shed lighting for a warmer feel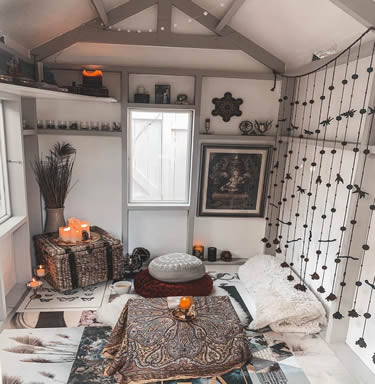 What's better than candlelight? The soft, relaxing and comforting vibe that candles give is an aesthetic that many she-shedders are after, and who can blame them?
This intimate, cozy she shed features a single open window that, by day, allows in plenty of light allowing the she-shedder to catch-up on their never-ending reading list.
Then, as the last of the sun goes down, candles that are strategically placed throughout the room cast a pretty orange glow. We'd recommend battery-powered candles for safety, especially with all the draperies and wall art featured throughout this shed and most especially in wooden sheds!
3. Overhead shed lighting illuminates the entire space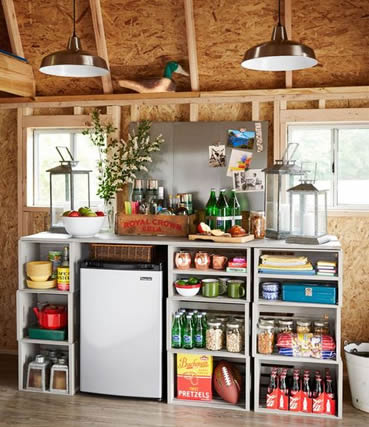 A stripped-back she shed isn't ideal for every woman, but for the ladies who like to keep things simple, they'll gravitate towards a shed like this one.
The purposefully unfinished walls of this she shed give the whole space a rustic feel but with plenty of modern convenience. With a large counter for storage (including a mini-fridge), this she shed kitchen nook features great natural and artificial lighting.
Two overhead hanging lights allow the she-shedder to spend more time in this shed, such as on those dark days when the sun never appears as well as during the night.
With a similar set-up in your she shed, by turning the lights on, you'll feel happily bathed in their glow.
This approach works great for storage shed lighting as well as for a man cave shed or she shed.
4. Fairy lights – cheap shed lighting that works wonders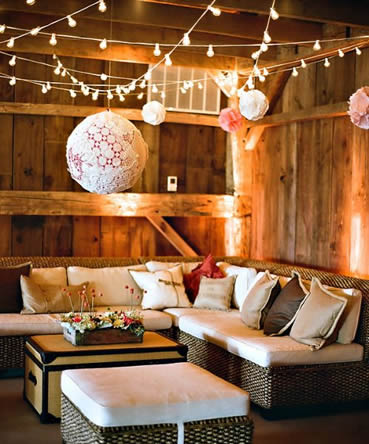 Fairy lights are a feature of any backyard patio worth its salt, but they look just as good indoors too. You only have to take a look at this she shed to see what we mean.
In this little corner, the she-shedder hung fairy lights in rows. Then she added a few hanging decorations covered in lace for ambiance.
The L-shaped couch, complete with an ottoman, looks great in a room like this and compliments the light source.
The couch has enough pillows for a lazy afternoon nap while the storage chest doubles as table space and can store things like DVDs, books, spare blankets, slippers, or even a plush robe and some table lamps if you require additional light.
5. Whole-shed string lights – an outdoor shed lighting idea that also works indoors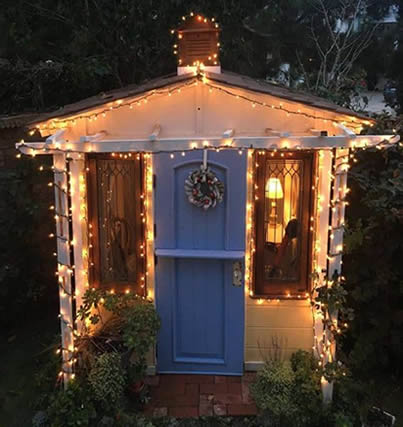 Who says that fairy lights are only for the inside of your shed? No one, that's who!
This shed is all aglow in the best way possible with white string lights hanging from the chimney and draped all the way to the ground. The lights even wrap around the exterior windows, which is a nice touch.
It's hard to tell from this image if the string lights continue inside, but we can clearly see a lamp from one of the windows that will provide more than enough indoor light.
While some women might think that head-to-toe string lights give off too much of a Christmas vibe, for others, it will be right up their alley.
If you light up your she shed like this, you won't be able to miss it, even in the dark!
This idea also works well for interior shed lighting.
6. Exposed bulbs – can be simple for storage shed lighting or more unique for caves & liars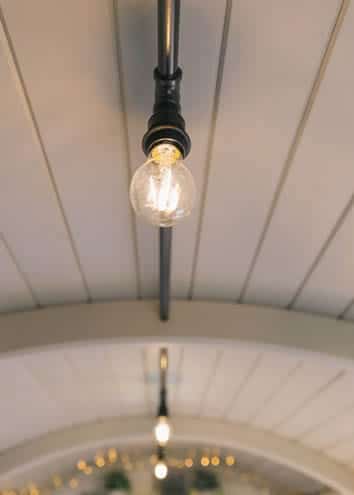 Simple but effective way of setting up storage shed lighting is to use a bare bulb. It's cheap and it's effective. However, it can be much more than that with a little imagination.
There's something nice about exposed bulbs in certain rooms, wouldn't you say so?
For a simpler she shed with lots of raw wood and few accoutrements, we think exposed bulbs would really be the piece de la resistance that brings the whole look together.
You can use lower-wattage light with exposed bulbs so you're not blinding yourself or any other visitors who come through your she-shed as they look in the direction of your lights. A few of these bulbs throughout the shed should cast a gentle glow perfect for watching a film on your favorite couch or cushion.
If we were to make one change to this lighting setup we would opt for edison lights as they add just that little bit more class and work well if you have a rustic look she shed as well.
Edison lights, or similar, work really well in a man cave shed or lady lair she shed.
7. Natural light – works well to illuminate any shed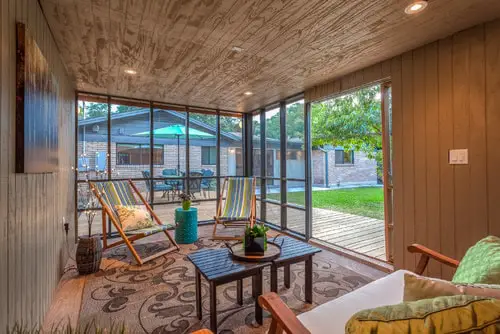 Some she-shedders might not be able to get a source of electricity out to the remote part of the yard where their she shed is situated. In such a case, then while you're still in the building stages of your shed, plan for the lack of electricity by installing huge ceiling-to-floor windows.
These windows don't have to take up the entirety of the shed, as otherwise, you wouldn't have much privacy (though you could also hang curtains). As our photo example shows, by installing large windows into one full wall and into half of another, you have enough natural illumination to light up the entire shed even as dusk approaches.
This she shed does feature a few built-in ceiling lights that use electricity, admittedly. If you want to mimic a similar effect, battery-powered stick-on wall or ceiling lights will keep you from walking around in the dark if you want to spend time in your she-shed after sunset.
8. Neon nights – great shed lighting for man caves and she sheds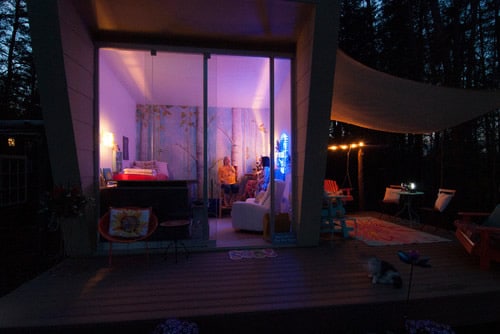 Our last shed lighting example sure is a doozy but it isn't the only option. This she-shedder decided that only neon lights would work for her space.
The neon lights in this she shed cast a crazy colorful glow in hues like blue and purple that give this shed the feel of a very exclusive nightclub. However, you could use a mix of any colors you want.
Since you have illumination inside the she shed, if your shed features tall glass sliding doors like this one does, you might consider curtains to provide more privacy. Otherwise, everyone can see into your little club and will be totally jealous they're not allowed in. If that's what you want to achieve, then right on.
9. The she shed chandelier – when opulence is the only option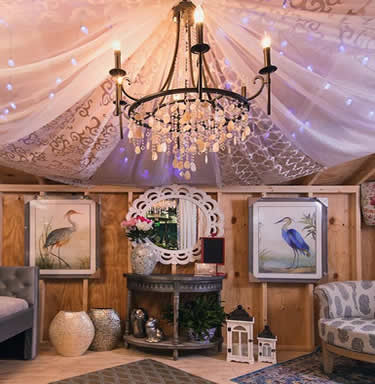 For those women who always felt like royalty, and are just missing the crown, you can make your she shed a mini castle replete with a stunning bejeweled chandelier as the centerpiece. What we love most about this chandelier is how this she-shedder surrounded the light source with gauzy pink tulle curtains over fairy lights.
The beautiful, elegant effect this creates takes your eye away from the bare wooden walls of this shed, as does the rest of the décor in the room.
The crane artwork, the giant circular mirror, and the decorative vases pull the look together, while the asymmetrically placed carpeting adds even more warmth to this space.
This is she shed lighting at its finest.
Conclusion – 9 Awesome shed lighting ideas
When it comes to shed lighting, whether you have a storage shed, a shed shed or a man cave, you have no shortage of she lighting options. We have outlines 9 simple ways to illuminate your shed in this article.
You can buy a big, fancy chandelier that's as much décor as it is a source of light.
If you like attention-grabbing light sources, neon lights might be your thing, or maybe string lights wrapped around the inside and outside of your she shed like gift wrap.
For the demurrer she-shedders out there, exposed bulbs (use Edison bulbs), battery-powered candles, and simple overhead lights keep your space all aglow without the need for all the bells and whistles. We really can't talk up battery-powered stick-on lights enough, especially if you can't get electricity to your shed.
We hope these ideas inspired you to light up your she shed in novel new ways. No matter what way you illuminate your personal space be sure to have fun doing it!