Not all man caves are created in the same way nor do they all look alike. However, when your buddies come over to visit, you won't make a lasting impression if all you have to offer is lukewarm beer and unappealing snacks in a room that looks like a frat dorm.
Although design and theme will play a big part in how your man cave looks if you really want to impress then you need the type of accessories that make your man cave stand-out.
20 Awesomely unique & cool man cave accessories to set your cave apart
Below are some great ideas for accessorizing your man cave in a way that will make you the envy of all your friends.
Be sure to also check out our top man cave bar accessories – man cave accessories that will make any home bar stand out.
1. Smart tech man cave accessories reach a new level
Among all the ultimate accessories listed here the one that will set you apart the most is smart tech.
From this smart Seven Hugs remote
which is the ultimate universal remote that can control everything from the TV to the thermostat (and even order an Uber when you want to kick your buddies out), to the latest smart bulbs and plugs that obey your voice commands, you can totally modernize any space with these modern man cave accessories.
Using Alexa or Google Home you can now turn on/off any device by simply connecting it to a smart plug. You can also turn on/off and dim lights, all with a simple voice command.
Not only can you make sure every electronic device is controlled remotely through your voice commands but you can also get some very reasonably priced high-tech smart furniture that transforms into different usable shapes.
You can even protect your man cave with high-tech smart security systems for just a few hundred dollars or less.
If you want your man cave to be a 21st Century high-tech playground, that is the envy of everyone who steps foot in it, go smart-tech.
I covered the many different ways you can incorporate smart tech into your man cave in the article how to build a modern man cave.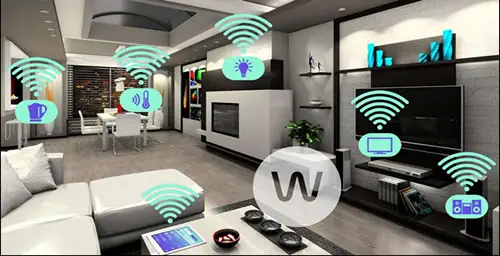 2. Themed furniture – the must-have man cave accessories for every cave
You may not consider furniture to be an accessory but that is simply because you have been using the wrong furniture!
Many guys will simply allow their taste and personal preference to lead their decisions when you choosing the type of furniture to put in their man cave. This could be a big mistake.
Although a comfortable couch or chairs are a must, you don't have to go for the usual boring store-bought generic furniture.
There are a ton of really great ways to furnish your cave with man cave accessories that will offer you and your guests not just comfort but real style in a way that looks spectacular and unique.
From homemade couches created from scrapped vehicles or old junk to the latest sports-themed chairs and tables you can kit out your man cave with some amazing pieces of furniture.

For these and a ton of other cool furniture ideas read the article on man cave furniture here.
3. Not your average fridge – Star Wars man cave accessory
Warm beer is never a good thing. So, a fridge is a basic man cave accessory that every man needs. But don't settle for any old fridge when you can pick from some really awesome fridge man cave accessories.
With styles that vary, from Marshall amps to antique-styled vending machines and giant soda cans, there are a ton of great themed fridges to choose from. It isn't difficult to find one that will suit you, especially if you have a sci-fi man with a star wars theme.
Take this moving R2-D2 refrigerator as an example. This moving fridge takes futuristic man cave accessories to a whole new level.
If you love Star Wars and are into your tech then this life-size R2-D2 refrigerator will not only maintain the temperature of your beer but it will also bring it to you.
You control this little droid using a remote. R2 also also has a projector function with sound and a full range of R2-D2 sound effects.
The downside? It's pricey as hell and needs to be shipped to you from Japan. You can see it here.
If like me, your tastes (and your budget) are a little more on the conservative side then you can opt for any number of different types of man cave refrigerators as I outlined here including a Han Solo in carbonite mini-fridge.
4. Are R2D2 man cave accessories too rich for your taste? Then try this remote-controlled cooler
If you are tired of getting up every time you need to grab a cold beer, but a $9,000 moving R2-D2 refrigerator is out of your price range, then fear not. This little neat remote control cooler man cave accessory will come to your aid when thirst strikes.
You could use this rolling beverage cooler to deliver you six cans of beer while you enjoy a game from the comfort of your couch.
Below is a funny tongue-in-cheek advertisement for a remote control cooler.
These man cave accessories come in many varied designs from mini trucks to bashed-up bins.
5. Touch screen mirrored beverage cooler – when you need your man cave accessories cool
These types of coolers are the next generation in man cave accessories, especially if you have a man cave bar. They are available from a range of suppliers, such as Vinotech and Phiestina and have much more storage room than a mini-fridge or remote controlled cooler.
Mirrored coolers feature a touch screen control panel, which allows you to adjust the temperature, that fronts a metal cooling cabinet.
Available in standalone models and built in various colors and styles mirrored coolers are a great way to keep your beverages cold.
6. Arcade machines make excellent man cave accessories for the retro-minded
With a full size arcade machine you could beat down your friends with a game of Pac-Man, Space Invaders or Donkey Kong.
These arcade machines are man cave accessories that work exceptionally well in a retro gaming man cave.
If like me you were born longer ago than you care to mention then arcade games are a great way of revisiting your childhood years.
Large arcade machines aren't cheap but they are a great way to introduce some nostalgia into your man cave while also offering you hours of fun.
You can get old-school arcade machines or modernized ones that feature 19″ LCD screens and that can play up to thirteen different arcade games.
But, arcade machines aren't the only way to gamify your man cave. There are a few other types of games that you can put into your man cave for a better gaming experience and that are much, much cheaper like the ones I mentioned here.
7. Kegerator – the man cave accessory that turns you cave into a bar
Want beer on tap but don't have a man cave bar (you should consider building a bar as I already demonstrated how easy it is to build one on a budget)?
A kegerator is a really cool cheap way to get draft beer on tap without the need for a bar. With a kegerator you don't even need a bar pump or any other drink dispensing man cave accessories!
Just buy a keg and hook it up to the kegerator and it will maintain the beer at a cool 32-50 °F for a cold glass every time. It comes with its own tap.
Learn more about using a kegerator in your man cave here.
8. The 3-in-1 gaming table – man cave accessories for the fun-loving
If space is at a premium for man cave accessories in your cave, or you just like cool furniture, then why not consider getting a table that transforms into a pool table and a table tennis table.
This ingenious table comes with benches so you and guests can enjoy eating or drinking, playing cards etc., but it also quickly transforms into a 7 ft pool table or table tennis table.
You can learn more about this table here.

9. The foosball table – they'll notice if you are missing this man cave accessory
Perhaps table tennis isn't your thing, or you just don't have the space for a 7ft table, but still like the idea of multi-purpose furniture pieces as man cave accessories, then we have something cool for you.
Then, a 3-in-1 foosball table may be a better fit for you.
This foosball table can be used for playing foosball, pool/billiards or slide hockey and takes up very little space.
10. Coffee foosball – a man cave accessory for the thirsty foosball fan
If you love the idea of foosball man cave accessories but really need a table to hold your beverages then you can still have both.
This little foosball coffee/cocktail table looks great, is a functional table and can offers hours of foosball fun.
11. Jukebox junky – man cave accessories don't get any better than this
Not every minute in your man cave will be spent watching the big game on TV, even if you have a sports man cave. Sometimes what is needed is a bit of music.
If you don't go down the "smart music system" route then why not choose a jukebox. This is a colorful way to add some tunes to your man cave.
There are a variety of jukeboxes
in all shapes and sizes starting as low as $40.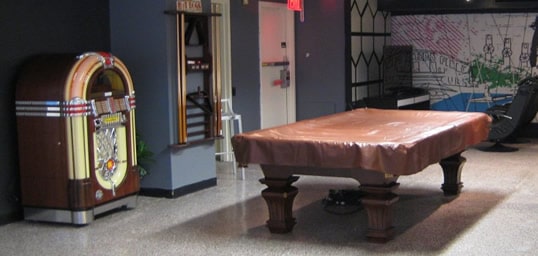 12. Massage chairs – man cave accessories for the lover of comfort
If themed furniture, like a massive baseball glove chair or football chair is not to your taste, then you could opt for a luxury massage chair.
Modern massage chairs can be pre-programmed with about sixteen various sessions for lots of different types of massage. Now that's some serious comfortable man cave accessories right there!
A massage chair is like a modern day throne for the king of his castle. I covered the best types of man cave accessories massage chairs here.
13. Golf simulator – hit a hole in one with this awesome man cave accessory
Love golf but don't play as often as you'd like? Well believe it or not you can now enjoy the game in the confined space of your man cave.
With a golf simulator you can play as many rounds of the game as you like without leaving the comfort of your man cave.
Using modern tech and a little bit of specially designed green floor lining it is possible to immerse yourself in a full game of golf without moving from the spot.
Learn more about what this amazing golf simulator has to offer here.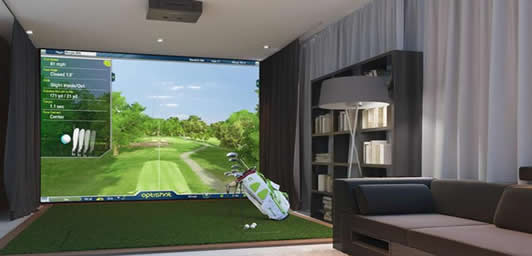 Sometimes populating your personal space with lots of man cave accessories  just isn't enough. A hidden door is especially well-suited to a man cave that is inside a house but somewhere that you want to set apart from the rest of your home.
As most guys want their man cave to feel separate from the rest of their home a hidden doorway is a great way to set your cave apart. When you walk through it's like entering a secret area where no-one else can go (unless you invite them).
The most popular type of secret door comes in the form of a bookshelf. These bookshelves can be either fake or have real functioning shelves.
In my previous write-up about this subject I outlined how you can go all-out and get a fully functional bookshelf door or, if budget is a concern, you can easily (and very effectively) disguise an existing door with bookshelf decal.
15. Guitdoorbell – when your man accessories need you make an entrance
Now you have the doorway sorted it's time to "make a proper entrance".
You can mount a Guitdoorbell, as I demonstrated how to do here, over your man cave's door entrance.
Every time someone enters your man cave they will be accompanied by a plucked guitar.
It is easy to disengage a guitdoorbell when people are coming and going from your man cave so it never gets annoying.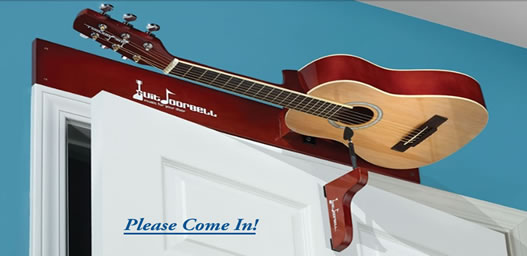 16. The Smart TV – when ordinary man cave accessories aren't enough!
Man cave accessories don't always need to be novelty items. Sometimes you need a practical item for your cave.
When it comes to your man cave an ordinary TV should not be good enough.
Large screen Smart TVs can access the internet, let you play games and offer more channels than a standard set. They can also be picked-up fairly cheaply when you know where to look and what to look for.
I showed here how you can get a 50″ Smart TV for less than $300.
17. HTC Vive – taking man cave accessories to the cloud(s)
Man cave accessories can sometimes exist in the cloud!
When TV just isn't enough, there is HTC. Welcome to the world of virtual reality.
This luxury headset offers a virtual reality system with more than 1000 games for you and your buddies to play when you aren't watching TV or playing foosball.
This HTC Vive system
is a fully immersive way to step out of your reality and into a completely new one.
18. Wall art – man cave wall accessories with a difference
Bare walls are not exciting. In fact, they are down right boring. You need some man cave accessories to liven up those bare partitions.
Wall art is a must for every man cave but you don't have to hang framed copies of Picasso or Van Gogh to spruce-up your walls (unless that's your bat). You can hang sports decal, framed jerseys, musical instruments or even civil war replicas to give a unique feel to your man cave.
Sure, a painting may be enough to add some color to an otherwise dull wall … right?  well, no!
You really need to give your man cave some personality with wall decorations and man cave accessories that are a little different. I hang a bordhan on a wall in my man cave (because I'm Irish).
You can also get a cool range of sports memorabilia to hang on the wall if you are a lover of a particular sport.
19. Vintage plaques – cool vintage man cave accessories
Almost every man cave will have man cave accessories  that consist of at least one or two posters or plaques on the wall. But why settle for normal ones when you can go retro.
Although these plaques are great for a rustic man cave they fit in well with any theme or design.
Vintage plagues come in a vast array of styles to suit every type of taste.
I covered vintage plagues, posters and different types of signs for your walls here.
20. Man cave rules sign – the 1 man cave accessory every cave needs!
No man cave accessories list is complete without the obligatory "man cave rules" sign. And no man cave is complete without one.
There are lots of different variations of this sign with different rules and different designs.
If you browse through the many man cave rules signs that are available you will find a sign with rules that resonates with you and that fits your man cave décor. You can even get personalized ones.