Another weekend has ended, and you come back with pocket change from a night or two at the bar. No one likes starting the week feeling broke, but it doesn't have to be this way!
You just got done reading our post on man cave bar ideas, and now you couldn't feel more inspired. But, what's a cool man cave bar without cool accessories? With so many options out there on the Internet, we've narrowed it down to 11 of our favorite must-have items.
These essentials will make those incoming days of partying, drinking, and relaxing with your friends that much more fun.
These man cave accessories also make great gift ideas.
11 Awesome man cave accessories for your home bar
Giant cocktail shaker man cave bar accessory
First, there's the matter of how you'll make your drinks. One such option is this giant cocktail shaker from Home Wet Bar. A highly-rated man cave bar accessory, this cocktail shaker has a diameter of 4.5 inches and a height of 13 inches.
You can fit 1.75 liters or 60 ounces of fluid inside. That's enough to let you make 10 martinis if each is six ounces!
This stainless steel cocktail shaker even has an ice strainer included.
To make it truly your own, you can get it monogrammed with your first, middle, and last initials or the initials of your man cave bar's name. A true man cave essential that is not only practical but also look great.
So, even if you don't drink cocktails this personalized cocktail shaker makes a great addition to your man cave decor.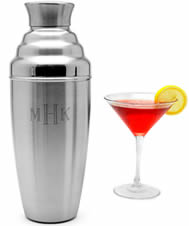 Evil skull wine bottle holder man cave bar accessory
Whether you take this bad dude out only during Halloween or leave it in your man cave bar all year long, this evil skull wine bottle holder will become the pièce de résistance in your home bar.
As an Amazon's Choice product you know that you are on to a winner. Users love it too, as it has great reviews.
This skull décor weighs 2.7 pounds, so it's not a lightweight cheap item but has enough heft to it to hold a full bottle of wine securely.
It measures 7 inches tall, 5 ¾ inches wide, and 11 inches long.
With its polyresin base, each wine bottle holder is cold-casted and is then molded by hand. No two look exactly alike, so you can be sure you have a 100% unique man cave accessory with this neat bottle holder.
While you do have to provide your own bottle of vino, this addition to your man cave bar will certainly start a lot of conversations. It's both fun and functional! This skull bottle holder goes exceptionally well with this skull decanter and skull etched glasses.
Of course there are a ton of different unique bottle holders you can use from cowboy boots to 6 shooters and I covered a selection of these unique bottle openers here.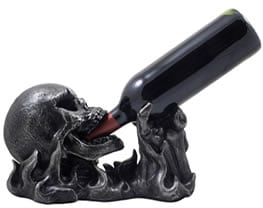 Pool/billiards octagon wall clock man cave bar accessory
We call it pool while the Brit's call it billiards. Whatever you call it the balls look the same!
Sure, you could always use your phone or even a watch to tell the time, but that's kind of boring, right? Especially in your man cave bar. So, why not rely on a cool wall clock instead?
This octagon clock with a billiards/pool theme from KegWorks looks great and would fit perfectly into any man cave but would especially suit a gaming cave.
However, you don't even have to play pool to enjoy this clock. It'll give your bar that homey, local feel most man cavers go for.
The clock itself has a solid wooden base cut into a sleek, timeless diagonal shape.
The center of the clock features 12 numbered billiard balls that act as time markers. They're placed against a backdrop of real green felt.
The clock measures 2 ½ inches deep, 11 ¾ inches tall, and 11 ¾ inches wide. It runs on a single AA battery with accurate quartz movement.
This clock is stylish but offers a unique and different look for your man cave so you might not mind watching the time go by.
If like the thought of a cool novelty clock but pool is not your game then check out the different types of clocks I covered here.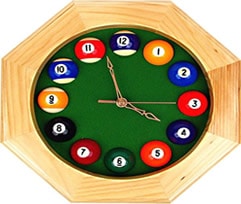 Magnetic wall-mounted bottle opener man cave bar accessory
Sometimes décor isn't always about looking impressive. You might also want something that serves a purpose. In that case, look no further than this magnetic wall-mounted bottle opener from MAGCAP on Amazon.
This little man cave bar accessory
is another Amazon's Choice product (meaning it is super popular and has high positive reviews). So, you can ensure you're getting something great for your man cave.
This bottle opener also has a bottle cap catcher bin built in to keep all your caps in one place. The entire thing is made of metal so it offers you years of use. It weighs less than a pound, so you don't have to worry about it hanging heavily on your walls.
Measuring 6.1 inches by 3.9 inches by 2.8 inches, MAGCAP's wall-mounted bottle opener has neodymium magnets that will never let a cap slip out unattended.
Installing this won't cause you any headaches either, as you get all the mounting hardware you need to affix this bottle opener and cap catcher.
You can choose from two colors: black or matted nickel. As well as being a functional addition you can make to your man cave bar it makes a great stocking filler at Christmas.
If you prefer something a bit different then, as you may have expected, I have covered different types novelty man cave bottle openers here, here and here which include openers made from a bullet, a gun and even Thor's hammer.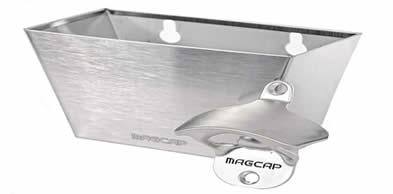 Alcohol vaporizer man cave bar accessory
Do you still drink your alcohol? You won't with the Vaportini, an alcohol vaporizer from Home Wet Bar.
This glass contraption looks super epic, but wait until you try it for yourself. To do so, you pour your favorite drink in, light the candle, and let the flame take care of the rest. Then you can use the glass straw to vape your beverage.
Once you inhale, the alcohol goes directly to the bloodstream. You'll notice the alcohol has a more fragrant taste, an improved smoothness, and fewer impurities.
By vaporizing, you don't consume the carbohydrates and calories you would by drinking your alcohol. Plus … yes … you do get drunker faster.
You get all the Vaportini pieces included in your order. These are the tea light candle, funnel, support ring, pint glass, glass straw, and globe. Your buddies will always want to hang out at your man cave bar now!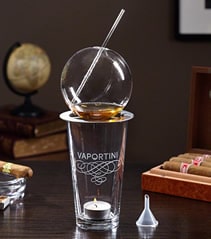 Shot glass display case man cave bar accessory
Do you collect shot glasses and want a place to show them off in your man cave bar? Then you need this shot glass display case
from DisplayGifts.
Yet another Amazon's Choice pick, this case has a depth of 2.5 inches, a width of 14.5 inches, and a height of 17 inches. Inside each slot you can stash a standard shot glass that's 2.25 inches deep, 2.1 inches wide, and 2.25 inches tall.
Your great new case will arrive on your doorstep preassembled, making your life a lot easier. You'll only have to unbox it and then hang it up. There's even back metal brackets for quick and easy setup.
The shot glass display case itself has a plywood base with black staining. If you want, you could even get a glass cover installed over the case, though one isn't included.
This is a great way to remember all your travels as you fill it up with a shot glass you buy when you visit a new location or country.
Or, you can even tell your buddies that they only get entry into your man cave bar if they bring you a unique shot glass!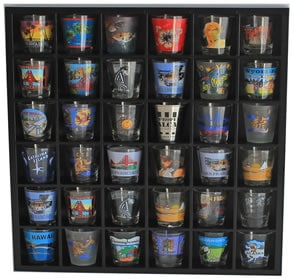 Personalized whiskey decanter set with square rocks glasses man cave bar accessory
This is another one from Home Wet Bar (they just have such great man cave stuff). As a whiskey connoisseur, you want the spirit in all the drinks you make in your man cave bar.
With this Oakmont whiskey decanter set you can make your man cave bar look classy.
You get five pieces in all with this set, including a single decanter, with its own stopper, as well as four cocktail glasses in a Rutherford style. With their premium design and superior quality you'll have these glasses for a long time.
Each glass has a diameter of 3.25 inches and a height of 3.5 inches. They can hold 10 ounces of your favorite whiskey or other liquor.
As for the decanter, it has a width of 3.5 inches and a height of 8.25 inches. Fill it up, as it has a 26 ounce capacity.
You can get the decanter and each of the four glasses customized with your name which is superimposed over your first initial for a more personalized feel.
If you name your man cave then you can use this set, along with a personalized neon sign or personalized man cave sign, truly personalize your man cave bar.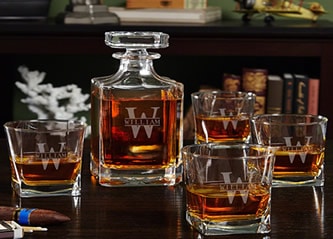 Wooden USA beer cap map 

man cave bar accessory
Perhaps you don't collect shot glasses, but beer bottle caps instead. If so, then you'll absolutely flip over this wooden USA beer cap map from KegWorks. Measuring ¼ inches thick, 17 inches tall, and 24 inches long, this beer cap map is made of Baltic birch plywood.
The beer cap map can hold 93 caps total.
Each hole in the US map should fit your favorite beer bottle caps. You only have to open the map from the back and then push the caps in, arranging them your way. With pre-drilled holes, you can easily attach this cool wall item anywhere in your man cave bar.
This is another great way to keep track of every location of have visited in the US. Or, you can tell your buddies to bring you the cap from a local beer bottle every time they visit a different location until you've filled up the entire map with a beer cap from beer made at each location.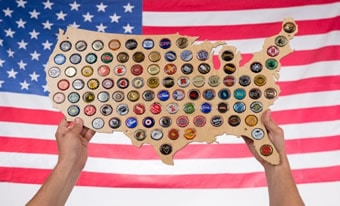 Bullet bottle opener man cave bar accessory
Here's another awesome bottle opener, as it's a bullet! Yes, a real bullet. This unique Home Wet Bar find is about as authentic as it gets as it comes from a legit round fired by the U.S. Military.
As a 50-caliber shot, it's got a long, sleek profile that makes it perfect for showing off to everyone who visits your man cave.
Not only does this bottle opener look amazing, but it works, too! Grab it when you want to open a beer and it'll peel the top for you.
You can even get the bullet engraved with or your name your man cave bar's name.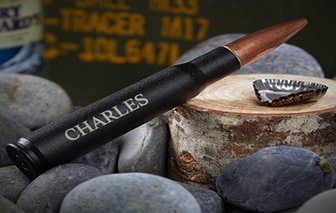 Liquor dispenser man cave bar accessory
Why would your pals ever go out to a bar again when they can just visit your man cave? With this liquor dispenser
from Wyndham House, you'll make your home bar look and feel like the real deal.
This dispenser can keep four bottles of your favorite alcohol (but you have to provide those bottles yourself). It has easy-to-use push-release valves that require only a gentle press. Then your drink of choice begins flowing.
Rubber suction cups will keep each bottle in place, as do the ribbed rubber bottle inserts.
You can attach this liquor dispenser to either your cabinet or your wall. The dispenser itself weighs 1.59 pounds. That makes it a lightweight option for any man cave bar.
The entire thing measures five inches by five inches by eight inches. It's a great cheap way to make you man cave bar look much more authentic.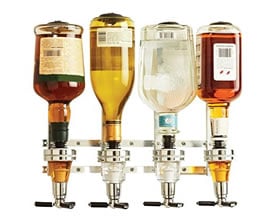 Neon bar signs man cave bar accessory
No man cave bar is complete without a neon man cave bar sign, like these ones
.
Have you ever entered a bar that doesn't have a neon sign?
No …
… then why should your man cave bar be without one?
Even if you've built your man cave bar on a budget (as I showed how to do here), the addition of a neon sign will be one man cave accessory that will make your home bar look professional and expensive.
There are a ton of different designs and sizes available. You can even get personalized ones and the great news is they are super inexpensive.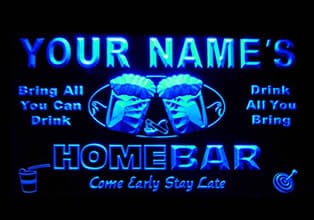 Conclusion: 11 awesomely unique man cave bar accessories
Now that you've got your ideas nailed down for your man cave bar, you need man cave accessories. Whether those are glasses and decanters, wall décor, or anything in between, the 11 items on this list should have your bar looking cooler than ever.
If you need more bar ideas check out the entire section about man cave bar accessory gift ideas here.