You've got your man cave all decorated thanks to our recent guide, but you still think it could use something more. Namely, you'd love to add a home bar to this space. Not only would you make all your friends jealous, but you'd have the coolest place in town to retire to at the end of each day.
If you're jonesing for a bar in your man cave, you're in luck. In this article, we're sharing our favorite man cave bar ideas. From rustic spaces to tiny ones, and sports-themed bars to inexpensive designs, there's something for everyone here.
If you have no idea where to starts and/or are on a strict budget be sure to check out my article on building a man cave bar on a budget as it is packed with useful information and tips for sourcing bar materials super cheap or even free.
Below you'll find a man cave bar idea to suit any space whether it be super large or very small.
Build a man cave bar like your local bar. Perfect for a larger space
If you and your friends have a favorite local bar you love to visit, you might decide to replicate it for your man cave. We imagine the result would end up looking something like the man cave bar shown below.
One thing we here at Man Cave Know How can't get over about this space is how warm-looking it is. From the ensconcing yellow lights to the reflective ceiling panels, the bright stone walls, and the light hardwood flooring, you can almost feel the hominess radiating from the image yet it still resembles a professional bar-like feel.
This man cave bar doesn't have a ton of flourishes, and that's okay. The ones you do see matter more. There's the wooden corner bar, with adjoining wall-mounted television, a plush leather couch (a vegan leather couch would work equally as well at a fraction of the cost), and of course, a pool table. What bar feels complete without one?
If you want it to look even more like your favorite local bar then consider adding a neon bar sign to the mix like these ones
or if you prefer a more personal touch consider a man cave neon sign.
Be sure to also incorporate some cool man cave lighting into the space to complete the look.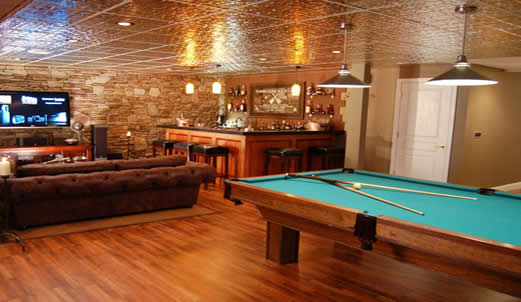 The rustic touch man cave bar works for both large & small spaces
If you favor rustic décor, then you'll want to do up your man cave bar much like the example shown below. Everything here has an old-timey feel, from the perfectly distressed ceiling to the exposed brick walls and simple flooring.
The great thing about building a rustic man cave bar is that the older the man cave bar accessories the better; it takes much less work to decorate your bar cave with battered décor than it does to polish accessories up like you would in a modern man cave.
To match the saloon-type feel of the bar, this man cave owner has added antique-looking stools with mid-sized backs though modern backless stools would work just as well.
Don't forget your décor, as it will really drive the theme home.
In this space, there's a set of stirrups on the wall as well as an old-timey mirror behind the bar. With a simple chandelier, a vintage couch, and even lantern-style lighting, you feel like you're living hundreds of years before 2019 in a man cave like this.
Release the cowboy in you with this authentic looking cowboy man cave bar.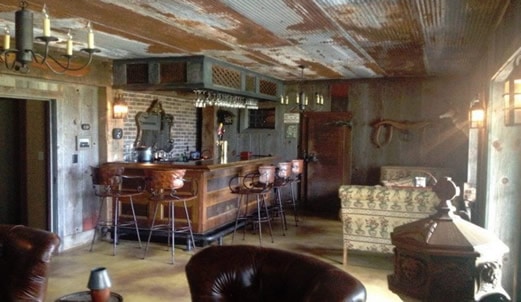 Knock it out of the park. Suits both a large or small man cave bar
I've already covered how to create a sports man cave in a previous post but what about adding a bar? Well below is a baseball themed man cave bar but the ideas presented work equally well for any sport.
Can't get enough of baseball season? Do you plan on watching all the games in your man cave? If so, then you need to dress up your bar like the one shown below.
The sports touches here are a great way to show your love of the game but don't overwhelm the space. There's a few framed jerseys and a framed baseball poster in the center of the bar.
We also spot some hockey jerseys across from the bar, so you can hang up framed jerseys for any sport you like if you want to take a mix and match approach.
The bar itself looks upscale. We quite enjoy the dark-colored wood and the bright hanging sconces.
Basic padded metal bar stools complete the look by adding a splash of chrome. Sometimes simple works best, such as this example. With subtle sports nods, if a significant other or spouse used this space, even they'd probably like it.
The only addition that we would make to the man cave bar shown below is extra lighting. Dark wood tends to suck up light and can make a space feel gloomy. Track lighting, such as these cool beer themed lights from Britain, or extra ceiling lights would help lighten the area.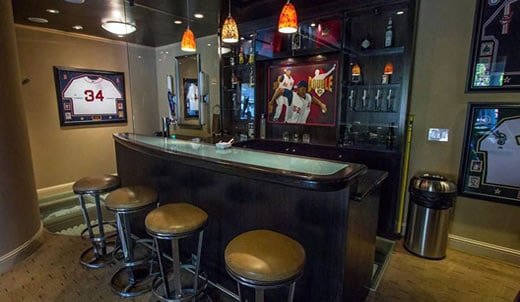 The cozy corner man cave bar is perfect for tight spaces
No space? No problem! If you're seeking some small man cave bar ideas, look no further.
The little corner bar shown below proves that you don't necessarily need a huge space to build a man cave that you and all your pals can enjoy coming to.
This room has eggshell painted walls and carpeted flooring, so it's nothing too expensive. The mini bar in a glossy dark wood tucks into the corner of the room nicely.
The matching hanging mirror on the back wall makes the bar look more official. Not only that, but it also creates the illusion of more space. In a small man cave, that really helps.
There are pother tricks you can use in a small man cave to increase the feeling of space as we highlighted in the article how to make a man cave in a small room.
There's a handful of simple cherry-red chrome bar stools that help to give this man cave bar an exclusive type of feel. However, it's the décor that really takes this bar from ordinary to extraordinary.
From the glass cigarette dish to the empty booze bottles, the figurine of a bearded man in a hat, and the little "drinko" sign, the space already feels cozier. There's also a few beer signs on the walls that add to the bar-type feel..
Isn't this the kind of man cave you could see yourself spending hours in? We sure could!
This is the type of home bar that fits perfectly into your cave when you have limited space but what if you have almost no space at all?
If the above ideas may have piqued your interest, but you just don't have the available space to pull them off or you want some man cave bar ideas on a budget, you're in luck. We think this next example will suit you much better.
Here's one of our simplest and thus least expensive ideas for those space-conscious man cavers.
This one has exemplary lighting that makes all its features stand out. The man cave owner also used a really nice paint color for the walls that helps the decor really punch through. We like the utilitarian feel of the silvery gray and also how it looks like a blank slate for decorating.
We love the box-type appearance of the shelving.
You can recreate these hanging wall shelves yourself with some old wood crates. Just make sure you sand them down well to avoid splinters. Finishing the wood with a lacquer or gloss can not just help create a rustic look but also also increase its longevity. Then, put whatever your heart desires on the shelves.
Of course you can buy similar rustic style shelving in a wide variety of styles, like these
, and you may find that a different style better suits your man cave bar.
The steel fridge looks impressive though you can get even smaller super cool man cave fridges in a variety of different desgins from Star Wars to giant coke cans. You can use a fridge to stash whichever spirits and ingredients that require refrigeration as well as for keeping your beer cold.
More wooden shelves on the other side of the fridge can be used to hold glasses and liquor bottles. Atop all that, you'll find an attached shelf for wine glasses and other flutes in our mini man cave bar example below.
While your budget may limit you to a mini bar instead of the full thing, as you can see from this image, that's not such a bad thing at all. You can create a fully functional bar even in the tightest of spaces.
The only addition we would make to the mini man cave bar idea shown below is a kegerator. A kegerator is a very space-efficient way to get cold beer on tap without breaking the bank.
If you don't even have the room for the type of man cave bar shown below or have an extremely tight budget then you should review the other ideas I gave for small sized man cave bars here.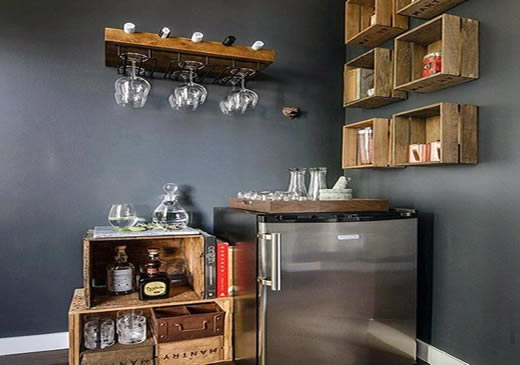 Building a man cave bar down below when the basement is your best option
Many men have their man caves hidden away in the basement of their homes. That doesn't have to stop you from creating an amazing man cave bar though, though. In fact, it's just the opposite. You can use your basement's limitless potential to make something truly amazing.
Take the image below. You can just tell this bar's in a basement from looking at it. The lack of natural light has been greatly offset by the clever use of both ceiling light and hanging lights above and below the bar counter.
The fresh wood paneling build into the recessed wall of the bar looks great. We also love the lighting beneath the bar itself. Dark wood is usually a no-no in a naturally dark space like a basement but this man caver has ensured the dark wood does create a gloomy feel by incorporating lots of light as well as 2 bright TV screens.
Once again, we're not talking about a huge bar here. There's a lot of counterspace, yes, but the bar itself? Not so big.
We even spot a coffee maker and a microwave, so you also have the option of bar snacks. If you follow this idea and are a sports lover consider adding the fun NFL and NCAA snack helmets I covered here.
This bar is a simple space but looks amazing. The Pinterest user who created it said he put it together in six days.
This bar is not so overly involved that you'd have to devote months to the reno project. It's also not so simple that it looks hastily assembled. So we think that's doable for most of our readers.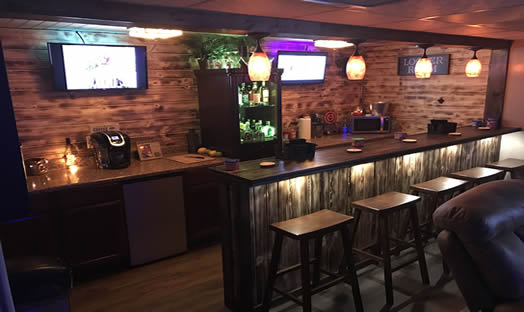 The musician's cove man cave bar works well in all spaces
Do you always have music on your mind? Perhaps you're even a budding musician yourself. If so, you can create an ode to your love of music with your man cave bar. It's easy if you follow an example like this one.
The bar's not the central focus of attention in this man cave, as you can see from the image below, but it definitely deserves some nods. The bar is an addition to the guitar-theme that is going on in this man cave.
This entire upscale man cave has rich medium-colored wood surfaces that evoke a friendly, welcoming vibe. Beyond the bar, there's a wraparound couch in a blue fabric. The coffee table with a leather surface fits perfectly among the couch's dimensions.
On the wall opposite the bar, there hangs four guitars. With beautiful backlighting, each instrument looks museum-worthy. We spot a small acoustic guitar draped against the wall to complete teh guitar theme.
Of course you can use other instruments or a mixture of instruments and they don't have to be expensive either. You can pick up cheap instruments
for wall hangings and can even get electric guitars to hang for less than a hundred bucks like these ones
.
There is also be a large sound system installed on the wall right by the door. If you love music as much as this man caver does, you might as well play some awesome tunes in your man cave.
If you do go for a design like this don't forget to put a guitdoorbell up!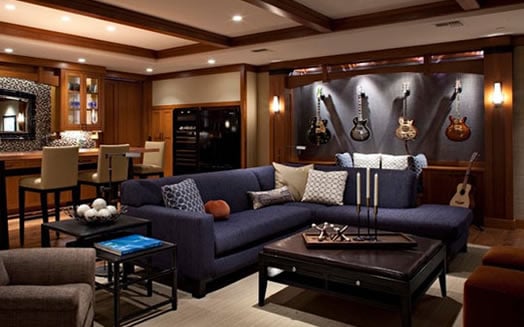 The arcade style man cave bar needs a little more room
Ending this list on a fun note, we've got this man cave bar that would bring out the kid in any guy. It's an utterly stunning space, one that requires tall walls and high ceilings if you want to recreate the same effect.
The simple curved wooden bar has several design flourishes that make it memorable. For instance, we quite like the large metal squares and rectangles along the front of the bar that have been created with simple decals.
The static-looking panel behind the TV is another cool feature. The same goes for the series of wall prints surrounding the bar.
There's very vivid lighting throughout, so the bar lighting stays simple. With several small hanging sconce lights and a single cone light, this space is always illuminated. At night you can see how the neon signs would add even more light to the gaming area.
On the other side of the bar, where all the neon lights beckon you, you'll find the best part of this man cave, the arcade!
With several games available, you and your friends can play for hours, trading high scores. A cheaper alternative to arcade machines would be casino machines that are simply mounted on stand-alone stables with bar stools for seating. I covered a few casino man cave ideas here.
The polished hardwood floor reflects all those bright, zany lights and makes the room look even bigger and brighter. You can recreate this flooring look with simple wood panel-effect wallpaper and epoxy resin.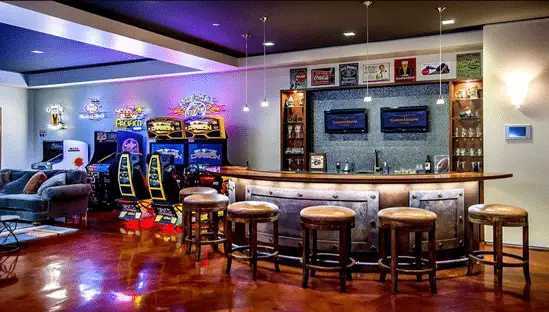 Why build a man cave bar using one of these designs?
Man caves are cool enough on their own, but those with bars are even better. We think you'll agree after reading this article that it is possible to create a really cool man cave bar to add to your exiting cave.
Want to make your own man cave bar? Whether you're thinking of using our man cave sports bar ideas or any of the other images on this list for inspiration, the sky's the limit. You don't need a ton of space nor a lot of money to make a space that you'll love to use for entertaining.
All of the above man cave bar ideas are simple to implement and when you do it right you'll have a man cave that will be the envy of your friends and neighbors.