Uh-oh. You put so much time and effort into the décor and look of your man cave bar that you forgot one key ingredient: seating! Your buddies are coming over this weekend, and they have to have a spot to park their butts. What you need are some awesome man cave bar stools to match your awesome man cave.
Well, look no further, as we've got the perfect solution for you. Our cool man cave bar stools are so awesome that they would complete any setup. Whether you're seeking modern bar stools or more rustic picks, you'll find them all here in this handy list.
Let's get started!
Our top 10 man cave bar stools at a glance
Satori by Windsome
Settle swivel from Williston Forge
Boorman's rustic swivel
Adox's traditional
Yaheetech's 2-tone wood and metal
Ikea modern adjustable
Square adjustable by Leopard Outdoor Products
Industrial styled by Furmax
Old timey from LOKKHAN
Homemade-style from atozwoodworksncrafts
Let's look at these bar stools in closer detail.
1. Man cave bar stools for the rustic minded
Here are some really cool rustic man cave bar stools for man cave spaces. These Winsome Satori rustic stools
on Amazon will make your space look great. You can get these seats in packs of two or even packs of four depending on the size of your man cave bar.
These simple wooden bar stools measure 24 inches tall, 14.47 inches deep, and 17.48 inches wide.
These man cave bar stools made of beechwood and come in an appealing walnut color. It's a darker brown than many people are used to but isn't so gloomy that it would detract from your man cave décor.
With their traditional design, the Winsome Satori stools have square-shaped legs and a contoured top. There's no cushions here, true, but these seats are a lot more comfortable than they appear. You'll come to agree when you spend hours sitting here with your friends catching up over drinks.
These stools are very competitively priced and a lot cheaper than many alternatives so if comfort is a concern a simple cushion cover can add additional cushioning for your butt for just a few bucks.
With these particular man cave bar stools a regular stool cushion will not do (because they are round) so you'll need to choose from ones like these.
Although these stools are pretty cheap to buy, Mick actually posted a video on how to make this type of bar stool yourself for less than 10 bucks here.
This is the best man cave bar stool for a rustic man cave.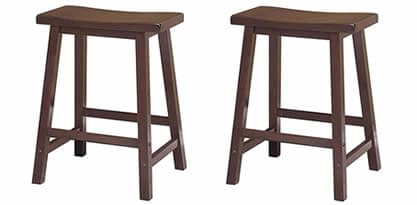 2. Modern swivel man cave bar stools
If you're bouncing between one conversation and another on either side of you in your home bar then you want the freedom to move easily. Otherwise, you'll end up with a sore neck from craning your head all night.
Enter the Settle swivel bar stool from Williston Forge on Wayfair.
These appealing man cave bar stools come in a two-pack and you have a choice of size. You can have either 24″ or 27″ high, so they work with bars with even taller counters. The standard bar stool is 24″ in height.
Each stool has a weight capacity of 250 pounds. The stool measures 20.5 inches deep, 19 inches wide, and 36.5 inches high.
With their comfy upholstery and low back style, you won't want to get up. These man cave stools are super comfortable.
Stylish and modern, the Settle swivel stools have black metal bases and white faux leather backs and seats.
The back of each stool has an opening for plenty of ventilation so you avoid that sweaty back syndrome that is so common with many leather backed man cave bar stools. Although open the stool still gives optimum support to our back.
This is the best man cave bar stool for a modern man cave.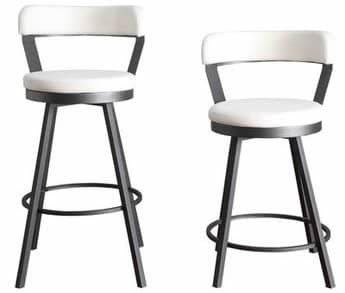 3. Rustic swivel retro man cave bar stool
If you like the idea of a swivel stool but don't like the modern look then the next bar stool on our list may be just up your street.
They have a '70s feel making each on a great retro bar stool, man cave style.
This Boorman Augusta swivel stool
on Amazon has the rustic look of a traditional bar stool but offers the modern convenience of a swivel function. What's more its padded seat and back add more comfort than a traditional rustic stool without making the stool look much different.
You can get a single stool or up to two in a single order. They come in two heights – either 24 inches for a standard bar height or 29 inches.
The stool can swivel and spin a full 360 degrees, giving you awesome movement in your man cave bar. The footrest and legs both come flared for an appealing, durable design you'll love.
The chairs themselves are hardwood but include faux leather cushions backed with high-density foam that are really very comfortable.
The only drawback to these stools is that some assembly in required, though it's fairly straightforward.
There's several colors to choose from, including all black, cappuccino (with darker wood and black cushions), and cherry.
We just love these man cave bar stools as they offer the style of a rustic stool with modern comfort and convenience.
This is the best man cave bar stool for a retro man cave.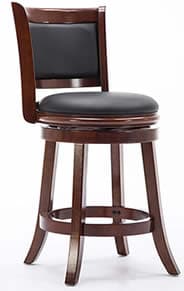 4. Cushioned traditional man cave bar stool
Some guys prefer the more traditional look of a bar stool without the back.
If you like the idea of your man cave bar stools being rustic yet modern, but don't want them to have backs, then give these Alcott Hill's Adcox swivel bar stools a try.
This Wayfair pick has a solid walnut wood frame that can hold 220 pounds. The upholstered faux leather seat in black has cushioning that cradles you as you sit. The cushioned faux leather seats offer a good degree of comfort even over long periods seated.
Again, there's no back support, but many people prefer this.
These bar stools are meant for bar counters between 24 inches and 27 inches tall.
Each stool is 16.97 inches deep, 16.97 inches wide, and 24.21 inches tall. These hefty chairs weigh 13 pounds apiece, so they're not lightweights by any means.
Oh, did we mention these traditional looking seats can spin in modern style? Because they can! You can rotate each Adcox stool a full 360 degrees.
This stool comes in at roughly the same price as the Boorman swivel stool mentioned above and for that reason we would choose the Boorman stool over it but that is really just a personal preference.
If you prefer a style of stool without a back then you really can't go wrong with the Adox.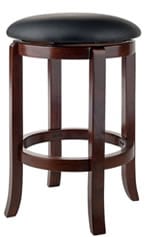 5. Two-tone stylish wooden bar stools
This Amazon's Choice pick is a stylish wooden bar stool that would fit into any type of man cave bar.
Yaheetech's wooden bar stools
have that same backless rustic look as the Adox but with a twist – they come with black metal legs capped with pine colored square seats.
You get four stools with your order, making this a cost-effective purchase. The seats weigh 33 pounds apiece and measure 26.2 inches tall (slightly taller than the average bar stool), 15.7 inches wide, and 15.7 inches long.
The stools have a metal base with an X-brace that promotes better stability and gives more support. With non-mar feet, your pals won't make noise in their seat each time they want to scoot up closer to the bar. Your man cave floors will also be thankful as the chair feet will avoid leaving scuffs.
The seats come assembled right out of the box, saving you time and effort. You want to know what's even better? When they're not in use, you can stack these bar stools atop one another and free up your man cave floor space. This makes them ideal for small man caves like the ones we showed readers how to build here.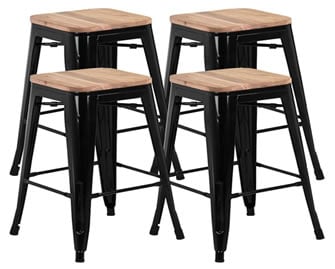 6. Adjustable man cave bar stools on a budget
Sometimes you don't want a bar stool that costs an arm and a leg, yet you still want something functional and stylish. IKEA delivers this with their Janinge bar stool.
These versatile, no-frills plastic bar stools feature a scoop seat with low back. You can adjust the long metal base, some of which is coated in plastic. At its lowest, this seat stands at 22 inches tall.
However, you can raise it to 29 7/8 inches making this a very versatile stool suitable for bar heights between 35⅜" and 43¼"
The Janinge has a diameter of 16 ½ inches, a depth of 14 inches, and a width of 15 inches.
Those up to 243 pounds can sit on this stool.
IKEA finishes each seat with a surface treatment that will prevent scratching. There's even a footrest so your feet don't dangle. If your friends need their seats at different heights, they can easily lower or raise their stool one-handed.
Don't be fooled by the Ikea brand name nor the fact that these seats are plastic. They look very stylish and offer comfort even over long periods.
This is the best man cave bar stool to buy if you are building your man cave bar on a budget as Mick demonstrated how to do here.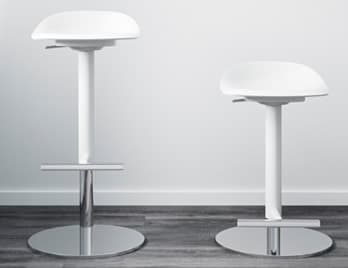 7. Incredible value-for-money square adjustable man cave bar stools
Like the idea of picking up some super stylish bar stools when on a budget? Then you may want to consider this set of two bar stools for under $100!
Leopard Outdoor Products modern square adjustable bar stools
are an Amazon's Choice product that is super budget-friendly. Highly-rated, these attractive stools have faux leather throughout on a frame of chrome.
The square-shaped indents in the faux leather give these stools a classy appeal. Your friends won't believe you didn't pay more for them (or just don't tell them)!
The stools measure 15 inches deep and 16 inches wide. You can adjust the height from 21.5 inches to 31.5 inches using a metal air-lifting lever beneath your chair. Speaking of what's under your chair, there's a sturdy chrome base with a diameter of 15.15 inches.
The high-density foam in the faux leather seats will provide hours and hours of comfort. When you finally get up off your bar stool to make more drinks, you won't have a sore butt or achy legs which is common with some man cave bar stools.
You can also spin to your heart's content with 360-degree swiveling capabilities. Leopard Outdoor Products makes these bar stools in a wealth of colors. These include silver, cherry red, orange, khaki, brown, beige, white, light gray, dark gray, and black.
An exceptional buy offering amazing value for money.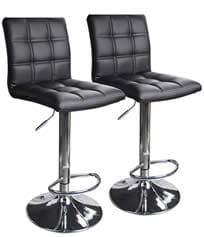 8. Cool industrial looking man cave bar stools
Do you have a stripped-back man cave with a disaffected feel and you're struggling to find man cave bar stools to match? Maybe you have a garage man cave that is styled after your favorite vehicles or motorcycles and you need stools with a garage-feel. Happily, the search is finally over.
Furmax's metal backless bar stools on Amazon will add to the aesthetic look of a grunge man cave and provide comfort at the same time.
You can move these chairs outdoors or indoors as needed. With their double varnish paint job, they won't ever rust or get damaged from water.
You'll also appreciate the stability of these babies. They too have X-braces for greater strength.
Arriving in one piece, you can stack these chairs up in one pile after a long night at your home bar. With their no-mar rubber feet, they won't ruin your floors either.
One chair weighs 46.5 pounds and has a height of 30 inches.
The gunmetal color looks pretty awesome, but if you want some brightness, you can also select from hues like sky blue or bright red.
This is the best man cave bar stool for a basement man cave or a garage man cave.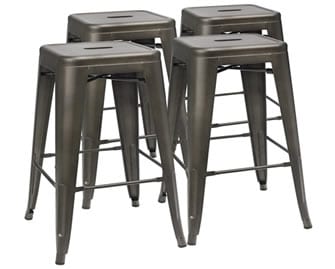 9. A bar stool for the old-timey man cave – yeehaw!
We offer a list on man cave bar stools without mentioning LOKKHAN's industrial stools
on Amazon. These antique-looking stools will make you the envy of all your buddies, who will clamber to take turns sitting on them.
The cast-iron stools move a full 360 degrees swiveling functionality. You even get a built-in footrest bar so you can truly relax in your man cave. The hip curve design also makes this chair friendlier on your body than most other man cave bar stools.
With an adjustable height of 22 to 29 inches, you can set this backless chair at the most convenient height for you.
The manufacturer has covered the entire stool in a powder-coat paint that will keep it from rusting making these man cave bar stools perfect for outdoor man caves like the ones we covered here.
With that turn-of-the-century vintage industrial look these stools would also suit a rustic man cave or a cowboy man cave.
The rubber feet keep your chair from scraping on the floor. You can get this unique chair in silver, rust, or copper – this is the best man cave bar stool for a cowboy man cave.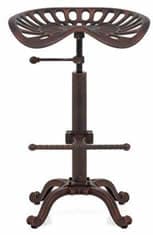 10. For that homemade look – DIY-style man cave bar stools
Recycling and upcycling is all the rage today as I covered here, and rightfully so. If upcycling junk for a cool stool appeals to you but you don't have the time to do it yourself, then prepare to fall in love.
These backless rustic stools from atozwoodworksncrafts on Etsy have that homemade look but with a professional design.
Each wood piece that forms the basis of the stool was lovingly and carefully picked so you get the best possible chair. The manufacturer picks wood with nail holes, rings, and knots in order to create a truly rustic looking stool that has that old-feel about it.
Once assembled the stool is painted for durability but the manufacturer tries to keep the natural colors as much as possible.
If you want to customize your stool then you can, to an extent. You can ask for different colors, stains, and stool sizes.
This is the best man cave bar stool for a DIY backyard man cave.

Conclusion to the best man cave bar stools & something a little different
Now you don't have to fret about finding the perfect bar stools for your man cave. Whether you want a budget pick or something pricier, homemade or stylish-designed, our top 10 awesome man cave bar stool picks should be enough to inspire you.
If none of the above man cave bar stools takes your fancy or you have a themed man cave then be sure to check out Amazon for a range of novelty-styled bar stools
. There you can get some really cool and awesome styles.
There are stools featuring superheroes and stools with pool styled 8 balls as well as Harley Davidson or Jack Daniels inspired chrome stools.
You can even get a folding stool shaped like a whiskey bottle cap
!
Of course there are also sports and team specific man cave stools available for a sports man cave bar. In fact there are a ton of great ideas to choose from so I urge you to check them out.