Is your man cave in need of some exciting seating ideas and cool chairs to match its unique and exciting decor? Perhaps when you first put your man cave together, you kind of rushed through that part, grabbing whatever chairs you had handy. Now, you think you want to put some time into really coming up with some great seating options.
Where do you even start? … Well, you start with this blog post right here. We're always on the hunt for unique seating ideas that suit man caves of all styles, and we think we've found some pretty exciting picks. Just take a look for yourself. From upcycled seating to vintage and sports-inspired picks, this list has seating and chair ideas for every type of man caver.
15 Amazing man cave chairs & truly unique man cave seating ideas
Below are my 15 picks for the top man cave chairs, both on the market and available for purchase and DIY man cave seating ideas.
These man cave chair ideas should suit a variety of different man cave designs whether the cave be big or small.
Ski bar stools – man cave chairs for the snow lover
Looking for some barstool seating that will really get all the boys talking? These customized, homemade stools are made from legit, authentic skis.
Each ski gets installed into the base of a wooden chair to give you a very sporty seating option.
As we said, you can customize yours, selecting from an array of colors, patterns, and designs. For instance, this American flag Adirondack-style chair on Etsy has a perfect recreation of the USA flag.
If you're an avid skier, you once were, or you know someone into it who can spare a few skis, you can make these chairs yourself. You can then recreate this project in whatever style you want.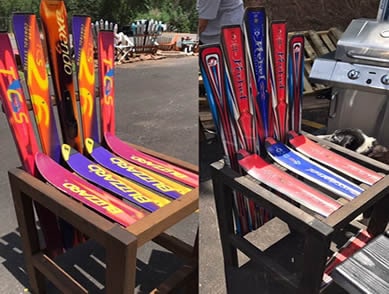 Sports logo seating – man cave recliners for the sports fan
Okay, so it's a recliner, not a chair, but still, we couldn't pass up these awesome recliners emblazoned with sports logos.
You can shop them right here, choosing from particular sports and specific teams such as the Boston Red Sox, the Baltimore Ravens, the Washington Redskins, the Philadelphia Eagles, the New York Yankees, and countless others.
These cool man cave chairs are perfect for a sports man cave.
Depending on the team, some of the chairs are available in plush, colorful microfiber and others leather.
Once you sit down in one of these bad boys, you might not want to get back up. Oh well, it's your man cave, your rules!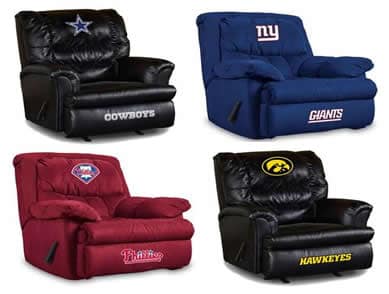 Bungee chair – a man cave seating idea with some spring behind it
We're sure you've never seen a chair like this before!
A bungee chair includes a steel frame for support so you can sit and chill all day. This one on Amazon
can hold up to 225 pounds per chair. The polyester rim has a 600-denier count for appeal and reliability.
The bungee part is teal in this case, but you can probably find this style chair in just about any color you desire. The one featured below can fold so you can stash it in a closet or spare space when not in use.
Watch out who you invite over to your man cave, as you might all fight over who gets to sit in the bungee chair! Luckily, you can place an Amazon order for a two-chair set.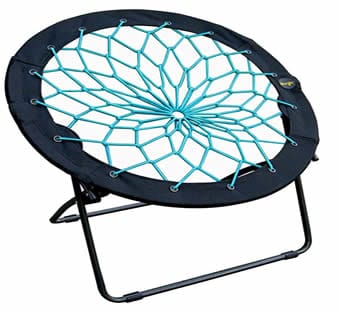 Spiky round man cave chair for the prickly personality
You're a man who likes his space. Now no one will want to tangle with you when you sit down on this unique recliner.
This rounded red chair has simple armrests and cushioning, but that's okay. It's not necessarily about the chair itself, but rather, the large metallic spikes that protrude from practically every surface.
These spikes act as the chair's four legs, and the rest serve a purpose, too. They tell any unwanted company to stay away lest they get poked.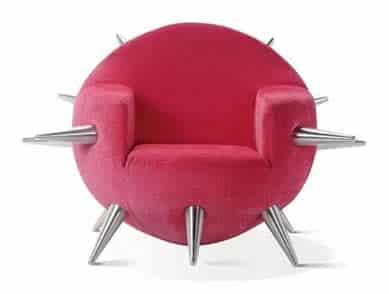 The disco chair – when your man cave seats need lighting up
Bring back the 1970's disco era with this stunning seating idea. Yes, you're looking at a real chair, not some electric light show.
According to Bless This Stuff, a design company called Kiwi & Pom make these chairs, which feature tons of electroluminescent wire. When you turn the chairs on, they glow in a rainbow of hues. You can even use a pulse and flash setting so the chairs shine like disco balls.
This would certainly make a major impact on any man cave, especially if you turned out the lights and showed everyone what this chair could do.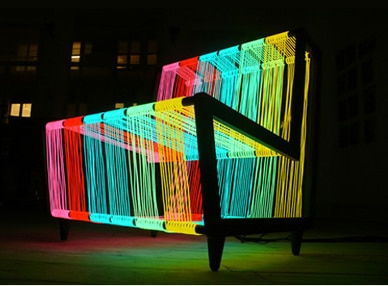 Scorpion armchair – man cave chairs don't get any cooler than this!
Badass and functional, this jaw-dropping scorpion armchair comes from the imagination of Vyacheslav Pakhomov, a Russian woodcarver who also dabbles in sculpting and painting. He favors bio-gothic designs and makes a lot of furniture featuring critters and insects, such as this one.
With leather cushions and a sturdy oak base, this smooth, slightly terrifying chair would make any man cave a thousand times cooler.
We doubt any of your friends would try to steal your seat if it looked like this.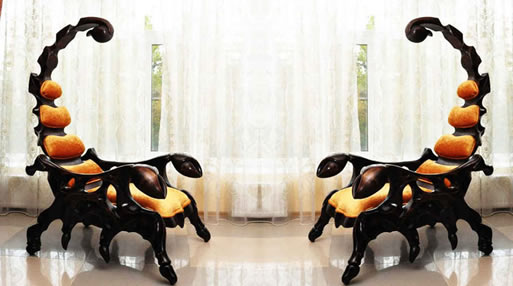 The ghost chair – a man cave seating idea that's beyond this world
This pick really goes by the name Ghost Chair. When you look at it, you can see why. The transparent seating and backing allow you to see your man cave décor through the chair.
This ghost chair
is available from Amazon but if you're a bit handy, you could always recreate your own Ghost Chair using a standard seat.
To make your own ghost chair you'll need some exposed logs measured and cut to size. Then, use thick acrylic sheets for the rest of the chair cave seat and there you go.
This man cave seat would look awesome in almost any man cave.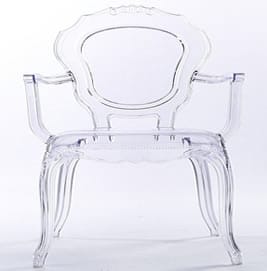 Shark chair – when your man cave seats need that extra bite
People always care about sharks during Shark Week, but if you love these dominators of the sea the rest of the year, then you might consider outfitting your man cave with your very own shark chair.
This one comes from Porky Hefer, a designer based out of South Africa.
The shark chair hangs so you can gently spin from the gaping maw of this ferocious creature. Even better, this awesome seat has some depth to it, so, depending on your size, you could lie back and stare at the roof of the shark's mouth.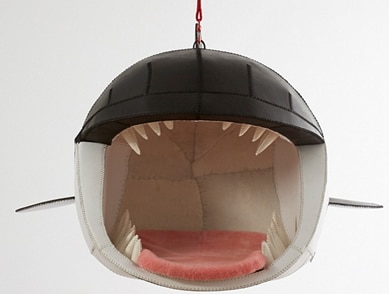 Soccer ball chair – man cave seating that scores the winner
Egg chairs add a certain mod chicness to a man cave, which may fit if you're going for a more retro look with your space. This one works better for sports-themed man caves, as the leather panels resemble the skin of a soccer ball.
Plush, comfortable, and modern, you'll swivel and spin in your egg chair to your heart's content.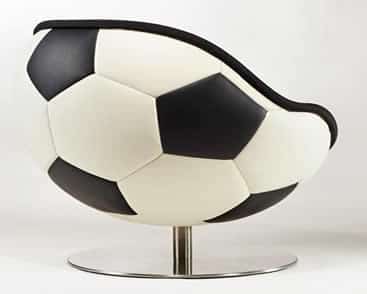 Football chair and ottoman – a man cave seating touchdown!
Sports chairs come in all shapes and sizes and it isn't just soccer that gets its own style.
This American football chair
comes with it's very own ottoman for added comfort and relaxation.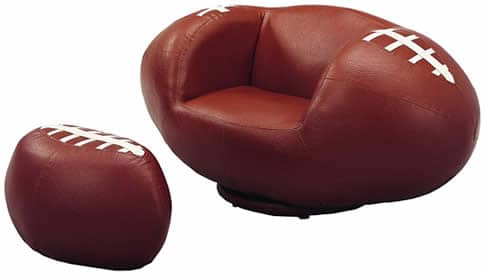 Baseball glove chair and ottoman – man cave seating that knocks it out of the park
If football isn't your bag then this baseball glove chair might be in your ballpark!
There are two different style of baseball chair available. One is leather and the other is fabric.
This fabric baseball chair also comes with it's own ottoman and would fit perfectly in a baseball themed man cave.
Check out the leather baseball chair here
.

For more sports themed furniture ideas check out our article on creating a sports man cave.
Animal-shaped chairs – man cave seating ideas for vegans
Maximo Riera, a designer hailing from Spain, created these staggeringly amazing animal chairs. He plans on making 15 designs, with three out there right now.
One has the long, spindly legs of an octopus. The level of detail here will amaze, as every feature is accurate, down to all the octopus' suckers.
The other chair, a walrus, showcases imposing tusks and layers of bulk that make this chair durable. The rhino chair displays a bust of this endangered animal, its horns protruding menacingly.
The generous leather padding, curved chair design, and sturdy, structured legs make these chairs marvelous across the board.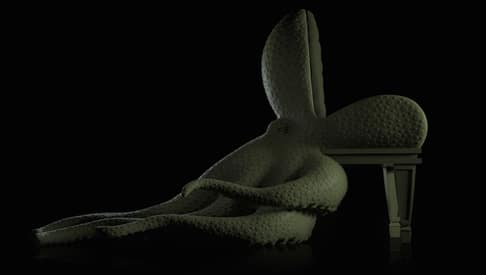 The loopita spiral chair – man caves seating ideas that go in circles
Sort of resembling a curly fry (at least in this picture), you're probably looking at this and wondering how the Loopita counts as a chair at all. Ah, but it all depends on how you use it.
The brainchild of Victor Aleman, the Loopita has panels of high-density foam as well as a red oak base.
You connect several of the units to make one Loopita that's as short or as long as your man cave allows.
You can curl the Loopita into a giant circle and then have two people sit on either side, such as this example shows.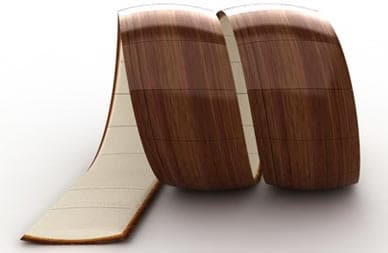 Balance ball chair – the man cave chair that fixes your prosture
Do you ever wish you could exercise in your man cave without doing much of anything? Enter the balance ball chair. It comes with a giant balance ball that you sit on for as long as your legs and core can handle.
A metal support bar keeps the ball in place even as you move about. If you spend even half a football or baseball game on this chair, you'll get some decent exercise.
Even better, you can buy such a chair right here
on Amazon. Produced by Gaiam, the chair comes in a slew of colors. These include Wasabi (lime green), purple, Ocean (dark blue), green, fuchsia, Forest (dark green), Cool Grey, blue, and black.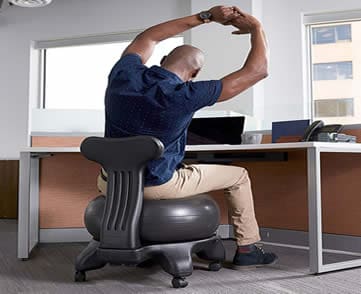 Super cool quartz armchair – a man cave seating idea for modern digital minds
Feel like you're sitting in the Iron Throne itself in this incredible quartz armchair available on Touch of Modern.
Produced in Italy in limited quantities, the chair is 47 inches tall with a diameter of 59 inches. It's made from solid beech, natural foam, and aluminum. The upholstery, a Gaia 3D cotton, comes in rust gray and shades of blue to give it geometric detail.
Davide Barzaghi and CTRL ZAK banded together to create this wondrous piece of furniture, which has hexagon and pentagon-shaped cushion crystals that are extremely comfy to sit on.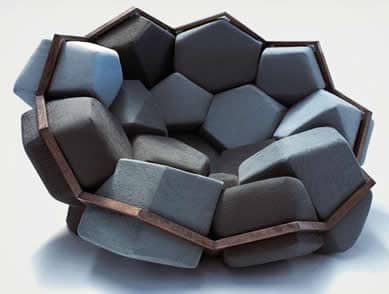 Conclusion – You don't have to stop with 15 man cave seating ideas & man cave chairs
Does your man cave contain only rickety old wooden chairs that you had lying around your house or cheap plastic seats you got at a yard sale or from Craigslist.
Now, you want to upgrade to something that will make everyone much more impressed when they come to visit.
The ideas we presented in this article should give you a good direction in which to start your seating quest. While only some of the chairs we featured are available for commercial sale, all would make your man cave look beyond epic.
Be sure to also check out my article on man cave furniture for more unique seating ideas and to perhaps find a table or two to go along with your new man cave chairs.