In life, there are things you need to have and things you'd like to have. When it comes to the man cave essentials there are some man cave must haves. here we list 10 of these items. Yes, you need them, but they look so cool, you'll be happy to have 'em, too.
Man Cave Essentials: 10 Man Cave Must Haves You Need ASAP
If you're designing a man cave from scratch, you'll love this list but even if you already have a man cave you may find a few items that you initially missed.
We've found 10 items that every man cave needs – the man cave essentials that your den may be missing out on.
From seating to surround sound and virtual entertainment to games here is a list of the 10 man cave must haves. So, it's time to get shopping!
1. Man cave seating – the essential item every man caver must get right
Do you fancy setting up your man cave like your own private movie theater? If so, then these amazing home theater recliners from Wayfair fit the bill (though you can get similar ones, likes these ones from Amazon
, considerably cheaper).
You get four seats that you can organize in a row.

The chairs are 44″ deep, 147″ wide, and 44″ high. The seats themselves measure 21″deep, 25″ wide, and 21″ high. They have a reclining depth of 75 impressive inches, so if you want to take a mid afternoon nap in one of these bad boys, you most certainly can.
These aren't just your average recliners. Here are some man cave-worthy features you'll love:
USB charging ports (up to four) in the arm of the chair
Storage within the arms for keeping food, video game controllers, remotes, and even your phone
LED lighting at the bottom of the recliners in a sleek, electric blue
An accessory dock for stashing your phone, tablet, and even wine glasses or a mini table
Furniture is obviously one of the most important of the man cave essentials and so you may want a wider choice. Sometimes you want furniture with a little more personality like the type we covered in the article about man cave furniture.
2. A Huge TV – a must have man cave essential
Man caves are not caves without a TV. In the vast majority of cases man caves are used to enjoy sports games among buddies. So a TV is not optional – it is one of the most vital man cave essentials.
In your man cave, a typical TV will not suffice. You need the biggest screen you can fit in there with the highest-quality definition.
In that regard, this 86″ LED TV from LG Electronics
from Amazon ought to fit the bill just fine.
For an extra hundred bucks, you can even pay for the TV to be professionally mounted. That makes your life a lot easier.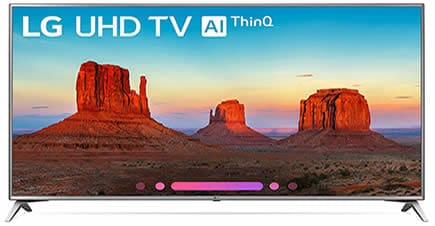 This amazing TV includes AI ThinQ technology from LG. You can even use voice commands to play certain channels, record your favorite shows, and more.
There are also a slew of smart entertainment and app options to enhance your viewing experience. You know, enhance it more than the ginormous screen will.
The quad-core processor improves color accuracy, provides a sharper viewing experience, and cuts down on noise from video.
You also get tons of inputs, including an HDMI audio and optical return channel support, an ethernet input, a composite-in input, three USB inputs, and four HDMI inputs.
When it comes to man cave must haves, a TV is definitely at the top of the list.
3. Surround sound is essential for man cave music
You've got the seating and the awesome TV sorted.
Now, to truly enhance the experience, you need an amazing sound system that will blow everyone and everything out of the water.
When it comes to exemplary sound, fewer brands are better than Bose.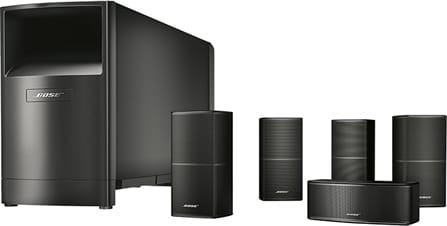 Their Acoustimass 10 Series V 5.1-Channel Home Speaker Theater System
will knock your socks off.
It includes everything you need to set up your surround sound system, including:
The Acoustimass powered module
Rear cable speakers that are 50 feet (two) with a power cord (one)
Front cable speakers that are 20 feet each (three)
System input cable that's 20 feet (one)
Horizontal center-channel speaker (one)
Direct/Reflecting Series II speakers (four)
All the components are relatively skinny, so even if your man cave isn't as huge as you wish it was, you can still fit this incredible sound system somewhere.
You can even wall-mount the speakers. How great is that? Your favorite movies and sports games are about to sound a whole lot better.
4. Mini fridge – cuz no-one wants to drink cold beer
Can't miss the big game? Just got comfy on your couch and you don't want to get up? Hey, it's your man cave, your rules.
Having a mini fridge handy means no more wasted trips going back and forth to your kitchen for beers and snacks.
If you enjoy having a few beers in your den then a fridge is most definitely one of those man cave must haves.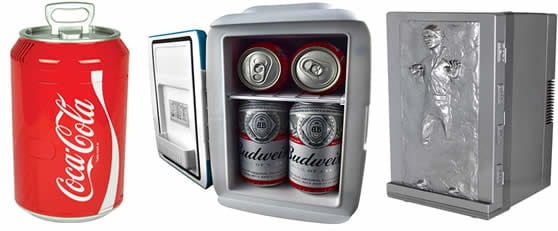 The Cooluli mini fridge
is a highly-rated pick on Amazon. In fact, it's so beloved it's an Amazon's Choice product.
This four-pound fridge is almost 11″ tall, about that deep, and seven-and-a-half inches wide. It uses thermoelectricity and a semiconductor to provide both cooling and warming if need be.
You get several slick colors to add brightness to your man cave. These include white, bright red, cow print, or black.
We covered the many different types of mini fridges you can get for a man cave from giant coke cans to Han Solo in carbonite, here in this article.
If you love star wars be sure to check out the moving R2D2 fridge we covered here.
5. A streaming device may not seem like a man cave essential until you read this
Standard TV programs are fine, and so is watching the big game on your massive TV, but sometimes you're in the mood for something else.
A streaming device lets you watch videos from YouTube, streaming services like Netflix and Amazon Prime and more, all on your big screen TV.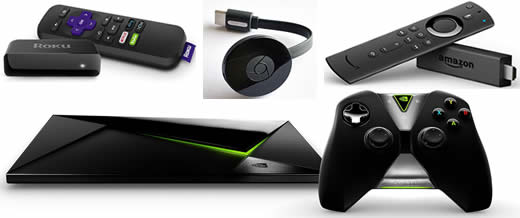 There are tons of streaming devices for you to choose from, including:
No matter which big tech brand you prefer, they will probably have a streaming device to match if you shop around.
6. Gaming consoles – the fun man cave essential for the big kid in you
You've gamed on your main TV, but what about on a 70 or 80-incher? It's going to be so immersive you won't even need a VR headset. You'll feel like you're living in the game.
There are three current-gen consoles. The first is the Xbox One
, the newest step-up from the Xbox 360. Slim, streamlined, and able to handle hours of fun, the Xbox One has more than 1,300 game titles as of this writing.

Your second option is the PlayStation 4
. The latest model has a hard drive boasting a terabyte of space for all your favorite games, apps, and entertainment. There's even VR capabilities if your games support use of the headset and tech.
Finally, there's the freshest Nintendo offering, the Switch
. Unlike the PS4 or Xbox, you can take the Switch with you anywhere.
When fully-charged, its battery lasts for hours. If you're in the middle of a great game, there's no need to stop just because you have to leave the house. The Switch is ready to go with you.
7. Voice assistant/smart speaker – the man cave essential for the modern den
Today's voice assistants and smart speakers are more intelligent and helpful than ever before. They can set alarms, play music, turn lights on, run appliances … basically all the stuff you'd like to do without getting up.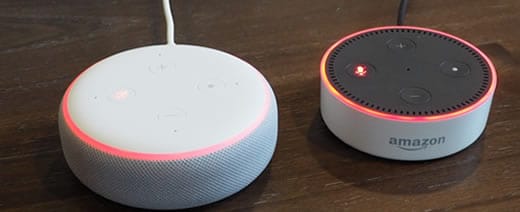 The Echo Dot
from Amazon features everyone's favorite virtual assistant, Alexa. You can ask her questions and use her more than 50,000 skills. She's compatible with all sorts of apps and tech, including ADT, Hue Philips, SiriusXM, Spotify, Apple Music, and Amazon Music.
Of course there are tons other high-tech gadgets that would fit well into your man as we covered in the article how to build a super modern man cave.
8. Unique & themed shelving is a man cave must have
Where are you going to showcase all your favorite superhero figurines or sports memorabilia? You need shelves.
The Monarch Specialties Hollow-Core High Modern Bookcase
in cappuccino is sure to please.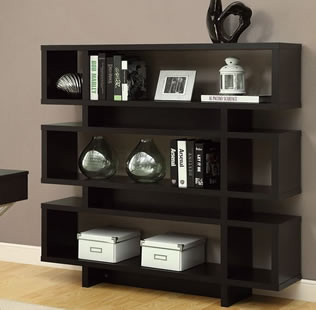 It's 42.25″ long and 11.75″ high when fully assembled. It weighs a respectable 86 pounds, so it's durable enough to hold even your heavier items.
This bookcase has three wide shelves as well as several divided compartments per shelf, that can be used for stashing your smaller or thinner items.
While this is classy shelving, the dark color and boxy shape of the Monarch Specialties bookcase looks good in any man cave.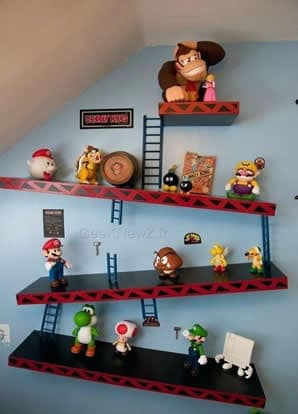 Sometimes you will want something with a little more character so check out our 14 unique man cave shelving ideas.
9. The biggest man cave essential is wall décor
You can't leave your walls naked but you need something a little more upscale than old posters. What should you put up?
There are countless wall décor options at your disposal (see our article on man cave decor).
If you're a fan of classic cars or Americana, then a well-worn route 66 sign is a nice pick. There are different different route 66 signs
available with most signs being 11½" high and 12″ wide.
They come with holes pre-drilled so you can hang it right up. Most are made from made metal for a more authentic look and feel.

Are you the funny sarcastic type? This metal sign about noticing a notice will have all your friends laughing each time they come over.
You've taken the time to carve out your own space, so you might as well make it official with this man cave sign
. It tells everyone what to expect when they enter your personal domain.
A man cave sign is not optional – it is a must have product every cave man should own.
Be sure to also consider a man cave rules sign like the ones I covered here.
10. Multi-functional furniture is a man cave essential for small dens
Okay, so maybe you don't need a foosball or poker table, but it is the pièce de résistance in any well-put-together man cave.
This poker table from Wayfair comes with an included bumper table as well. The table has cup holders and room for up to eight of your buddies. You'll love playing games for hours on this table. It's even good for enjoying a meal!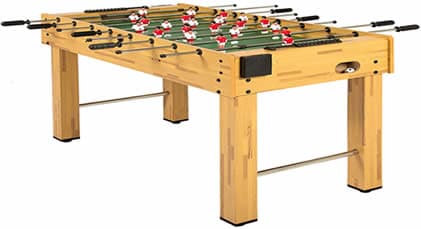 In the mood for foosball? This table from Best Choice Products
on Amazon is 48″ long. It's made of natural wood for a timeless look. It measures 33″ high and 24″ wide.
Steel rods with a chrome finish keep the table sturdy, even during heated games. There are also rod bars so you can play for hours.
Each player gets four rows of foosball players with 11 total. The team colors are white and red.
If space is at a premium in your man cave then why not get a multi-purpose table, like this one, a 3-in-1 table that lets you play foosball, slide hockey and even pool.
Conclusion: 10 Man Cave Essentials Your Den Needs Today
If your man cave is an empty shell still devoid of furniture and items its losing out on true potential, you need the 10 man cave essentials in this article. They are man cave must haves for every guy that wants his den to feel special.
They're all great starters to get your man cave looking full and furnished.
Once you're done decorating, you can continue adding epic stuff to your space with this list of 20 man cave accessories and 100 unique man cave gift ideas.