If you have followed the advice on this website and have already built your man cave the next step will be to furnish it. Although man cave decor is very important no man cave is complete without the right furniture. Not only is furniture essential for your man cave theme but is also a key component that helps create your man cave theme.
What furniture should you put in your man cave?
The key to furnishing your man cave is to include furniture that is not just practical for your purposes but that also reflects the theme of the man cave. Themed furniture, like the decor you use, helps to complete and compliment the look and feel of your man cave.
How to pick man cave furniture that wows!
There are a few key points you must consider before furnishing your man cave however. For example, giving thought to the intended purpose of your man cave and having a working knowledge of the the space available for furnishings are just two of the important considerations needed before buying furniture. Once you understand what type of furniture you need for your man cave there are also some very neat ideas that you can incorporate into your furnishings and some furniture that you can even make yourself very easily as I have outlined below.
Man cave furniture can be anything from standard store-bought chairs and tables, to themed items that fit perfectly with your other man cave decor. Obviously you will need a range of standard furnishings like chairs, tables, shelves, sofas, etc. However, they do not need to be of a standard design. The furniture you choose should compliment your man cave and the more unique the piece of furniture is, the more easily your man will be set apart from the rest of your home.
Before you go hunting themed furniture though take into consideration the points below as they will save you time and money.
Man cave furniture choices should be purpose driven & reflect your personality
Before you buy any furniture you should already have decided upon a theme for your man cave. In a previous article I outlined the 7 top designs for a man cave but your theme will undoubtedly be individualistic and tailored specifically to you.
Obviously the theme of your man cave is not the only consideration when buying furniture; the purpose of your man cave will have the biggest impact on your buying decisions.
For example, a man cave designed for socializing with buddies during football games will require different types of furniture to one that is designed for chilling out alone or for enjoying a hobby like model building or home brewing.
By considering the purpose of your man cave before buying furniture, you will avoid purchasing furniture that does not fit with your theme and/or that is impractical for your needs.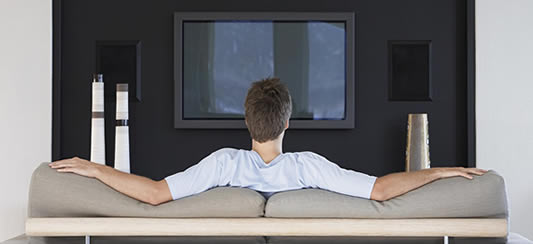 Knowing what type of furniture you need and why you need it is key
So, what exactly do you plan to do in your man cave? What is its purpose?
Do you plan to entertain your friends as you all on sip beer watching a big game? Then you will need plenty of seating and at least one table that are placed close to a large screen TV. Lighting and storage units will be less important while a fridge or large cooler might be a must-have item.
Do you want to build a man cave bar? If you do, then you probably need bar stools, and one or two bar tables. Contrary to popular opinion building your own bar does not have to be an expensive job. You can build one fairly cheaply as I outlined in the article How to Build a Man Cave Bar on a Budget.
Are you a fan of watching movies or playing video games? If so then you will require a TV and a TV cabinet or wall mounts. You may want to create a dedicated entertainment area. You may also want to add a movie pit like this instead of a standard sofa or a couch.
Is your intention to just chill in your man cave or do you plan to play card games with your friends? For a chilled area you'll need good lighting with comfort and tranquility being the driving force while a card-game based man cave will require at least one good gaming table such as the type of card and poker table I mentioned here with some cool stools.
Another type of gaming man cave may involve arcade machines like these
or table games like pool and table-tennis.
Once you decide upon the purpose of you man cave you can then easily plan what type of furniture you need before you go on a spending spree.
Pre-plan your man furniture purchases
When you know what type of furniture you need it then becomes much easier to find unique styles and designs of furniture that not only look great but that also performs the function that you need it to.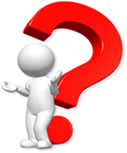 Unfortunately, many guys buy cool furniture because of how it looks only to find that it is impractical for their purposes when a small amount of pre-planning would have allowed them to get furniture that looks just as cool but that is 100% suited to their man cave purpose.
Remember to also consider the space available in the man cave. Understanding the space that is available for furniture is essential before you buy even one item.
Figuring out the space available is important because it will help you identify where each piece of furniture will fit in the cave without overcrowding the room or running out of available space.
When you understand your man cave purpose and know what type of furniture you need and where you will put it, populating the man cave with the appropriate items becomes relatively easy to do.
You don't need to be an interior designer or have the space-coping skills of an architect to do this. Just take some quick measurements, ensure that you have a good metal picture of the space available and then use your common sense before making a purchase.
If need be, or you are in doubt about a particular purchase, measure the piece of furniture before you purchase it and go back to your man cave and measure out those dimensions in the space you have allowed for the item to see if it will fit comfortably.
Main considerations before buying furniture
Your man cave furniture needs to be practical first and fun/unique/theme-based second. Think about what type of furniture you need to properly engage in the activities your man cave is being created for and then shop for themed furniture. Here are a few ideas.
Consider the space available to you and decide which pieces of furniture are more important than others and therefore deserve more space.
Measure the man cave and be sure to measure the door (or opening through which you will bring in the furniture).
Once you know what you need and understand roughly the sizes that will be appropriate for your available space you can then look for unique man cave furniture that fits your cave's theme.
Once you have considered these factors, you will be ready to start the process of furnishing your man cave with items that complement your theme.
39 Unique Man Cave Furniture Ideas
Because you are creating a man cave it's a good idea to liven up the place with some personal finishing touches that will truly personalize the space.
Although you will find most common types of furniture in a man cave (like seats, couches, tables etc.) you would be hard-pushed to find ordinary styles of furniture there.
Although using ordinary furniture is perfectly fine, man cave furniture is almost always fun and themed. Of course you don't have to pimp your man cave with extravagant furniture but most man cavers try to avoid the usual home furniture when there are almost limitless options to spruce up your male space with themed items.
17 Awesomely unique man cave seating furniture ideas
Your man cave may rock but it won't be a good space to chill in if you don't feel comfortable in it. The seating is arguably the most important piece of furniture in your cave. But, try to avoid the boring option when you have so many cool options open to you.
Below are some great seating ideas that may just be the perfect fir for your man cave.
Get creative – upcycling can help you create truly unique man cave furniture
Unique furniture can not only be bought, like this baseball chair
that looks like a baseball glove or this football chair with Ottoman, but many man cavers recycle items such as wine barrels, pallets and even vehicles to create amazing pieces of man cave furniture (as outlined in later sections of this article). This is a creative way of re-purposing old junk, often known as upcycling.
An example of creative upcycling can be seen here with these large spool table and chairs.
I show you how you can create a lot of different types of amazing man cave furniture super cheap by upcycling old junk in the article How to Build a Man Cave on a Budget.
Examples of such upcycled furniture include below are a whiskey barrel coffee table, whiskey barrel chairs, pallet bookshelves, rustic seats, and couches made from the parts of broken-down vehicles.
Massage chairs
Not every man has the time to go Spa for a professional massage. However, you can still get a de-stressing massage in the privacy of your man cave simply by using a massage chair.
High-end massage recliners such as the ultra modern Full Body Zero Gravity chairs feature excellent functions such as airbag technology, several massage programs and minimal gravitational pressure to give you incredible neck and back support.
You can browse through massage chairs here
to compare costs and functionality to see which one is a good fir for you.
Tub chairs
Are you looking for a stylish modern chair with a minimalistic design without having to sacrifice your comfort or space?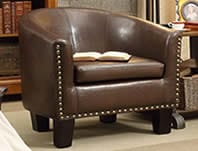 Consider a tub chair.
The bowl design of tub chairs is not only unique and elegant but also offers a lot of comfort due to the semi-circular back design. These chairs also take up much less space than most other sofa chairs. They also have that feel of the old-fashioned gentlemen's club.
Browse through these tub chairs and others here
.
Sports chair & ottoman
If you have a sports themed man cave focusing on either baseball, soccer or football then one of these chairs should be on your buyer's list.
The baseball chair is styled to look like a glove and it comes with a ball shaped Ottoman.
The football chair is styled as a football as is the ottoman.
The soccer ball is styled as a white and black soccer ball and so is its ottoman.
Check them out here
.
The ottoman
If you have your sofa and chairs already sorted and just prefer to get an ottoman on its own then don't just go for the standard type. An ottoman with storage is a multipurpose piece of furniture that can used for sitting, storage as well as just a footstool is a much better option.
Ottomans such as this one from Convenience Concepts
can also serve as a coffee table.
Or, if you prefer a rustic feel, why opt for this brown buffalo-shaped storage ottoman
which is also available in a multitude of other animal shapes.
The directors chair
A classic director's chair doesn't just look great but it is lightweight, occupies minimal space when erected and can be folded and put away to free-up space when it's needed.
The back and the seat are usually made of a strong fabric which is very durable and fastened to a sturdy steel frame. These chairs are very comfortable and their only drawback is that most have a weight limit of 250 lbs.
There are different styles of director's chair available from the personalized to these officially licensed NFL chairs
that feature a canvas material that has your favorite team name and logo.
Of course there are many different styles available to suit any type of man cave. You can check out the wide variety of director's chairs available on Amazon here
.
A rocking chair with a difference
Man caves and comfort go hand in hand. You cannot have one without the other. And, the ultimate in comfort is a rocking chair.
By keeping your body in motion, the rocking chair also amazingly helps you burn at least 150 calories a day. A rocking chair is also a great way to relieve back pain and the most likely reason why John F. Kennedy kept several rockers in the White House as outlined by The Vintage News.
As you can see here
rocking chairs come in all styles and sizes ranging from the traditional to the ultra modern.
For example, the Silvox massage chair recliner
pictured below is a rocking chair that incorporates a modern ergonomic design with many adjustable features to give you a relaxing back, neck and shoulder massage while you gently rock.
If you have a rustic feel to your man cave then a more traditional rocking chair would be a much better fit and even the best of these chairs are fairly cheap.
If you do decide on a traditional rocking chair then you will most likely want to add some form of padding to the actual seating area for comfort or why not go for full back and seat padding like this
for optimum comfort.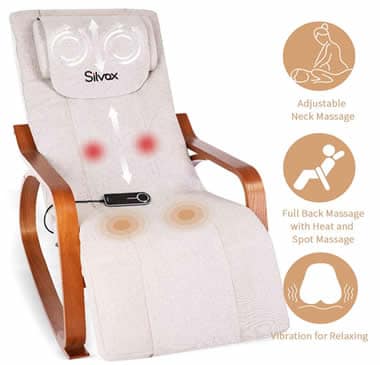 Skull throne for the King of the man cave
This may not be the type of throne chair you'd see in the throne room at the Buckingham palace but it would be right at home in Game of Thrones.
The throne chair is surprisingly comfortable to sit on even though it gives off a 'heavy metal' badass vibe.
The skull throne is perfect for a pirate themed man cave, a hard rock or heavy metal vibed room or even an 80's retro cave.
When you check out this throne chair
you'll understand why it may not be to everyone's taste but for those who love a Gothic feel it would be an amazing addition to your man cave decor.
Themed bar stools are a must for the man cave bar
If you have a man cave bar then a few bar stools are must-have items. However, don't disregard the humble bar stool just because you have no bar.
Bar stools are very popular for man caves because they are versatile, being easily moved and being very comfortable. They also take up very little space compared to other types of chairs and they just plain look great.
You can get bar stools in a myriad of styles, sizes and designs. But, bar stools look especially good in sports themed man caves because you can get ones with your team logo like these ones
. But they are not limited to just sports.
These Jack Daniels bar stools
look great as do these Harley Davidson bar stools.
Of course the above are just a few examples of what is available, so you shouldn't find it too difficult to find a bar stool in a style that suits your particular man cave.
Rustic chairs = man cave furniture with an old-timey feel
Introduce a natural vibe to your man cave by adding some wooden rustic chairs. If your man cave has a rustic look then these chairs would be a great fit.
Rustic chairs are a good way to introduce a farmhouse or hunter décor feel into a rustic man cave.
You can buy a rustic chair like this Montana Woodworks country chair
which is looks great but is quite pricey.
If you are a DIY person though, then below you'll find a video that shows you how to build your own. It may not end up being the same quality and as stylish as the Montana Works chair but it will still do the job and looks great.
How to make your own rustic chair
The rustic skull chair – man cave furniture for the rockers
Whether you intend to infuse some mystery into your man cave space or want to let everyone know who is top caveman this skull chair will do the job.
Check out this video on how to make a skull chair using pallets.
How to make your own skull chair
Three mind-blowing custom couch man cave furniture ideas
A couch is often the centerpiece of a man cave.
Finding the right couch that matches with your man cave theme is a good idea but of course comfort is key when it comes to making the right choice.
Although you can buy furniture new many guys will repurpose old junk and turn it into couches and chairs. Below are videos with a few examples, like a barrel sofa and a vehicle sofa.
A quick way of creating unique couches and chairs is to get old car seats from a junk yard and repurpose them as sofas and chairs.
There are a ton of ways to repurpose old junk to make great man cave furniture.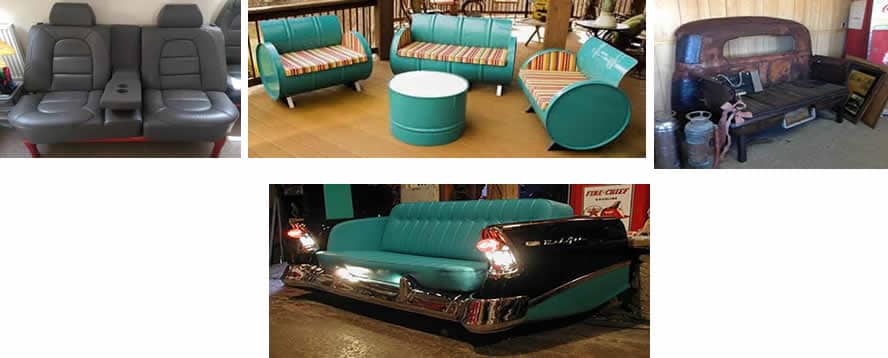 Custom car couch ideas
How make a 1956 Cadillac couch
How to make a car bench couch
The amazing & easy car seat to man cave chair conversion
Breath new life into old car seats by converting them into stylish sofas, recliner chairs, and even couches.
These seats can even be personalized by adding chargers, cupholders, and Bluetooth speakers.
You can build one yourself if you get hold of an old car seat and following the instructions below.
How to make a custom car seat chair
Chesterfield styled sofa set for those who love comfort & luxury
If you prefer to buy furniture then a tried-and-tested Chesterfield style sofa is a good option.
A chesterfield gives a classic look via a sofa that features rolled arms and a natural hardwood frame. The covering material is almost always button turfed which not only strengthens the stitching but also gives the sofa a classic look.
A chesterfield sofa will also be available in different sizes and colors to suit any man cave requirements. You can also get sets, with 2-piece and 3-piece being the most popular, or just go for a single sofa.
You can browse through different Chesterfield sofas here
to get an idea of what size and color would suit your man cave as well as seeing if a set or single sofa would be best.
The recliner couch for lazy man cave days
Nowadays, there is no better way for a gentleman and his friends to relax in a man cave than reposing on a recliner couch.
What makes a recliner couch unique is that you can adjust the sitting angle to a position that elevates the legs and relaxes the entire body.
A good example of a recliner couch is this CANMOV 2-seater
which is covered with microfiber velvet and has extra padding. These type of sofas are ideal for man caves because of the sheer comfort they offer as well as the different functions from sitting watching a game to having a nap.
Recliners, like regular sofas, come in different sizes and colors to suit every space.
The convertible sofa sleeper when your other half sends you to the man cave
Do you plan to enjoy forty-winks in your man cave when you aren't partying with your buddies or watching a game? Then a convertible sofa sleeper could be a great addition to your man cave.
Sofa beds are not only practical and comfortable, serving a dual purpose, but they can be bought extremely cheaply. Take this sofa bed recliner that has 2 cup holders
which you can pick up for less than 350 bucks or this convertible futon sofa sleeper
would better suit the budget-conscious man caver as it sells for just over 100 bucks.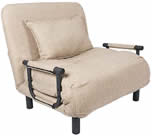 The great thing about sofa sleepers is that you can use them if guests are staying over as well as for functional furniture.
Of course you can also get single person sofa convertibles for less than $200 like this very popular and really comfortable single chair convertible sleeper from PragmaBed
.
The space saving corner sofa
A corner sofa is a great way to utilize space effectively.
Most corner sofas come in a full set that are ideal for most rooms like these corner sofa sets
.
Many of these couches will also feature an ottoman footstool and recliner capability while others can also be used as convertible sleepers.
6 brilliant man cave tables that do more than just hold stuff!
No man cave can be complete without a table. Whether its a place to set your beer, your coffee or just as somewhere to place your book or newspaper down, a table is an essential piece of man cave furniture.
But, like everything else in your man cave, you should ensure the table you choose is fitted to your available space while avoiding the usual boring items. Go for something with a little more personality.
Check out the tables below for some cool ideas. These tables are compatible with most man cave themes.
The super cool beer cooler table
Save yourself a few trips to the fridge for that cool drink by adding a table with its own a beer cooler.
Although this Keter ice cooler table
is most popular for outdoor use and at barbecues it is an ideal way to serve cold beer in a man shed that has no fridge or limited space to have a fridge in it.
If you have a small man cave in an outbuilding then one of these tables would be great as outdoor furniture placed just outside your man cave. Alternatively it could be a neat unique piece of furnishing décor to add to an inside bar-themed man cave.
An alternative to the Keter ice cooler table is this this Rogge cooler table
that offers much more functionality (and a higher price tag).
If budget is a concern, or you are a DIY enthusiast who loves to create your own decor and furnishings, then below are 2 short videos that show you on how to build your very own cooler table.
How to easily make a cooler table
How to build a small cooler table with chest storage
The multi-purpose man cave dining tables for the gamers among you
A man cave will usually have limited space no matter how big it is. As a table is a must-have piece man cave furnishings it can be difficult to add other table-based items, like a pool table for example.
Well, what if I were to tell you that as long as you have space for one you can have both … or more?!
"You can't have your cake and eat it" is an old adage, but with a multi-purpose table in your man cave you can have your cake and eat it and you will have a nice table to do it on too.
Multi-purpose dining tables are a brilliant way of having a fully functional table while also enjoying a game of pool or table tennis on one same table, albeit at different times.
There is no need to compromise on your choices of game when you purchase a multi-purpose dining table like this 7 inch pool, table tennis combo with dining tabletop, 2 storage benches and accessories
.
The pool table has the same playability, same slate, same cushions, and the same cloth as a standard pool table.
As you can see from the image below this multi-purpose table not only features a dining table and pool table but also has a table-tennis top and the two benches act as seats while also doubling-up as storage units for all game accessories.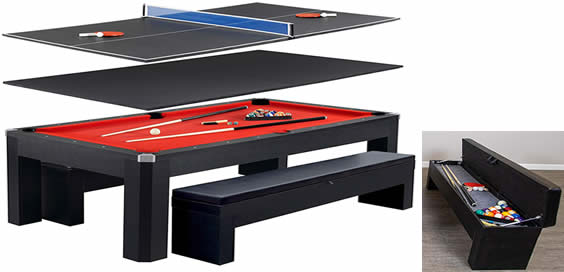 The 4-in-1 man cave gaming table
Multi-purpose tables are not only functional but they are a great way to incorporate more than one table game in your man cave without the need for a large space.
If you have a small man cave or your space is at a premium and you want access to more than one table game then a multi-purpose gaming table is a must-have item.
Take this Giantex multi-game table
for example. It offers foosball, slide hockey, table tennis and pool.
As the name suggests, you can enjoy four of games on this table while taking up the space of only one.
You can see other cool multipurpose tables here, such as the foosball cocktail table, that I included in a previous article.
The round pub table for sports fans or Harley lovers
A small round pub table not only offers great functionality, but it is a big space-saver if you have limited space in your man cave.
You can pick up standard pub tables but why settle for the ordinary when you can have a table like these ones with the logo of your favorite team
?!
Or, perhaps you prefer to to show you love for your hog with this Harley Davidson chrome based one
.
Pub tables come as single units or in sets and are sometimes sold with the stools. However, although the tables sets (2 or more tables) are great value I don't recommend you buy a table and stools set as the stool are very often inferior quality (although there are exceptions
).
Really good bar stools for a pub table will set you back anything from $50 – $150 per stool.
Continents apart – the man cave African elephant décor side table
Tired of the boring unimaginative coffee tables on offer?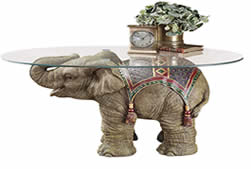 Then why not inject some adventure into your man cave with a table held up by an elephant.
The little elephant table comes in three different styles and sizes. All are hand-cast using real crushed stone that is bonded with a high quality designer resin to give a realistic finish. The elephant skin looks almost real.
Each piece is individually hand-painted by skilled artisans so each table is unique.
Check out these beautiful tables here
.
16 Unique furniture ideas for the rest of your cave
Although the overall décor of a man cave is what makes it stand out, for it to be truly unique and original it often takes unique furniture.
Although most man caves will follow the same type of theme, like a sports theme or nautical theme or rustic theme for example, no two are alike.
Anyone can build a sports man cave, like a Cowboys football man cave for example, but very rarely will two Cowboys man caves look the same; this is often down to the type of furniture used rather than the décor.
The same applies to all themed and unthemed man caves.
Here are some pieces of man cave furniture that are unique and that may set your man cave apart from the rest by giving it that little bit extra eye-appeal.
Forget boring wine racks – from the barrel to the gears
Do you love a sip or two of wine?
If you have a taste for the finer beverages then you can store and display your favorite wine brands on a range of fun racks.
Forget the classic wine rack and go for one that resembles gears and cogs like this one by Foster and Rey
that holds up to 6 bottles.
Perhaps you'd prefer this wine barrel shaped wine rack
that holds 6 bottles and comes with the option to buy a barrel shaped cork holder to complete the look.
If you prefer something with more storage and/or you have a rustic man cave then this rustic 16 bottle holder
would be a great addition.
Of course you can always make your own wall mounted wine rack that can hold up to five bottles of wine as outlined in the video below.
Make your own wall mounted wine rack
The bottle top table for beer lovers
A night with the boys often creates a lot of garbage but don't throw away those old bottle caps when you can put them to good use.
Instead of tossing those bottle caps away use them to decorate a table in your man cave. This décor idea is also a good way to showcase your favorite drinks.
You will need a strong glue, epoxy resin (like this stuff designed for table tops
), and of course, bottle tops.
You can of course use other items instead of bottle caps, like coins for example.
Check out how to make this amazing table below.
How to make a bottle top table
Whiskey barrel seats is the ultimate in man cave furniture
Why throw away a whiskey barrel when you can convert it into an amazing seat?
It only takes a few hours to build a unique chair or bar stool from an old whiskey or wine barrel.
If you need to buy barrels then there is good news and there is bad news.
The good news is for my UK readers. You guys can pick up an oak whiskey barrel for about £30 from gumtree or eBay. Unfortunately, for my American readers these barrels are much more expensive simply because it is difficult to find suppliers who sell used ones that are no longer fit for storing alcohol. However it is not impossible to find cheap barrels if you look around locally.
However you get your hands on old whiskey barrels here are two videos showing how to turn them into unique pieces of man cave furniture. My favorite is the bar stool.
How to make a whiskey barrel chair
How to make a whiskey barrel bar stool
The whiskey barrel table for single malt & double malt lovers
Still on a barrel theme check out this unique wine barrel table
made from solid pine wood.
It's perfect for a rustic man cave or nautical theme though is quite large and requires adequate space.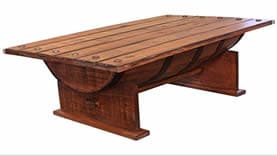 If you prefer a rounder barrel look and need a smaller table follow the instructions in the video below to make your own barrel table.
How to make your own whiskey or wine barrel table
The hockey stick table – man cave furniture that's got stick!
Don't throw away broken hockey sticks. They can be made into a cool coffee table that will show your buddies that hockey is one of your favorite sports.
This table is very easy to make and requires very few materials to complete. It is a perfect fit for a hockey man cave.
The video below shows you how to build one.
How to make a hockey stick coffee table
Want more stick? – This hockey stick chair is a piece of man cave furniture that's got it
Like the hockey stick table this type of chair is perfect for a hockey sports themed man cave.
A hockey stick chair is a great way to showcase how much you love the game.
Got stick?
This chair is also a great way to recycle old and unusable hockey sticks.
A hockey stick chair is easy to build and the video below shows you how to make one.
007 man cave furniture – The British Aston Martin race car wheel rim coffee table
If you happen to be a fan of racing or Motorsports, then this is the perfect side table for you. Being British and only available from the UK means this table will be truly unique in any American man cave.
Made from recycled wheel rims from genuine Aston Martin vehicles, this table has a glass top where you can place your drink or newspaper as you chill in your man cave.
As it is only available from the UK you will have to pay extra for shipping but no-one else you know will have one of these.
Check it out here
.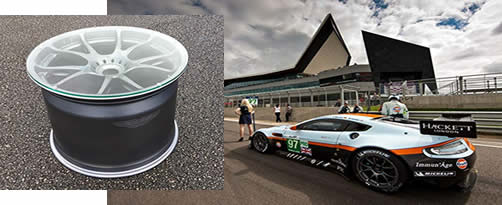 Retro gaming man cave furniture at its best – Nintendo controller coffee table
Imagine playing your favorite NES games on a coffee table that looks like a controller.
This retro Nintendo game controller table
is great for a 80's themed man cave or for anyone who loves nostalgic old-school gaming items. Of course there are other similar furniture items that look just as good such as this retro Nintendo Game Boy controller table
(which I actually think looks much better).
Unfortunately the above tables can't be used to control games even though they look like they could. So, if you prefer the actual gaming experience as well, this Sega game coffee table with game system embedded in it
is the one for you.
The little engine that could … become an awesome man cave engine table
If you are a fan of automotive engines then there are some amazing automotive designed tables that you can get.
These table are made by mounting a glass top on a non-running or damaged engine making it ideal for a racing sports man cave though they'd look great in almost any man cave.
These tables are available in different unique designs using many brand name engines with some featuring modifications such a polished paint finish and remote-controlled wireless LED lighting.
You can choose from a range of manufacturers like Mercedes, Range Rover or BMW or you can even have a table made from a Boeing 737 engine (as long as you have about 11 and a half grand to splash out).
Check out the wide range of engine tables here
.
Rustic nested tables – when you need your man cave furniture to do more than one job
Charm that empty space between couches in your man cave with an elegant set of nested rustic tables.
These tables can be set out separately or nested together when not in use to save space. Made from vintage wood they offer an old fashioned classic look while being made from modern rigid iron. The wood and iron give an industrial chic.
These vintage nested tables
are cheap to buy and easy to assembly.
If you'd prefer to make your own rustic table see the video below.
How to make a vintage table from pellets
Vintage lamp – Edison style man cave furniture
Keeping with the rustic theme this touch controlled lamp with vintage Edison light bulb
would be a perfect companion for rustic furniture.
Although the lamp uses modern technology and can be controlled by touch it mirrors the look of a vintage table lamp complete with a vintage style Edison bulb.
This lamp would be a very unique piece to add to a rustic man cave.
Treasure chest – for the privateer man caver who want his furniture locked tight
Perfect for a nautical themed man cave a treasure chest is a great way to store items and save space in the most unique way possible.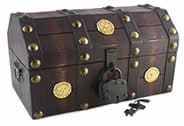 Hide away all your precious items in an impressive wooden, metal reinforced treasure chest.
Most treasure chests have décor such as octopus emblems, skull emblems, crossbones emblems, coins with felt linings and usually come in a light pine or dark walnut finish.
Check out the Treasure Chest store
for a myriad of different designs and sized chests.
Vintage rustic pipe shelves – man cave furniture for the industrious
These vintage rustic pipe shelves
are a unique way to place shelving in your man cave.
The wood and iron combination offers a rustic look for an old-world industrial-age feel.
Rather than putting up boring standard shelving enhance the look of your man cave with these unique shelves.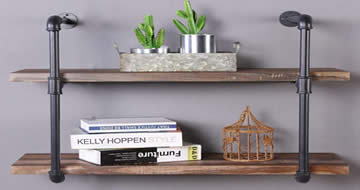 If you want to make your own rustic shelves follow the advice in the video below.
Pallet shelves – man cave furniture for the DIY enthusiast
Pallet projects are quite popular nowadays and none more so than shelves made from pallets.
These rustic shelves look like they are expensive old-world items but are super easy and cheap to build.
Nothing looks more impressive in your man cave than stuff you've built yourself so why not give this a try.
Final words about these amazing man cave furniture ideas
Here is a quick recap of what you should consider before you start populating your man cave with furniture.
Your man cave furniture needs to be practical first and fun/unique/theme-based second. Think about what type of furniture you need to properly engage in the activities your man cave is being created for and then shop for themed furniture that fits that purpose like this stuff.
Consider the space available to you and decide which pieces of furniture are more important than others and therefore deserve more space.
Measure the man cave and be sure to measure the door (or opening through which you will bring in the furniture).
Once you know what you need and understand roughly the sizes that will be appropriate for your available space you can look for unique man cave furniture that fits your cave's theme.
Don't be afraid to get creative.
Don't be afraid to try your hand at making some furniture yourself.
Consider visiting used stores and garage sales where you can pick up some great unique and cool items.
This guide is not conclusive as there is a wide range of furniture out there on the market. This post is designed to help you see what is available and to get you thinking about what furniture will work best for your man cave.
If you want more cool man cave furniture ideas read this.