Do you want a man cave but can't seem to fit it into your existing budget? You may have found it tough to track down cheap man cave ideas with every search you make just showing off opulent setups. Setups that you simply can't recreate on your budget.
6 Man Cave Ideas On A Budget – How to create an awesome budget man cave
You won't have that same problem here. In this post, we're sharing six of our favorite cheap man cave ideas. Whether you want rustic man cave ideas on a budget, mini man cave ideas, or even ways to repurpose your garage, you'll find a way to do it cheaply here.
This post is about cheap man cave ideas. Although you should make sure you keep reading to the end you should also read the post that shows you how to completely populate your man cave with super cheap items without compromising on quality, functionality or that cool factor – here.
In this article we also provide you with a sample list of the type of man cave stuff you can get to furnish your new place. You can furnish your budget man cave with budget-priced items that look just as good as their high-end counterparts.
1. This Vegas garage makes sin city look cheap
A garage is a great place to set up a man cave cheaply because it will already have electricity and lighting and be fully weatherproofed – unlike a shed or other outbuilding.
A garage is a great blank canvas that you can easily work with to create a unique man cave without busting the bank.
That's what a Rat Pack fan did in the man cave shown below.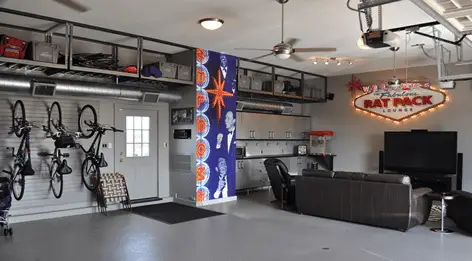 This Frank Sinatra and Sammy Davis Jr. buff has two pieces of décor that act as overt nods to his favorite Las Vegas performers. There's the Rat Pack lounge light-up sign modeled after the famous Las Vegas welcome sign, which really takes the space from pretty cool to freakin' awesome. If you don't like the rat pack but love the Las Vegas feel then you'll be happy to know that you can get an alternative Las Vegas welcome sign to mimic the famous one in the Nevada desert town.
Then there's the giant Sinatra and Davis Jr. welcome sign that helps add just enough color and décor to detract from the lack of décor.
Otherwise, the rest of the stuff here is rather simple. There's a large-screen TV on an entertainment center (which I showed you how to pick up super cheap here), a faux-leather couch, several recliners, and do you spot a candy dispensing machine? That's a nice touch!
As you can see this garage still gives off a very strong man cave vibe but it does so with very little décor or accessories. Super cheap way to make a super awesome man cave.
If you already use your garage for storage, with just a few changes, you can make a part of the room your very own cheap man cave.
2. This rustic pioneer look can done with a small pocket book
There is no question that the most budget-friendly man cave theme is a rustic one.
You know what's great about rustic décor? You very often and can take a piece of old junk and without having to do anything to it just add it to your man cave … and it still looks good!
This is why a shed can be a great place for creating a rustic man cave.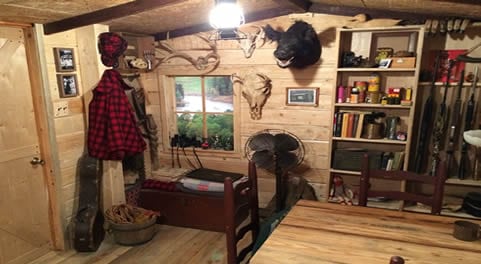 So, rather than splurge on paint for your prefabricated man cave just leave it as it is. With a few decorative additions, you can get that rustic man cave look without spending much money.
The owner of the man cave pictured below added cheap fake animal skulls and what looks like a fake boar's head to the walls. The addition of replica antique firearms, like these ones I previously covered, and lumberjack coat and hat help complete the look.
In this type of rustic man cave you don't even need to have utility connections, like electricity, as old time lighting works best. A single old-timey miner's hanging lantern, like this one
, provides plenty of illumination while sticking within the theme. If you install furniture like shelves and a table, make sure these have that unfinished aesthetic look as well.
This type of man cave is also great for upcycling especially when creating shelving from old pallets. You can create fantastically aesthetic furniture from old junk very easily as I demonstrated here and here (where the old drum furniture would especially fit in well if you used barrels or old oil drums).
The only additions we would make to this man cave are to add a rustic wooden American flag (like the one we mentioned here) and some miscellaneous rustic items like the giant wrench key holder we mentioned here and some vintage plaques and mountain/man cave/road signs.
3. This cozy basement corner looks expensive but its budget-friendly
If you want a budget basement man cave idea then look no further.
This example ought to inspire you.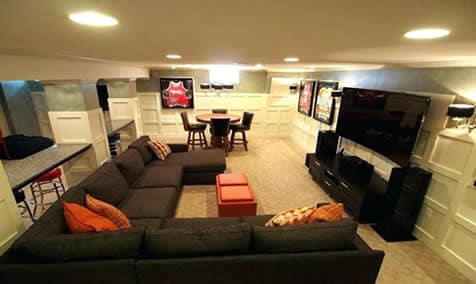 Once again, instead of making or buying your own dedicated structure for your man cave, you can just take part of your basement and repurpose it and then fill it with repurposed or upcycled furniture.
Repurposing doesn't always mean ripping out carpeting and repainting the walls. Sometimes all you need are a few framed jerseys, a huge U-shaped couch and other simple furniture like a table and chairs.
If you repurpose furniture or upcycle as outlined in an above section then the biggest expensive would be a large TV (though as I already mentioned you can easily pick up a brand new big TV really cheap when you know where to look).
The sconce lighting makes the whole space feel more inviting while creating a semi-upscale appearance with a minimum of investment.
4. The bare-bones budget bar with a vacation feel
If you're the DIY type who loves a good outdoor project, then you'll want to add this outdoor man cave bar to your to-do list.
This budget-friendly patio styled man cave has a rustic flavor thanks to the unfinished wooden structure and saloon-inspired décor.
Even the bar itself is made of wooden parts taken from old pallets.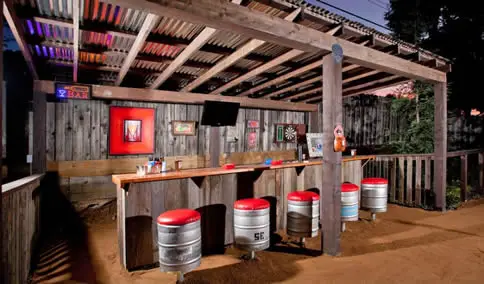 The bar seats can be created easily by repurposing barrels or beer kegs, mounting them on sturdy metal poles and then finishing them with plush red pleather cushions.
That they're planted right in the dirt gives this space the perfect man cave feel, wouldn't you say?
Simple man cave signs, like the tin plaques I outlined here, are a very cheap way of decorating the area and if we use that's how we would enhance this particular man cave décor.
If you like the idea of adding a bar to your budget-friendly man cave then be sure to read the article by Mick, called How to Build a Man Cave Bar on a Budget, which is packed with some innovative and money-saving ideas.
If you like the idea of an outdoor man cave but are stuck for ideas then be sure to check out the post 12 Awesome Outdoor Man Cave Ideas.
5. It's all just rock n' roll to me
Take back the garage and dedicate it to all things rock! That's what the man caver who own the music man cave in the image below has done.
There are instruments mounted to the wall as far as the eye can see.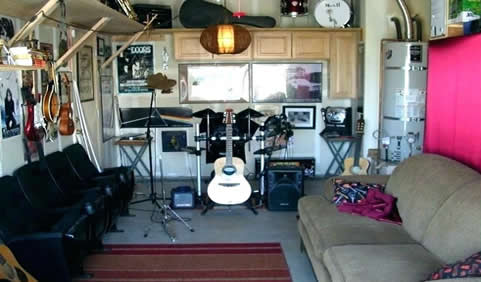 Any spots not covered with something musical have posters of classic rock bands.
In the center, of course, you'll find the piece de la resistance: a whole mini band kit. You've got symbols from a drum kit, two acoustic guitars, and even a keyboards. Those who just want to take a break from rocking out can do so on two recliners.
The repurposed movie theater seats can be easily replaced with repurposed car seats which you can pick up in a junkyard. In fact there are a ton of ways to create custom couches from old junk as Mick demonstrated here.
While top-end musical instruments aren't cheap, if you've already got 'em and need a place to put 'em, try a man cave setup like this one. Alternatively you can buy super cheap musical instruments online to use purely as décor.
The only thing this musical man cave is missing is a guitdoorbell which is an absolute must-have item for this type of space. I demonstrated how easy and cheap it is to set up one of these innovative and fun musical doorbells here.
You could also hang an instrument unique to your culture like Mick did with his Irish Bodhran (pronounced "boor-on" apparently).
6. Small budget man cave madness
Here's a small man cave idea for those with just a little space to work with. If you need other ideas for a small man cave read the article How to Make a Man Cave in a Small Room.
The man cave in the image below shows how a budget-thinking man caver took a garage and made it into something he could chill in without spending a lot of money.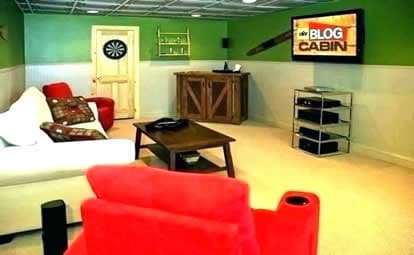 The green paint job, may be garish to some but it really conveys a greater sense of personal space and distracts from the minimalist décor.
The red pops of color in the furniture play up with the bright hues seen throughout the man cave. The two different greens on the walls also helps to make the space look less spartan.
You could just as easily go for a bright white on the lower part of the wall to create a similar, but more striking, effect.
It uses simple, low-cost furniture, but that's perfect.
The rest of this setup doesn't have much in way of décor, only a coffee table, a corner cabinet, a display shelf for TV equipment and game hookups, a dart board on the door, and a television.
This man cave may be lacking in all the usual décor but doesn't it look like a very cool place to hang out with the guys?
We think so!
The only thing we would do differently with this man cave is to add some additional cheap décor items, like those from our 100 man cave gift ideas, so the space would come alive alive more and you could achieve this for less than 100 bucks.
Budget doesn't have to mean cheap – awesome man cave stuff for your budget space
Okay, so one or more of the ideas above have got the wheels in your head turning. You can't wait to start carving out your very own man cave, be that in the garage, the basement, or elsewhere. But, once you've got your space picked out you have to furnish it.
The following man cave stuff will help you stick to a tight budget as everything costs $50 or less. Be aware though that this is just a small sample to get your creative juices flowing. We have a much more in depth post about finding cheap items for your man cave here and I strongly urge you to read it.
You will also find some really neat ideas for man cave décor in this article. Though many items may be out of your budget you will get lots of ideas for budget-friendly alternatives.
In the meantime let's look a few sample décor items that you can pick up cheap.
Route 66 California shield floor graphic – cheap but cheerful
Do your man cave floors sort of bore you? Maybe you plan on getting them carpeted or finished another time, but right now you don't have the money for it.
Hold off on that home reno, because you might not want to do it after you get your hands on this epic Route 66 California shield floor graphic from Retro Planet.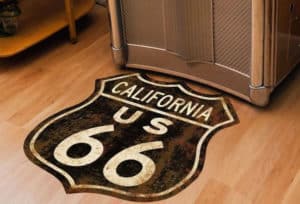 For just under $50, you get a 24 inch sign that sticks to most hard surfaces. All you have to do is unpeel the backing and then place the graphic wherever you want it on the floor.
With a non-slip texture, you don't have to worry about your buddies falling face first as they walk across the room to get a beer.
However, if $49.99 is still too steep a price for your budget then consider this cheaper route 66 floor mat
with anti-skid rubber backing that comes in at just over 15 bucks!
Antique hatchet hammer
This hammer from Memes Antique Attic on Etsy will make any rustic man cave look that much more authentic.
It only costs about $30 and adds an outdoor feel and authenticity to a rustic man cave.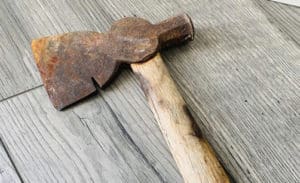 What can you do with it exactly? The better question is what can't you do with it?
You could mount this bad boy to a wall, leave it on a bar, or hang it on a nail to truly take your rustic theme over the top.
Etsy have a host of these little gems like this that are great décor for a rustic or outdoor man cave. Memes Antique Attic even have a Tomahawk hatchet and antique hatchet sheath. They are well worth a look – here's the link.
Handmade oak beer mug
You have to serve your pals' beer in something, so you might as well use this great handmade oak beer mug
from McFancy Craft. You can get a single mug for about $30.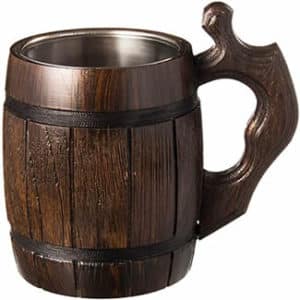 If you'd rather splurge, it costs $160 for a set of six. That's just $26 per mug.
Each mug has a 20 ounce capacity. Inside, you'll find a stainless steel cup that keeps the wood from getting soaked through as you enjoy your favorite frothy beverages.
Vertebrae vertebrae in a glass vial
Why would you want these oddities for your man cave?
Well, just like the rusty hammer these look legendary. Plus, did we mention this pick from Virginia The Wolfe  costs less than 20 bucks? Yep, that's right.
Since they're so cheap, you might as well add them to your quirky man cave décor.
Each piece consists of a vertebrae, or part of a bone. It goes in a glass vial that has its own natural cork.
These will act as a great conversation piece for certain and is perfect for a rustic man cave!
Fun lamps
Need some light in your man cave but you don't want the same old tired lamp?
What about this PacMan lamp?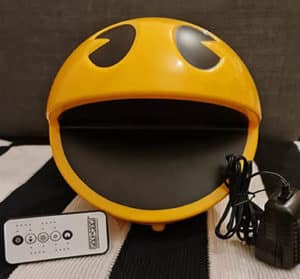 This lamp not only looks cool but it has 12 iconic Pac-Man game sound effects and a remote control dimmer
For under $30, you can get your hands on this totally original gaming-style lamp.
The same supplier has a ton of different themed lamps from Star Wars Tie-fighters to a Beauty and the Beast Enchanted Rose light (looks just like the one from the movie).
Conclusion
You might have thought you can't have a man cave because you can't put a lot of money towards one … until now that is! The above six examples prove cheap man caves not only look phenomenal, but they don't leave you broke, either.
The sample list of items you can get cheaply for a man cave should also help you formulate some ideas for your own man cave décor. I still urge you to read the post The Ultimate Guide to Building a Man Cave on a Budget for great and really clever ways to create a man cave super cheaply.