So you've decided that you are going to create a man cave and got the blessing from your other half. Now all you need is some idea of how you are going to create it.
How to come-up with man cave ideas. Once you've selected a location and prepared it for a man cave conversion you need to decide on its purpose and theme. When you know what you'll use it for, picking the best idea for your man cave design becomes easy.
Themed man caves
Although one man cave may differ completely from another man cave in design, style and purpose most man caves have one thing in common – a theme.
The most popular theme in the USA is sports while in the UK is a pub (bar).
A great many man cave designs are built upon a sports theme. A sports man cave is easy to create. Though all sports man caves will be similar in the fact that they are dedicated to a love of sport no two will ever be alike.
A New York Yankees styled man cave will be completely different from a Chicago Bulls man cave even though they are both sports themed.
A football man cave created by a New England Patriots fan may be similar in design to a Dallas Cowboy fan's man cave but they will look completely different. They will however, almost always serve the same purpose – a cool place to kick-back and watch the game alone or with buddies.
Finding a purpose
Choosing a theme for your man cave is not the beginning of the process. There are some serious considerations to take into account before you settle on a theme that you like.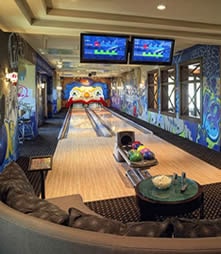 Things to consider before you settle on a man cave idea for your personal cave:
What is the purpose of your man cave?
Is the cave big enough to fulfil that purpose?
These two questions may appear simple but they are vitally important if you want to create a man cave in which you can really kick-back and relax while you engage in the activities you love.
It is vitally important you answer the first question in as much detail as you can.
Before you begin your man cave conversion take a little time to get clear on your goals for this space before you choose from the many man cave ideas available to you.
Failing to understand the purpose of your man cave before you start to populate it with furniture and decor is a recipe for disaster.
Many men start a man cave conversion project only to discover the idea they picked is not a great fit for the purpose they want nor the space they have available.
Once you know exactly what you want to do in your man cave when it is completed, i.e. its purpose, then it becomes relatively easy to choose an interior design that not only fulfils that purpose perfectly but that looks great as well.
The second question is equally as important.
You must determine if the space you have available is sufficient for creating the type of man cave you want.
Most of the time, with most themes and intended-purposes, space will not be a concern.
However, there are some purposes that simply do not fit with some man caves.
For instance, let's say you want to build a man cave bar where you and your buddies can enjoy watching a game or two away from the prying eyes of other people. Well, if you only have a small 4×3 shed you'll struggle to match that space with your intended purpose.
Although the above is an extreme example it should illustrate the importance of being space-conscious. Before you pick a theme or settle on a man cave idea that you like be sure you have the available space to pull it off!
Size does not necessarily have to be a deal-breaker when choosing a theme but it should be a contributing factor in your buying decisions when it comes time to decorate the man cave.
Man cave ideas
So, before you ever decide upon a specific theme for your man cave or even consider putting a single item in it you must be 100% clear about its purpose and you must be realistic about your ability to create your vision in the space available to you.
Below are some great man cave ideas that will help you see just how much choice you have available and exactly what type of cave you can create.
Rustic man cave ideas
Rustic man caves are very popular for backyard man caves.
They work exceptionally well with all types of outbuildings, but especially sheds and barns, because the building lends itself well to the design, it being rustic itself.
Hunting man cave ideas
Man cave designs based on hunting work really well in sheds and other wooden outbuildings because you can use the natural construction material to your advantage, making it a part of the decor.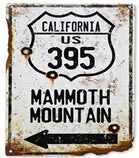 Dark browns and auburn colors work great in the decor of a rustic man cave but be aware that if you go with darker shades you will probably need additional lighting. I covered the importance of man cave lighting and give you some ways to create cool lighting effects in this article.
The use of Edison bulbs and vintage-style electric lamps designed to look like old oil lamps, like these dimmable electric lanterns that come complete with Edison bulb
, are a great way to illuminate a rustic man cave.
The key to creating a rustic man cave is to keep everything old-school.
Old-styled furnishings and wooden wall hangings are advised. The great thing about this is that you can source much of these items used or even make them yourself as I showed how to do here. For this reason a rustic man cave can be one of the cheapest to create.
If you want to complete the look be sure to hang on the walls replica guns and rifles like these ones from pioneer times or that match Civil War munitions along with mountain signs designed to look old and rusted like this one.
You can create a truly unique and amazing hunting cabin man cave in even the smallest of spaces.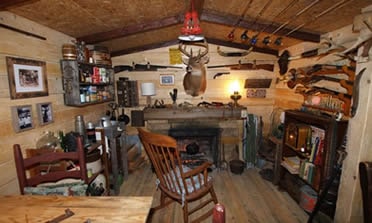 Fishing man cave ideas
A fishing man cave should follow the same guidelines as those laid down for a hunting man cave. Both should be modeled after an old hunting or fishing cabin.
A fishing cabin styled man cave has the added advantage of doubling-up as a storage unit for your fishing gear because you can incorporate that gear into the man cave design.
Placing your rods on holders on the wall not only allows you to store them but helps with the overall look of the man cave.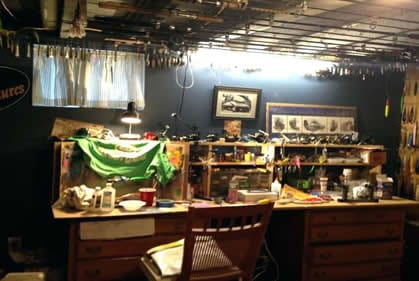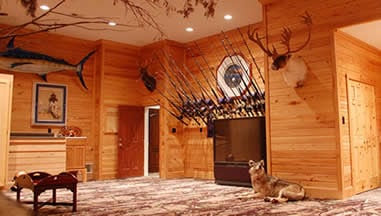 Rustic man cave bar ideas
A rustic man cave bar can be as simple as a wooden bar counter and wooden stools or as elaborate as an 18th Century pirate tavern.
For a rustic bar it is often best to create the man cave bar yourself. By using old planks it is easy to create a wooden bar with an old traditional feel to it.
I demonstrated how easy it is to build a wooden bar from old pallets and also included a video showing how to create wooden bar stools for about $10 in the article How to Build a Man Cave Bar on a Budget.
Both those ideas lend themselves really well to a rustic man cave bar.
For the decor just follow the advice above for creating a rustic man cave or give your decor a rustic nautical feel.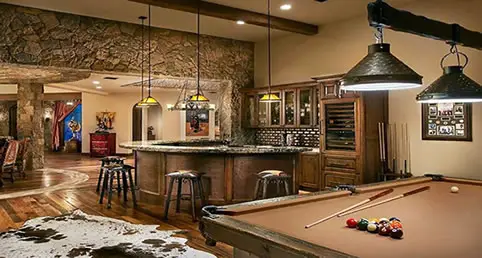 Nautical man cave ideas
A nautical theme is also perfect for rustic man caves.
As most nautical themed man caves tend to be designed after wooden ships or pirate taverns they lend themselves well to shed conversions.
Nautical man cave ideas tend to revolve around wooden items such as sailing memorabilia, ship salvage and even homemade whiskey barrel tables. You can even get a whiskey barrel trash can
.
A nautical themed man cave will often have old tin plaques with a pirate or nautical designs and of course any true nautical man cave would not be complete without a ship's wheel and a ship's bell.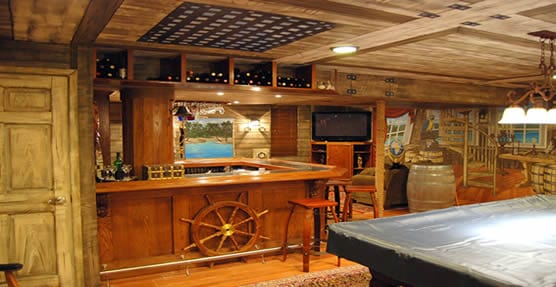 How to make a whiskey barrel table
Sports man cave ideas
Sports man caves are probably the most common type of man cave in existence.
Although football is by far the most popular theme used in sports man caves you can bet that there is a man cave for every type of sport you can imagine, like the one owned by this guy who got an Irish hurling man cave built for him on a TV makeover show.
There are a ton of sports memorabilia items that can put into a sports themed man cave.
Football man cave ideas
Though it is possible to build a generic football themed man cave that is dedicated to the game itself most football man caves are dedicated to a specific team.
However, there are a ton of really cool items that would great in any football man cave from this football chair and ottoman
to football wall decals and wall mounted footballs.
Most guys prefer a football man cave dedicated to their favorite team though, and this is very easily achieved.
To create a team-themed man cave all you have to do use football themed furniture and decor and then add items associated with your favourite team in key areas of the room.
Obviously the usual items such as team jerseys can be framed and hung on the wall along with team logo signs. There are some really neat team-related football items available such as NFL snack helmets and NCAA floating helmets for example.
Also consider creating an NFL epoxy floor.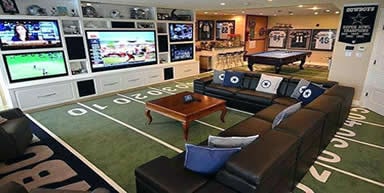 How to create an NFL epoxy floor
Baseball man cave ideas
Just as there are neat sports-related furniture items that you can get for a football man cave so too are there baseball-related pieces like this baseball ball-shaped chair with ball-shaped ottoman
. Or you could go for this glove-shaped chair and ottoman
instead.
There are plenty of baseball wall decals available and baseball-related wall art.
If you are into home projects and DIY then why not try your hand at making some baseball bat stools.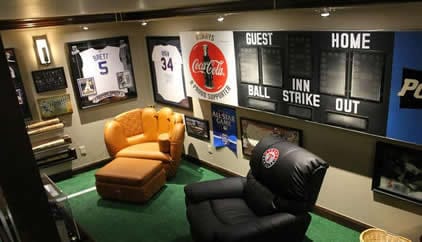 How to make baseball bat stools
Basketball man cave ideas
Basketball themed man caves are another popular design style. Just as most football man caves are designed after a particular team, a basketball themed man cave will usually be designed after a specific team as well.
There are a lot of great basketball ideas you can incorporate into this type of man cave such as wall mounted ball and hoop displays.
Just like football and baseball there is a fantastic basketball chair and ottoman
.
Basketball wall decals and framed jerseys are a great way to decorate the man cave. It is relatively easy to find matching wall paint to compliment team colors.
If you have the budget you can lay basketball wallpaper (or perhaps draw a court on the ground) and cover it with epoxy resin.
If you only have a small space for your cave conversion then a really cool way to show your love of the game is to design your man cave after a changing room.
Don't forget to hang a small basketball hoop to finish the look.

Ice hockey man cave ideas
It is in an ice hockey man cave where epoxy flooring really shines (excuse the pun).
It is possible to lay artwork that resembles an ice rink on the ground of your man cave and then cover it with epoxy resin to create a really unique hockey floor. This also helps reflect light in dark man caves. those located in basements for example.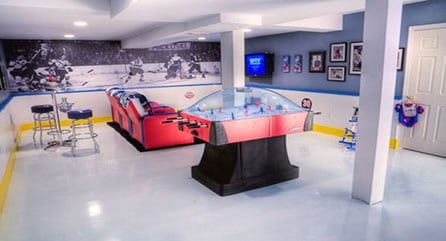 Putting in a small hockey table game and adjourning the walls with jerseys and hockey pictures will help complete the look.
If you want to go that extra mile be sure to paint or paper the walls with barriers for a complete hockey rink look.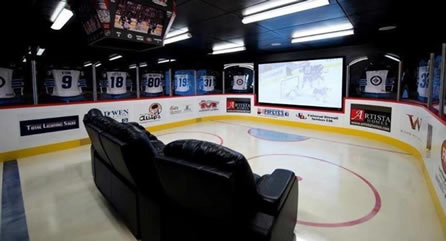 For directions about how to create an hockey rink epoxy floor in your man cave see the video above under the section title How to create an NFL epoxy floor. Just replace the green with white or very light cream and replace the football markings with hockey rink markings.
Golf man cave ideas
Golf also lends itself well to a man cave design.
There are usually two types of golf man cave:
The spectator.
The player.
The spectator
Guys who love to watch golf can design their man cave in a similar style to other sports man caves by filling it with related items and furniture.
You can cover the floor with a fake green by using artificial grass
or green carpet though a much better approach is to lay a golf course design on the floor and over it with epoxy resin.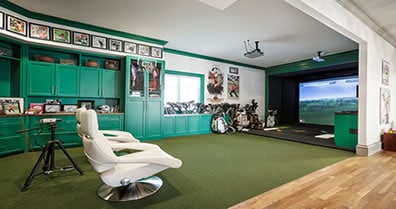 The player
Guys who want to play some golf in their man cave may be surprised at the many options available.
From creating a simple putting green in the middle of your cave to having the latest 3D projection technology
, it is possible to enjoy your favorite game in a small space and without a lick of grass in sight.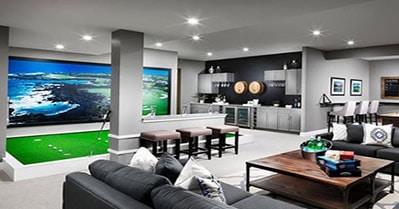 How to create an indoor putting green
If you only have space, or the budget, for a small putting green follow the instructions in the video below to make your own.
Of course you can buy these
relatively cheaply.
Casino man cave ideas
A casino man cave looks great.
You can have a more subtle casino design with high-roller tables and subtle lighting or go for the flashy garishness of a Las Vegas hotel lobby.
Casino lobby man cave
If you go for a casino lobby look then you will have to ensure you get your lighting right!
As I discussed in length here lightening is extremely important in a man cave but it is never more important than it is in a casino styled cave – especially if it is in a basement. Anyone who has been to Las Vegas knows the importance flashing lights play at the gaming machines.
You'll need at least one card table and a roulette table. In addition you should consider investing in 1 or 2 arcade gambling machines. If budget or space is tight then consider these smaller machines
that can be placed on tables (see image below) – they really look the part but are much cheaper and take up much less space than arcade-size machines and, in fact, casinos use similar ones.
For decor ideas just have a look at how the big casinos do it and follow their lead.
The high-roller
Not all parts of a casino have glaring flashing lights.
You can design your man cave in a casino stye more akin to the sophisticated dens where the high rollers routinely place big bets on games worth a million bucks or more.
For these type of casino man cave you will want a more subtle look. Creams and browns work well along with brickwork and large screen TVs.
Whichever approach you take be sure to use real poker chips
on your tables as it adds a certain air of reality and sophistication to the look of the cave.

Gaming man cave ideas
Like a golf-themed man cave there are two different types of gaming man caves.
The armchair gamer.
The player.
The armchair gamer
The armchair gamer refers to you guys who love video gaming.
Video gaming man caves usually involve gaming chairs and at least one large screen TV, though a 3 screen setup for greater viewing capacity, is often preferred.
Gaming man caves usually look fairly high tech and fall into the category of a modern man cave.
These type of man caves are usually painted in dark colors to intentionally keep light to a minimum. Too much light reflects off the gaming screens making viewing difficult. A dark atmosphere also minimizes distractions and helps you to get better immersed in the onscreen action.
Basements are perfect for this type of gaming man cave because they are naturally dark.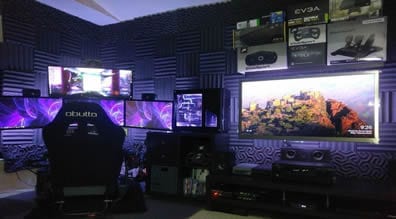 The player
Another type of gaming man cave is one designed around playing physical games, such as pool or pinball for example.
If you like playing pinball and have a love for old arcade styled gaming machines then you can easily make a gaming man cave using those.
A man cave with a pool theme can go much further than just placing a pool table in the room. You can get many pool-related items to help create a specific look in your man cave from colourful wall art to this cool pool rack clock.
You can even make your own stools made from old pool cues.

How to make pool cue bar stools
Modern man cave ideas
As I outlined in this article about creating a modern man cave there are basically two kinds of modern man cave. Some modern man caves incorporate both these ideas into one.
They are:
A modernized man.
A modern designed man cave.
Let's look at the differences between these two styles and the ideas behind them.
Modernized
A modernized man cave relies heavily on modern technology for its look and feel.
This type of man cave is usually populated with voice-activated gadgets and the latest in tech.
Google Home and Alexa could find a comfortable home in a modernized man cave along with Wi-Fi enabled Smart bulbs and Smart gadgetry.
Smart TVs and music systems can now be voice-activated or controlled via voice-activated Alexa or Google Home. So, these newest tech items are a must-have in a modernized cave. But the voice-activation doesn't stop there.
There are also thermostats that are voice-controlled and smart security systems (to protect your high-tech man cave gadgets) along with smart plugs that let you control every electrically powered device in your man cave.
3D lamps
and projections are great for helping complete a futuristic modern look.
The decor of this type a modern man cave will usually be complementary to the high-tech nature of the room but it does not have to be. If you want to build a man cave which looks rustic on the outside but that's filled with the latest in tech in the inside then by all means do so.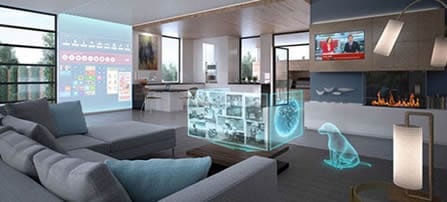 Modern design
The term "modern design" should really speak for itself. Anything that has a modern appearance and feel to it can help to make a man cave look modern.
A modern themed man cave is also usually filled with modern high-tech gadgets (though it doesn't have to be) but is more focused on looking futuristic than actually being futuristic.
How is this done?
It seems that color contrasting furniture, especially whites, creams, blacks and electric blues, tend to lend a modern feel to any room.
Chrome fittings and uniquely shaped furniture can also help you to create a modern look.
As I covered in the aforementioned article, transforming furniture is also a great way to modernize your man cave and give it a super 21st Century look.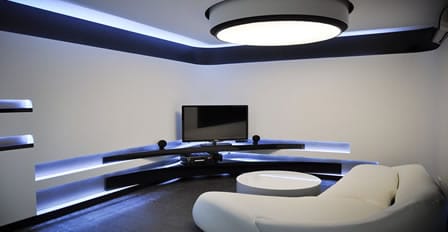 Movie and TV themed
Movies and famous television shows offer many great theme ideas for a man cave.
If you have a favorite sci-fi movie or sci-fi book you could consider taking key ideas from it and blending those ideas with your modern man cave design and decor.
A Stars Wars themed man cave, or a Star Trek themed man cave, help create a futuristic space look while a James Bond theme creates ar more debonair feel.
Just go with whatever movie or TV show means the most to you. There is a guy who even built the batcave.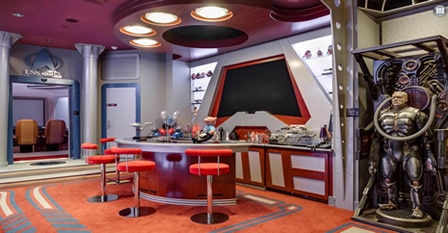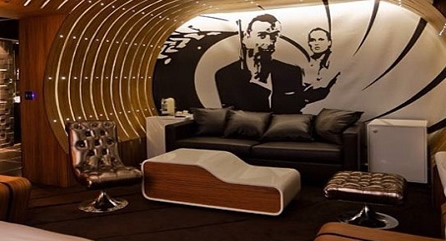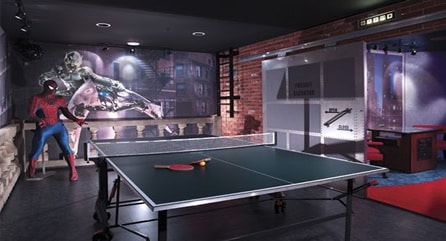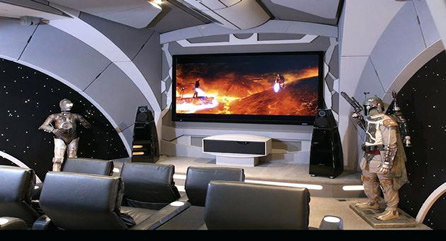 Bar man cave ideas
Bar man cave ideas are no different from any other type of man cave. Although you will have to take into consideration the bar construction, the decor and design of the man cave can be the same as a any other man cave that has no bar. So be sure to review the ideas mentioned above and below.
A man cave bar can be the focus of the room or just an addition to it. The approach you take will depend upon the size of the room and the size of the bar.
Small man cave bar ideas
In small spaces, like a spare room or small garage, the bar will tend to be the focus of attention, as you can see below.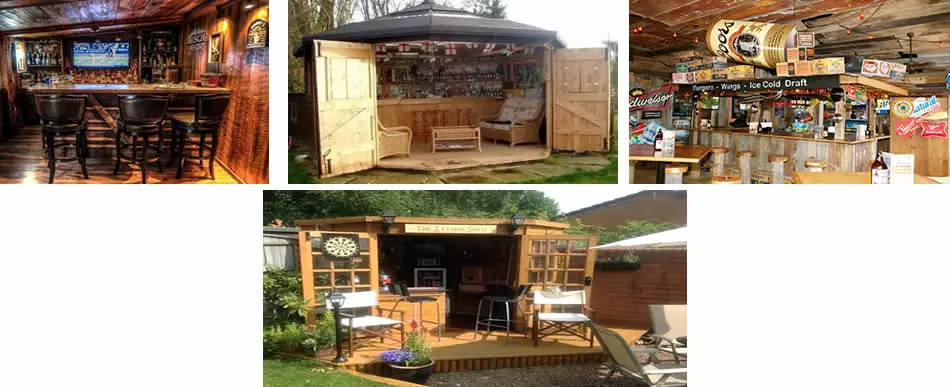 Large man cave bar ideas
However, in a large basement or 2 car garage (or any large space) you can design the man cave in any way you wish, having the bar as an added feature rather than a defining feature of the room.

I have covered the subject of creating a man cave bar in detail in another article.
Locations for your man cave
You can create a man cave in any location where you have space.
The most common locations for a man cave are:
The attic.
The basement.
The garage.
A shed or other outbuilding.
A spare room.
Below are some great ideas for man cave designs that fit each of the locations mentioned above. However, you can really use any of these ideas in any location as long as you have the available space.
Attic man cave ideas
Attics come in all shapes and sizes. Obviously the larger attics will give you much more choice when it comes to designing your man cave.
However, you should be able to create any type of man cave you want in an attic as long it offers sufficient access or you will find it difficult to move large items into it. Obviously trying to put a full size pool table in an attic man cave that has only a small entrance and limited space may be problematic.
If your attic is very small then follow the advice in the article How to Make a Man Cave in a Small Room.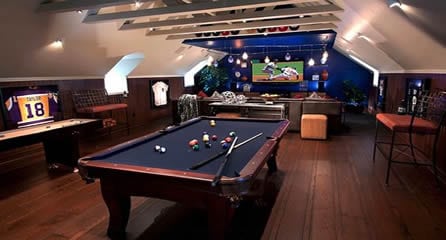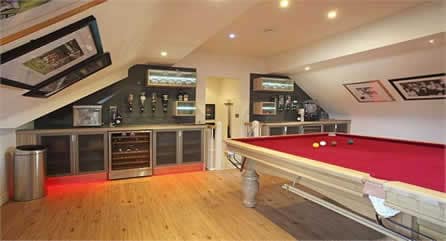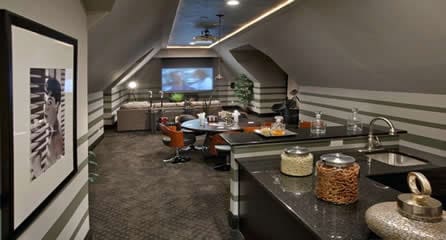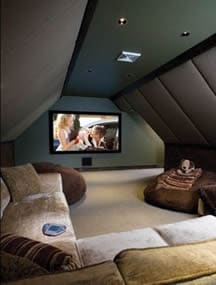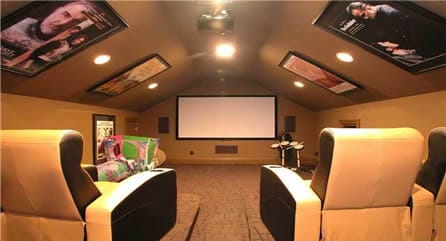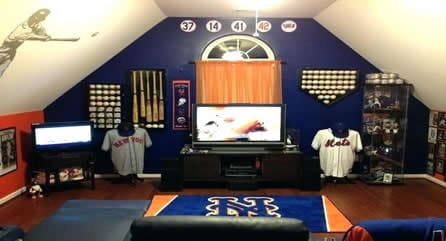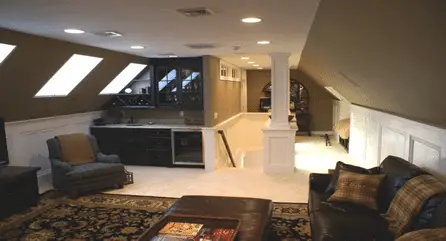 Basement man cave ideas
The basement is one of the most popular locations for a man cave because it offers privacy and a degree of separation from the rest of the family home.
I wrote an extensive article about creating a basement man cave which you can read here but I have included some basement man cave ideas below as well.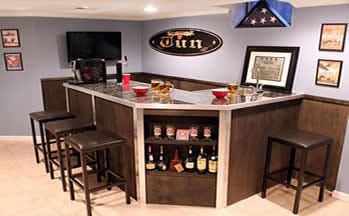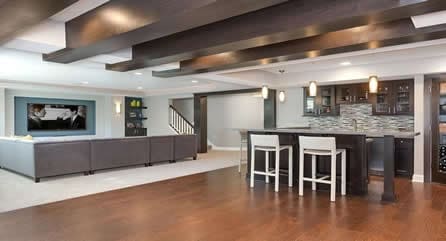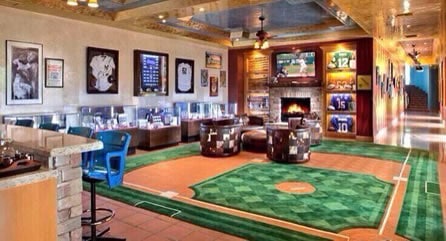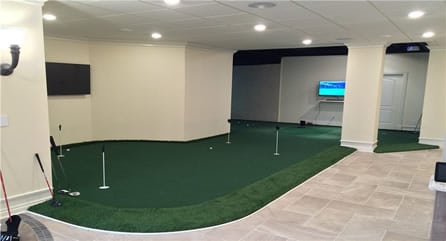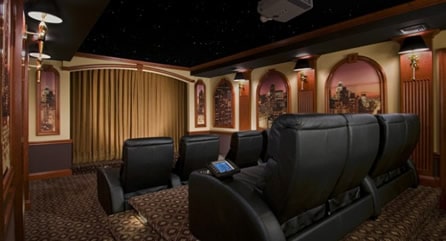 Garage man cave ideas
A garage is a great place to create a man cave due to its size and the availability of utilities such as electricity.
Just as a basement requires attention to lighting, a garage man cave also needs consideration given to the lighting as well as proper climate control.
I have covered many great ideas for creating a man cave in a garage in the article How to create the Ultimate Garage Man Cave.
Below are some great garage man cave ideas.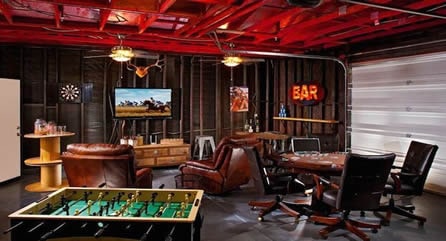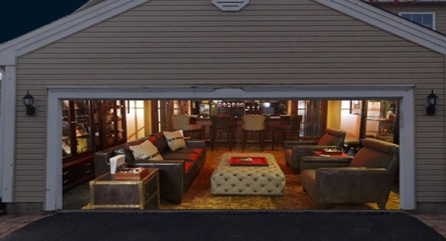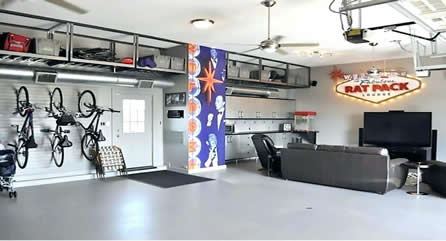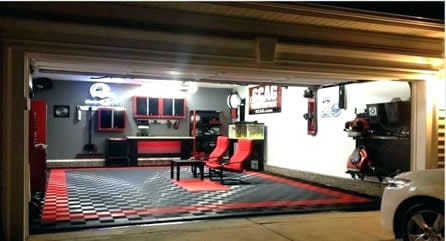 Backyard man cave ideas
If you intend to build your man cave in the backyard from scratch then I encourage you to read this article that outlines the exact steps to do that.
Building an outbuilding yourself gives you the opportunity to create a space that is 100% suited to your man cave needs. However, not everyone has the opportunity or the budget to that it.
Man cave ideas for a shed
If you have an existing shed then below are some great ideas for a man cave conversion.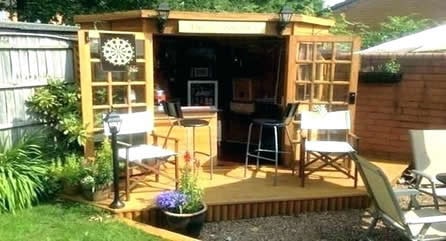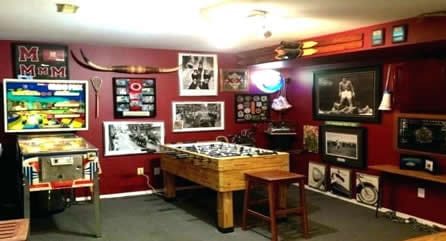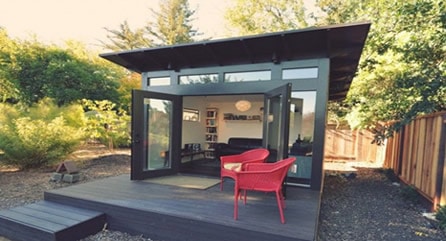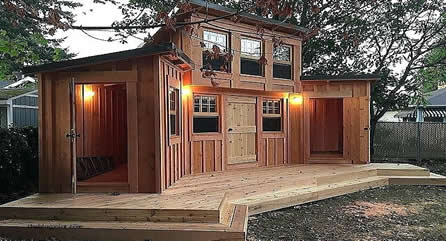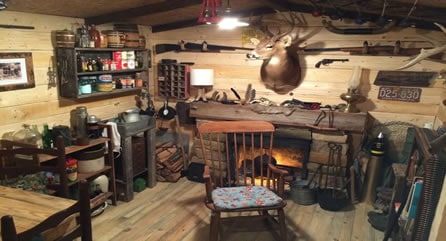 Barn man cave ideas
A barn offers much more space than a shed and thus you have a lot more options when it comes to design ideas. Below are a few.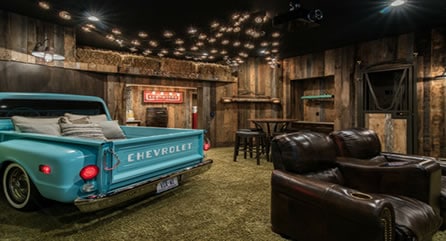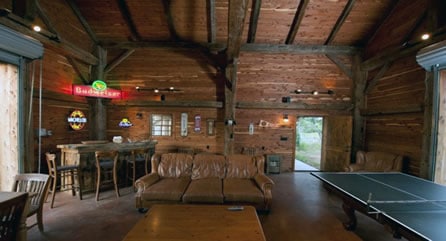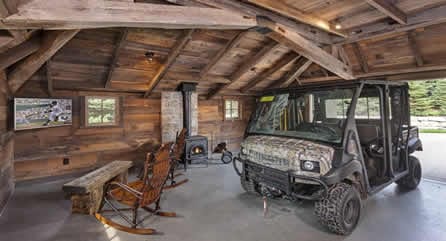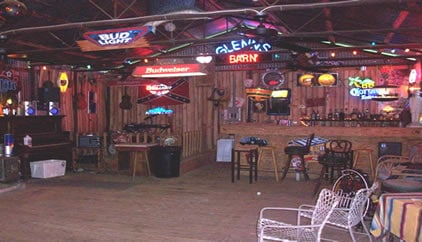 Mini man cave ideas for a small room
If you want some really neat ideas for creating a man cave in a very small space read my article How to Make a Man Cave in a Small Room where you will also get ideas for creating a small man cave ideas when you are on a budget.
If costs are a concern then be sure to also read the article that shows you how to build a man cave when your're on a budget for more money-saving tips and tricks.
Do you also want a bar in your budget man cave? If you do then you are in luck because you can also build one of those on a budget too!
Man cave signs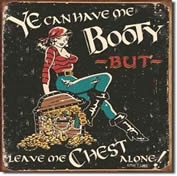 Be sure to incorporate at least a one or two man cave signs into your decor.
There are lots of different types of man cave signs and funny man cave sign and personalized signs. A very popular type of man cave sign is the man cave rules sign that is usually hung just outside the cave or somewhere that is visible as guest enter the cave. There are a variety of different designs available.
A man cave sign is usually hung on the wall or at the entrance of the cave – with the rule soft eh man cave engraved on it.
If you have a man cave bar consider a neon or LED man cave sign.