Man caves are very popular. One reason why you may have made your very own man cave was to put all your favorite things into one cool place where you could enjoy them. Unfortunately, if you don't get properly organized then you may soon find that your new personal space looks more like a dump than a man cave.
Don't sweat it. With some shelves, you can easily find a proper place for everything and put everything into its proper place.
Whether you want standard shelves built into the wall or are looking for super cool unique shelving ideas, we have a wealth of ideas to share with you in this article. We've even included some rustic and modern shelving ideas sure to inspire you.
14 man cave shelves – unique man cave shelving ideas
Forget boring! A man cave should be fun. A man cave should be a getaway from the worries of the world. This means boring and mundane simply don't belong there.
Inject some fun into your personal space with these 14 super unique man cave shelf ideas.
Rustic shelving ideas – for the rustic and non rustic man cave
Let's get started on a journey through the wonders of storage with man cave shelves that are a bit rustic. Rustic shelving ideas are not just suitable for a rustic man but can work in any room and with any type of man cave design.
The homemade wooden shelves in the image below have a bare-bones appearance that works especially well in a simple rustic man cave or a shed man cave.
Although you can buy similar looking shelves locally or online, you can actually make them yourself if you have some spare plywood lying around. Old pallets also make for a great construction material for these rustic man cave shelves.
Be sure to sand the edges for a smooth feel and add a stain to make the wooden shelves more durable. Then hang the shelves on the wall and enjoy.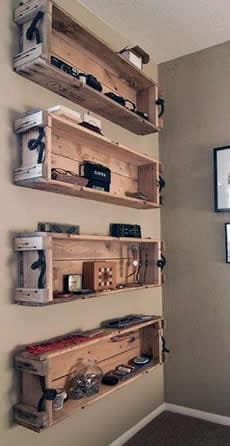 Picture perfect shelves for a man cave
Our next man cave shelving idea is also a homemade flair. The man caver took simple wood pallets, nailed them into squares, painted the shelves white, the frame he stained a light pine and a darker hue was used on the back. The whole thing was then affixed to the wall.
This projects an artistic picture-frame quality to the shelving.
In our example the man caver has used the unique shelving style to showcase his collection of mostly military collectible figurines. Nerdiness is more socially acceptable than it was when you were a kid, that's for sure. Today, it's a badge of honor to be worn with pride.
If you have a collection of action figures, statues, or figurines and you want to display them in your man cave you can keep them on shelves like the one in the example below. You can fit three or four figures per shelf.
Of course you could use these type of shelves to showcase or store anything you want. They would be perfect for showing-off your sports memorabilia if you have a sports man cave like this one and you could use sports decal like this
on the backboard or paint the whole thing in your team colors.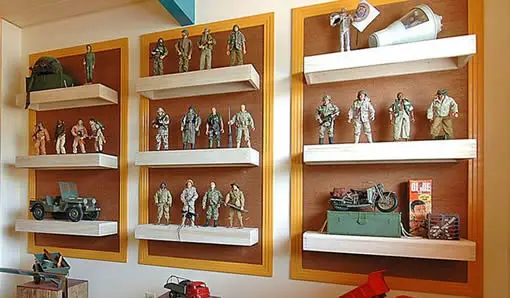 A modern man cave book shelf marvel, with a retro feel
This ginormous bookcase with a ton of shelves would make any man cave look classier. While yes, it will take up considerable space, think of how much better organized your space will look.
You can fit pretty much any odds and ends here, including books, figures, a stereo, magazines, gaming consoles and controllers, small crates and even canisters, and records and memorabilia.
It follows a fully modern design for ease of use and although it offers a lot of space to hold a lot of items, as you can see, it is very easy to identify where an item is – there is no clutter.
The modern design may lend itself to ease-of-use but the black stained offset shelves, that come in different sizes, means this entire bookshelf gives off a very retro vibe.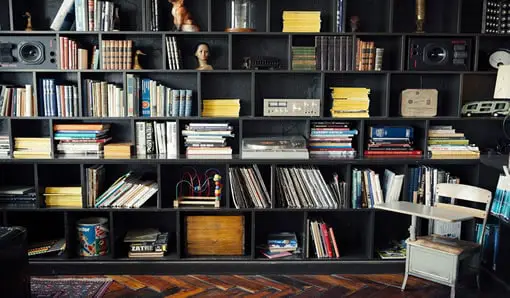 Functional garage man cave shelves
Have you made your garage the home of your man cave? If so, then follow in the footsteps of the man caver who built the stripped back shelving in the picture below.
Although these shelves are in a "working" man cave, where the man caver uses the space for his hobbies as well as somewhere to kick-back, this shelving idea would work equally well in a purely recreational space.
The shelves themselves are an unpainted, untreated wood though it is a good idea to stain yours. Metal bars hold the entire structure in place.
If you're going to use a top shelf to hold heavier items like this man caver did, then make sure you affix a heavier slat of wood up there. Also, add more metal poles and beams to keep that top shelf upright.
A fluorescent lighting bar is a great touch that means you never have to struggle with poor lighting. If you want to get really creative you add some of the unique lighting features we covered in the article about man cave lighting.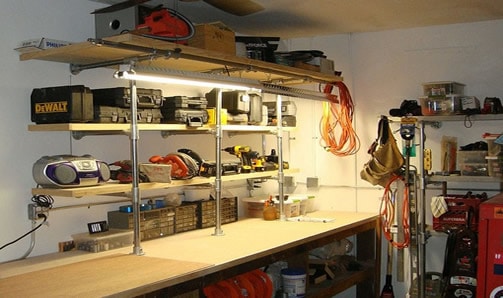 Chevrolet 1957 Bel Air man cave shelf
We showed you previously how to use old vehicles for building a bar and man cave furniture but what if you don't have time to upcycle old cars? Then consider this really neat man cave shelf!
This Chevrolet 1957 Bel Air black front end wall shelf with working lights
is an amazingly cool man cave shelf with a difference.
There are lots of other car makes and models available from Fords to Dodges.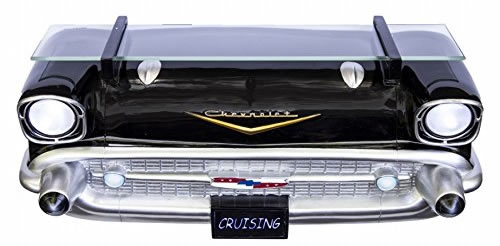 These unique man cave shelves are ideal for the handyman
Here is another great shelving idea for a garage man cave or a rustic man cave. If you're the handy type who loves flexing your fix-it-up muscle, then you have to try recreating these shelves.
They make use of spare gas pipes and some plain slats of wood. By affixing the wooden shelves at various heights, it almost looks like you used actual pipes for your shelving. (You didn't, of course, because that would be dangerous).
You can buy precut wood or use your own. Make sure each shelf has slightly different lengths to add to the oddball, but cool, look of this storage option.
These shelves would look great in a rustic man cave (like the ones we covered here) or in a any one of the man cave garage ideas we covered here.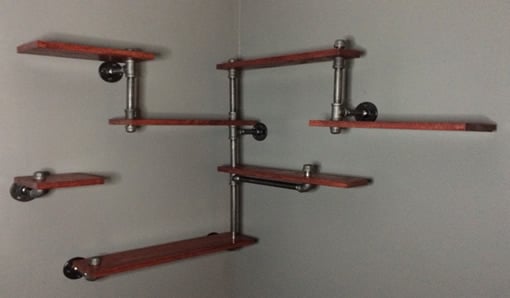 Unique shelving ideas – geometric designed man cave shelves
If you have a modern man cave or a man cave with a modern design (two very different approaches as Mick explained here) then this next man cave shelving idea will be right up your street.
For those man cavers out there who fancy a more modern feel to their décor then why not opt for a geometric shelving idea?!
The angular lines of the shelf point in the shelving shown below goes in different directions so you can either put things in the little cubbies or on top of higher points.
By grouping like-items together on shelving like this you can create an upscale little corner in your man cave with a very uniquely modern feel.
These type of shelves would be super easy to make yourself as well.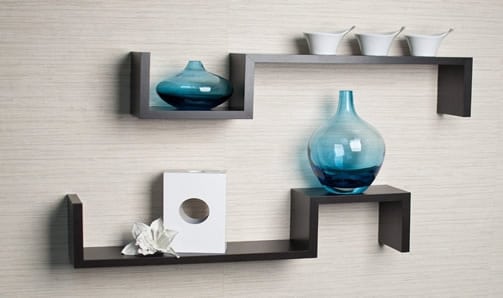 The tucked-in-the-corner man cave display shelves
No room on the walls because they're covered in posters, signs, and other décor (see our man cave décor guide)? Why not install your shelf in the corner where the walls meet instead?
This smart man caver utilized every bit of space in his man cave and when he discovered there was no space left on the walls for his baseball memorabilia he simply built shelves that fitted neatly into the intersection where the two walls meet.
Raw, unfinished wood makes yet another appearance here. The wood has been left untreated for a more rustic look but you could just as easily stain it or paint it to the color of your preference.
To get this DIY project just right, you'll have to measure your walls first. Then, cut the wood into triangular slabs that fit perfectly in the joint of the two walls.
While you can't keep a ton of stuff on these man cave display shelves, due to their limited storage space, they do act as a great way for showcasing your man cave stuff such as cool memorabilia.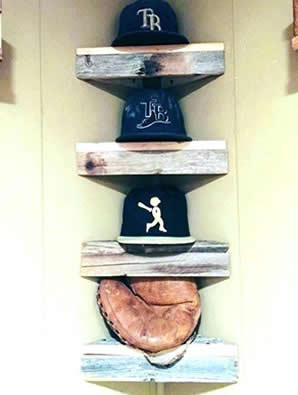 The entertainment center man cave shelving
You're probably already using one wall of your man cave for your TV and entertainment center, right? Then you might as well put your shelving there, too.
With the wide-open design of the leaning wooden shelf in the image below you can create shelving around your TV or other entertainment system. The slats offer ample room and can fit several sizable, significant items.
You could set up your gaming console to the left or right of the TV, rig the cables around the back to the HDMI port so they are out of sight, and then use the other shelves for stashing games, controllers, cords, and other peripherals.
If you're more a sports buff than a gamer, then put some of your most prized sports merch on the shelves.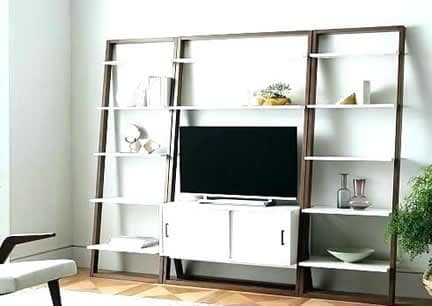 Man cave shelves that just hang around
Here is another cool idea for those short on space in their man cave; hanging shelves!
You'll need to affix a super secure apparatus for keeping the cords of these shelves attached.
This man caver made a kind of balancer with the way he hung the shelves. If you lift a book from the right shelf the weight of the left shelf will pull the right shelf up.
If you're careful around this shelving system, then there's no need to worry about anything toppling over. Still, to stay on the safe side, we don't recommend putting anything super valuable and breakable on these shelves.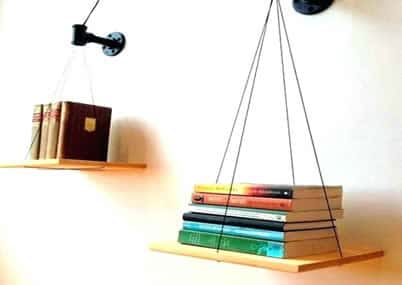 The oversized musical man cave shelf
We've written many times about repurposing a space into a musician's man cave (such the musical man cave shed and the rock n' rolling garage to name just two). If that's the route you want to take then you may not have enough space to store all your musical instruments and gear when not in use. These large storage shelves are the answer to that problem.
You can recreate this yourself using wood you get a home improvement store. Measure out the space you need for all your stuff and then get building.
From guitars on stands to amplifiers, plastic tubs of cords and wires, and other delicate stage equipment, everything gets neatly put away in this giant shelf.
Technically speaking these may not be what most people consider shelves but they are a great way to store your larger items.
Retro gamer man cave shelving
If you can't get enough of classic video games, then pay homage with a shelving set-up like the one pictured below. It's a dedication to the old Donkey Kong style arcade games.
Since the shelves have such steep angles, you'd have to glue your figures in place or use some Blu Tack so they don't shift or fall over.
If you collect gaming memorabilia, then let your favorite franchise guide you in how you arrange your shelves. These aren't so much about storing items as showing off your love of gaming.
A similar set-up could involve Pacman with a maze type style of shelving.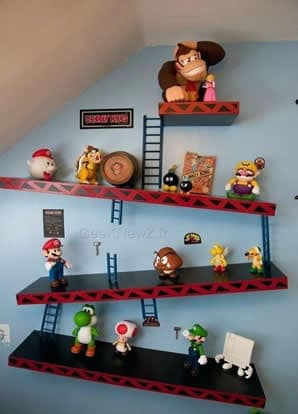 A familiar symbol-shaped man cave shelf for the airbone
Are you a big comic book fan or love superheroes in the movies? Then why wouldn't you want these Batman-inspired man cave shelves?
Shaped like the iconic Batman logo, you can use the shelves for keeping books, DVDs, CDs (if you still own 'em), even video games when you're not playing them.
You will have to get a little inventive about how you fit everything in there. That's the only downside; you don't get nearly as much storage space as you do with some of the other options on this list.
That said, if you have more stuff, you can always get more shelves without having to give-up on the Batcave theme.
These Batman shelves look great in black, white, or even black and yellow if you're a vintage Batman fan. With a nice spotlight, this could become one of the coolest parts of your man cave.
These shelves would fit-in perfectly with the Batcave man cave we covered here.
If you like the batman theme but don't have the time to create these book shelves then consider these really cool batman bookends
that can be used to help with the decor even if you don't need them for keeping books in place on a shelf.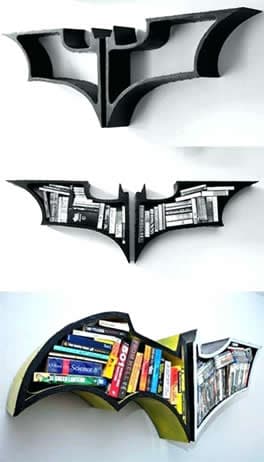 Super man cave shelf
Perhaps you're a bigger fan of Clark Kent than Bruce Wayne. If that's the case then we have something for you too; this epic Superman man cave shelf.
The unmistakable S shape not only looks amazing on your wall, but it offers more storage than the Batman shelves. Adding a few rows of shelves on either side of the Superman shelf maximizes your storage potential.
By choosing items of similar colors on the shelves like this man caver does, this wall looks super heroic. You could again paint the shelves your desired color for a cool effect.
If this particular shelf idea doesn't grab you but you like the thought of superman shelving then be sure to check out this alternative super cool shelf idea
that has a twist to the bookshelf approach that I know you'll love.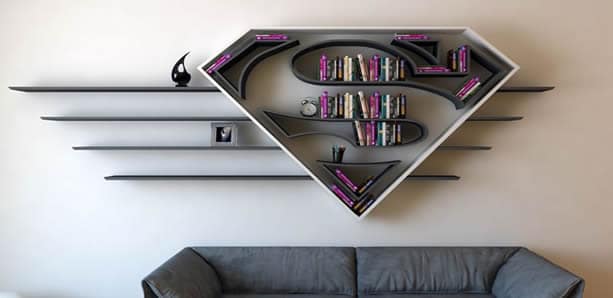 Conclusion: 14 super cool man cave shelving ideas
Man cave shelving presents a solution to the problem of disorganization. Not only will your man cave look cleaner and thus nicer, but the shelving you choose can also lend itself to the appeal of your space. You don't have to settle for boring traditional shelves!
You could go for homemade wooden shelves you can build yourself in just a few hours or get something shaped like your favorite superhero's logo. You might also opt for wall-to-wall shelving for an all-around tidier man cave.
We hope one or more of the man cave shelving ideas on this list has helped you to see the many different creative ways you can put up shelves in your man cave.