Are you excited about some decor ideas to design your first bachelor pad? Are you also willing to put in some work so that it will turn out amazing? Learn how to use your current passions in order to arrange an amazing man cave.
Business themed man cave décor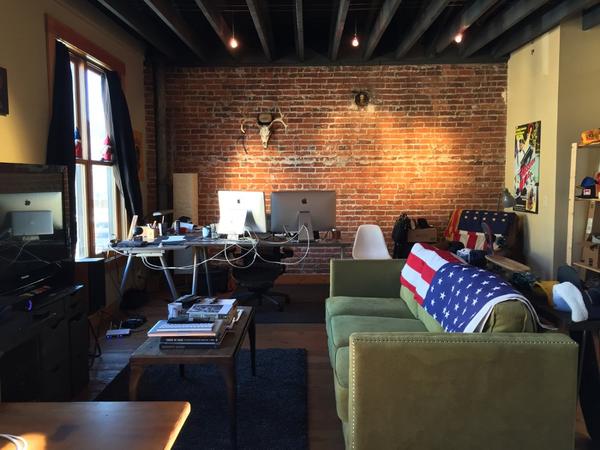 To start off our list, we will tackle the business-themed ideas for wall decor. If your current entrepreneurial activities require work from home and a quiet place, then you really need to consider the business-themed man cave. Furniture should be sophisticated, refined, and stylish.
Such bachelor pads are centered around the concept of serving a purpose. And the wall decor will make no exception. For example, a wall-mounted shelf is perfect for storing documents and various certificates. Soft and sober wall paint is the way to go for such a room, and patterned wallpapers can make it or break it. One more must-have component is a fancy wall clock that will remind you that time is money.
Straightforward ideas are more preferred than going into complexity. The purpose of the room is to have a feeling of warmth while being as comfortable as possible. Eventually, you should arrange a space that will improve your workflow and make it enjoyable.
If you need a more "how to" guide for creating a man cave office read this article.
Sport-themed man cave wall decor ideas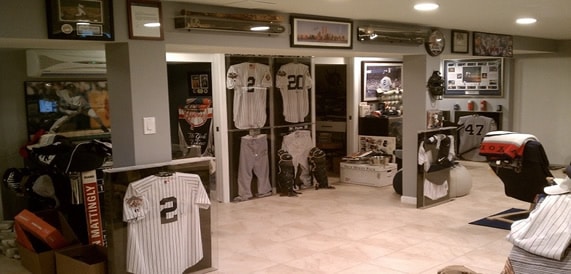 It's very common to go for the sport-themed man cave decor ideas. It really does not matter what your favorite sport is because they all fit perfectly when it comes to the matter. Football, basketball, soccer, or cricket — everything can be adopted and fit great as man cave wall decor ideas.
Here are some fantastic large wall decor ideas that can stem from your favorite sports team.
You can use the colors of your favorite team to design and paint the walls. This is one of the decor ideas for large wall that your friends will be jealous of.
Posters of the most-liked athletes can find a new home in your studio.
Jerseys or caps can be framed and hung on the wall. This can also encourage you to start a new hobby, and you might see yourself become a sports memorabilia collector.
A large TV screen can make its way on one of the walls, and you can watch your favorite games in peace within your sanctuary. Be sure to check out what we think is the best full motion TV wall mount before you decide on anything else.
Sporting equipment can be displayed on your walls that not only look great but also double as great conversation pieces when you have friends over.
If you are hosting game nights or joining those of your friends, you can use the photos taken at these events and have them framed and displayed on your walls.
If you frequent your favorite teams' home and away matches, you can display all the tickets you have collected over the years. This will show how passionate you are about it and starts a conversation with whoever visits you.
For some awe-inspiring sports themed man cave makeovers and instructions for how to build your own read this article.
Music-Inspired Man Cave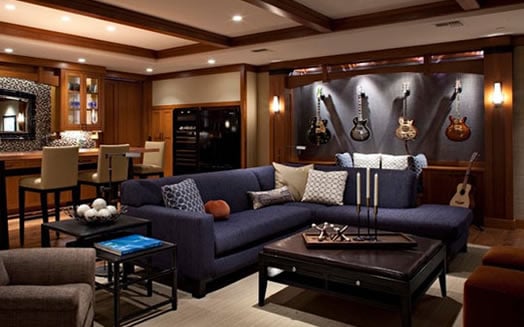 It's no surprise that music is a typical man cave theme and one of the popular man cave decor ideas. This subject is rather versatile and should be considered by any music lover. You can find below a list of music-themed decor ideas that can embellish your room and become an object of envy for your guests.
Musical instruments can be hung from a wall – guitars will be the most popular, but any instrument will do.
If you happen to have a melody that is very close to your heart, you could frame the music sheet from the said song.
Posters and tour t-shirts can be framed as well and pridefully displayed on your wall.
The same can be done with the lyrics of your favorite song. This is one of the gray wall decor ideas that we think mixes very well with the surroundings.
Be prepared to soundproof your man cave!
Game Room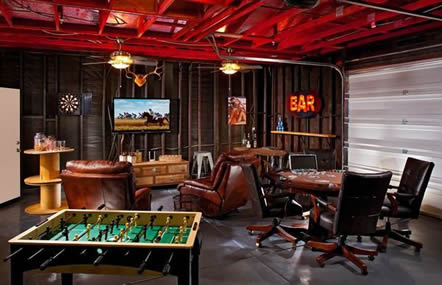 Here's another brilliant idea. Why don't you have your man cave doubled as a game room? This will give it a personal touch while also being able to accommodate your friends and family. If you love games, then it is understandable you strive to create a game room. Snooker, PlayStation, or board games can all be at the center of your game room design. This gives you a lot of liberties when it comes to the wall design, and you can go wild, getting as creative as you always wanted.
Here are some wall decor ideas that stem from a game room.
You can paint the walls with daring colors that mimic your favorite video game.
A chalkboard can be hung on the wall to act as a scoreboard.
Game accessories can be attached somewhere as well – a snooker cue, your PlayStation CDs, or the board games themselves.
You could frame the posters from your favorite video games.
You could use all these suggestions as outdoor wall decor ideas.
If you prefer a retro gaming man cave then find out how to build one here.
Conclusion
There is nothing that can limit your creativity if you plan on designing and adorning your man cave walls yourself following our home decor ideas. Pick a theme that you are passionate about and stick to it. The results will be amazing, and you can slowly improve and add more items and memorabilia as time passes.
You can get some inspiration from articles just like this one, but in the long run, we suggest you make sure that you add your personal touch. This is not about purchasing the most expensive décor pieces – it's about rolling down your sleeves and being enthusiastic while engaging with your surrounding space.
What's your experience with building the perfect man cave? We encourage you to use the comments section below and share everything you think may help others get better results.