With so much focus put on both the location and the décor, sometimes your man cave flooring gets, well…overlooked. Okay, maybe overlooked isn't the right word, but man cave flooring definitely doesn't receive as much attention as it should.
That's a real shame, because the man cave flooring you choose can be a real game changer making your man cave stand apart from all others.
We have 12 unique and awe-inspiring man cave floor ideas that will knock your socks off ('cuz it's fun walking barefoot on an awesome man cave floor).
12 Awesome Man Cave Flooring Ideas To Suit All Spaces
The correct man cave flooring can do any one of a number of things; flooring can be used to augment your theme, create a feeling of comfort, ooze opulence or help to create a rustic feel.
Man cave flooring can even reflect the glare of lights in a way that that makes your space look bigger, or it can be used to simply add polish and pizzazz.
If you're now looking at your man cave floors wondering what you can do with them, you're not going to want to miss this article. In it, we'll share our 12 favorite man cave flooring ideas sure to make an impression on you.
1. Wooden man cave flooring with a rustic feel
This is a tried-and-tested way to cover your floor that is a sure-fired winner.
When you think wooden flooring, your mind probably goes to the creaky attic in the house you grew up in, right? Luckily, your man cave floors don't have to resemble those old dusty boards at all. You can instead go for a polished, refined look ala our example below.
Wooden flooring like this would look best in an upscale modern man cave or one with a rustic theme (though you may want to go easy on the stain and polish).
Make sure you get overhead lighting that shows off the pristine polish work of your man cave floor. And, you know, clean the thing from time to time so it looks pristine.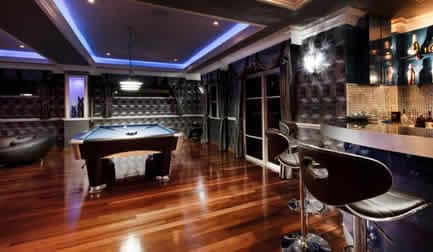 2. Eye-popping 3D epoxy man cave flooring
We of course had to include an example of 3D epoxy flooring for a man cave. We've written about this flooring type extensively on the blog, such as here, and here. There is almost no limit to what you can do with an epoxy floor. In our example below the floor is the ocean!
In case you missed the articles where we covered epoxy flooring, here's a recap on what 3D epoxy flooring is.
Using the power of simple 3D wallpaper you can create some stunning and mind boggling flooring that will wow everyone who enters your man cave. There is 3D wallpaper available that comes with a range of amazing images, like these ones
.
To imprint the wallpaper or image on the floor, first you must use a primer layer, preferably self-leveling. This usually involves pouring some epoxy resin over the existing floor. As it has a thick liquid-like consistency it ill fill in any dents or holes and level out before it dries.
Once your initial layer is dry put your wallpaper down on the floor ensuring it is bubble free and flush. To add depth, apply two-component polyurethane or epoxy.
Finally, finish the whole thing in varnish and you're done!
You can create a floor that gives off a tropical island feel, like this man caver did, or create any other scene you desire with a bit of imagination. The sky is truly the limit.
Of course a cheaper option, though not nearly as impressive and long-lasting, is to use these types of 3d floor decals
.
If 3D imaging on the floor is not to your style epoxy flooring still offers a great way to create a unique look. Instead of using a 3D image you can use just about anything else from old coins to beer caps or simple paint. You can even paint or lay a football field or baseball court (ideal for a baseball man cave).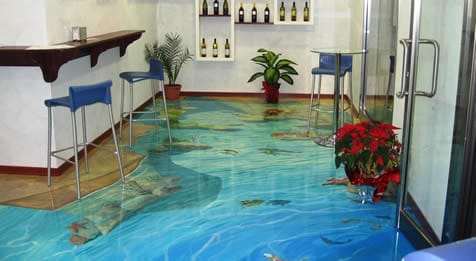 How to lay epoxy flooring in your man cave
3. Sports-themed man cave flooring
Something else achievable with 3D epoxy is sports-themed hard flooring.
Now, granted, if you or someone else you know has some really good artistic talent, you could paint something like this on a basement or garage floor in a couple of days. Otherwise, printing the pattern works just as well.
You can also go the sports tile route like this dedicated Green Bay Packers fan did here. To get those Packer logo tiles, they too may have used 3D epoxy. It really does come in handy for quite a lot!
Of course you could use decals instead and then layer over them with epoxy resin.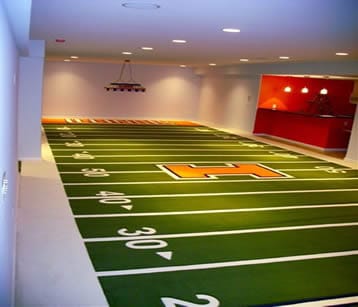 4. Sports turf man cave carpeting for the football fan
If laying down epoxy flooring sounds too time-consuming and/or expensive then consider creating a similar look with carpet instead.
Here's a man cave flooring idea that sports fanatics will go gaga over.
Turf carpeting makes this man cave look uber authentic. That green turf would look right at home in any football man cave regardless of the team its dedicated to.
The great news is that there is a range of football carpet available to choose from
from large scale room carpet to smaller rugs.
No matter which sports team you favor, flooring like this will make your man cave the hottest spot on the block to hang out.
5. Retro tiled man cave garage flooring
Ideal for a garage man cave or basement man cave, this tiled flooring really ties into the motorcycle theme this man caver was going for.
The tiles themselves are a type of metal, and they have grooved lines that mean you'll never go slipping and sliding in your man cave regardless of how much beer, or oil, you spill.
Tiled flooring may seem expensive, but it really depends on the material you choose and the style you're looking for. For instance, good metal tiles like these ones
may cost you as little as $6 to $12 per tile and are usually sold even cheaper in sets.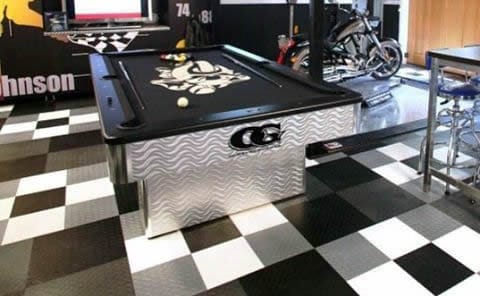 6. Harley-Davidson man cave flooring flooring – let's ride!
Do you love Harley-Davidson? Like really, really love Harley-Davidson? Then you might want to create an homage to the motorcycle brand with your man cave flooring (and the décor, of course).
It's totally within the realm of possibility!
These specialty floor tiles come from a brand called RaceDeck. They produce all sorts of tile flooring solutions, but this one's our favorite by far.
Each alloy tile has the little Harley shield and bar logo across it. You can get these tiles in several colors and designs.
Do keep in mind though that RaceDeck tiles are designed to work for garage floors and are not really suitable for home use.
This is one of the best garage man cave flooring ideas we've ever seen (but maybe that's 'cuz Mick loves his bikes!)..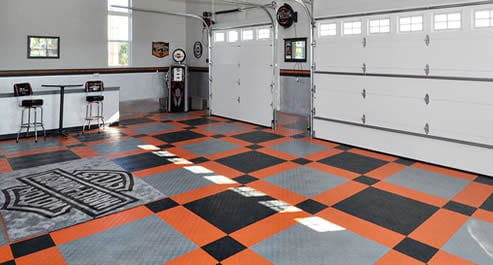 7. Stained concrete man cave flooring is rustic but refined
This is another type of flooring that would look great is a rustic man cave.
Most basements and garages have concrete floors. There's almost no way to get around that if you want a different floor type.
Most of us would love to rip up the boring, plain concrete and get something else put in, but that's an expensive and time-consuming undertaking. But, what if we told you there's a workaround?
Indeed, there is! This man caver took a plain concrete floor and then stained it a brownish color to give it a rustic feel. However any type of colored concrete stain would work well and you have a choice of colors.
For your specific man cave you'll have to use a a good concrete stain
specifically designed to work on concrete.
Think of this as a labor of love. You'll put a lot of time and passion into staining the whole floor evenly, but once it's done, you'll have saved so much more money than you would have by getting new floors.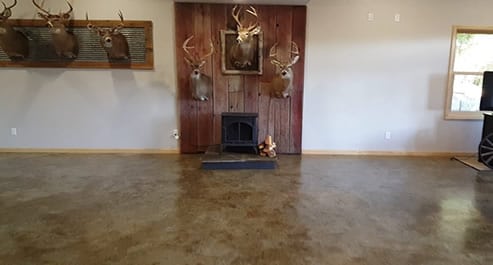 8. Carpeted man cave floors suit any style
If you don't love your man cave floors and you don't have the time or the budget to do much with them, who says you have to? You can always cover them with a thin but sufficient layer of carpeting.
If you have a man cave that doubles as a theater, such as the one in the image below, then carpeting makes for an exceptional idea.
Choose unique patterns and colors for your carpet to really make it stand out. No one will care what's underneath!
Of course you can also lay sports themed carpet if you have a sports man cave as we discuss below and that we previously covered in this article.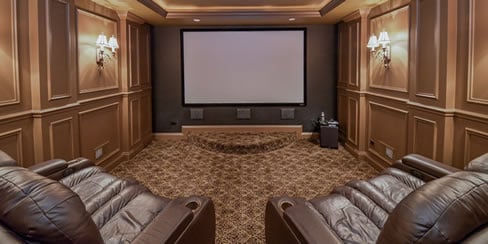 9. Golf course man cave rug ideas
There are tons of different types of golf carpeting and man cave rug ideas with a gold theme. But, the man cave rug idea we have included is actually a twofer.
The dark wooden man cave floors add class to this stunning, roomy man cave. But of course it's "the green" that draws the eye the most.
That's a mini golf turf smack-dab in the center of the room.
You could even play a mini game of putt in this man cave.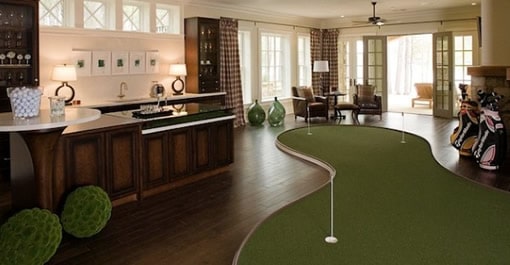 10. Stone man cave flooring – great for basement & garage man cave floors
Moving away from sports stuff, here's a great idea if you have the budget for a luxurious man cave. In our example below the stone man cave flooring has been placed in a garage man cave though stone flooring would look just as good in an outdoor structure such as a cabana.
This man caver has got it all with this luxe garage. The glass doors let in plenty of sunlight that reflect off the light colored stone floor even when the door is closed.
There's five—count 'em—five large-screened TVs, a dark wood entertainment center, lots of comfy seating, and a sizable home bar that's fully-stocked.
However, what really drives the posh atmosphere home is the flooring. Large stones in lighter colors play well with the beige furniture and light brick walls.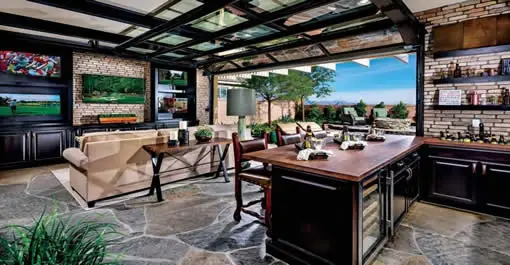 11. Rustic wooden man cave flooring with a man cave rug
The wooden floors we've featured so far look so clean and shiny you could see your reflection in them. But if you're more of a rustic type of guy, or implemented one of our rustic man cave ideas, then that's the last kind of flooring you'd want.
Instead, you may be more apt to favor the unmatched colored slabs of wood that make up this rustic flooring in our example below.
This man caver tossed a ginormous Persian style throw rug (which are surprisingly cheap
) in the center of his oversized space, matching the rustic man cave floor perfectly.
A music fan through and through, this man caver has vinyl records, posters, and rows of music equipment that makes you feel more like you're hanging out at an exclusive venue or café than someone's basement.
We also quite like the décor oddities here, such as the cow-print pillow, the zebra-striped armchair, and the large circular chandelier laden with candles that match the man cave floor perfectly.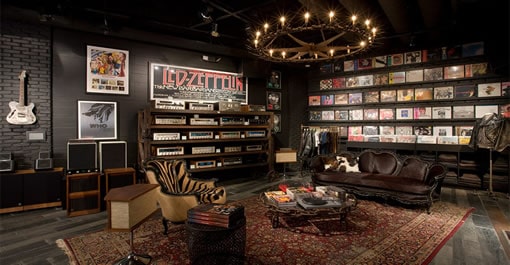 12. Awesome 10 pin paradise man cave flooring
This last one is a little opulent … to say the least. You will need lots of space and a fairly big budget to pull it off but it looks so good we had to include it.
Not actually man cave flooring per se this man cave has dedicated half its floor space to 10 pin bowling.
On the other side of the bowling lane, the striped red and black carpeting gives this place the right alley atmosphere. So too does the gaudy pattern of the chairs at the small dining table.
If having your own bowling alley is your dream then we advise you to soundproof your man cave to minimize noise complaints. You'll also have to polish your man cave floor often so it's suitable for bowling.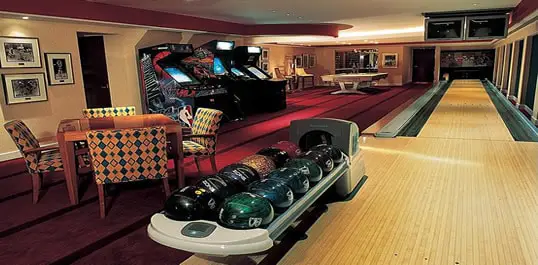 Conclusion – 12 Awesome Man Cave Flooring Ideas
When planning your man cave, you must take the entirety of the space into consideration. That includes the man cave flooring as well.
The material you choose can either lend cohesion to your man cave theme or stick out like a sore thumb.
The 12 ideas we presented in this article show that with some creativity and an eye for basic design, almost every man cave floor type works for a man cave in some capacity. Now you just have to choose which one you like best. Good luck!