Football season is right around the corner, and you want to give your basement or spare room an overhaul. You've gotten permission from your spouse or partner to decorate the space as you please so you can create your very own man cave.
But, not just any old sports man cave will do! As a dedicated fan you can't think of a better way than to make you man cave a haven for all things Minnesota Vikings.
5 Minnesota Vikings Man Cave Ideas
Whether you're from Minnesota yourself or you just love the Vikings because of their skills on the field, you can theme your man cave in countless ways.
A dash of the Vikings' bright purple will get you on the right path. Here are some of our best Minnesota Vikings man cave ideas.
We're also including a handful of Vikings-themed products towards the end of this article to help with your Vikings décor.
Let's get started!
A very signature shade Vikings man cave
You can't miss our first man cave pick, due to that unmistakable purple on the wall.
Though using that distinctive purple certainly goes a long way to creating the perfect Vikings man cave you don't necessarily have to paint your entire room Vikings purple.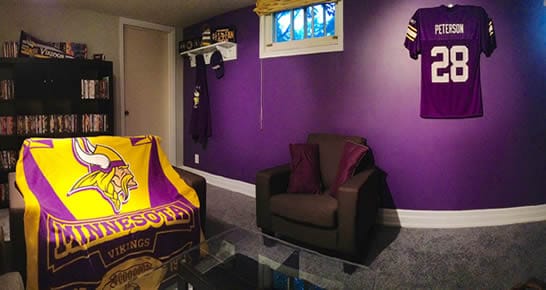 Too much of this opulent color can get overwhelming and, quite frankly, a touch loud. It will also darken your room and make it more difficult to light.
Luckily the Vikings yellow helps offset the darkness of the purple.
Painting just a single wall purple draws the eye right to that part of the room. So instead of a full room paint job just paint a feature wall purple and work around that.
This man caver didn't do too much else after painting. A Vikings jersey pinned to the wall and a team throw blanket on the couch pull together this room nicely.
It's a cozy little space to hang out with a few pals, crack open some beers, and watch the Vikings play.
If we were to change anything it would be the the way the walls are painted. Instead of the main wall being purple we would keep it white, or better still yellow, so you could hang a jersey, cap, some framed photos and other Viking memorabilia.
The Minnesota Vikings purple would really pop against the lighter background.
The wall with the bookshelf could then be painted purple along with the door (while painting the frame Vikings yellow).
A Vikings decal for the glass table, with some white horns and blonde braided Helga Hats scattered around the room and maybe a vikings rug would help create the overall look.
To finish off this space nicely this NFL Vikings hover helmet
that levitates is a must!
Skol! … to this Vikings man cave
There is a lot going on in this Minnesota Vikings man cave!
Although there may be too much happening for some of you in this Vikings man cave example it may just be the perfect space for others.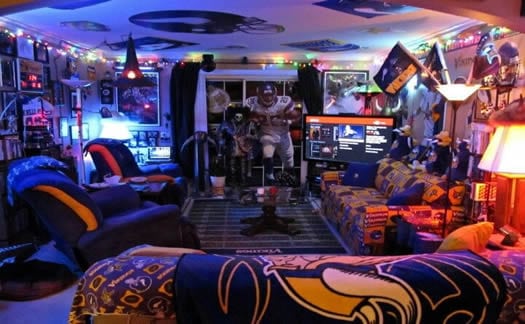 This could be created in either a basement or a spare room,.
It's got character through and through. As an avid football fan, this man caver decorated pretty much every available surface with football memorabilia.
On the floor, there's a rug that looks like a miniaturized version of the Vikings field.
The walls are plastered with framed photos and jerseys. Even the ceiling has the famous NFL football helmet complete with Vikings logos stuck up there.
Between all the signs, this man cave owner added some Vikings flags, plushies, and throw blankets.
The lighting adds to the comfort in a big way. From the strings of Christmas lights to the blue and yellow glow emanating from some lamps in either corner, this space feels very personal and comfortable.
That's a lotta merch
Some people have called this the craziest Vikings man cave out there. We're not quite convinced, and that claim is disputable.
What's not as disputable is how much of a die hard Vikings fan this man caver is.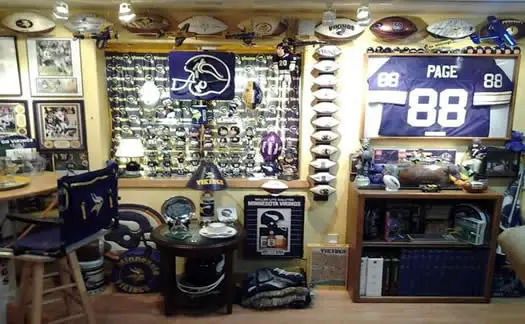 Seriously, just take a moment to drink in that collection of merchandise.
Yes, there's the standard fare like framed jerseys, but the medals, autographed footballs, and plaques speak much more to the strong dedication this man cave owner has to his favorite team.
If you want to replicate this man cave, or even a small part of it, then you need to shop around for Vikings memorabilia in places like SportsMemorabilia.com.
Cuz colors aren't just for wearing in a Vikings man cave!
As a football fan, you often end up with a closet full of jerseys.
You have to get one for your favorite Vikings player, well, until they retire or get traded to another team.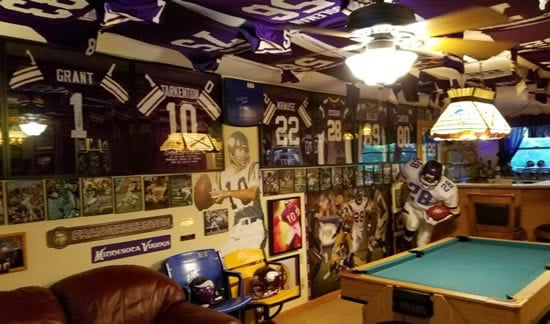 Then you find another favorite player, and so on and so forth. The cycle continues and you end up with a boatload of jerseys (figuratively or literally?
Only you know the answer to that.)
If you don't have room in your closet for yet another jersey, you can always take some of your favorites out and adorn your man cave with them.
The man caver who owns the cave in the image below didn't stop with covering the walls with jerseys. He kept going to the ceiling.
There's so much going on here besides jerseys though; we have framed photos, autographed merchandises, a nice pool table (which would look better in purple or with a Vikings logo on it), and that large cutout of a football player.
Vikings man cave kingdom
Vikings man caves don't come much more dedicated than our next one.
This man cave is so insane it got featured on the news.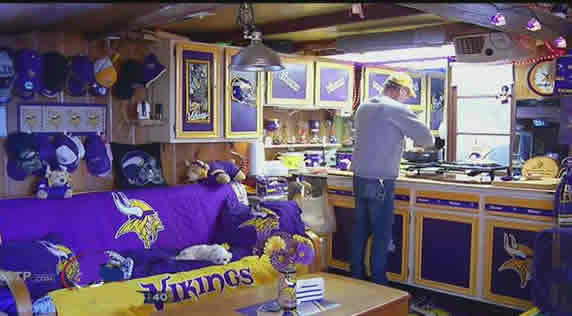 Technically you could argue that this is not a man cave as both the husband and wife worked together on it.
Having said that, because it has all the ingredients of a man cave (and because it looks awesome) we just had to include it.
On this list, we've seen many a man caver who covered just about every available surface with Vikings merch, but none that went as far as this.
Almost everything in the room is dedicated to the Vikings. There's the obvious details, like the throw on the couch, the plushies, and the custom cabinetry.
However, it's the smaller touches that impress more, such as the Vikings keyholders on the wall and the flowers on the table in the yellow and purple Viking colors.
The extensive use of the purple is offset well with the accompanying yellow thus ensuring the room does not look too dark and that light is reflected well from all the surfaces for an an airy feel.
6 Minnesota Vikings Products for Your Man Cave
If you're looking to add some Vikings flair to your own man cave then you've come to the right place. We've got you covered with some awesome products!
This neon sign is a must if you have a Vikings man cave bar
Our first pick is this amazingly epic Vikings neon sign
. Available online, this sign measures 20 inches by 16 inches, so it's quite sizable. If you by chance want the sign even bigger, you can also order one that's 24 inches by 20 inches.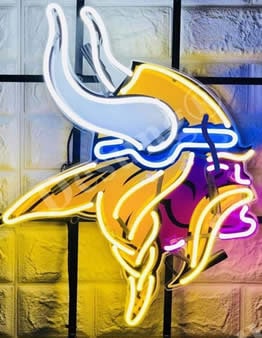 Using HD printing technology, this light-up logo looks awesome in any space.
The neon bar lights illuminate between 110 and 240 volts, so it will certainly capture the attention of all your pals. Despite their powerful glow, the lights never get to a burning temperature though.
To put up your Vikings neon sign, you can drape it flat, mount it to a wall, or hang it via the chain.
Vikings recliner to guard the chair of the man cave quarterback
Keep that recliner of yours protected in the best way possible with this Vikings seat cover.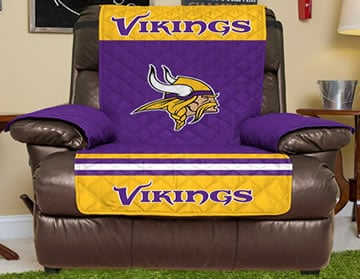 This pick on Fantatics.com is an officially licensed product you'll feel proud to show off. It's a one-piece cover made from quilted microfiber and polyester. To keep it on your recliner, use the elastic strap around back.
Designed for recliners with an overall length of 34 inches, the cover itself is 80 inches by 65 inches. You might want to pick up several for each recliner in your man cave!
No Vikings man cave is complete without the flag
Another cool pick from Amazon is this large and impressive Vikings flag
.
As an official product licensed through the NFL, the flag is made of durable polyester and meets the Vikings exacting standards for quality.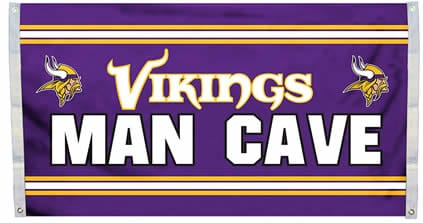 The Vikings logo is as clear as day, as is the text, which reads "Vikings man cave." As you'd expect, the flag shows off those great Vikings colors.
Your flag includes metal grommets on all four sides so you can hang it your way. Whether that's on a wall, a ceiling, or even draped across a large couch, you have plenty of options.
With this flag in place anyone who walks into your man cave will know exactly what you're all about.
Minnesota Vikings 'rules of the man cave' sign
You know what would go really well with that Vikings man cave flag?
A Vikings man cave sign
like this one. As an Amazon's Choice product, this hanging wall sign has a very high star rating and excellent customer feedback making it it a fantastic buy .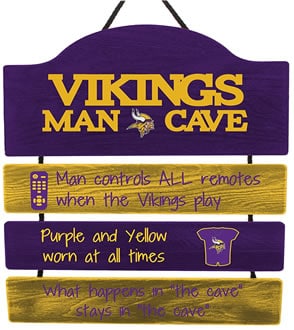 The cave sign is made of wood and includes four different panels as follows:
The first reads "Vikings man cave."
The second says "man controls ALL remotes when the Vikings play."
The third panel reads "purple and yellow worn at all times."
Then, the last panel says "what happens 'in the cave' stays 'in the cave.'"
It's fun and playful, thus making it something great to consider for your Vikings-themed man cave.
The sign is 12 inches by six inches and comes with its own hanging cord for putting it anywhere. Should you need a gift for a friend, you can get the sign made for just about any other team in the NFL (or to maybe use as a dartboard?!).
Vikings rug for those protective safety plays
Got some empty space on your man cave floors?
Try filling it with this huge Vikings rug from Fan Cave Rugs.
You can select from one of three massive sizes: three feet, 10 inches by five feet, four inches; five feet, four inches by seven feet, eight inches; or seven feet, eight inches by 10 feet, nine inches. Yeah, that's pretty big.
The carpet is a dark purple with a yellow and white border. In the center is the Vikings logo.
This rug has that same attention-grabbing deep purple color, so keep that in mind when putting together your man cave.
The whole carpet is a stain-resistant nylon with edges designed to withstand foot traffic.
So all that spilled beer at touchdowns and jumping up and down at field goals won't cause much trouble to the fabric.
The backing also prevents skidding and slipping as well for when you and your buddies get over excited.
Its fade-resistant design means even in a sunny space, those pure colors should last longer You even get a manufacturer's warranty good for two years.
Vikings carpet tiles just look awesome
For the serious Vikings fanatic who wants floor-to-ceiling details, try these Vikings carpet tiles. Available on GlobalTrucker.com, the tiles are an alternating yellow and purple.
Each yellow tile is plain, but the purple ones have the Vikings logo on them.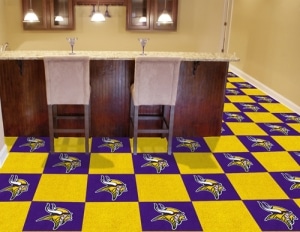 They come in boxes of 10 purple logo tiles and 10 yellow tiles for a total of 20 tiles per box.
Depending on how big your man cave is, or the size of the area where you will lay these, you'll spend on average of about two hours on installation, which isn't too bad. That's due to the way these carpet tiles are designed.
Each has adhesive stickers on the underside. All you have to do is choose where you want the tiles to go, alternate them, and then stick them down firmly.
The backing comes with fiberglass vinyl reinforcing so these tiles hold up to a lot of abuse.
With no pads or underlay needed, you'll love how they look with so little effort involved in laying them. The manufacturer says they clean up pretty easily, too.
Conclusion: 5 Amazing Vikings man cave ideas with the merch to match
Each Sunday, you look forward to watching the Minnesota Vikings play the other teams in the NFL – see our awesome NFL man caves.
You've decided to do up your man cave to show off that love for all things yellow and purple. Through the ideas and products we shared in this article, you should have a great basis in which to make your own man cave a space for Vikings fans only.