What do you do when the best time of the year has officially gotten underway! We're talking about football season, of course. You'll been glued to your TV from late September, and you know you won't come up for air until sometime in Dec. That's just how you like it.
To celebrate another great year of football, we're presenting a list of our ultimate NFL man caves.
Whether your man cave project is just a dream in the back of your mind at this stage or a realized room that could use improvement, you'll love these spaces.
Let's get right into it!
10 Awesome Football Man Cave Ideas To Inspire You To Build Your Own
Sports man caves are among the most popular type in the US and for good reason. We love our sports! From baseball, to basketball or golf to tennis we love them all. But, arguably the most loved sport in America is football.
Below are 10 amazing NFL man cave ideas that you can you implement in your own private space.
Don't forget to add those special little touches like the amazing 3D hover helmets, the awesome snack helmets and the incredibly comfortable and stylish football shaped chairs (we cover them here).
Filling that wall space – man cave football on screens
This man caver has a huge garage that he made his own personal haven. That left him with tons and tons of wall space to cover, far more than the average man cave owner usually has to worry about.
What did he decide to do with it?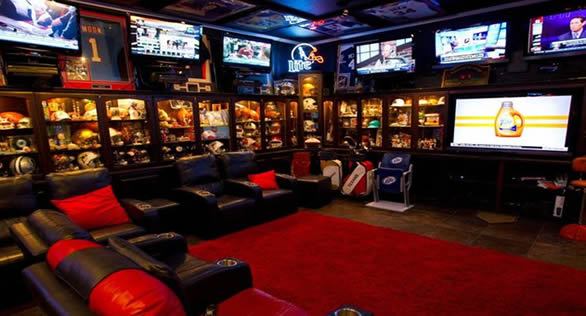 Plaster those walls with framed photos, jerseys, cabinets filled with helmets and, of course, TVs!
The colors are slightly dark but they are striking and off set by the lights from neon signs and the television sets.
Still, if you have more football stuff than most people think is healthy, you need an over sized man cave of this nature. This way, you'll finally have the room to hang up all those cool plaques and photos you've collected during your years as a fan.
Right on the green – the ultimate football carpet for man cave awesomeness
If you often watch your NFL games close enough to the screen that you can practically touch the turf, then you'll love this man cave.
You can bring the turf home by getting your floors outfitted in carpeting that looks like the real deal.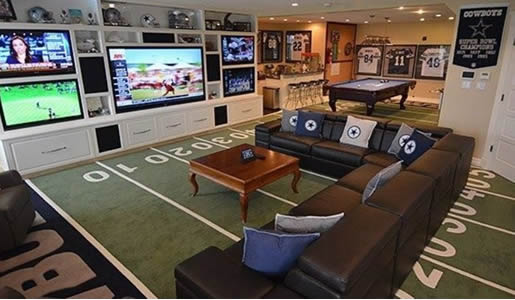 This faux turf even includes the yard lines.
This Cowboys fan continued decorating his space with a ginormous entertainment center with not one, not two, not three, not four, but five television sets. You never have to choose between two prime-time games again, and you can even watch college football no problem.
The faux leather L-shaped couch, helmets and other merch, along with the pool table and a home bar wrap up this space neatly.
Even if you're not a fan of the Cowboys, you have to admit, this is a super cool man cave that you'd love to emulate.
The Super Bowl party football man cave
Located in California, this all-out man cave is owned by David Spiller.
Besides everything you see here, his man cave also has laser lights, a fog machine, and fake snow.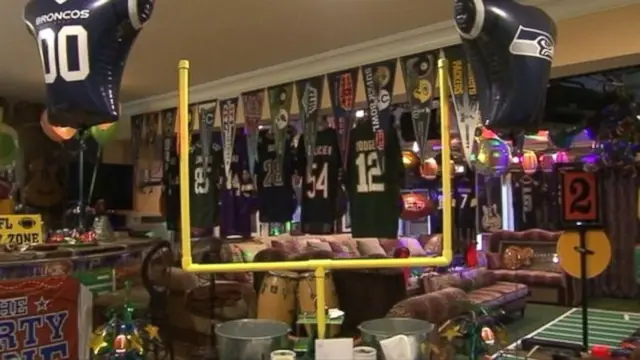 It's definitely the place to be come Super Bowl time. Let's talk about everything you can see here, since it's a lot.
We've got rows of hanging flags and jerseys as far as the room goes. On the floor in the back, you'll notice a rug that looks like football turf.
This NFL man cave isn't made for any particular NFL team, but is a celebration of football itself. How awesome is that?!
This generic football man cave idea is a good thing, since you and your buddies won't have to butt heads about who has the better team week in and week out.
All the party supplies really add to that fun atmosphere contained here. If you have a cozy basement or garage, you can change it up like this in time for the Super Bowl. Give it a try!
Bear country – bear down with this Chicago style football man cave
You don't have to live in Chi-Town to do up your man cave in honor of the Bears.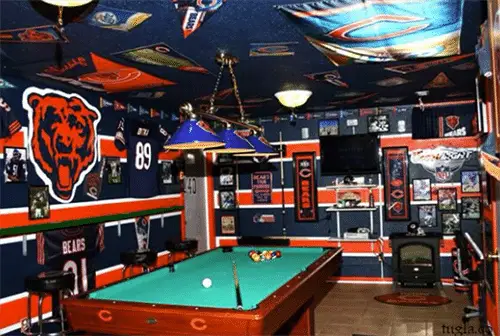 This much beloved football team has few bigger fans than the guy behind this space right here.
This super-fan almost went overboard, but it works so well. He covered the walls and ceiling in Bears blue, then painted some white and orange stripes on the walls to boot.
He also took all the hangable merch he had in his collection and slapped it on the walls and ceiling. From flags to jerseys, plaques, signs, photos, and more, they all frame the giant Bears logo on the wall especially well.
A pool table with Bears sconces acts as a nice centerpiece, and is that a jukebox over in the other corner? Either way, this enviable space will inspire Bears fans without a doubt.
This Bronco football man is far from In-Complete!
Denver just got color coordinated in this football man cave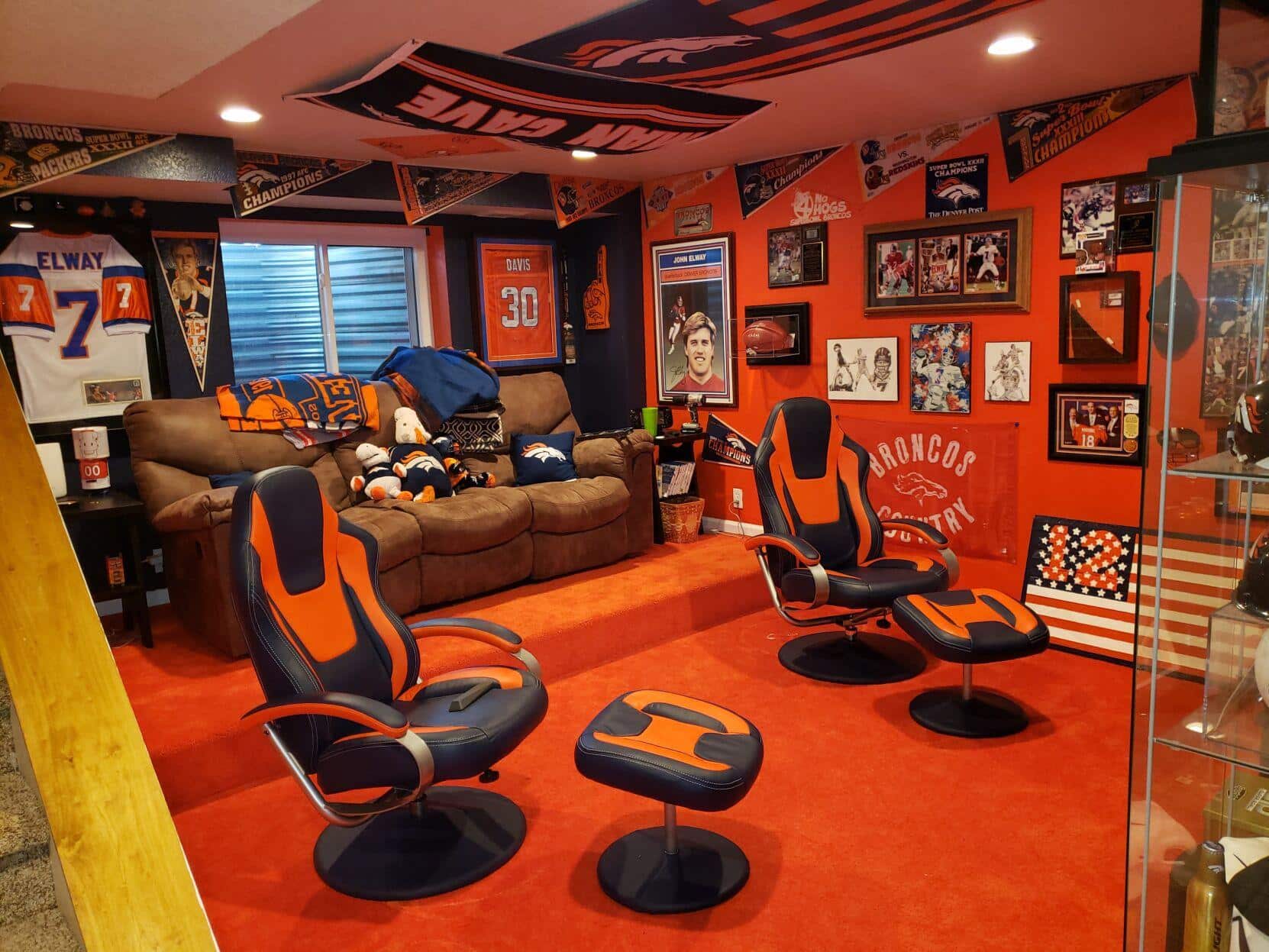 This cleverly decked out football man cave would be the envy of any Broncos fan.
Clever use of ordinary items, like generic orange carpet and orange & black gaming chairs with a simple brown couch set the backdrop and foundation for this Broncos NFL man cave.
Saving money on official logo embossed furniture means this man caver could use those savings to fund signed jerseys and posters along with other Bronco memorabilia.
Cleveland Browns man cave – bring the Dawg Pound home
If you're more of an Cleveland Browns fan, then boy, oh boy, do we have the man cave for you.
In fact, such a setup might make you an Browns fan, or at least set you on the path of dreaming how to recreate this man cave for your own favorite team.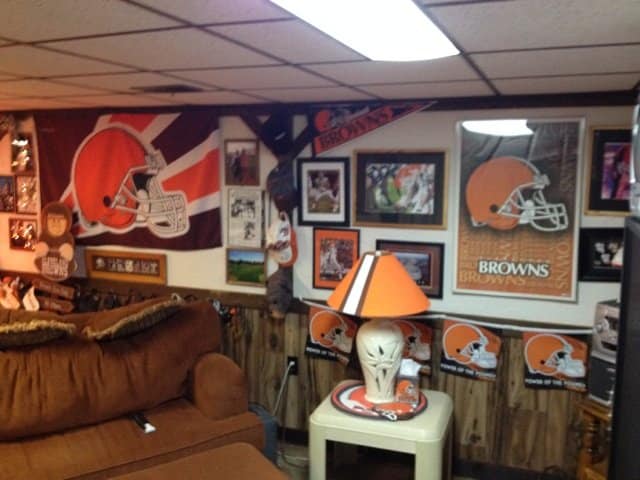 This awesome man cave, probably located in a basement, has revolving theater seating.
As if that wasn't epic enough, said comfy seating could just as easily be covered in faux turf to give it that authentic NFL football man cave feel.
You could also include chairs with a plush faux leather that are emblazoned with a Cleveland Browns logo on it.
In the background, the warm wooden walls have a few framed Browns memorabilia and fun items.
Colts lovers, unite! Football man cave for the shoe
Those who love that Indianapolis blue won't want to miss this great man cave.
It's covered in the signature hue everywhere, from the walls to the floors, the furniture, and everything and anything else in between.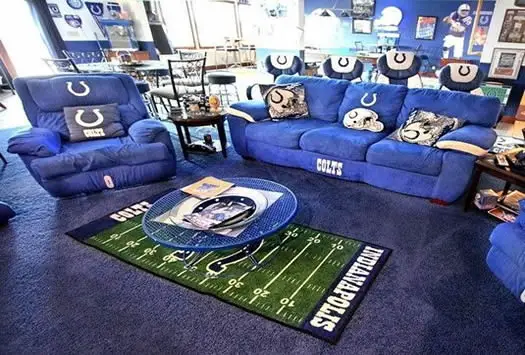 A few Fatheads in the back give the plain blue walls some flavor, as do framed photos and other Colts merch like signs and flags.
Behind the circle of couches and recliners are four chairs with what appear to be custom-made Colts seat covers.
The couches and recliners themselves sure look comfy to kick back in and watch the game. They're custom-designed as well with the Colts name and logo.
In front of the couches on the floor, you'll see a small Indianapolis-themed turf rug atop the dark blue carpeting.
This man caver even chose a blue coffee table to match! Talk about sticking to a theme.
An Ode to the Giants – let's go Giants football man cave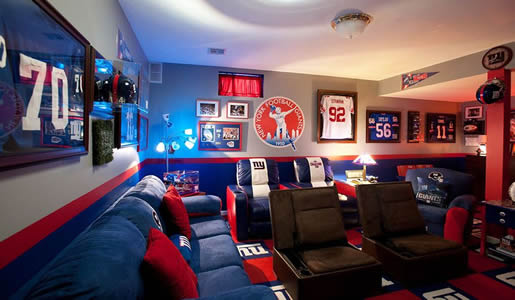 As of this writing, the New York Giants haven't had the best start to the 2019-2020 season. That can still change, of course, and you'll feel more hopeful in this man cave, which is dedicated to all things Giants.
The décor incorporates red, blue, and white throughout, first with the paint job on the walls and then in small things like the red curtain or the lamp with the blue bulbs.
On the walls hang lots of Giants paraphernalia, including plaques, framed jerseys, signs, helmets, and even a clock.
All the plush couches are in Giants blue with throw pillows also in the team's colors. You'll even spot two leather recliners customized with Giants logos.
Don't miss the floors, either, which are covered in Giants carpeting. Now this is one legit fan!
Patriots fans central – hot to go football man cave
One of the most derisive teams in NFL history, if you are indeed a fan of the New England Patriots, you might as well shout out your love loud and proud.
We can't think of a better way to do that than with your very own man cave that's an overt nod to the Patriots.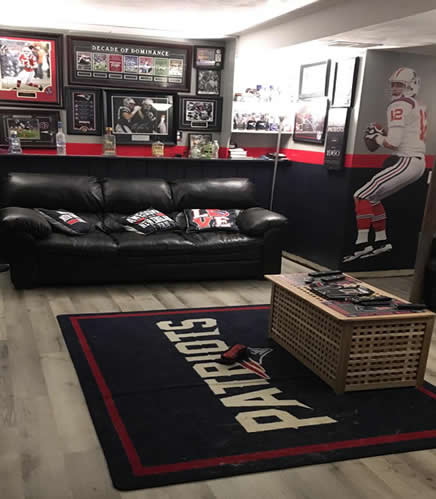 This man caver isn't super humble, not with his "decade of dominance" framed wall plaque showing all the Patriots' most noteworthy accolades.
One of his plaques is even signed!
The Fathead Patriots player on the opposite wall is a nice touch. As for the furniture, he keeps it simple, what with a leather recliner with Patriots-themed throw pillows and a wicker coffee table. On the floor, of course, is a giant Patriots carpet.
The man caver completed the space by painting his room with stripes that match his team's colors.
Faithful to the Bay – I left my heart in this football man cave
This year, all your friends will hang out at your house on Sunday, Monday, and Thursday nights. After all, who wouldn't want to spend time in a man cave like this?
This man caver did an exceptional job with his basement. The dark walls and light brown carpeting on the floor already add to the cozy atmosphere, as do the incredibly dim lights, mostly provided by neon recessed lights and televisions (just out of view).
Both the rug and cushions and throws on the couch show football helmets and countless other pieces of memorabilia are on display.
In the corner is a cabinet and each of its sections has its own overhead lighting to show off all the items inside.
The brown couch and carpet match the red throw pillows excellently harmonizes with the red and white of the San Francisco 49ers colors. There's room for a central jumbo TV, but if that's not enough, there is ample space for up to six other televisions if you want to fit them in.
Conclusion: Use these 10 football man cave ideas to inspire your own NFL man cave
Football season may have had a few frights in 2020 but nothing can stop the game long-term! Now the perfect time to retreat to your man cave and watch every game you can.
These 10 fun NFL man caves prove that with some sports merch, a tried and true love for a team, and a little bit of know-how, you can transform an ordinary room like a basement or a garage into an extraordinary man cave.
You can use the basic design of any of the football man cave ideas shown above to tailor a football man cave design to your favorite NFL team.
We hope you're feeling ready to do something with your own man cave after looking through the images in this article. Best of luck!