Few things in life would make you happier than having your very own man cave. There's only one little problem: there's just not enough space in your house. Your garage is packed full of stuff, your basement's where you keep your washer and dryer, and you don't have any spare rooms. Does this mean you have to let go of the idea of having a man cave? No!
A lack of indoor space doesn't mean you should give up on your man cave dreams entirely. Instead of thinking inside the box, think outside of it instead! Specifically, go outside and create your man cave there. With summer right around the corner, there's no better time than now to create your outdoor man cave.
If you're eager for some ideas, you've come to the right place. In this article, we'll showcase all the awesome ways you can tame Mother Nature and bring her right into your man cave. If you are more interested in creating a man cave in an outbuilding and want to build your man cave from the foundation up be sure to also check out the article How to Build a Man Cave in the Backyard for detailed construction steps.
Let's begin!
The best seats in the house are outdoors
The problem with many outside man caves is a lack of space for large items such as big screen TVs. This is especially a problem for sports fans and those man cavers who want to build a sports man cave in an outbuilding.
But with this outdoor man cave idea, even when you have a very small man cave, you don't have to compromise on your television set size.
In this example, there's a ginormous TV, with some lounge chairs, and an outdoor table for setting down your drinks. If you are going to leave a television outdoors, then make sure it's encased in its own housing like in this example. Otherwise, when it rains, your TV will get wrecked.
In our example the television has been set into the side of the outside man cave.
With a retractable shutter, for covering the set when not in use, this huge TV allows you and your friends to watch the big game in a roomy environment. While on the inside the man cave has a smaller TV and lots of man cave goodies to play with.
We think this beautiful, woodsy space is missing only one thing: an outdoor bar! After all, when you have your buds over, they'll get thirsty at some point. You don't want to have to trudge all the way back inside for refreshments.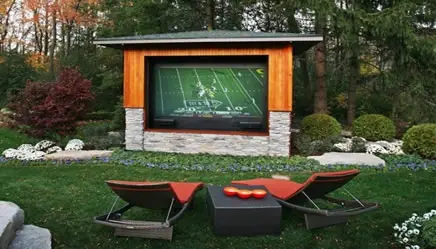 The semi-open outdoor man cave
Do you want more shelter than the above example but would still like access to the fresh air? Okay. Try this man cave on for size.
This man cave is a two-sided structure with a roof, limited walls, and an elevated floor, so it's not completely enclosed. This way, you can breathe in that fresh air while watching the big game or having a few drinks with your buddies.
This man cave lets you have the shelter of a building but with full access to the outdoors. It's truly the best of both worlds!
This man cave owner decorated his space to reflect a tropical feel with plenty of rich overhead lighting over the bar area to keep the space warm and homey. The inclusion of a jacuzzi is a great idea though that space could be used for a pool table or or card table or even some gaming machines.
We would recommend having some sort of temporary covering to protect the contents of the man cave in the event of bad weather even if it's just a large gazebo canopy cover draped over each opening.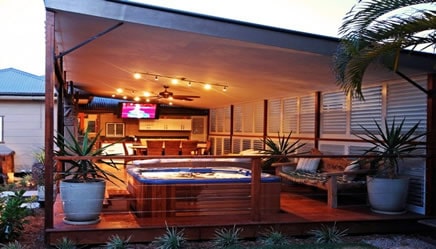 The backyard outdoor man cave retreat
This man cave is just awesome. Why build a man cave in the backyard when the entire backyard can become your man cave?!
You'd spend so much more time outdoors if you had a man cave like this. Like our example it's possible to transform your own backyard from a space overrun with weeds to one that's landscaped and … well … manscaped, too.
Paving stones create the perimeter of a space you can truly claim as your own. Adding patio furniture makes the area feel cozier. You can pick up wicker sets incredibly cheaply, like this Rattan table and and chairs set
, and kit-out the entire area beautifully for only a few hundred bucks if you're on a budget.
The real star of the show is the stone centerpiece. There's not one, not two, but three fireplaces here. Atop the center fireplace, you'll find a sizable TV sitting in the stone structure.
For added warmth, this man cave owner added a few outdoor space heaters that not only create heat but provide warm light to the area. Good plan!
Of course you can do other things with your backyard man cave.
The great thing about this type of man cave is that you can customize it to fit your preferences in any way you want due to the large space you have to play with. For example, if you're a football fan imagine creating a mini stadium complete with miniature field and goal posts. Or what about a golf green? Maybe you would prefer to create the feel of a hunting cookout camp.
The possibilities are endless.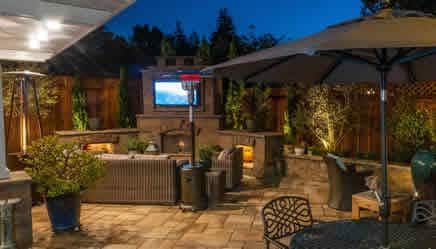 The outdoor man cave bar
If you enjoyed our recent articles outlining some great man cave bar ideas and man cave bar accessories, then this space should be right up your alley.
It's a fantastic man cave bar with all the fixins'. We love the dark wood trim seen throughout that is shaped to model a gazebo. And we just love the simple, rustic décor. For instance, that metal "G" wall sign and the simple, rectangular mirror both look great.
Adding additional rustic man cave décor, like this, would really liven the area up and make it feel much more like a man cave and less like a generic outdoor bar.
If you have the space, you could begin with this outdoor man cave bar and then expand on it, making your man cave even bigger and better. Even if you only can fit this bar in your yard, you and your pals should be plenty happy. Just make sure you get an overarching roof so even a bit of rain won't deter you from a night of fun.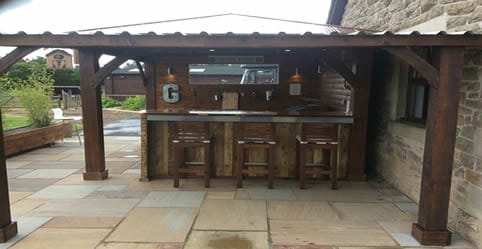 Grillin' central outdoor man cave
Maybe instead of drinking, you prefer grilling. Or maybe like me you prefer both! If you love BBQs then you can incorporate this into your outdoor man cave and thus enjoy your favorite activity in your favorite space.
This roomy, open space makes for the perfect summertime retreat. In the example below you will spot a pool in the background but this type of barbecue could easily be built just outside your backyard man cave outbuilding.
The addition overhead roofing means you won't sweat too much as you grill up a feast all summer long and it also means you get to do it in the wetter months too.
We have to talk about the grill itself, too, and what surrounds it. That L-shaped stone kitchen island would make anyone's jaw drop. The grill itself ain't too shabby, either. For those of you who love to cook outdoors a grill and smoker combo is really the only type of outdoor cooker you should use.
With plenty of cabinet space for storing your essentials and a sink for cleanup, you've got everything you need in one handy place.
If you wanted to make this the perfect outdoor spot then the addition of a small bar would really make this spot complete. You can even build a bar on a budget and if you have the sink and water supply already in place for the BBQ all you need is a table with stools, some optics, a compressor
and a kegerator and you're set to go!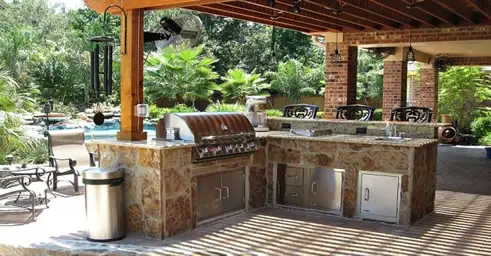 I covered how to make a man cave is a small room but what if you only have a small space outdoors? This type of outdoor man cave is perfect for those of you with limited space.
Compact enough to fit in a small yard but big enough to make a fully functional man cave this outdoor man cave shed idea offers both seclusion and openness due to its large forward opening door.
In our example image below the man cave has been created for a music lover but it could be kitted-out for any theme or purpose. If you are unsure about how to kit-out a shed man cave be sure to browse through this website as there are a ton of great ideas to choose from.
As a music lover, the man caver who designed this outside man cave created a space where he and his buddies could play their favorite songs, without complaints from his spouse and neighbors about the music volume.
Although it's a tiny space, it's got an intimate feel that you and your "bandmates" will love.
Inside, this man caver has set-up a full drum set but as you can see there is still plenty to stack amps. With a man cave like this when you want to crank up the volume, you just have to close the garage-style door. Otherwise, you could leave it open to show off your well-decorated space and your musical talent.
It's really easy to convert an existing shed into a man and you can do it in 10 easy steps, as Mick demonstrated here. You can even create a man cave like this with a shed on wheels.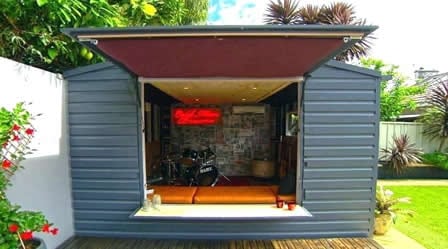 The outdoor man cave island retreat
If you have an existing pool on your property or you plan to build one then this man cave idea maybe just want you need to float your boat.
Maybe that trip to Hawaii isn't in the cards (or the budget) this year so why not bring Hawaii to you. Instead of bumming yourself out about it, bring the feel of a tropical island to you with an outdoor island man cave.
You will need a swimming pool to make this one work, and it will take more effort than some of the other ideas we've shared. Still, the results will make it worth the effort.
The giant wooden overhead structure is placed in the center of a large pool. It covers a concrete island that can act as your man cave.
On the island you can have your grill, an overhead fan for those balmy summer days, and a TV for watching sports games all summer. There's tons of room here, so if you wanted to add seating or even have an outdoor bar installed, you could.
Our favorite feature and by far the one that stands out the most is the waterfall. You'd have to rig up a water source from the top of the wooden overhead structure. You and your pals would stay nice and cool, though, even on the hottest days.
It is relatively simple to create this effect yourself with the use of a simple pump and several cheap shower heads like this one or a pool shower
.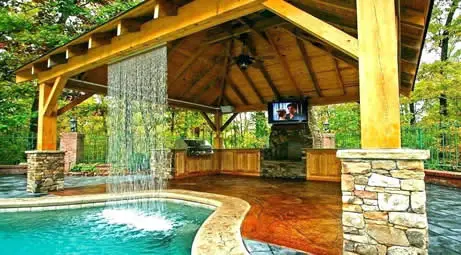 Poolside outdoor man cave entertainment
Why not make your man cave the swimming pool itself?
It's a brazen move for certain, but one that will vastly improve your summer, as well as your friends' summer.
This lucky and creative man cave owner rigged up a giant projector screen on the side of his pool.
During the day, you can put on your favorite sports games. At night, float and bob along the water on an inner tube and watch a movie under the stars. Just don't get any popcorn in the pool!
With some seating arranged around the pool, and the addition of a grill and maybe a small outdoor bar you'd have the perfect poolside man cave.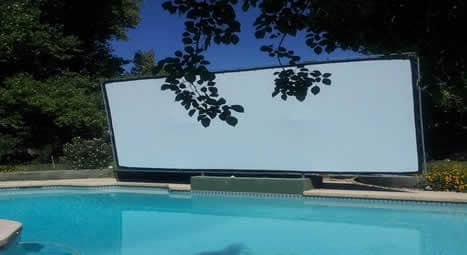 A simple outdoor man cave design
Sometimes you don't have the time to build whole structures for your man cave and some guys don't need that type of space anyway. Maybe just a simple area to kick-back in is all you need.
There's nothing wrong with reigning it back in and running with a much simpler vision. Take, for instance, the simple outdoor man cave idea shown in the image below.
With two chairs and a concrete table, it doesn't look like much but it's enough to create your own space.
You can even cook in the area. That's because the table also doubles as a grill and firepit.
With the addition of even a very simple outdoor man cave bar this idea could rival any other outdoor man cave.
Outdoor man cave restaurant & eatery
Transform your patio into something truly amazing by following the example in the image below.
You'd never want to leave an outdoor man cave like this, and we can't blame you. Everything here feels very homey and comfortable. We can't get enough of the mood lighting, which really makes you feel like you're eating at some exclusive establishment in a caribbean hideaway.
All your essentials are included here. The counter space looks like it's used mostly for food prep, but you can easily repurpose it as a home bar if you're so inclined.
You'll certainly appreciate the sink for wiping down messes and cleaning the dishes you accumulate or for cleaning the wine glasses and man cave beer steins
.
A tall grill would make a great addition to the space and it would undoubtedly get a lot of use as you show off your mad man cave cooking skills with these must-try man cave cooking recipes
.
Around the fence, this man caver has installed a TV at just above eye level. It's not huge, but that's okay, though a bigger TV for sports lovers is preferred.
Then there's the flooring—slatted wood—and the matching dining set in brown wood gives off a great outdoor island feel.
Finally, this man cave owner accentuates the space with an appealing patio umbrella for protection from the sun and rain.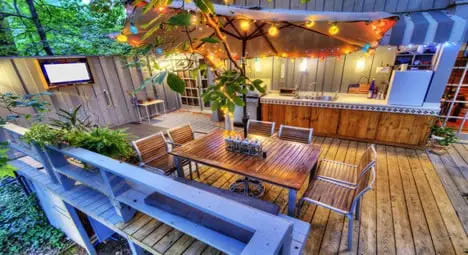 The outdoor man cave Tiki bar
We just love this idea!
Another very seasonal outdoor man cave you might want to consider, this one really embodies that beach bum attitude.
There's the grass roof, a colorful flag, and the dozens upon dozens of beach signs that would make even Jimmy Buffett blush. Adding to the kitschy feel, you've got brightly painted bar chairs in an array of colors.
Hanging some vintage man cave signs to the décor would only add to the look and it's something we recommend doing in spaces like this.
The huge TV affixed to an apparatus near the roof gives everyone sitting at your bar a great view. This isn't just a bar, either, because we spot cabinets further back for food storage.
You could even use this man cave as a kitchen for making all your favorite summertime foods and drinks and the must-try man cave recipes mentioned in the previous section.
Although our example is fairly big you could easily replicate this man cave in a smaller gazebo.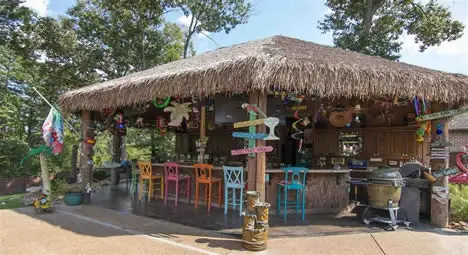 A final word on outdoor man cave ideas
An outdoor man cave is sorta like having it all. You still get some sunlight and fresh air, but now you can grill, swim, drink, and watch a sports game at the same time. Creating your man cave outside also removes much of the space-limitations you encounter with an indoor man cave.
It truly doesn't get better than that.
We hope this article has inspired you to create your own awesome outdoor man cave just in time for summer. Good luck!