Maybe, like me, you have incredibly fond memories of putting quarters in an arcade machine when you were a kid and playing the hottest video games for hours at a time. From the original Donkey Kong to Pac-Man or Street Fighter, the arcade may have quickly became one of your favorite places. So, how do you recreate those days in your man cave? Let's find out.
Retro man cave gaming. Vintage man cave ideas
While sure, your entertainment center probably has a PlayStation 4, a Nintendo Switch, or an Xbox One, you can't help it that, all these years later, you still prefer retro games. They just have a look and feel that tickles the cockles of your heart,. Plus back then gaming companies didn't try to rip off all your money with pricy game DVDs or "exclusive" DLC.
You want to bring back those fun days of your youth spent in the arcade with your very own retro gaming man cave, but admittedly, you have no idea how you'd begin such an endeavor. Don't worry. In this article, we'll tell you everything you need to know. We've even found some awesome retro décor picks and have added a handful of old school man cave ideas for inspiration.
Choosing your vintage retro man cave gaming space
Before we can get into what you'll put in your man cave, you need to decide where in your home (or outside of your home) your man cave will go. Many man cavers choose their garage or basement, and you can, too. If you have a spare room in the house sizeable enough for a man cave, that's another option. We covered how to create a man cave here.
You can also take things outside, erecting a man cave shed or repurposing one as your new home away from home. For instructions on how to build a man cave in your backyard read this article.
No matter which space you choose, you must ensure it has adequate electricity if you want a functioning retro gaming man cave. Remember, you're going to use your man cave to power the video game machines and maybe some electrically powered décor that represents your retro style. You'll also need at least on television set and plenty of mood lighting. So, make sure your space meets the electrical requirements.
If you choose your garage for the job, then do yourself a favor and read this article on our site. You'll know exactly what to do to make your garage into a legendary, comfortable man cave.
Vintage man cave décor with a gaming theme & vintage man cave ideas
Okay, so you've got a space for a man cave all picked out, but it's pretty empty in there. It won't be for long!
Here's some fabulous retro man cave décor picks sure to make the space have the same kind of arcade-y feel you're going for.
Pac-Man retro man cave gaming lamp
No retro gaming man cave pick is complete without an ode to the characters that started it all, such as Pac-Man, Donkey Kong or Super Mario.
The super cool retro lamp from Firebox, featured in the image below, has that definitive Pac-Man shape, size and look. You'll have to place the mouth and eye stickers onto the lamp yourself to get the character's face just right, but there's no installation required beyond that.
You can increase or decrease the lighting intensity with a dimmer, which you control via a remote control. The lamp also makes Pac-Man noises, 12 in all. Waka waka waka!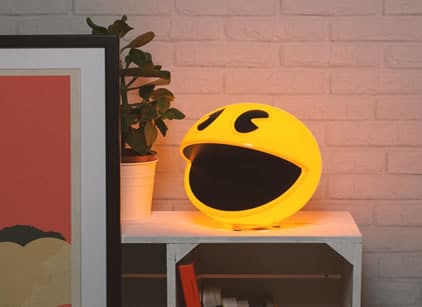 Super Mario Boo bean bag chair for the vintage man cave gaming space
When you finally bought your first gaming console, it was likely a Nintendo, right? Go back to those great old days with this bean bag chair
shaped like the iconic Mario character Boo. This plush little find has a depth of 38 inches, a height of 28 inches, and a width of 38 inches for great comfort to both young and old alike.
The stuffed cover is made from plush material for a lovely soft comfort feel.
You'll marvel at all the lifelike details of the enemy ghost Boo right before you plop down on him. Inside, he's made from polystyrene balls, polyester fiber mix, and cotton. That makes him great to sit on for hours as you dust off your old Super Nintendo and get to kicking some baddie ass.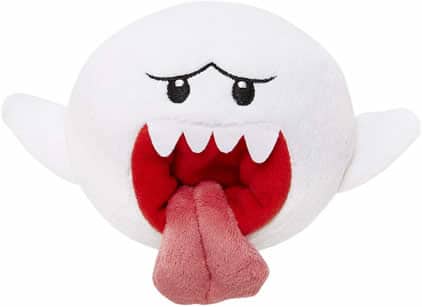 Spyro the dragon controller holder – for the retro man cave gamers
Where do you put your gaming controllers when you're done with them for the day? With this neat controller holder from Firebox, you'll never lose your favorite controllers again. Your man cave will also look cleaner and more organized.
This holder is shaped like another video game favorite, Spyro the Dragon. Although he's a little newer than Donkey Kong or Mario, Spyro has a place in our retro hearts nevertheless.
Not only will Spyro keep your controller secure, but he has a USB cable that will charge your Xbox or PS controller when it's not in use. Is your controller charged and ready to go? You can also use Spyro to juice up your smartphone!
You can get it here
.
There are other similar retro gaming characters available such as
Crash Bandicoot
and Sonic the Hedgehog
.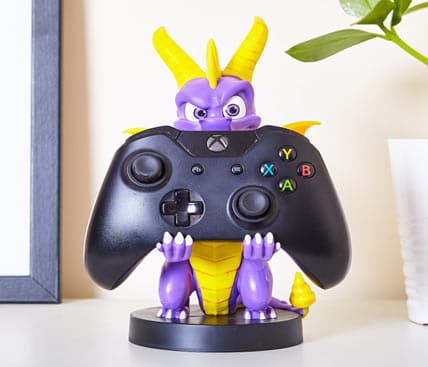 Donkey Kong welcome to my retro man cave gaming place mat
Make a great impression on your friends from the minute they set foot in your man cave with this DK welcome mat, available here
. It says "welcome to the jungle," which is quite appropriate.
The mat has a width of 29 inches and a length of 17 inches. You can use it indoors or outdoors. If it gets dirty, make sure to spot-clean it instead of washing it.
The mat itself is made from soft PVC (two percent) and coir (98 percent). It's got great detailing, with an old-school rendition of DK with the text in light brown and red beside it. set against a dark brown background. It's a perfect finishing touch for your retro gaming man cave.
If you prefer a more vibrant colorful mat check out this one
, (I actually prefer this one).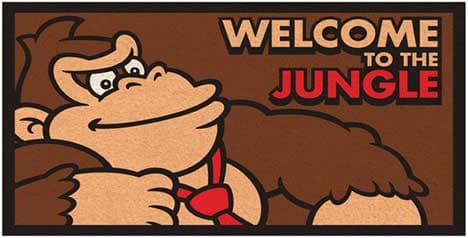 Pac-Man neon bar sign for the retro man cave bar
This one is perfect for a man cave bar that has gaming machines in it.
If your walls look naked, they won't anymore with this epic Pac-Man neon man cave bar sign courtesy of Basset Signs on Etsy. The sign measures 25 inches by 31 inches.
These LED Neon signs are hand-made and can be fully customized and scaled upon request (obviously for an additional cost).
The bright neon lights are actually much brighter and vibrant in real life as even high quality digital photos don't do them justice. The lights really pop against the gloss black acrylic background.
Basset Signs also can do other shapes, and logos based on any number of retro games (or just about anything else for that matter).
Make sure you put this sign it a place of honor even if you don't have a bar!
To visit Basset Signs etsy page click here.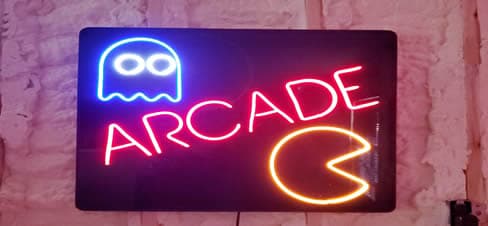 PlayStation retro game button light – retro man cave gaming illumination
Maybe you weren't a Nintendo guy growing up, but a PlayStation guy instead. In that case, you'll love this OG PS light from Firebox.
Sitting on a smooth black base, this light set includes all four iconic PlayStation button symbols: the green triangle, red circle, blue X, and purple square. Feel free to reorganize them as you like.
You can also choose from several light settings. With one such setting, each time you play music, the lights will flash in different sequences to match your tunes.
You can also set the lights to go in a random sequence. The third option is solid lighting which keeps all the lights in one unchanged state.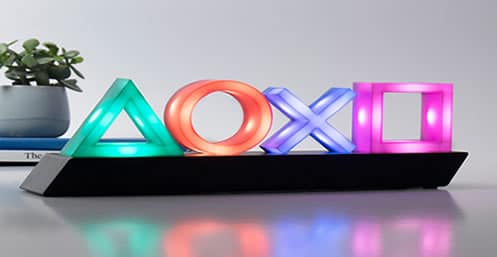 Classic arcade machines for the vintage man cave
There are a lot of arcade machines available these days as nostalgia grows for the days when video gaming was still new. Do you remember having to go to the arcade just to play Donkey Kong, Space Invaders and Pac-man?! Well you can recreate those days in your own man cave with classic fully-functional replica arcade style gaming machines (or actual machines from the '80s if you have a large enough budget).
For example there are arcade machines for Super Mario Bros, Street Fighter, Space Invaders and of course Pac-man, to name just a few.
With all this talk about Pac-Man, we've gotta give Ms. Pac-Man some love, too. Now, this is a real arcade game we're talking about here, though it's a bit pricey (you can get alternatives much, much cheaper ….keep reading to see how).
The Mrs. Pac-man machine is super pricey at $2,999. It weighs 275 pounds and measures 68 inches tall, 33 inches deep, and 25 inches wide. Originally produced in 1981, this replica game cabinet looks and feels like the original and still gives enjoyable game play in this age of digital HQ game imagery.
But … why pay $2,999 for a single-player, single-game arcade machine when you can get one for 90% cheaper that has 12 classic games?!
Check out this range of arcade machines
that range in price from just a few hundred dollars for a single player 12-games-in-1 arcade machine, right up to a few thousand dollars for a four player arcade machine that has a whopping 3,016-games-in-1 game machine.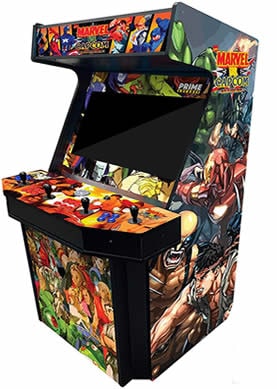 Must-see vintage man cave ideas
With a good budget, some planning, and boatloads of creativity, you can create a retro gaming man cave with a vintage feel that you'll gleefully use all the time. But you don't need a super high budget to get started.
Thinks 70's and 80's.
Here's some ideas to show you just how far your dream can take you even with limited cash to spend.
Endless entertainment
This cozy retro basement man cave has a simple design, at least from what's visible in the image.
While that's quite a nice TV, this man cave stands out for its awesome entertainment center, which has 4×6 cubbies.
There's room for 24 gaming consoles and that's exactly what this man cave has filled the spaces with. But … you won't find any modern machines in the mix!
The man caver has added super-old school picks like the Sega Mega Drive, SNES, the Nintendo 64, PlayStation 2, and Xbox 360. If you have old machines that you haven't thrown away, or that you even still play, you can showcase 'em all in a like manner.
You can pick up used retro gaming machines with a boat load of games on eBay
and even get a PlayStation Classic new for just $99.99 direct from the manufacturer.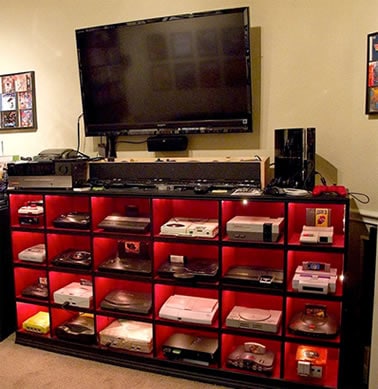 Revisiting the '80s arcades
A typical garage man cave may not offer much space to replicate an '80s arcade but that is exactly what this man caver has strived to do. It has that retro feel through and through.
You'll feel like you took a step back to your childhood each and every time you enter a space like this. The unfinished floor, retro-looking rug, and row upon row of working arcade machines await.
Insulation is key to keeping the temperature to a reasonable level so excess heat and cold won't damage these old, precious machines. You'll also need to keep the rain and damp out. After all, with each one of these retro gaming machines costs well over a thousand dollars a pop (with some costing several thousand) you'll want to keep them in good working condition for as long as possible.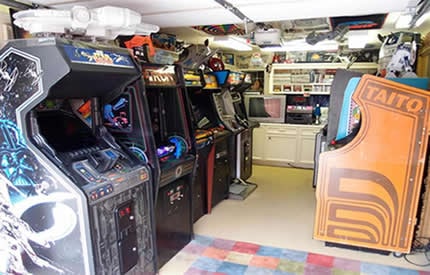 Neon lit retro gaming man cave
You'll have to choose your lighting carefully for your retro gaming man cave. Bright retro illumination works best in this space, so take your boring traditional lamps and move them elsewhere.
We recommend a couple of bright colored ceiling lights mingled with neon wall and table lighting.
We already shared some appropriate themed lights above that will fit your man cave, ala the neon lit retro gaming man cave shown below.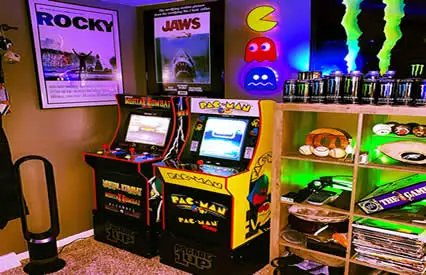 Conclusion: Vintage retro man cave ideas
A retro gaming man cave dedicated to arcade video games might seem like a faraway goal, but creating your own space is easier than you ever imagined.
First, you should take some time to consider which room you'll remodel into a man cave. If you're going to have a lot of real arcade games about, then you should ensure the room has sufficient electrical outlets and good insulation.
Then, you can get to decorating!
With the items and ideas we discussed in this article, you should now have tons of great ideas bouncing around in your head. Good luck with your retro gaming man cave project and don't be afraid to email us pictures of your finished project!