Creating the perfect man cave is an opportunity to let your imagination run wild. A man cave is more than just a place to chill out without female influence. A man cave is your refuge and should be completely different from the more staid and family oriented areas of your home.
A man needs his space and the ability to express himself so let your creativity run wild in your own self-created and curated den. What better way to do that than to create a retro man cave.
Why a retro theme is perfect for a man cave
The ideal man cave should enable you to relax and enjoy your personal time in a totally personalized space as well as being the perfect host for game and movie nights with your buddies. We covered the main reasons for creating a man cave here and if you don't know why it is vitally important to have one read that article!
Not only should spending time in your man cave be enjoyable, but the process of creating it should be just as fun. Creating your man cave should allow you to showcase your personality and display your interests through its décor and design.
Having a theme for your man cave is a good way of pulling everything together to create a great looking space that reflects you as a person.
A themed man cave offers a real escape from the pressures of day-to-day living as well as allowing you to stow your personal possessions such as collectibles and memorabilia. For this reason many guys will create a sports man cave.
A theme can really pull things together to create a really immersive environment and some of the best man caves we've seen are retro themed.
Most retro man caves are designed after the childhood or teenage years of the man caver but others are based on iconic decades such as the fabulous 50's, swinging 60's, disco '70's or awesome 80's.
Vintage man cave décor
If you like the looks and styling of yesteryear, a vintage or retro man cave is a great design choice.
Vintage man cave décor has always been popular and is thus easy to get your hands on and like these awesome retro man cave accessories
.
In a retro man cave you can recreate the looks and styling from your favorite era or even base it on your favorite film – think Pulp Fiction or Back to the Future (see the amazing retro vintage video cassette lamp we covered here).
Using vintage man cave décor is the quickest way to create a retro man cave.
5 Awe-inspiring vintage retro man cave ideas
When it comes to retro man cave design your imagination really is the limit and below we show you how to create your own retro man cave. You can also see some impressive examples of amazing retro dens to inspire your efforts with a simple Internet search.
So why take a step back in time with these top 5 retro man cave ideas.
Go disco-tastic with a 70's retro man cave
Give John Travolta a run for his money with a testosterone charged discotheque man cave theme.
The disco era is a great choice for a man cave theme. With classic music, classic films, and classic fashions styles to match, the 70's offers a plethora of great ideas so you can decorate your man cave with aplomb.
For example, you can use loud colored upholstery and a mirror-finished home bar to create your own studio 54 complete with ceiling mirror ball.
Your bar must have lots of neon signs like the ones we covered here and at least a few neon signs like those we mentioned here. You may also want to read our article about creating cool man cave lighting effects.
Or, you could just put aside some space in the center of your cave for a dancefloor. For those of you who love to move and groove have you considered a light up dancefloor like this one
?
Make sure you are wired for sound with a high quality integrated home audio system or home cinema and increase your level of luxury with plush carpeting, rugs and maybe even this 70 style velvet wallpaper
.
Embellish your walls with a fine selection of your favorite vinyl and Saturday Night Fever posters.
Create some classic gold discs by painting old vinyl records with gold paint. Or perhaps hang up your old white tuxedo on the wall.
Although it is not exactly from the 70's, Pulp Fiction décor would work really well in this type of man cave.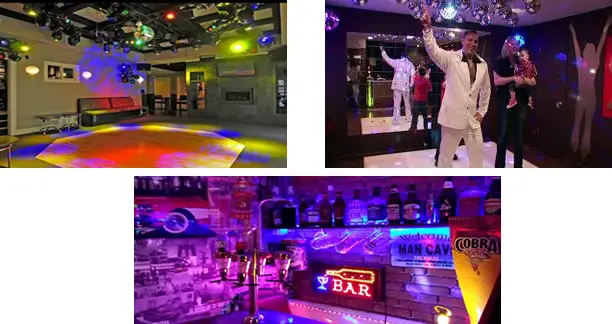 Add some yee-haw to your life with a vintage pioneer man cave
Is the 70's not far back enough into nostalgia for you? Then jump right back to the wild west with some classic accents and fittings that are full of western grit and character.
Wood paneling, a wood-burning stove and rustic blankets will all add to the atmosphere of any man cave and give it a western country feel.
Draw home-brew, root beer or sarsaparilla from your own self-built man cave bar but be sure to complete the look with a wooden bar counter.
Make sure you include the classic wooden bar stools (there are some great varieties available and you can even make your own as we demonstrated here) and don't forget the brass spittoons
!
Think fake animal hides, faux deer horns, spurs, leather and cowboy hats that will all add to that pioneer feel without doing too much damage to your wallet.
Blizzard lanterns make a characterful lighting choice. Detail your décor with a classic stenciled wall slogans, sheriffs badges, cowboy boots or even a small galvanized washtub filled with your bottled beverages and ice.
If you are interested in creating a Old West man cave then be sure to read our article How to Create a Western Man Cave which is filled with great ideas and how-to information for creating the ultimate Wild West setting.
March on to the 1940s with a war movie themed man cave
Perhaps the Old West is a step too far back in time but you still love the nostalgia of the wild ways of those days. Then perhaps the 40's is a better choice for you.
If you need somewhere to store your epic collection of war movies how about a 1940s themed bunker?
Hide out in the lab of luxury by creating a war movie themed space complete with bunks and jerry cans.
Hit your local military supply store and gather as much camo and netting as you can find to create a 1940s military themed man cave complete with memorabilia, dog tags and perhaps K rations for you and your friends.
Tune into big band sound with an old fashioned walnut wireless styled music system.
Movie posters, helmets, banners and bunting along with a vintage mic for your intercom will finish the look of your military man cave.
Entertain in style in your own 1950s diner
Remember Marty McFly in Back to the future? That stylish '50s diner sure looked sweet.
Why not recreate that look complete with Beach Boys piped music, bobby socks and coke floats on tap.
Your 50s-inspired man cave will be just swell complete with red plush upholstered bar stools, soda fountains and deep sundae glasses that you can fill with whatever you want!
Include classic checkerboard vinyl flooring and a retro jukebox that is always on. Vintage tin signs and posters will complete the look.
Create your 1960's hippie hideout – yeah baby!
If you are permanently living the summer of '69 why nor create your own hippie-fied hideout with psychedelic wall paper, lava lamps and perhaps a guitar or two on the wall.
Combine lurid prints, wigs and bold posters along with futons and beanbags for great impromptu seating.
Tie-dyed wall coverings, hammocks and cane furniture are great details along with a low maintenance plant or two.
Oh behave!
Quick tips for perfecting your ideal retro man cave.
We hope these retro man cave ideas give you inspiration for creating your own den. Designing and decorating a man cave need not cost the earth, follow these tips to get your own man cave project underway.
Shop flea markets, classified and thrift stores for authentic period pieces. Take time to collect items that work with your personality and complement your style of room.
Movie posters from your favorite era are a great way of building on your chosen theme. Originals may be expensive, but it is possible to get reproduction copies printed cheaply.
Bar stools and other period furnishings are a great way of keeping your retro theme tight.
If you would prefer to create a retro gaming man cave read this article.