It's not that you don't enjoy today's modern era. Who wouldn't want to live in an age when we can ask our phones or devices to turn on our lights and lock our doors? It's just that you have an affinity for older times with a more rustic flair. The rest of your home looks as fresh and current as can be, but what about your man cave? Can you give it the kind of rustic makeover you've always dreamed of?
Sure you can!
8 Rustic Man Cave Ideas For Large Or Small Spaces
This article will help you get started. We have all sorts of inspiration for your space. Whether you want rustic man cave ideas for a small room, a garage, a basement, a shed, or more, you're definitely going to want to keep reading.
1. The rustic man cave idea for when size is an issue
Short on space? Then you need some small rustic man cave ideas.
As we've proven many a time on this website, when it comes to a man cave size doesn't matter. Creating a man cave in a small space can be as easy as following this advice.
However, you've probably bashed your head against a figurative wall searching for rustic man cave ideas for a small room that fits the available space that you have. Nothing has quite worked, at least until now.
In the man cave featured below the cozy, homey hunter style shed shows that even the smallest of sheds, or even a small corner room, can get converted into a rustic man cave with awesome results. The lucky man caver who owns this rustic man cave paneled his walls with plain pine wood, though old pallet wood would look just as good and come in at a fraction of the cost.
Décor like old-timey images in frames, vintage license plates (which you can pick up on Amazon
really cheap), antique replica guns (which I covered here), and a fake deer head (like this one
which you can pick up for less than 50 bucks) give this place the right rustic kind of feel.
The man caver didn't stop there, though. He kept going with shelves of varying sizes stained to look old, a rusty-looking basin, an old wooden table with a single antique wooden chair, and a comfy fireplace capped by a fake wooden log.
Although the man cave pictured below has access to electricity it would give a much more authentic look to add old time miner type lanterns and lamps that use Edison bulbs to the space. You can get battery operated lanterns or electrically powered ones if you have access to utilities. To see what I mean go to our previous posts that show a vintage table lamp and the amazing Edison light bulb and also check out these old time lanterns sold online
.
This is the kind of space any man would want to kick back in at the end of the day.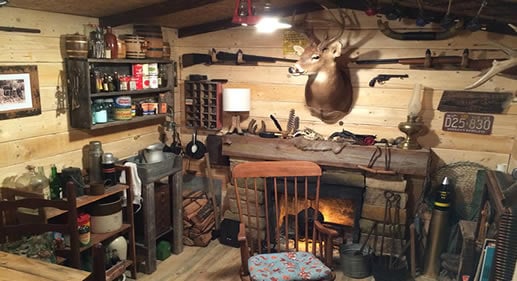 2. Modern rustic man cave décor ideas
Old time décor isn't for everyone. And, some man cavers have more space than others. If you love the rustic look but want something a little more modern and have lots of man cave space then this next rustic man cave idea may be just up your street.
Decorating your man cave with rustic touches doesn't mean throwing out all modern accoutrements. As I've mentioned on this website before you can have an ultra modern man cave with all the latest tech and gadgets but still keep the décor, and feel, very rustic in nature.
Rustic marries with modern beauty in the spacious man cave in the image below. What really gives this room the right kind of rustic flavor is the wood-paneled ceilings, hardwood flooring, and log-covered walls, which perfectly offset the modern appliances to maintain the rustic look.
This man cave has pretty much everything you need, too. There's a full counter with a fridge and stove, plenty of plush brown pleather seating and a recliner, too. The modern conveniences in no way distract from the rustic feel of this large man cave and even the television does not look out of place due to the heavy use of wood throughout.
There is ample modern lighting, and huge open windows enticing you to drink in the beauty of nature.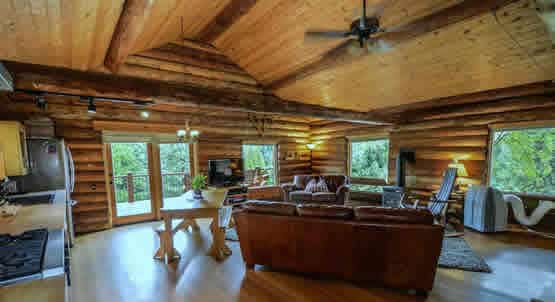 3. Rustic garage idea for the drive-in man cave
Have you been looking for rustic man cave ideas for your garage, but you haven't come up with anything that grabs you yet? We're sure you'll change your mind after you see this beauty.
If your spouse doesn't mind you claiming and gutting the garage, then you can make this room your rustic paradise.
The man caver who created the rustic garage man cave pictured below left only the hard concrete flooring in his garage. Everything else he changed. He had the walls and ceiling paneled with wood, to change the drab garage feel to a more desirable rustic atmosphere.
Then there's the décor. Yes, there's not much of it to go around, but each item here matters. We would add more but it's really a personal choice.
Two wooden rocking chairs fit in well with the look and feel of the garage and are perfect for kicking back and watching a game on the full-screen TV. The simple wooden bench can act as a small table and also double-up as a footrest.
Also of note, there's a grated fireplace that will keep you warm in the cooler months though in such a big space additional portable heaters would be a good idea.
That's about it for décor. But, if you own a semi-small vehicle like this man caver does, you can fit it in your garage while still spending time in this room with a friend or two. You can't go wrong with a setup like that!
If we had to make changes to this man cave we would definitely add some garage man cave decor (covered here), some rustic bar stools (see this post) for additional seating and maybe an upcycled custom couch (like these ones made from old car seats). You could even fit in a small bar as well if you wanted.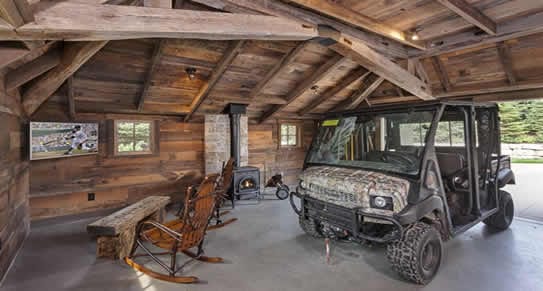 4. The southern comfort ranch country man cave
If you want to create a rustic space that you and your friends will never want to leave, then look no further. Our next man cave will suit anyone who wants a rustic man cave bar with a ranch style feel.
This man cave's got an opulent, sturdy billiards table beneath a chandelier decorated with several moose horns. The cowhide throw rug also keeps with the rustic range theme.
Beyond all that, there's enough seating for a small restaurant.
You will also see a foosball table off to the far right-hand side. The bar is covered with simple string lighting that offers a homey, warm feel. That feeling gets further conveyed thanks to the bright wooden walls and minimal ceiling lights.
If you look closely you will see that the roof is actually covered with corrugated metal which is a really cheap way to add to the overall rustic look of the man cave.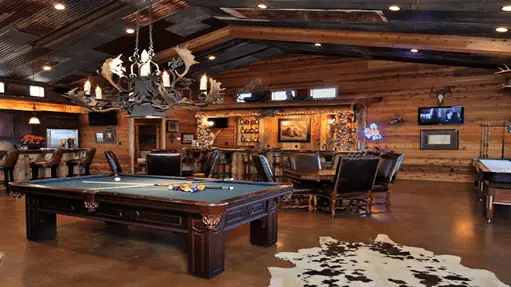 5. Rustic attic man cave for just hanging
Not all rustic man caves have to be built on such a grand scale. Take our next man cave that is located in a small attic space.
This man cave may be relatively small and simple but every inch has been utilized perfectly.
There's lots of seating for having your friends come around for some cold beers that have been chilled in the large fridge. The bare brickwork and beamed ceiling actually helps to create a rustic look.
The additional décor touches, like the neon light, are highlighted by the exposed and deconstructed brick walls. The cow-patterned recliner, and the fuzzy throw rug have been added to compliment the walls.
The hanging seat is a great addition to the space. though it could probably do with a seat cushion. If you intend to replicate this seating be sure the seat has plenty of support from a sturdy beam. Check that the beam can handle the weight before you hang it!
The addition of an oven is perfect for cooking up some snacks and the large modern ceiling lights fully illuminate the space without being too imposing.
There isn't really much you could do with this man cave to improve it due to the space restrictions.
Although you could hang some plaques and signs these would just distract from the natural beauty of the brickwork.
There is definitely room for a gaming table and in a small space like this you could easily double-up, or even triple-up, on table games with a multi-purpose table like the foosball/pool tables we covered here and the larger pool/table tennis/dining table we covered here.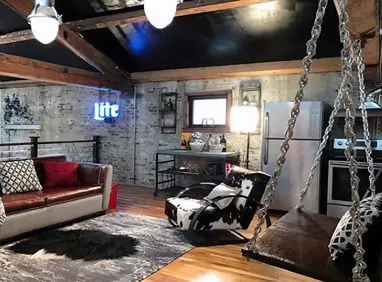 6. The rustic man cave saloon -western man cave idea
Love the old west? Well then we have a treat for you with this man cave.
There's no need to pine after the Westworld set or rent an expensive summer cabin this year when you can make your man cave look just like a place from the old west.
Doing so doesn't necessarily even require that much work either, at least not when you use the below image as a blueprint.
A plain white painted ceiling with modern ceiling lights and the large screen TV are the only real modern components to this saloon style man cave. Keeping the lighting recessed in the ceiling ensures they do not interfere with the old time look of the man cave.
If you don't already have a smooth, finished hardwood floor, you'll want to add one or use simple easy-to-lay interlocking panels like these wood floor pavers
.
For the cabin-style walls this man caver has used a wood façade that gives off too much of a plastic feel in our opinion. A much better, and much cheaper, option would be this peel and stick tree trunk wallpaper
which actually looks much more authentic.
The décor involves items such as the barrels being used as stands though we covered much more creative furniture ideas you can make from old barrels here.
Deer busts, and again, a chandelier with horns and antlers. Our favorite part of this great room is the saloon push doors used to get in and out. Nothing screams rustic cowboy man cave more than a door like this.
If you plan to recreate this type of man we would suggest you add old time lanterns and lamps like those mentioned in a section above.
Also, instead of the green modern furniture add rustic bar stools (which we showed you how to make yourself for less than $10) or create upcycled furniture from barrels or parts of wagons or even old turn of the century style trucks and truck seats (as Mick covered here).
This type of man cave would also work well with a cowboy style shed or cowboy man cave.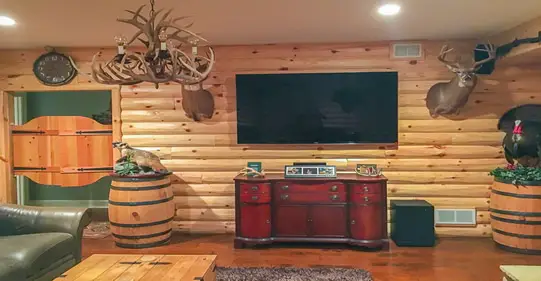 7. The music rustic man cave
This one may just hit all the right notes with you.
Okay, admittedly, you need a pretty huge shed to pull this off, maybe more like a barn. If you've eagerly sought rustic man cave ideas for a large shed but got no real good pointers then you don't have to look any further. You'll love the wide-open look and feel of this space.
It's heaven for music fans especially. This man caver makes great use of such a large room, transforming it into a rustic home studio.
There's space for every instrument under the sun as well as amplifiers, microphones, and speakers. If you wanted to have a few friends over to rock out then this man cave would feel like the most exclusive spot in town.
The less is more approach works great here. The man cave only has a large picture of Jerry Garcia in the center and some guitars hanging on the wall. You really don't need much else with such an awesome space.
If you do build a man cave that's used for playing musical instruments be sure to follow our advice on soundproofing!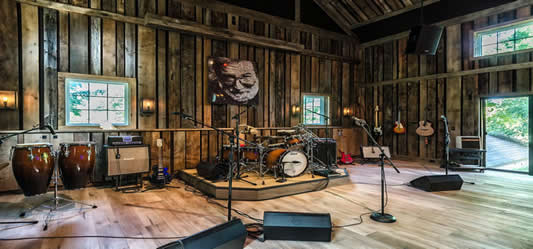 8. Do you want that boondocks feel in your rustic man cave? – Truck yeah!
We couldn't refrain from sharing this incredible man cave. No, that's not a real Chevy truck backed into the man cave, don't worry; it's a replica that doubles as a couch. With a few throw pillows, you'll spend all day here, staring up at the canopy of lights made to look like stars.
You could easily recreate this Chevy couch using the upcycling techniques I've already mentioned in this post. An old Chevy from a junkyard and a blow torch is all you need to strip down an old wreck to create that awesome couch. Obviously this type of décor requires a large entrance to get it in thus making it ideal for an outdoor barn or similar outbuilding.
There are more great details to talk about in this man cave. We like the hay bales near the ceiling quite a lot. The simple dark leather cinema recliners actually points towards a large TV.
The rest of decor is quick minimalist but it works well with the theme. Though, again for this man cave we would add vintage garage and road signs and other garage styled man cave décor. Other than that this rustic man cave is pretty much perfect.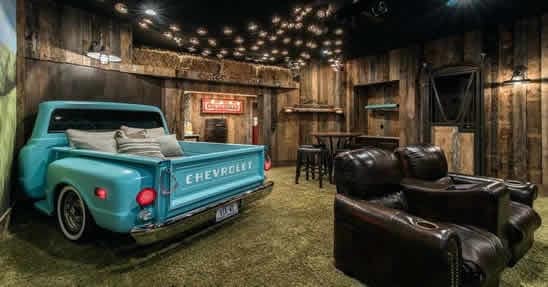 9. Rustic man cave ideas on a budget
You don't need to spend a fortune on your rustic-inspired man cave. With lots of wood and a drill, you can make something fantastic happen.
Just look at the example below to see what what's possible on a tight budget. The wood beams and ceiling and wall paneling are all done by hand. Even the structural pillars have been covered with wood.
The wood is stained and not painted for the best rustic effect. Because this man cave is located in a dark basement the man caver has left the wood with its natural light pine color to help reflect light rather than staining it a darker more rustic color. If you locate your man cave in a brighter area we suggest you use a darker wood stain.
The few simple brown recliners don't stand out too much, but they work well with the feel of the room. Just as with the wood the man caver has kept the color light by going for a light brown to help with the distribution of light and ensure the space doesn't become too dark and oppressive.
The furniture has been positioned optimally for socializing even though the space is very restricted.
The entertainment center and speaker system are purposely simple with the main components encased in a wooden cabinet. This also helps offset the large screen TV which inevitably slightly detracts from the rustic look.
The décor is incredibly simple because if there was too much going on in the room it would make the space feel claustrophobic.
A simple man cave sign is all this man caver needs to mark his territory.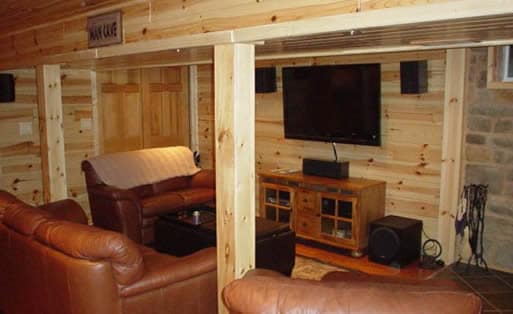 Final thoughts on creating a rustic man cave
If you can't get enough of that rustic charm, and you want to dedicate your man cave to all things rustic, then hopefully the 9 ideas above have sparked your creative side.
With the nine rustic man cave ideas we shared in this article, you now have all sorts of examples to get you in the renovating mood.
No matter which room of the house you have to work with, you can soon create a hub that will act as a haven for you and your buddies to kick-back in for a long time to come.