As a sci-fi buff myself I can understand the draw to the genre. Having more than a few sci-fi favorites that are close to my heart I can also understand how a guy would want to recreate his most cherished sci-fi universe in his man cave. So, here are some top sci-fi man cave ideas to get you moving in the right direction. I'm tempted to say "may the force be with you" but I won't. 😉
Creating a sci-fi man cave is not nearly as difficult as you may imagine. With the right décor and a bit of imaginative furnishings and the right lighting you can create the ultimate sci-fi man cave whether it is based on Star Trek, Star Wars or even a more retro theme.
By far the two most popular sci-fi themes for a man cave revolve around Star Wars and Star Trek.
Although these are not your only sci-fi options, as you will see below, they are the most common.
So, as they are so popular let's start with these loved classics before moving on to other sci-fi themes.
3 Force-strong Star Wars man cave ideas
Creating a star wars man cave is fairly straightforward as there are a ton of Star Wars items you can use to decorate every space (excuse the pun).
Some Of the best Star Wars themed man caves incorporate a home theater into the design.
As Star Wars was a groundbreaking movie franchise that changed how they make, and how we view, films having a home theater in a Star Wars style is a fitting tribute.
Below you can see an 2 amazing room conversions.
The first has a darker feel which is probably more suitable to movie watching.
However, the brighter vibe from the second Star Wars man cave example is better suited to a space that is used for more than just watching movies.
Let's look at the darker example first.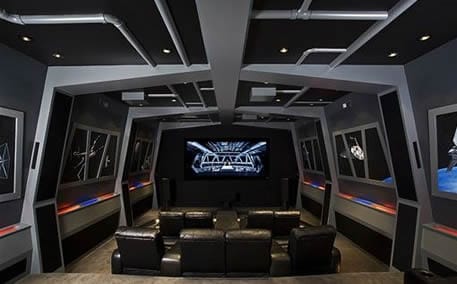 This first example of a Star Wars man cave home theater uses simple plastic piping on the ceiling to create a spaceship type feel along with lightweight plywood frames on the wall shaped to resemble the exterior of a tie fighter.
All is painted in tie fighter battleship grey and black. These darker hues do not just help create a tie fighter look but are also very beneficial for creating a dark area to better watch movies on a large screen.
In the second example a brighter approach has been taken which, although it doesn't lend itself as well to movie watching, is better for general man cave use.
The white painted surroundings mean that you could use this Star Wars man cave for other non-movie related activities without the space feeling gloomy.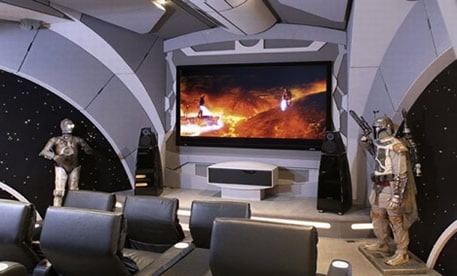 Most Star Wars man caves are often designed to be home theaters (as are (and Star Trek man caves) but they don't have to be.
It is fairly easy to create a Star Wars man cave in even the smallest of  spaces.
Take a look at the Star Wars man cave pictured below as an example.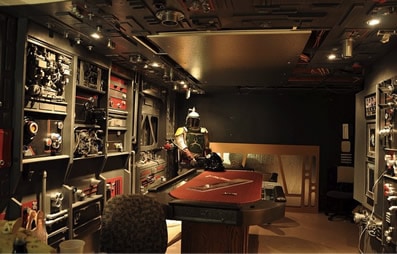 A pool table gets center stage in this man cave star wars themed space but everything else is pure Star Wars.
There is a life-size cardboard cutout of Boba Fett, though Darth Vader, Princess Leia or other character would work equally as well.
Memorabilia are placed throughout the room and parts of old electronics have been painted and glued to boards before being mounted on the walls to give that old dilapidated star freighter look.
This is easily achievable by using the inside of an old computer. The motherboard is very lightweight and you can remove the fan to place on a different part of the wall or ceiling.
The same approach used on the walls has been used on the ceiling with the addition of some chrome colored pole holders to give a spaceship feel and recessed ceiling lights.
The only improvement I would make to this space is the addition of a retro industrial vintage light holder
with vintage bulbs
to complete the old star freighter look.
3 Spectacular Star Trek man cave ideas
Trekkies will love these man caves.
Like Star Wars, Star Trek lends itself really well to home theater man cave designs but like a Star Wars man cave you aren't limited to a home theater.
The great thing about Star Trek is that you have a range of different designs to choose from.
From Kirk's Enterprise to The Next Generation's upgraded Enterprise, to the later additions of Voyager and Discovery there are a ton of different Star Trek designs to model your man cave on.
But, you don't have to go with a specific Star Trek era. Below is a simple home theater designed after a generic Star Trek theme.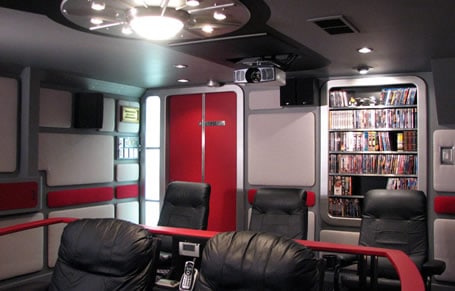 The use of bold red with different shades of grey helps create that authentic and unmistakable Star Trek look.
As you can see this particular Star Trek man cave also doubles as a reading room.
Although using a generic theme is a great way to create a Star Trek man cave the ultimate Trekkie hideout will inevitably be designed after a specific Star Trek period.
The Star Trek man cave below is what I would call a Borg Basement and is based on the designs from the time of The Next Generation.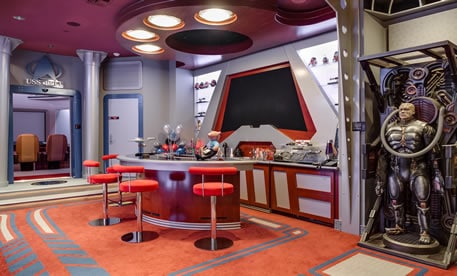 With the use of some drywall and a door this man caver has separated his basement into two separate areas. One is a bar complete with full size borg drone in its own regeneration alcove. The other area houses the movie home theater complete with briefing room seats that are just standard seats reupholstered with complimentary material.
But Star Trek man caves do not have to be so intricately designed though. You can create a great Star Trek theme quickly and for every little money.
Below is one man cave that has been designed after the design of the original USS Enterprise. This type of man cave is super cheap to create

If you look closely at the image on the right you can see that the actual bridge of the ship is just wall art but it gives the impression of a spacious bridge.
This wall art gives an expansive feel to the room and with color coordinated décor it creates a truly Star Trek effect.
One guy actually converted most of the rooms in his cabin into different era Star Trek themed spaces effectively turning his entire home into one giant Star Trek man cave!
A stunning space station or space ship man cave
If Star Wars and Star Trek don't get your rockets launching then perhaps a more generic space theme will do it for you.
The images below shows how one Canadian guy turned his boring man cave into a movie room with bar designed after a spaceship theme.
The only thing really tacky about this man cave is the door which is Alexa voice controlled.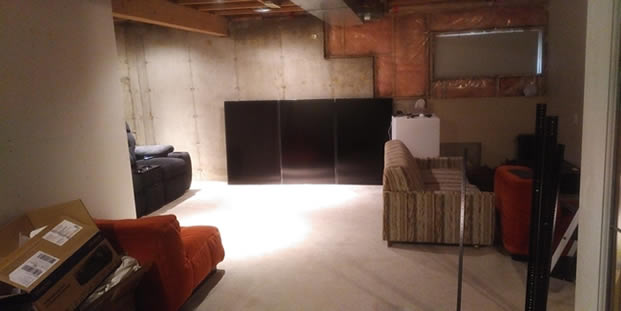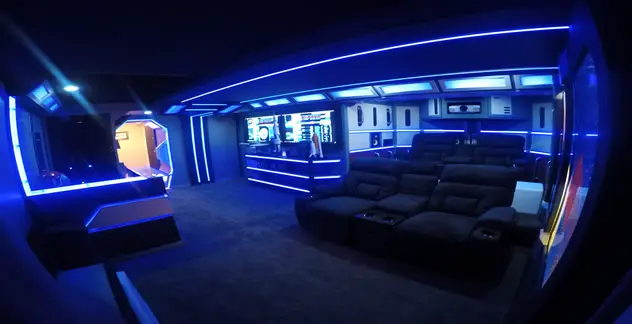 Creating this type of spaceship feel to your sci-fi man cave can be achieved through the simple use of blue led or neon lighting and a little bit of imagination.
Cheap materials such as these type of chrome shower grab bars
make for great sci fi room décor and can be added to different areas of a man cave. They help to create a machine-type feel that you would expect on a spaceship or space station. as well as adding a bit of chrome to the surroundings. They would also work well in a Star Wars man cave or Star Trek man cave.
Most of the lighting comes from these type of simple led strip lights
while the larger space station type lighting at the back is created by using a simple basement hopper placed directly into a cutout in the drywall
to cover a blue bulb.
If you want to really go the whole way with this idea then I suggest you use this type of dimmable multicolored smart bulb
which can be controlled by a smart phone or home hub like Alexa or Google Home – just lay off the red alerts when the wife is about!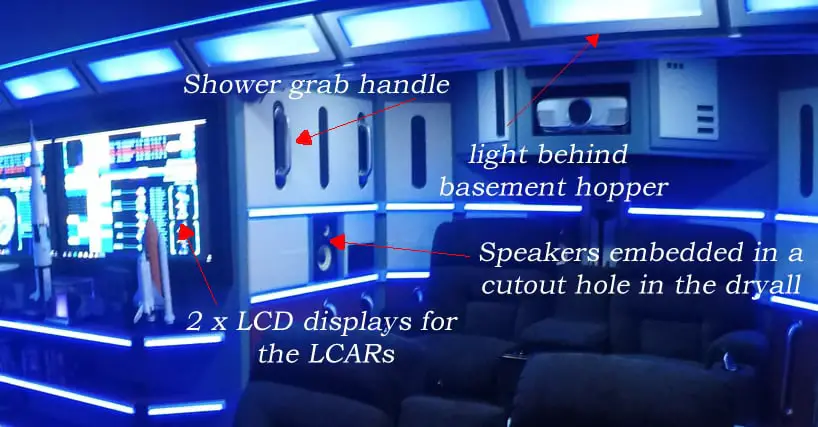 The sound system for the movie projector, which you can see at the back of the man cave in the image, is created by using wireless surround sound speakers. The speakers have been embedded into the drywall, just like the basement hoppers.
These speakers being wireless can also service the music system and connect to a smart phone or other smart device.
The screens, called LCARs in Star Trek can be created with LCD screens that display a downloadable desktop image.
Personally I would incorporate usable notebooks or iPads into the design and download a LARCS interface. That way you will have a working computer in the man cave that not just looks great and adds to the décor but that can be used whenever you need it.
The only thing in this particular sci-fi man cave that is not super easy to recreate is the door which requires a bit of tech know-how.
An Alexa controlled sci-fi pneumatic man cave door
As you can see in the video below the door is controlled by Alexa voice commands.
Vintage retro sci-fi man cave for retrofuturistic feel
This is a really fun type of sci-fi man cave theme. It relies on a retro theme based on old sci-fi movies and TV shows that were created before the days of modern special effects and CGI.
Think early TV shows like Lost in Space with Robby the Robot or later blockbuster movies like Back to the Future II.
To create a old-school vintage retro sci-fi man cave all you have to do is create a space that looks the way people in the 1950's thought the future would look.
See the example of an excellent vintage retro sci fi man cave in the image below.
The use of bold colors in this man cave has a 1950's reminiscence which is complimented by both angular and circular furnishings, retro sci-fi posters and star gazer-styled rugs.
There are a ton of great items you can place in a retro sci-fi man cave from lifesize cutouts
to a steampunk gun a kraken octopus soldier mask and a ton more as you can see here
.
Etsy have a ton of great sci-fi based artwork and décor items that would work really well in a retro sci-fi man cave and they are well worth a look.
For the wall you have a choice from a myriad of retro sci-fi posters and signs, like this Back to the Future "Flux Capacitor" warning sign or perhaps you'd prefer a US patent print for a UFO
.
The lighting is also easy to set up with great sci-fi retro items like this super cool atomic lamp
for example. Flame bulbs also work well in this type of man cave and the truly unique video cassette lamp is a must-have item if you are a fan of 80's sci-fi!
The two great things about creating a retro sci-fi man cave is that the finished product is going to be totally unique and it it is super cheap to create compared to other more tech-heavy sci-fi man caves.
Sci-fi man cave with a superhero fantasy feel
Although not strictly science fiction superheroes and graphic novel universes are becoming popular themes for man caves these days as they work well as fiction-based fantasy style man cave themes.
The bat cave is a big winner with many man cavers some of whom spend huge amounts of money on room conversions. But the good news is that you don't have to spend $2 million dollars on a batcave man cave like this amazing bat cave conversion by a guy from Greenwich, Connecticut.
A much more affordable approach to building the bat cave, which was covered by the Huffington Post, was one that was completed for a more modest $21,000. Though most of that cost was incurred from batman collectibles and not the actual bat cave.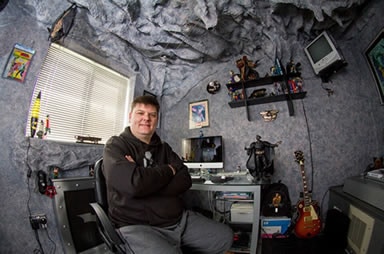 Darren Wilson, From England UK, spent 18 months transforming the spare room of his home into batman's famous hideout.
Darren merely fitted wooden joists and mesh in place in order to hold homemade papier-mâché (paper mache) stalactites which he painted grey to mimic a cave. In all he covered the walls and ceiling (and stalactites) in six separate shades of grey paint.
If you don't want to start messing with papier-mâché and don't have the budget for batman collectibles there is an even cheaper option.
Budget batman batcave man cave
As you can see in the video below you can build your batman batcave man cave on a very tight budget.
A similar approach can be taken to any superhero theme from Spider-Man to the Hulk or the Avengers.
Etsy, Amazon
, eBay
and Walmart have a ton of items that would fit perfectly into a superhero man cave so shop around.