Maybe your shed conversion has a few areas you're working on at the moment but one key part is missing. You've decorated the main areas and now you're ready to move onto creating a shed bedroom, but your inspiration is running a little dry here.
Well, in today's post, we have 7 great ideas you can replicate to make your shed bedroom an extraordinarily cozy, personal nook for one or more people!
7 Perfectly Awesome Shed Bedroom Ideas
Not all she sheds have interior designs that are created for daytime escapes. Although a growing trend among busy women is to create a she shed office, many women turn their she shed into an alternative shed bedroom for those when they just need to be alone, or when they want a romantic one-on-one with their partner.
A shed bedroom can also act as a guest room for friends and family when they visit.
Below are our 7 favorite shed bedroom ideas.
Let's get started.
The rustic shed bedroom
She sheds are, by nature, a little rustic-looking by their very nature.
Some women try to hide this rustic by creating a more modern look while others embrace it and make the most of the rustic feel.
If you're in the latter camp, then a shed bedroom like this is one to replicate.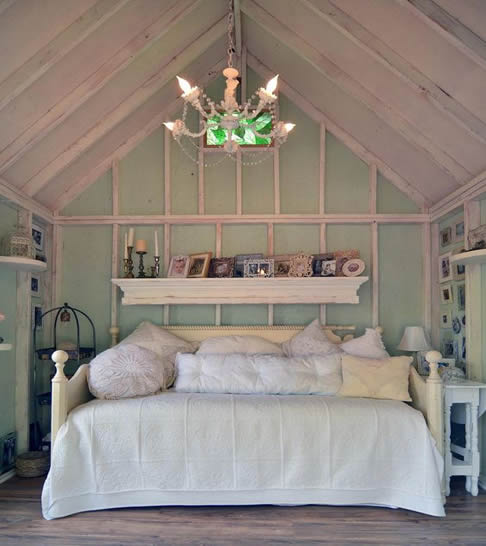 This she shed owner left her exposed wooden walls looking a bit weathered to give that shabby-chic look.
Even the pastel colors are faded are shabby-chic in feel. The light green pastel walls are matched perfectly by the salmon tinted ceiling and timber frames.
A bed in the center of the room is surrounded by a wooden headboard.
Simple white linens and plenty of pillows on the bed add to the comfy atmosphere of the room.
We also like the overhead weathered white wooden shelf with plenty of family photos as well as the matching end table and lamp.
Don't you just want to take a nap here? We sure do!
Prettier in pink she shed bedroom
One of our favorite she shed bedroom ideas, this pretty pink space would delight any woman.
The pillow on the pink throw in this she shed bedroom says it all: simple, cozy charm.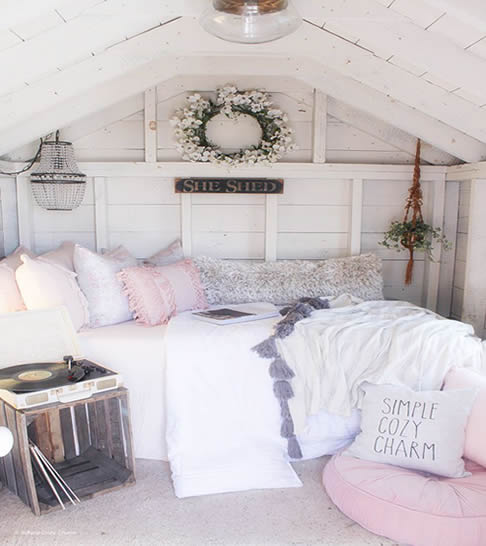 This is yet another she shed with weathered, rustic wooden walls.
Although the color scheme is more neutral than the first she shed we looked at with its off-white walls and ceiling perfectly complimenting the light colored vinyl tile flooring
used to cover the bare wood.
The signage proclaiming this space is a she shed is a nice touch, as is the faux floral wreath above it.
The other accessories of this she shed are kept sparse, with only some lighting, a hanging plant, and a record player on an old crate.
The bed here looks exceptionally snuggly with layers of bedding and textured pillows featuring fake furs and pom-poms and refreshing hues like light orange and pink.
If we were to make an additions to this amazingly cozy she shed bedroom it would be to add a faux sheepskin rug
(because veganism is good for animals and great for the planet).
A rug like this feels soft and plush and is just too cuddly on your feet not to include at least one.
Just swinging in my shed bedroom
Here's a more spacious shed bedroom for those who want to do more than sleep in their she shed.
The owner of this she shed space made the best use of every square inch.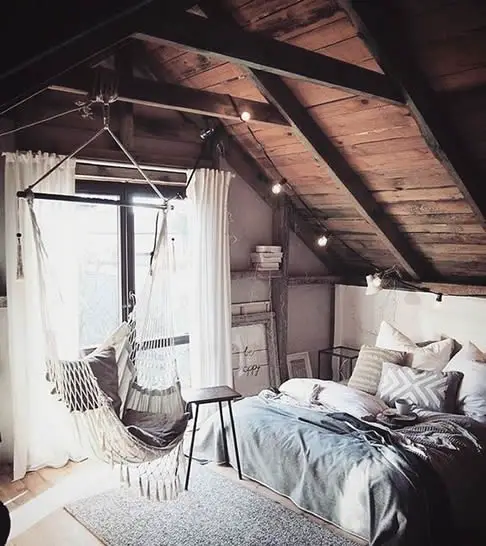 This shed bedroom, with a view, features exposed wooden walls and crossbeams stained in a deep oak color.
The bare beams make an ideal staging post for tying up a hammock. The hammock is also in a prime location right by the gorgeous over-sized window.
Beside the hammock is a small table for putting a drink on or maybe a book. There's also the lovely and quite large bed, which is utterly plush.
Completing this dream escape is a small color coordinated carpet that is laid directly over the bare hardwood along with a few inspiring framed posters, and a string of large bulbs around the rafters to offer soft lighting that is in keeping with the outdoor vibes.
If you like things a little more outdoors then our next shed bedroom is sure to wow you.
A shed bedroom for lovers of the outdoors
We can't get enough of this utterly adorable she shed! It just goes to show you that size isn't everything!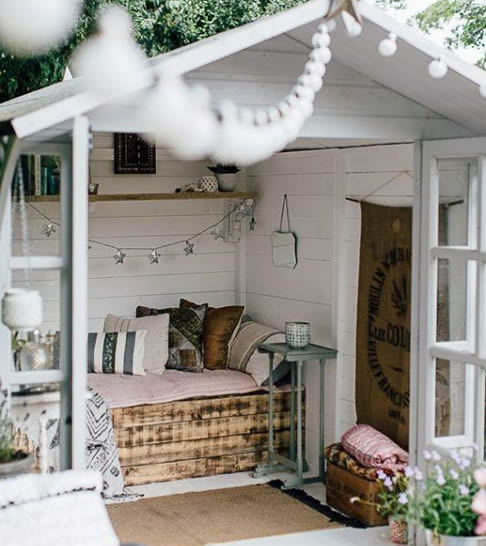 It's more open than most, with just three walls and like a large wooden door with inlaid glass panes that acts as the fourth.
The glass panes are sizable enough that you can easily watch all the beauty of the outdoors day or night but if just looking is not enough for you then the double doors open up to allow in fresh air and the fragrance of a well-cared-for and flower-filled romantic garden.
Inside this tiny she shed repurposed wooden box panels have been used to cover the side of the bed and although there is just a cozy padded blanket you could easily add a thick mattress complete a thick blanket and plenty of pillows.
Although this she shed owner was lacking on space, she still managed to squeeze in several chic accompaniments such as a hanging mirror (which can help to create the illusion of more space), dangling star garland, plants and books on the overhead shelf. A large wall tapestry, and a small blue/green wooden table complete the look.
If you need a break from the hustle and bustle of home-life, a little she shed like this is the perfect getaway without having to leave home and without having to spend a fortune creating a lady lair!
2 Floor shed bedroom with storage to spare
This she shed is narrow, so the owner has created the sense of more space by adding stairs and an elevated area to separate the bed from the couch area.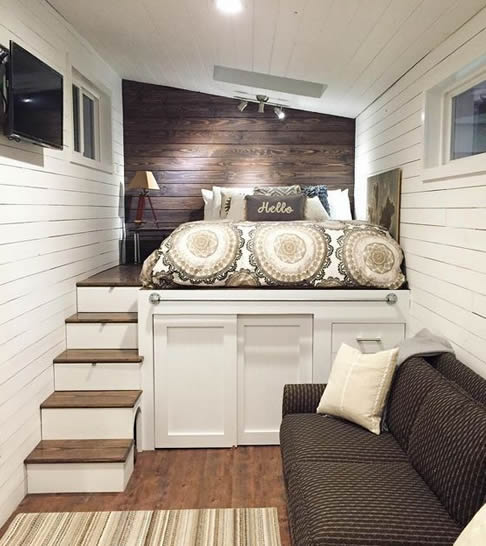 The clever use of stairs and an elevated area allows this she shed owner to split the space into almost two rooms or floors. On the bottom floor is a cutesy brown patterned couch with a few matching cream-colored pillows. The throw carpet also includes those colors for perfect décor styling.
On the second floor is the shed bedroom. After ascending only a few stairs, you're greeted by a dreamy-looking bed replete with a cozy comforter and throw pillows of differing sizes.
A little lamp is off to the side of the bed, but this room also has a ceiling light, a skylight window in the ceiling to offer additional light in the daytime and to allow for star gazing at night, and two small windows on either side of the shed bedroom.
Also a testament to the smart design is how the wall-mounted TV is viewable from either the couch or the bed.
Oh, and between the two floors is some storage room for keeping odds and ends. This is such a cool she shed design through and through.
Rustic meets chic in this shed bedroom
The hardness of rustic bare walls combines with the softness of gentle white chiffon fabrics in an odd yet satisfying marriage in this shed bedroom.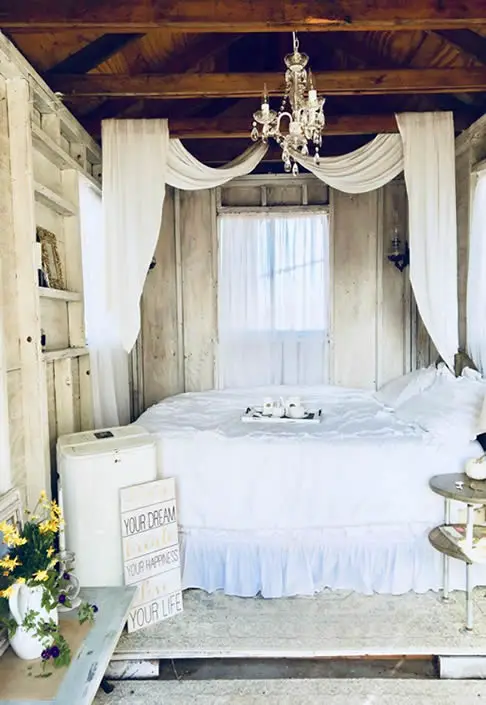 The wooden walls have been stained with a shabby chic Renaissance discolored-white paint
that allows the natural wood to show through, but they add a nice contrast to the exposed oak-stained wooden ceilings. Those ceilings also provide a depth to contrast and compliment the natural warmth of the Renaissance paint.
If the almost dirty-like color of the walls is off-putting (though it is so shabby chic) then you could use cream or white instead. White can be either cool or warm; in this case, it would be cooler and you would need to go for a lighter, warmer shade for the exposed beams than the dark oak in this particular shed bedroom.
A cool-to-warm contrast is as nice as the hard-to-soft design choices. This she shed owner has it all in her space, such as inspiring signage, draping curtains, shelving, an adequately-sized bed, as well as a chandelier with bulbs that resemble candles.
When space is tight – a shed bedroom & not much else
If the previous shed bedroom examples have so far given you the impression that you need a lot of space we're here to tell you that's not true. Neither must you get matchy-matchy furniture and expensive accessories,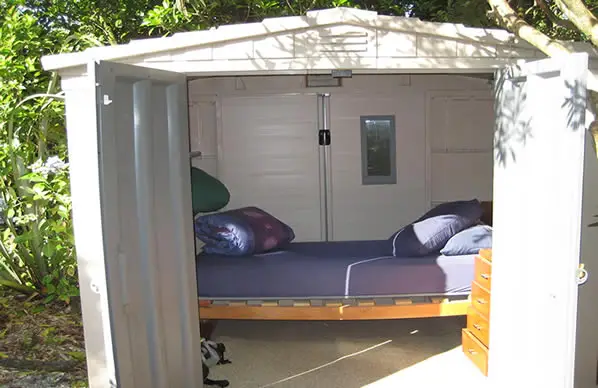 Sometimes the best she sheds are those which strip back all the extravagances and simply just are. Take, for example, this space. This small but impressive shed bedroom in created in a small standard garden shed.
This she shed owner used a plastic garden shed for her own home away from home, and there's nothing wrong with that. Inside, she added a small wooden dresser and a comfy-looking bed with a matching wooden base.
Hey, if you can get a dresser in your she shed when it's this small, you're doing something right!
Conclusion: Shed Bedroom Ideas For All Size Spaces
A she shed with a bed is always a smart idea.
The next time you need to escape your snoring spouse, fighting children, or when you just want some time to yourself, you'll have a place you can go that's free and only a few steps from home (if your she shed is indeed outside).
The great thing about a shed bedroom is that it can also be used a spare room or guest room for visitors.
We hope these 7 shed bedroom ideas, and she shed bedroom ideas, have shown you that no matter your taste, budget, personal style you can make an amazing shed bedroom out of almost any space – no matter what your size constraints.
Best of luck with your shed bedroom creation!