You already made the tough decision on where your she shed will go, be that in your home (like a lady lair) or just outside of it in an outbuilding. Now it's time for the best part: furnishing your space! But before you dive too deep into the fun accessories, make sure you've got the essentials right first.
The 7 Main She Shed Essentials
Your she shed should absolutely needs items in the following essential areas:
Furniture that is based on your she shed theme.
Lighting that no only illuminates but that create ambience in the she shed.
Curtains are essential for creating a homely look and feel.
Carpeting is an essential item if you want to create a feeling of comfort.
Entertainment takes many forms but it is essential for every she shed.
Comfort items such as cushions and throw rugs.
Personalized décor is the ultimate essential item for a she shed.
Keep reading for more information on each of these essentials and why they're so important for your she shed.
We'll give you lots of real she shed examples and shopping links as well so you can get your own space in tip-top shape!
7 Essential areas that you need to add to in your she shed
1. Furniture is an essential she shed item that you must get right
Whether you're the only one who spends time in your she shed, or even if a few of your closest girlfriends are fortunate enough to be invited in, you need space and allocated places to sit and relax. Furniture is thus the first essential of any she shed.
There are so many directions you can take your she shed in, at least regarding interior furniture. For example, you can go for a rustic look with raw, unpainted pieces such as in the she shed shown below.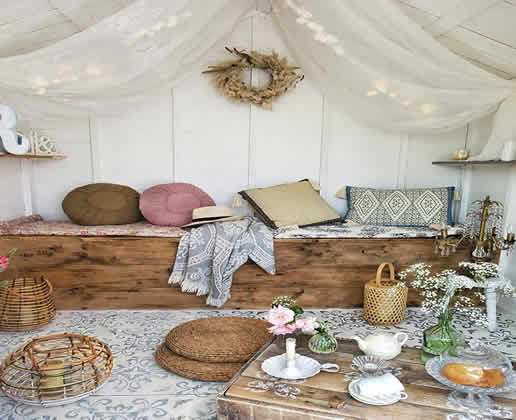 You can probably procure pieces like these inexpensively since they're unfinished or if you are handy with a hammer and saw you could make them yourself, or get someone else to do it. It's as easy as the re-purposing of old junk that we covered before.
Perhaps you want all the colors of your she shed to match or complement one another. If so, then you'll have to shop carefully to get that ideal color match. Your attention to detail will really pay off here.
As for what kind of furniture to put in your she shed, the answer is to pick whatever pieces will help to make your space feel entirely yours and no-one else's!
The above she shed example shows that you can add a couch to your shed, but don't stop there. Ottomans, small coffee tables, and even beds are all a possibility. You're only limited by the available space and, of course, your budget.
Below is a picture-perfect she shed that we've used as an example before on this site. It features a bed, despite the fact that of there not being an overly large space.
Perhaps you like to have sleepovers with a friend or two in your she shed or you simply enjoy taking lazy Sunday afternoon naps here. It's the prefect space for relaxing.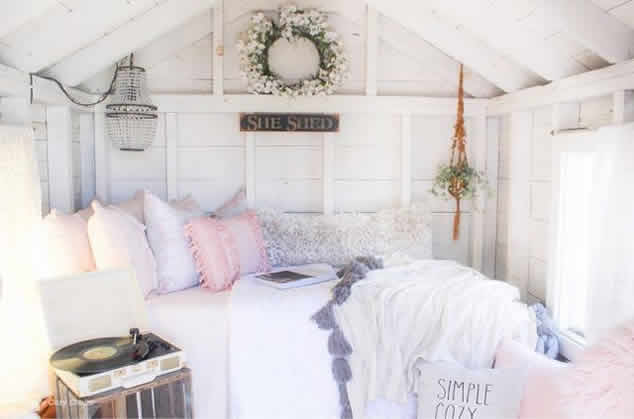 2. Lighting is another she shed essential that can complete the overall look of your lair
Even if you have spacious windows throughout your she shed, once the sun sets, you'll still want some source of artificial light in there.
You can never go wrong with a set of string lights
, especially if your she shed embodies a truly rustic feel. These type of string lights, available online or locally, come in lengths of 25, 50, or 100 feet for wrapping your entire she shed interior in a bright, dreamy glow.
If space is tight then a small light will suffice and is actually the smart choice if space in the she shed is limited. This simple desk light
includes white LEDs that can shift between five different color temperatures for a different ambient feel depending on your mood or activity. Even better than that, this lamp doubles as a wireless smartphone charger for phone models like the iPhone 8 and up. Pretty cool, eh?!
If even a desk lamp won't fit in your tiny she shed due to a lack of a table, don't underestimate the power of a rustic and super cool overhead light
. This Amazon pick has awesome farmhouse vibes and will beautifully decorate any she shed. You do have to buy the bulbs separately, so keep that in mind as it will affect your budget. Always use the Edison style vintage bulbs recommended as they offer a much better vibe than regular bulbs.
3. Curtains are essential for creating a homely feel in your she shed
Did you get to choose the curtains that now adorn your living room? What about the ones in the bedroom? If you felt left out of those crucial household decisions, or had to compromise in your choices to accommodate other family members, then let your creative side lose on your she shed. You're the one in the driver's seat when it comes to selecting your she shed curtains.
Curtains come in handy for blocking out light if you intend to spend a night or two in the shed and don't want the dawning sun to wake you too early. Also curtains can help block the sun during the day if you like to watch TV or use electronic devices in your shed.
You also get more privacy with the use of curtains, making your she shed feel very insular.
Perhaps you go with old-timey curtains like the floral ones featured in the rustic she shed shown below.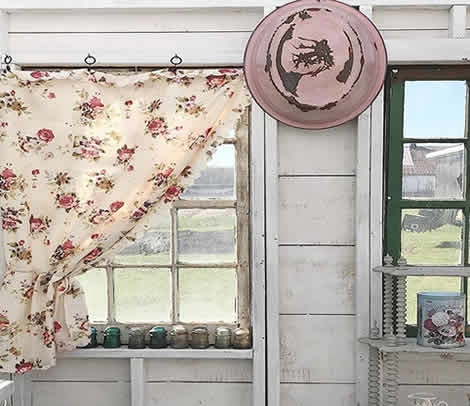 These curtains invoke a simple country charm that your modern home might be missing but which your she shed can wholly embrace.
You don't have to be conservative in your choices though.
You can also go as funky, brave, and vibrant as your heart desires when it comes to your curtain selection. You're the only one you have to please in this instance, so make sure you enjoy the process of picking out curtains just as much as you do when choosing other furniture pieces.
Here's a great example of a vivid she shed that's fun, charming, and completely colorful.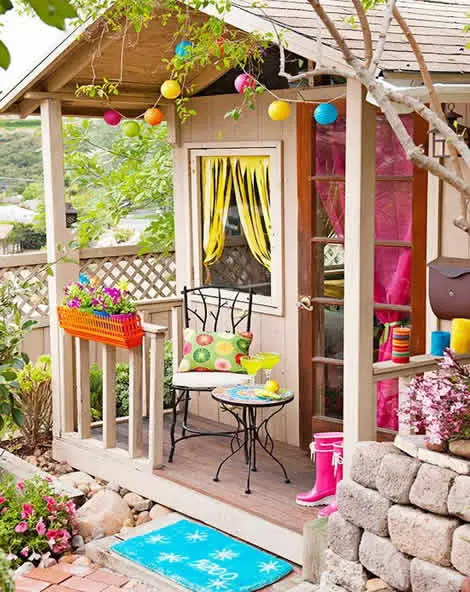 The two sets of curtains in yellow and neon pink match the hanging decorations that are in all sorts of different and vibrant neon hues.
You can even affix some curtains to the ceiling on the inside of the she shed to create a blanket fort-like feeling that you can enjoy all the time. With some fairy lights, even this simple, well-proportioned, she shed looks like a mystical, wonderful place to get lost in for hours.
You will need a tall ceiling for this effect, FYI, as shown below.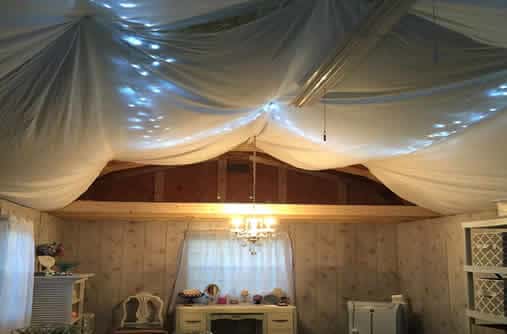 4. Carpeting is essential for softening the hard feel of a shed
For some ladies, carpeting in a she shed is an essential, while for others, you might prefer your she shed to have bare flooring. However, even if you do prefer the exposed hardwood look, a throw rug is never a bad idea as it helps add a little warmth and comfort to the space.
You'll especially appreciate some carpeting if your she shed is situated outside in an outbuilding when the weather gets very cold.
As with everything else related to your she shed, there are no rules when it comes to the carpeting. You can go for a matchy-matchy look if you prefer, such as in the fully color coordinated she shed below.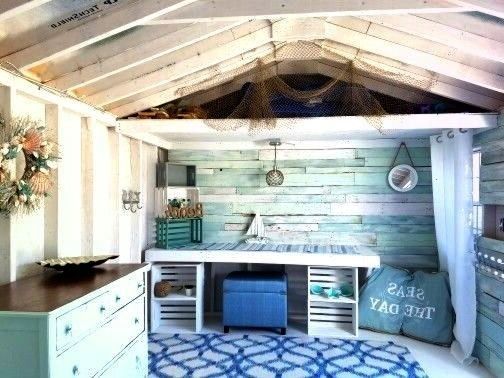 Shades of blue recur everywhere in this small space, from the teal walls to the blue furniture and the throw pillows. The small blue ottoman, and the patterned rug complete the color coordinated look perfectly. By using slightly different but related blues, the gradient effect here is really cool and calming.
You can also go for a dramatic flair in your she-shed. For instance, an animal throw (faux, of course), really grabs the attention.
The white and black zebra throw, in the opulent-looking she shed below, doesn't necessarily match the rest of the powder-blue room, but yet it still works perfectly well.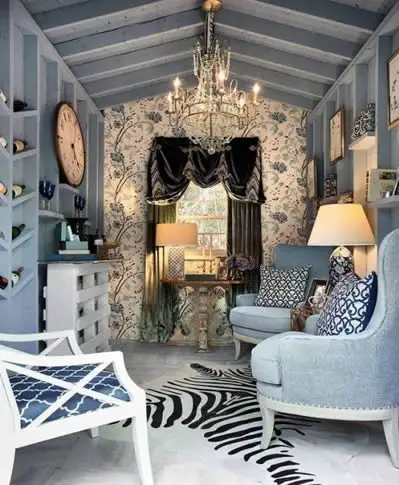 You can also see that the usual essentials are also included such as seating, lighting and storage space, not to mention some really cool decor items.
5. Entertainment comes in different forms but it is essential for your she shed
Your she shed is meant to be a safe haven for you, a getaway from your average life. After putting in lots of blood, sweat, and tears into getting it right, you'll want to spend plenty of time here, if not most of your free time. That means having entertainment options that help you while away the hours.
No matter how you define entertainment, there's likely a way to get it into your she shed.
Are you an avid reader? Take a page out of this she-shedder's book and use a spare nook of your shed for hiding your books away.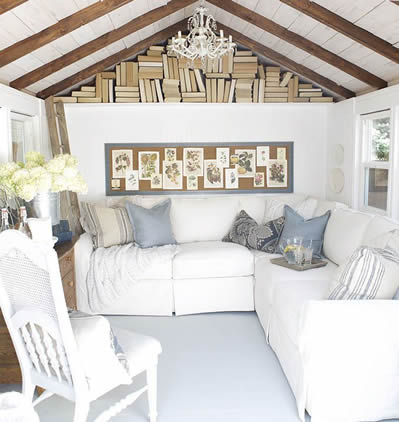 Having storage space for your books is an essential for she shed owners who love to read. The above she shed owner has utilized the space in the rafters to store old books in order to create a reading-room type of feel.
By following the example in the she shed above now you'll finally have a place for your sizable collection of tomes.
If you're an artist, then a shed with skylights will ensure you get enough natural sunlight to paint or draw your next masterpiece.
This next she shed is also very artist-friendly since it has slatted walls for hanging art supplies such as tubes of paint, small buckets filled with pencils, and more.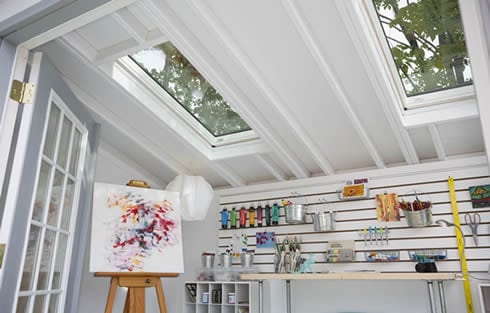 You could even set up a record player and/or a television in your she shed so you can finally stop fighting over the radio dial or TV remote in your home. Just don't forget the curtains mentioned above to block the light from interfering with your viewing.
6. Comfort items like cushions and throws are essential for creating that comfort-feel
No she-shed is complete without a bunch of plush, comfortable items to help create a homely sense of comfort. If you feel like your she shed is still a little rough around the edges or has too many hard corners and lines, soften it up with pillows, blankets, and throws.
A creative she shed pillow like this one that reads "she believed she could, so she did"
could be a perfect centerpiece of your pillow pile. The attitude of the print really embodies your own as a new she shed owner. After all, look around you at what you've accomplished; it's quite a lot!
Throws and blankets offer additional plush and comfort.
There is a difference between a throw and a blanket, and it comes down to size. Throws are usually smaller. They're also more versatile. You might drape your throw on a blanket rack or over your couch, fold it on your bed, or mount it to your wall!
7. Personalized décor is not optional. Décor is essential for a she shed
Finally, finish your she shed with the most important essential of all, the décor of your choosing. Just as a man cave is judged by its decor so is a she shed.
Maybe you would like to get a customized sign, like this one, declaring this she shed as yours. You could even have a cleverly made doormat on the front steps inviting people into your space.
If your budget is a little tight after buying everything else for your she shed, then we recommend doing a quick sweep of your house. Perhaps there are items you can take from your living room, entertainment room, or your bedroom that would look better as she shed décor!
We recommend checking your attic and basement too. You might have had décor stashed away, collecting dust in boxes, because you thought you had no home for it. Now you do, and it's your she shed!
Maybe you could even raid your other half's man cave to see what items would look better in your she shed. 😉
Recap: 7 She Shed Essentials Every Outdoor Lady Lair Needs
Just as man cave essentials are important for building the ultimate male space, so too are she shed essentials the things that set a female's personal space apart.
A she shed is your personal oasis, so no two are alike, but there are some essentials you should strongly consider adding as most she sheds have them.
These include carpeting, furniture, curtains, and lots of plush, comfy things.
Above all, make sure that you love what you choose for your she shed as that's what's most important and adding things you love to your own personal space is the most essential thing of all.