You just finished reading our article on she shed gift ideas, and now your shopping cart is full of awesome items. There's just one little problem … you haven't exactly figured out how to decorate the interior of your she shed, at least not yet.
It's not your fault nothing you've seen in magazines or online has jumped out at you. Well, that is, until now. We've scoured the Internet to bring you the best she shed interior ideas around. By the time you're done reviewing these, you should feel totally inspired to decorate your own space.
Let's begin!
10 She shed interiors to wow and inspire
1. Simple, white, and airy she shed interior
Sometimes simple works best, and we think that this is especially true when it comes to this she shed. The wooden walls have a plain white paint job, as does the roof. The exposed wooden boards add some contrasting color to the space to help give the white walls a real punch.
This she shed owner went with white furniture and carpeting as well. The pale blue and patterned pillows contrast with the otherwise singularity of the room.
If you like to make a few basic but effective décor flourishes in your space, then a white backdrop makes them stand out all the more. See the plant board on the back wall as proof.
With more colors in the room, this board would have gotten lost in the fray. Instead, it stands out perfectly.
We also love the books tucked in the triangular-shaped roof nook. You could access it by ladder and spend many a great day reading and relaxing here.
2. The open-roofed she shed interior ideas promotes an expansive sense of space
Yes, here's another mostly white she shed, but we're including it because it's just so tall. This open-roof plan gives you a real feeling of space and the big windows throughout are an especially great idea. They let in plenty of natural light.
This room has a lot of rustic touches, such as exposed beams and a faded paint job. To play up on that theme, the decorator opted for a simple wreath made of twigs and sticks. Their desk and chair also have a faded, antique-looking paint job that is shabby chic.
The few modern touches do blend right in. From the oscillating desk fan to the standing lamp, filing cabinet, and glass vase beneath the desk, these complement rather than detract from the décor.
This particular design is more suited to a she shed office but with a few more shabby chic decor items
and comfortable furniture this would also make an awesome chill-out zone.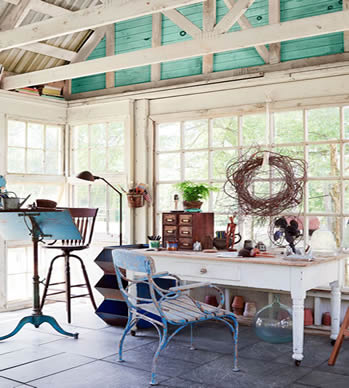 3. The mini mansion shed interior idea for those who won't settle for less than opulence
It takes a large she shed as well as a pretty significant budget to pull this one off. If you have the space and the budget though, then you might as well!
There's so much to love about this shed, even if it does feel kind of odd calling it a shed.
First, there's the white walls, a recurring theme among some she sheds, we've noticed.
Second, there's the large, expansive windows throughout for letting in natural light. Then there's the décor itself. The lucky owner of this space chose thick, white carpeting as well as an off-white couch and white patterned recliners.
The rest of the décor is color-coordinated. The ottomans are the same color as the window curtains.
The pink throw pillows tie in with the fake pink flowers on the end table and the ottoman. The pale blue pillows blend in with the patterns on the white recliners. It all works very well.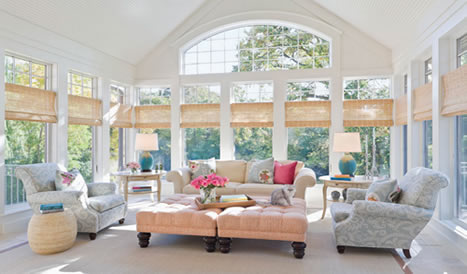 4. The one color cabin home-from-home shed interior
If matching all those colors seems too daunting for you, that's okay. There's nothing wrong with choosing a single color and running with it. Take, for example, the she shed shown below. The person who designed this obviously liked pale blue, and light pastel green as it's everywhere.
The walls, door, and even some of the exterior have the same baby blue mixed with soft green. Keeping the color decor to only 2 matching colors makes decorating very simple.
Also, we picked this example because it proves you don't need to have completely matching furniture.
This she shed owner also decided to use a baby blue blanket in lieu of ordering a new recliner. Throws are a great way to disguise the natural color of your existing furniture with a color that will blend with your she shed interior.
The recliner actually looks like it's a pale pink or ivory, which would have been fine, but it matches much better now with the use of a simple throw. Using these type of reversible throws
, is also a great way to mix-up the color decor whenever you want a change.
The white couch looks right at home as well but can be easily altered with the use of a throw as well. The addition of some blue throw pillows helps match the white couch with the other furniture.
With its open-roofed layout, adorable shelving, and rustic qualities, you could get lost in a place like this for hours even though it is relatively small.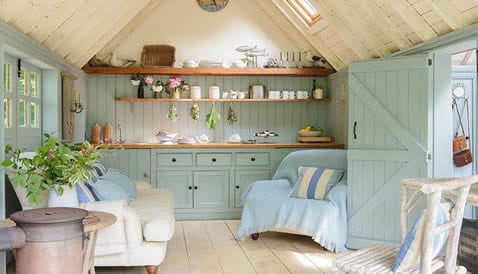 5. The mistaken kitchen – is that really the inside of a shed?
At first glance you may be mistaken for thinking this she shed is the kitchen in a house.
It's a clean, sunny space with white painted ceilings, pale concrete flooring, and walls that alternate between dark grey and white. Since pure, deep black would darken the space too much, the she shed owner has opted for a hue with dark gray tones offset by vibrant white.
Everything else here has been put in place by a very utilitarian hand. There's the symmetrical blinds, the hanging metal lamps, and the clean, tidy shelves and counter. There is also a water connection as the she-shedder has green fingers and loves to grow all kinds of plants.
We also quite enjoy the earth touches seen throughout. Yes, the counter's overrun with plants, but as this is a she shed and not a working kitchen the effect is soothing and it brings life to the shed.
And, check out that kitchen island. Whether it's made from real tree bark or it just covered with a façade, either way, we're in love.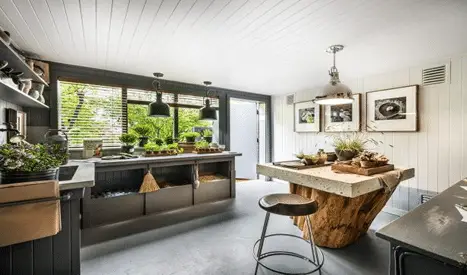 6. Stack 'em high she shed interior idea for the hoarder
Thus far, we've shared some wide and large she sheds. What if you don't have that type of space available? Don't worry there are interior designs ideas to suit she sheds of all shapes and sizes.
You can still decorate the inside of your she shed beautifully even if space is limited. Just take a look at the small she shed we shared in the image below.
This she shed owner doesn't have a lot of wall space to work with, so she has stacked everything up. With the shelves above the desk, she has included plenty of décor knickknacks and items to pull the whole look together.
The wide, open windows prevent the space from feeling too claustrophobic. Remember in small spaces light is your friend and so are bright colors.
Like some of the other she shed décor ideas we've shared, this one has a rustic, earthy-looking theme to it. It really works in this slim but tall space.
7. A slice of Americana – she shed interior wall ideas
Whether you decorate your she shed like this for the Fourth of July or all year long, you can inject patriotism to your space easily with some americana décor
. The inside of your shed doesn't have to be nearly as unfinished as this example, unless of course you prefer it like that.
The American flag backdrop looks so striking because there's nothing else on the walls competing for your attention. The couch matches the colors of our flag, starting with the neat blue and white striped cloth.
The blue striped, white striped, and pale red pillows might not look like much on their own but when you combine them it's pure Americana all the way.
We also love the little bedroom nook above. The bed is tiny and cozy, and with an oscillating fan and a beautiful view of the outside, we would sleep here.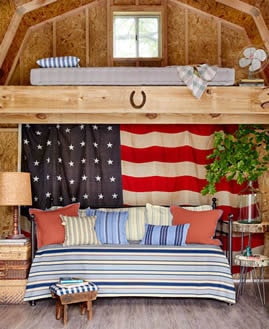 8. Luxury in a limited space. Shed shed ideas for inside opulence
Here's another great she shed interior idea if you have a small she shed but you want your décor to look top-notch.
Our example below isn't the biggest she shed, but the owner makes use of every last square inch of space. It's about as posh as any shed on the list here (or anywhere else).
The pale grey-with-a-hint-of-blue paint job already transforms the space from ordinary to extraordinary. Added to that is a wall with blue floral wallpapering, lush velvet hanging curtains, and a lovely mini chandelier and now this place looks truly classy.
The walls with their built-in shelves can hold all sorts of items, from wine bottles to the neat oversized clock.
The furniture sticks to the same color scheme, including the pillows though they add a little depth with their darker hues. Even the floors get some accessorizing with a zebra-striped throw rug.
This type of she shed design would accommodate well an epoxy floor.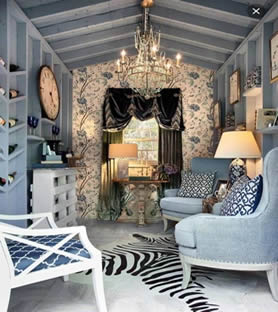 9. The quirky she shed office
Listen, at the end of the day, it's your she shed. If you don't want to match your walls to your pillows and furniture, you definitely don't have to. For those with tastes a little quirky and kitschy, let this space inspire you.
The white walls receive an interesting wallpapering treatment with panels of black with white palm tree fronds. The chic black wall clock above the panels matches the cream walls pretty well. Then things start to go off the wall.
For instance, you can't miss the disco ball in the center of the room. It's quite large, so it's certainly a focal point. Beneath that, this she shed owner opted for a white chair with a shaggy throw.
There's also a basic desk to the right with wicker baskets behind. Nothing seems to match but that's ok!
If this kind of space gets your creative juices flowing, then more power to you!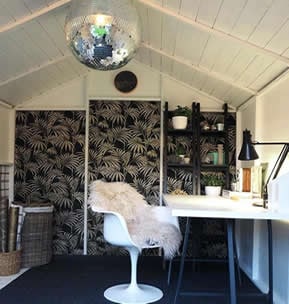 10. Happy hour's come early with this she shed interior idea
Our final pick is designed to remind the she-shedder of the priorities in life: peace, relaxation, and maybe a drink or two. Like so many other she shed interiors this design stays simple but striking.
The light-up wall décor shines both literally and figuratively. These signs would look too tacky if the walls were papered or if they didn't match the rest of the she shed décor colors. By using similar colored furniture, (easily replicated with colored throws
), this she shed owner has been able to get a neon sign to compliment the space rather than taking-over it.
The furniture doesn't overcomplicate things, either. Given that the she shed owner chose bold hues of bright green, it's probably best they kept things understated.
We also appreciate the little nook at the top of the room. While you probably can't use it for anything but decoration, the throw pillows up not only look comfy but help compliment the color scheme of the rest of the she shed with their vibrant green offset by striking black with white design.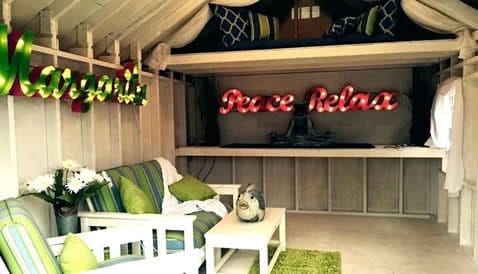 Conclusion – the shed interior ideas you entertain should reflect you
The above 10 examples of she shed interiors run the gamut from color-coordinated to anything but. That just goes to show that no matter what kind of tastes you have, you can create your own perfectly personalized she shed to match.
But, always keep in mind that any shed interior idea that you choose to use in your own sanctum should be a reflection of you. So, don't be afraid to take the foundation of an idea and elaborate on it.
Have fun with your designs and remember to always go with what you like and not what conventional states you should like.