You've built a beautiful she shed or converted an existing outdoor space into your very own lady lair, but you're not quite satisfied yet. The land around your shed is bushy and overgrown or perhaps it's just plain dull. You want to do more than trim it back, and instead add a touch of landscaping class so the ambiance of the entire area has an enchanted, storybook-like feel. Where should you start?
That's what we're here to help you decide today.
This post is chock-full of phenomenal she shed landscaping ideas sure to get the wheels in your brain turning. By the time you're done reading, your own she-shed landscaping plans should begin to solidify.
9 INSPIRATIONAL SHED LANDSCAPING IDEAS
Check out these 9 fantastic she shed landscaping ideas to bring any woman's outdoor space to life.
1. Follow your own path – paved shed landscaping
If you're on a shoestring budget, then don't feel like you have to go too over-the-top with your landscaping. Nothing is written in stone but your you can pave with it.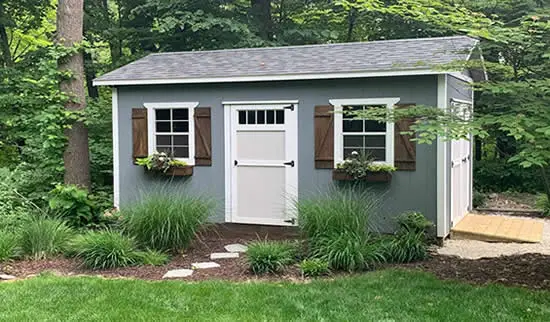 This pretty grey-blue she shed with natural wood shutters and a white door looks great with a simple stone path laid over top of some mulch.
You may already have flat stones you can use for your path, in which case, this project would be free. We'll talk about costs a little later, but to buy three or four stones at your local home improvement store shouldn't break the bank in the least.
Make sure you add some greenery around your she-shed such as in this example above, so your path doesn't look too barren.
Although this she shed is situated in an area with abundant natural greenery and trees you can add small buses and even blooming flowers just outside the she shed. Porch flowers would work great here or even small raised beds hidden behind small bushes with perennials growing large in the background.
2. The long and winding road – rick brick paved shed landscape
For the woman with a bigger budget, and a desire for a wider path the professional-level landscaping of the she shed shown above can produce some stellar results.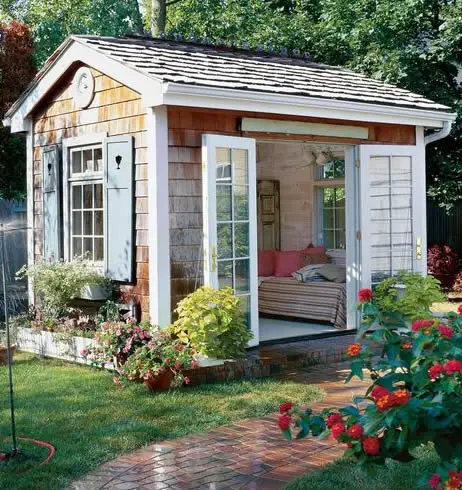 This she-shedder has a path leading up to her garden oasis just like the previous she shed owner, but hers is made of multicolored brick with a smooth, polished finish. Flower bushes on either side of the path make walking up to the she shed an utter delight and a very aromatic experience in the summer months.
We like how this she-shedder left the space for a basic sprinkler system so her picturesque green lawn can stay fresh.
With the positioning of her she-shed, it certainly gets a lot of sun, which is great for her nearby plants. You can get your own sprinkler system installed if you have a similar setup in your yard!
3. Shed surround greenspace landscape
Landscaping doesn't always have to mean stonework or large greenery, by the way.
In some instances, a bit of mulch and shrubbery is all your she shed needs for that finishing touch.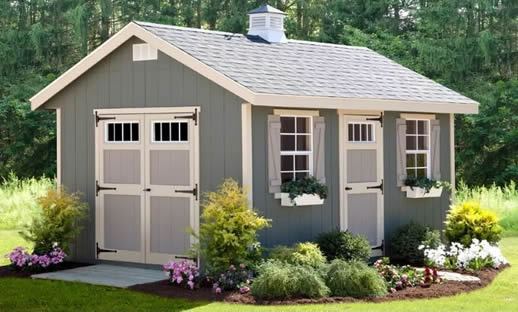 The she-shedder who owns the she shed shown above has encircled her large slate gray shed with mulch and small shrubbery that is not only easy to plant but is also easy to maintain.
By the side door, there's a stone slab, but for the most part, small plant life is the starring landscaping feature here.
The mulch makes for a moist, supple bed perfect for growing all sorts of greenery, including shrubs, small trees, and colorful flowers. In our example small pink and white flowers are used to add a dash of color to the landscape and compliment the green but you could use any colored plants that are desirable to you.
The flowerbox plants in both front windows show that this she-shedder has quite the green thumb!
4. When you don't have the soil – potted shed landscaping
The she-shed owner of the she shed shown above has exclusively used hard materials for her landscaping.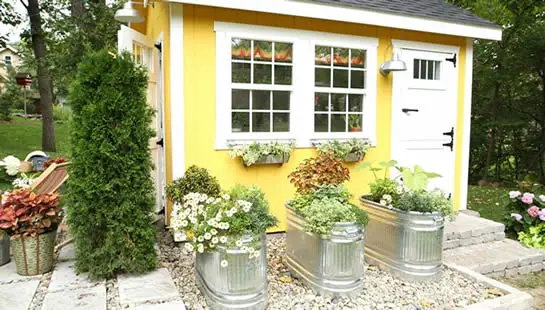 From the concrete steps to the stone mulching on the front entryway there is no place to plants directly into the ground.
Although you could certainly leave this as a stand-alone feature this she-shedder has wisely chosen to spice up the rocky scene with some colorful greenery.
All that stone is a real contrast to the canary yellow she-shed and its pretty color coordinated curtains and its white trim. We like this she shed a lot.
It gives the shed character even though the landscaping is minimal.
The same is true of the flowers being grown in aluminum containers on the bed of stones.
This is a cozy place one could get lost in for whole afternoons.
Old chic plant containers would work really well in this space such as old fashioned milk container flower pots. like this, and planters fashioned after postal letter boxes, such as this.
5. Paving the way – large pave landscape ideas
It's hard to miss the entrance to this she-shed considering the oversized rocks that forge the path ahead.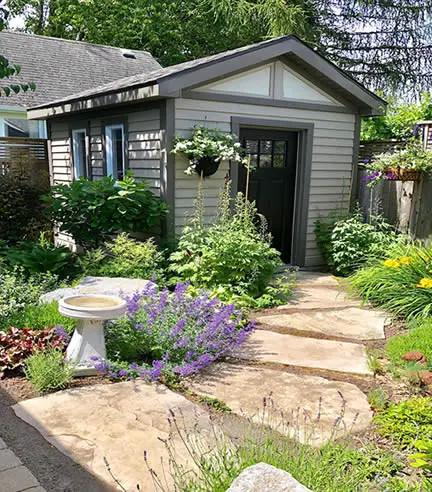 Although that path isn't particularly long, it commands your attention immediately upon seeing it.
The area includes a white birdbath, pretty purple and yellow flowers, with shrubs and other plants that grow nearly up to the she shed's windows.
These huge stones are one of the costlier landscaping examples so far, but they are a great option if you have the budget. We quite like how the tan stone color is a good pair with the beige and brown of the shed itself. The uniformity of the hues in the surround landscape makes the pops of color from the flowers that much more apparent.
If we were to make any chances it would be to add more color. Perhaps a dash of red and white blooming plants would compliment this she shed landscape.
6. A blaze of glory – when plants aren't enough
If you have the whole yard to yourself for your she shed, then treat yourself to the ultimate landscaping indulgence, your very own fire pit.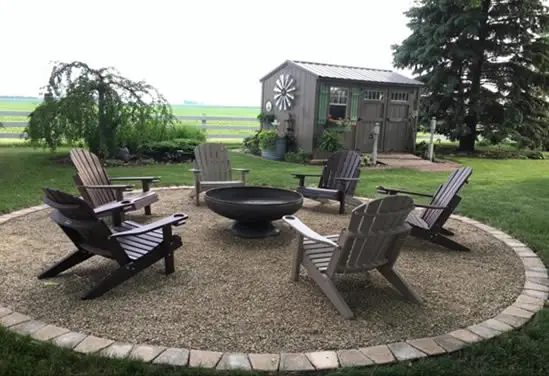 Note that the fire pit is kept a good healthy distance away from the she shed so as not to be a fire hazard, but it's the perfect place for entertaining your girlfriends on those chilly nights with a glass or too of wine or a few beers.
The stonework encircling the fire pit is modern, and we like the matching furniture that blends right in with the exterior wooden color of the shed. In the center is the pit itself with seating for up to six people to stay toasty as the fire burns.
Be sure to check out different types of fire pits as there are numerous different styles and designs available to compliment all types of landscapes.
7. Yards within yards – lawn landscaping outside the shed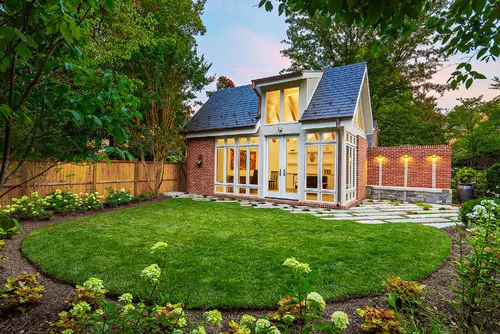 You would need quite a large backyard to pull off the she shed landscaping example shown above, but it's a great way to truly feel like you have your own private space in your she shed.
Not only is your shed figuratively divided from the rest of the yard and thus the house, but it is actually literally separated from them via this unique landscaping idea.
Surrounding this circular expanse of yard is a mulch path that gives way to a stone footpath surrounding this luxe little she shed made of brick with windows that go up nearly to the top of the roof in some areas.
Flowers enwrap the mulch path so the space feels that much more insular. If you wanted it to feel even more private you could plant bushes or shrubbery around the the outside of the inner yard or use a picket fence and gate. If using a fence then blooming flowers along its length would add a splash of color and fragrance the entire area.
8. Contained excellence – why not mix up those landscaping ideas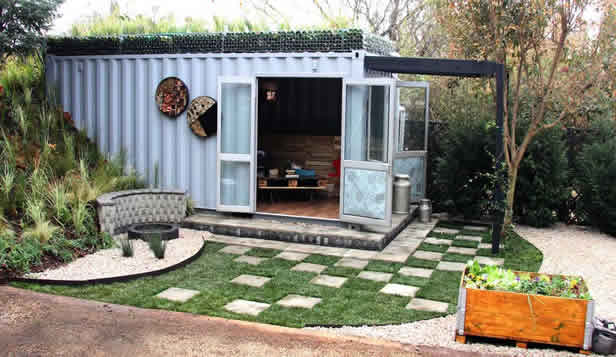 Since you're the boss when it comes to your she shed, you can organize your landscaping any which way you want.
Rather than do things the traditional way, why not lay out some stones so they make an alternating checkerboard pattern? This can make lawn maintenance a bit tricky, but you can't deny the cool effect of this style of landscaping.
A raised flower bed adds some variety to the immediate she shed landscape and a sloping hill of shrubbery gives depth and dimension to the space.
If we owned this she shed we add much more color to the landscape paying close attention to the sloping hill. I would also paint the container she shed a brighter color and perhaps add at least one hanging planter, a double planter made of metal would work really well, with colorful flowers in it.
9. The shed with a waterfall – cuz you can landscape with water too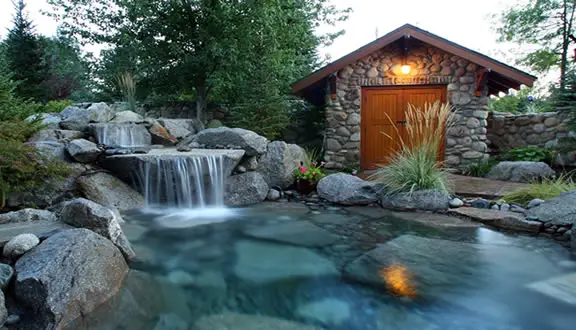 If your budget is no-holds-barred, then you might as well do what you've always dreamed and desired for your she shed. You know, like add a waterfall!
The rushing sound of the water will allow all your stresses to melt away so you can use your she shed as a place of refuge and relaxation just as intended.
Make sure that the stone path leading up to your she shed has some grip, as the waterfall will likely keep the path pretty wet most of the time. You don't want anyone to accidentally fall into the pool on the way to the shed!
SHED LANDSCAPING COSTS
You definitely want to get that professional landscaping look for your she shed even if you are doing it yourself, but how much will this cost?
How much you can expect to pay for shed landscaping
According to HomeGuide, in 2021, landscaping is between $4 and $12 a square foot and $50 to $100 an hour depending on the type of landscaping you're interested in if you choose to use professionals to do the job.
If you want a sizable water fountain for your she shed, expect to pay at least $2,000.
To add sod to encourage grass to grow so you can create a truly landscaped area around your she shed, the costs might be around $1,100.
Zoysia sod costs $0.40 to $0.55 per square foot, St. Augustine sod is $0.20 to $0.50 a square foot, fescue sod costs $0.31 to $0.63 a square foot, and Bermuda sod is $0.30 to $0.75 a square foot. If your lawn is 2,000 square feet and you get the whole thing sodded, you're looking at overall project costs of $3,000.
Here are some other landscaping services you might consider as well as their prices:
Landscaping permits – $1,000 or more.
Landscape design – $50 to $100 an hour.
Tree removal – $200 to $600 per tree or $12 to $13 per foot.
Tree trimming – $250 to $500.
Cinder block walling installation – $1,500 to $6,000.
Gravel installation – $180 to $1,800.
Topsoil and fill dirt – $150 to $600.
Landscape installation – $3,000 to $15,950.
CONCLUSION: 9 Shed Landscaping Ideas
Adding landscaping to your she shed is a fantastic idea, as it really makes the space look and feel complete.
You have nearly endless landscaping options, we've shown you just a fraction of the ideas available. really thing about including a low-cost simple stone path or if you have the budget go for the more ornate waterfalls and fountains.
Now it's time to roll up your sleeves and get to planning and creating your she shed landscaping!