You love nothing more than to curl up in a cozy chair with your favorite throw, a cup of tea, and a good book. The only problem is because of the kids and all your household obligations it seems you rarely get the time to read anymore. That's part of why you want a she shed, for the privacy and a place to read. So, how can you incorporate a library into your she shed to benefit from both your passions?
In this post, we'll highlight 8 great she shed library ideas and provide you with some striking examples of the perfect reading nooks. Of course these ideas apply equally well to any type of lady lair whether it's in a shed or your house.
Once you see what's possible, you'll want to create your own little library pronto!
These 8 She Shed Library Ideas Let You Create an Oasis for Reading and Relaxation
Check out these amazing she she libraries. Take ideas from on, two or all of them to make your own personal and peaceful reading space.
1. Full-wall pine library shed
No matter if your she shed is rather small, or fairly big, you can still fit in some books.
If you have already filled the space with all the essentials and it's packed with furniture then you may wonder where you'll possibly find the space to devote to a library within its four walls.
But, as it turns out you may not have to look hard past those walls.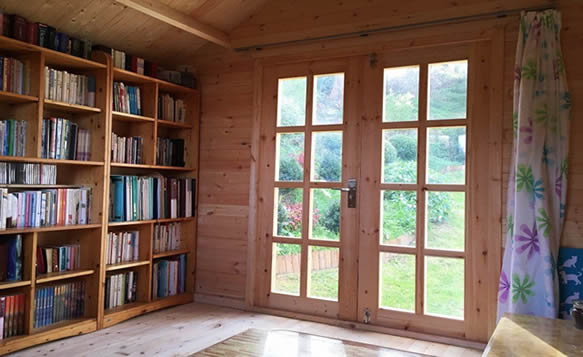 Why not use an empty wall for storing your library of books?
One industrious she-shedder built a floor-to-ceiling bookshelf, and lined it up against an empty wall in her shed. She then filled the shelves with books.
The adjacent door with its glass inserts lets in lots of natural light which is essential for any reading space and also offers a light (excuse the pun) feel.
The above she shed is simply perfect for daytime reading and relaxation. If we were to make any changes it would to add lighting around the bookshelves to illuminate the tomes as ducks approaches.
2. Set up a cute yet quaint mini library in your she shed
In our next example we see a more traditionally styled she shed. This too-adorable pink library shed is all about relaxation.
The sign on the wall that reads "featured presentation" suggests this place is used to watch a lot of movies but also has a tongue-in-cheek message that speaks of the importance of the she shed owner!
The soft tulle and pillows lend this room warmth and a feeling of comfiness as well. Of course, our favorite part of this colorful library she shed is the little bookshelf painted in eggshell white.
Sure, the bookshelf has only three shelves, but it's enough for you to bring out the books on your summer reading list and finally get cracking on them. You could also have one of these on each opposing wall if you have an expanded book collection.
The cute sign above the bookshelf apply says "READ" in neon pink felt letters and adds a touch of whimsy to this space.
3. Use open space in the shed for books
Okay, maybe you can't call this she shed example a library, per se, but it sure is an inventive way of storing books.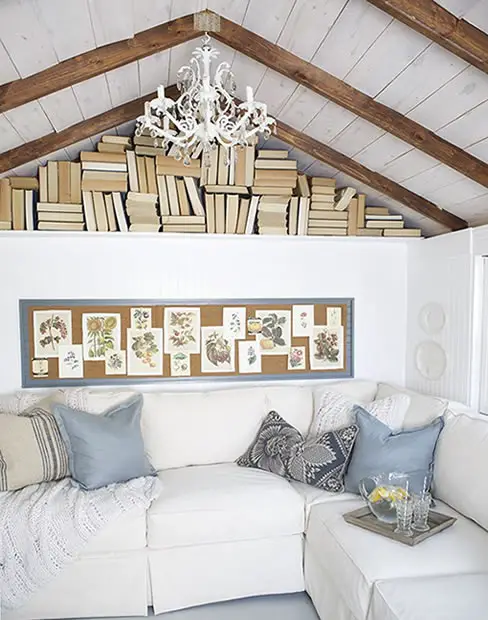 The triangular roofing of the she shed leaves an open space. Rather than ignore this cavity, a very creative she-shedder filled the triangular space with lots and lots of books.
Not only does this keep the collection of books relatively close to that darling white wraparound couch, but the tomes act as insulation so that open space doesn't get too chilly.
Now, it is obvious that the books is this particular she shed are not meant for reading as the spine is reversed making it difficult to identify which book is which but the idea is fantastic. So strictly speaking our example may not be a library shed at all.
Our suggestion is to use the space to display your books with their spines out rather than the pages out. This way, you don't have to rifle through all your books to find the one you're looking for. The book spines can also add a much-needed pop of color in a rather muted she shed like this.
For the avid reader it could offer ample opportunity to store extra books. Perhaps you could rearrange the furniture and move the couch somewhere else while adding a small movable rolling ladder for better access to the book sin this innovative bookshelf.
4. Office she shed library
This she shed library is perfect for a she shed office (or even a man cave office for that matter).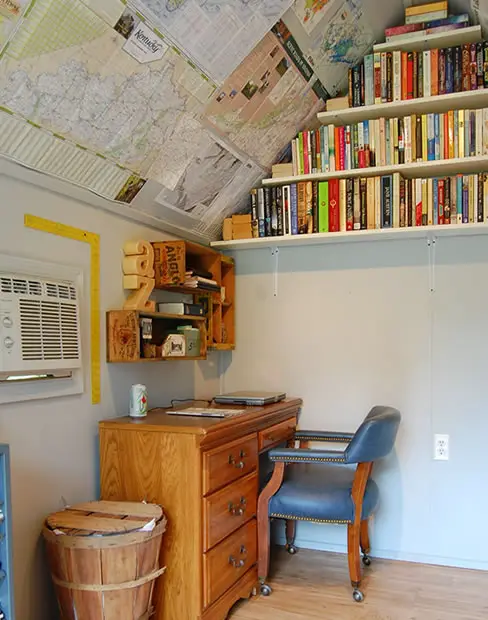 See, this is what we meant by adding color from your books to your she shed library! Look at the rainbow of colors from the spines of all those great books! Sure, there's no rhyme or reason to how they're organized, but rather than look messy, we think it adds charm and vibrancy to this she shed.
The adjoining wall with its maps stapled throughout gives you the sense that this she-shedder is all about seeing the world or perhaps impacting the world from her small she shed office space.
As you can tell what we love most about this library space is that besides being a nice spot for reading, this she shed can also double as an office.
That seems to be how this she-shedder is using it considering that she has a desk, a nice chair, and a laptop ready to go.
Working from home in your she shed is the perfect place to get things down without interruptions and in peace.
When the workday wraps up, you could easily reach above you and grab a book to kick back and relax with. The books on the bottom shelf are accessible without a ladder, which is nice.
5. Free-up space with under-the-seat book storage
Okay, so this is probably more a lady lair situated inside a house rather than an outdoor she shed, but the idea behind the design is very easily doable in any she shed.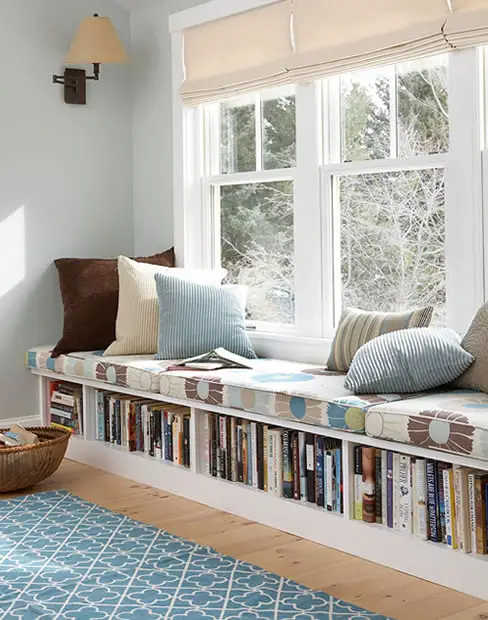 If you have a long couch or an ottoman with under-seat storage, you can use that already occupied space to store your books.
This is about as convenient and space-saving as it gets. You don't have to climb a ladder to reach your favorite titles. You don't even have to get up off the couch. Just lean over, grab a book, open it, and get reading.
If you choose to mimic this idea in your own library shed be sure to put your reading seat by the window like in the above photo.
Gauzy curtains can filter the sunlight so you don't feel the full brunt of it. At night, a reading light will provide illumination. Oh, and don't forget some comfy pillows too!
6. Build a book tree
You're the handy type, right? Or maybe you can convince someone who is to help you with this one.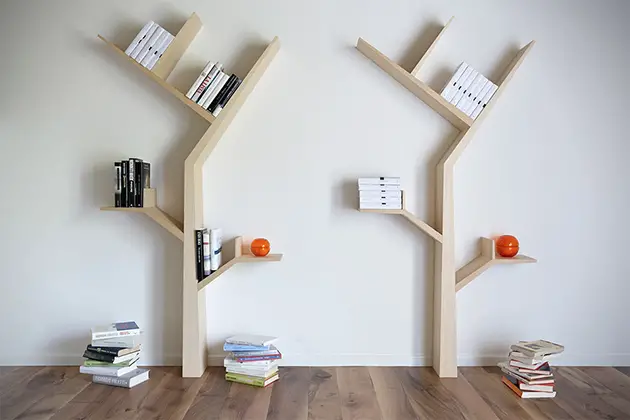 Since we're sure you built your she shed from scratch (just like you can do with a man cave), assembling your own book tree shouldn't be very challenging. The image above is one way you can go about doing it, but the fun thing about a DIY book tree is yours can be any shape or size you want it to be. Of course you can just buy them but where's the fun in that?
If you only have a little space in your she shed to devote to a library, a few of these wooden book trees that fit within the parameters of your library shed will let you display your top book titles in a fun new way.
7. Use your headboard to store a few books
Again, we could hardly call this a library, but hey, sometimes you have to start small in your she shed.
In fact, why only store books like this in your she shed when you can also hide a few books in the house in the bed's headboard? This is perfect for a she shed bedroom.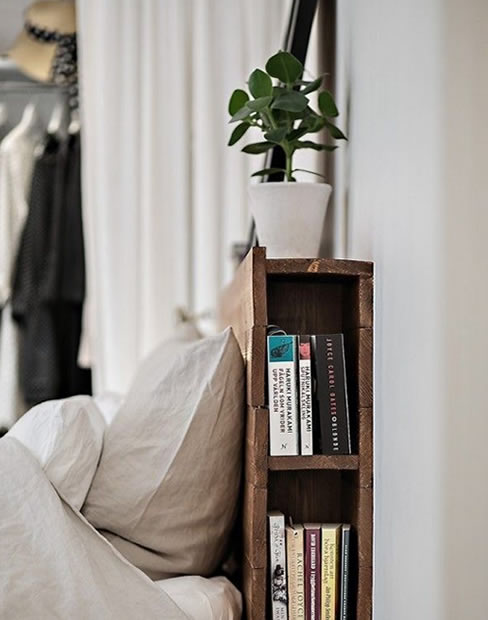 Reading in bed is one of the finest luxuries in life. With a little desk lamp, you'd have the ideal lighting to pore over your favorite titles for the hundredth time or even read a new book. All you need is a warm beverage.
Be aware though that this idea can just as easily be translated into a non-bedroom library shed.
Hollowed-out couches and other types of furniture could also easily be used to store your books. This is especially true if you are upcycling old junk, like barrels or even old cars, to create your own furniture like we showed readers how to do here.
8. Rounding it off with a spherical bookshelf
This style of spherical bookshelf is really eye-catching and becoming very popular with she shed book-lovers, and it's easy to see why.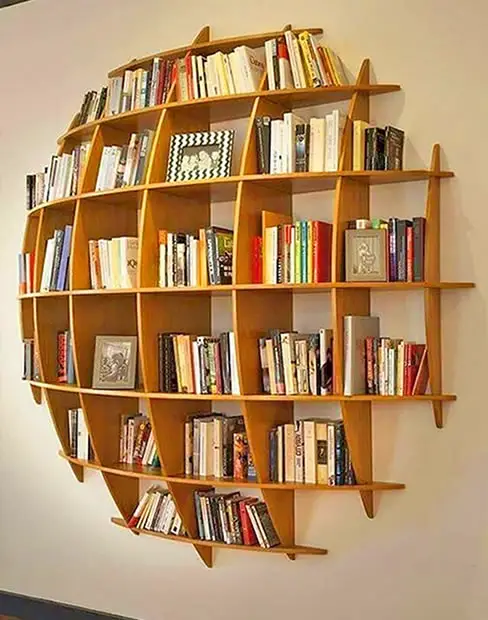 Although it kind of resembles a giant waffle, the design of the shelf is such that it looks like the bookshelf is melting into the wall.
If floor space is at a premium in your she shed, which is likely considering most of these sheds are very small and require some creative décor ideas, you can keep all your books on the wall.
Just be aware that the shelves jut out pretty far, so don't add one to a narrow passageway in your she shed.
Conclusion: She Shed Library Ideas
Make your bookworm dreams come true by converting your standard she shed into a library library.
You can redefine what a library means in the traditional sense and use small, creative spaces throughout your she shed to hide books or display them blatantly for all to see.
Don't be afraid to take some ideas from our article man cave shelving ideas as you may get some inspiration for your she shed library there.
By implementing some of the ideas we presented here you might get to love your new she shed library so much that you decide to start hosting a book club there!