If you are a sports lover and want your own place to enjoy your love of sports then consider building your own sports man cave.
How do you create a sports man cave?
Wherever you intend to create your sports man cave the basic principles are the same. Decide on your sports theme. Once you have decided on your sports theme it's all about the décor and furnishings.
4 Location options for your sports man cave
It all starts with the location.
Before you start imagining all the neat things you will put in your man cave and how you will spend great nights socializing in it or just chilling by yourself, you need to make some preparations. This starts with location selection.
The first thing you need to do to create a killer sports man cave is to select the space in which it will be built. It should ideally be somewhere that offers privacy but is easily accessible.
Some options for a man cave conversion include:
The basement.
The garage.
A shed or outbuilding.
A spare room in your home or the attic.
Let's look at these options in more detail.
Basement sports man cave
If you have chosen the basement to be your sports man cave then make sure it is a fully livable space. Check for leaking pipes, damaged floors and damp.
Fixing minor damages such as cracks is usually pretty cheap to complete but be aware that it can cost you about $500.
However, if there are drains, gutters and pipes that need to be installed then the cost can go up to as much as $10,000.
Begin by cleaning the basement with soapy water and make sure that there are no bugs crawling around in the space because abandoned basements are often home to tiny creatures. You may need to get in touch with a fumigation company to get rid of pests.
Make sure the basement has adequate connections to utilities, especially electricity. Although it will almost certainly have at least one light it may not have enough light fixtures and electrical outlets for a man cave conversion.
If your basement does not already have adequate electrical sockets you should be able to get some installed for just a few hundred bucks. If you also have to get light fixtures fitted then the cost will obviously increase.
Be aware that basements are dark places and you will definitely need to take appropriate steps to lighten the area. This starts with using vibrant white paint and colorful décor to help reflect the light.
You will also most likely need to install additional lighting and it is a very good idea to make sure the main lights use daylight bulbs like these ones
. I covered the importance of using light reflecting décor and daylight lamps in here – although that article section is about a female "she shed" basement conversion the information about lighting applies equally as well to a basement man cave conversion.
You may also need to install some sort of climate control even if that just means having fans for cooling in the summer and electrical heaters for the colder months.
If you prepare a basement right and ensure it is well lit and airy then it can make a truly excellent location for a sports man cave as it offers an abundance of space and privacy.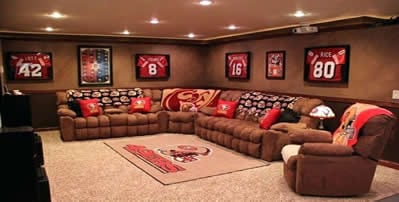 Garage sports man cave
A garage is another great location for a man cave as most garages are attached to the house and already have utility connections and are weatherproofed.
However, most garages tend to have the same problems with light that you'd encounter in a basement. So, the same rules apply here; light reflective décor and bright light-reflecting paint is the way to go.
Apart from the décor, preparing a garage for a man cave conversion is usually fairly straightforward. However, if your garage has been used for car or other maintenance work then you may need to clean it with strong chemicals to get rid of grease marks and oil stains.
A garage, like a basement, will also probably need some form of climate control added to it.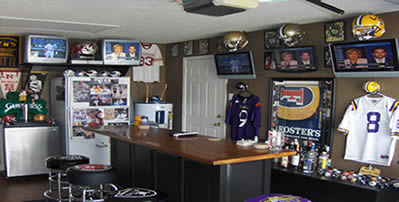 Shed sports man cave
A shed is another very popular location for a sports man cave.
You may convert an existing shed into a man cave or build a new one. I have covered how to convert an existing shed in this article and it is well worth a read if you plan to go down this route.
If you plan to build a new man cave shed from scratch then this article will be helpful as it outlines the steps from start to finish.
Preparing a shed for a man cave conversion is really all about weatherproofing it and making sure it is suitable for spending large amounts of time in.
Ensuring the roof is waterproof and using weather proof paint on the outside and damp-proof paint on the inside is essential. I have covered the best way to do this here where I also outline which paints to use and how to waterproof the roof yourself.
A shed, like a garage and a basement, will also need some form of climate control.
Spare room or attic sports man cave
A spare room conversion has both pros and cons as far as creating a man cave goes.
A spare room in your home is actually the least popular option for a man cave because it doesn't offer the same level of privacy and separateness from the main house as the other options.
As most spare rooms are also the smallest rooms in the house choosing this space for a conversion also limits your options somewhat.
Of course it is possible to convert a small room into a man cave as I outlined in the article How to Make a Man Cave in a Small Room, but if you have a bigger space then that is always more desirable especially for a sports man cave which you will no doubt want to house a lot of sports related décor.
Therefore because not everyone has the space, or the budget, to build or convert a shed or convert a garage or basement a spare room is a great alternative.
On the plus side, obviously a spare room in your home will already have electricity and be within easy reach of other utilities. So, it stands to reason that a man cave conversion will be the easiest to complete in such a space.
A spare room will also be fully weatherproofed, have adequate lighting and will almost definitely be already connected to your home's HVAC system.
If you choose the attic for your sports man cave then you may need to prepare it in the same way you would a garage or outbuilding unless you already have an attic conversion in your home.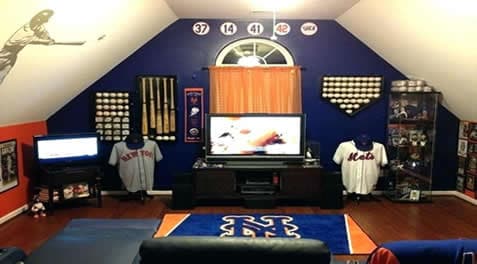 A quick guide to implementing the man cave conversion
Once you have selected the space and prepared it it's time to move ahead with your man cave conversion.
Measure the space before you buy anything
A sports man cave is a combination of many sports related things but will usually have a few essential items such as furniture, sports memorabilia, at least one large TV, and sports decor.
Additional items that are often found in such a man cave include a gaming table. If you plan to have a gaming table in your man cave I recommend you get a table that converts into several different games such as the ones I mentioned here.
Before you begin populating your sports man cave you should start by measuring your available space (width and length of the room).
Make sure you also measure the door so that you have a working knowledge of what will fit into the space. You'd be surprised at how many purchases of items such as furnishings are made by people who only discover after buying them that the item won't fit through the door or is too big for the room.
A sports man cave really shines when it is large but as I already mentioned you can still create one in a smaller space though you will be limited by the furnishings you can put in it.
Note:

No matter what your preferred sport is, a sports man cave is built on the same principles.

It can be ice hockey, football, wrestling, basketball, soccer or any other sport.

All you need to do is choose the appropriate décor, add souvenirs or memorabilia and choose furniture that compliments the specific sports theme.
The 2 most popular man cave sports décor themes
Here are a few examples of various types of sports related layouts that you can go for.
The sports bar man cave
As a sports fan you not doubt watch a lot of games. So you should really consider installing at least one big screen TV in a premium position within your man cave. If you have the budget and the space why not go for a centerpiece of 4 TVs with each one facing a different area of the room like the one in our featured image at the top of this article.
Watching sports and having a beer usually go hand in hand. So, you may want to build your own man cave bar.
Although you can opt for a fridge to hold your bottles and cans, having beer on tap and optics to pour your hard liquor really helps to complete a sports man cave bar look and feel. And, building your own bar is not as expensive as you may think. In fact, as I have shown in a previous article you can build a man cave bar on a budget very easily.
You can even get sports related bar stools, like these ones
, to compliment your man cave sports theme and even your favorite team.
The next step is to decorate the room.
Splash posters of your favorite teams or players on the wall and invest in a few sports souvenirs as well.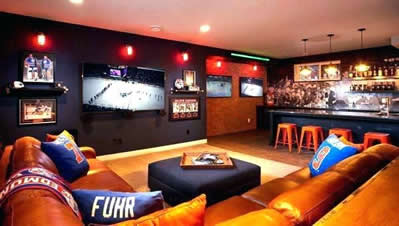 The sporting arena man cave
Of course not every sports man cave is dedicated to watching sports. Some guys build a sports man cave to play in.
Obviously you will be somewhat limited to what sport you can play. Getting to play baseball may not be a possibility within the limited space of your cave but believe it or not you can play golf as I demonstrated here!
Other than this, you can install other gaming equipment as well, such as pool table, foosball, table tennis table or darts board to mention just a few.
4 Essential items for all sports man caves
There are lots of things you can put in your man cave to create a sports theme.
Below I have included the most popular types of man cave sports items but if you are stuck for ideas be sure to check out the article 100 man cave gift ideas which contains a ton of sports related items that may be of interest to you.
Sports jerseys
Get a jersey of one of your favorite teams and hang it on the wall. If you can afford to get a signed jersey then that is even better.
However a few home and away colored jerseys with players names on them, framed and hung on the wall together will be more than enough to show where your loyalties lie.
Souvenirs and memorabilia in display cases
Use glass display cases to flaunt your trophies or signed footballs, basketballs. baseballs, gloves, jerseys etc.
Put your favorite team logo on mugs and get beer and shot glasses with the logo of your team etched on them.
You should also consider putting up souvenir posters, pictures or wall art that reflect your love of the game. You can get pictures of famous names from past decades and place them beside the greatest names in the game today.
Team logo wall sign and wall decal
Die hard sports fans will feel this. Buy a wall sign of your favorite team and hang it in a prominent place on the wall.
There are many wall signs of different shapes and colors available on the market, you can choose one that blends well with the color of your man cave.
Generic sports wall decal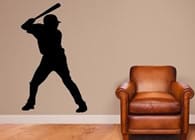 Wall decals are easy to put up and are a very affordable way to decorate the walls of your sports man cave.
You can choose decals of your favorite players, favorite team or ones that just reflect your love of a specific sport.
Wall art decal is a cheap way to make the walls in your sports man cave look great and they come in a variety of shapes and sizes in all different sports such as these awe-inspiring ones.
21 Awe-inspiring sports man cave ideas
There are lots of different approaches to creating a sports man cave. Of course the main objective is to fill the space with items that reflect the specific sport you are most interested in.
Although it is possible to create a sports man cave that reflects multiple sports it would be very difficult to pull off unless you have a very large space to play with.
It is much better to pick one sport and stick to that. This sport will be the basis of your sports man cave theme.
Below are a few ideas for specific sports themed man cave designs.
Touchdown with these 7 football man cave décor and sports ideas
If you are a die hard football fan then you'll be needing some unique items to grace your sports man cave and make it look like a football sanctuary.
Of course you can get the usual jerseys, signed helmets and footballs, trophies, posters and even football-shaped furniture like this one that comes with an ottoman
but you should consider the more unusual items as they will give your sports man cave that little bit extra.
NCAA hover helmet
If you love college football then why not show your true colors with these neat hover helmets?
All teams are available and you can support your favorite college team with a hover helmet that defies gravity and floats in mid air.
I wrote a short review on these helmets and show you where to get them here.
NFL Snack Helmet
Prefer the NFL over the NCAA? Then why not get a small NFL replica helmet with your team colors and logo that serves as a bowl for snacks, chips and eateries.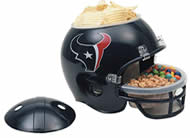 It has trays, small compartments and lid.
It is washable and as well as being a great way to sever snacks it just looks great.
You can get a snack helmet in the style of your favorite team here
.
Helmet wall decal
Get a large helmet, football, or player vinyl wall decal to stick to one of the empty walls.
Since it is removable, you can simply peel it off when needed.
Better still why not get the full NFL football helmet collection to cover an entire wall? Grab them here.
Helmet playoff trackers
With all 32 team helmets and 2 backing boards it is easy to keep rack of the playoffs with this novelty item.
Even if you don't want to track the games these little helmets would be a great decorative addition to your football themed sports man cave placed on a shelf or in a display case.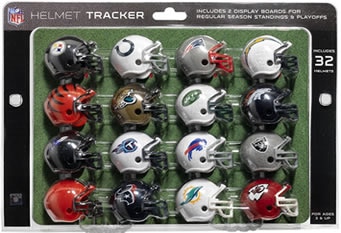 Team sofa throw
Why leave a boring old sofa in its original colors when you could drape your favorite team colors over it?!
These team blanket throws are an excellent way to
cover sofas and lounge chairs with a sports theme.
Fun football molds
Why not share some homemade football shaped Oreos during the game?
If you are a dab hand in the kitchen you can easily rustle up some Oreos using this cool football mold. If you don't know the sink from the cooker then maybe your other half could be cajoled into making them for you.
This football mold
would work well with the NFL snack helmets mentioned above.
Sport string lights
Hang some sport themed string lights on the walls or around your man cave bar for added effect.
You can get different types of string lights in a variety of different sports from football and basketball to golf
.
You can also get a set with a mixture of sports.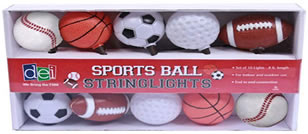 5 Basketball man cave ideas that slam dunk
If you are a big basketball fan then you'll obviously want your sports man cave to reflect that with basketball wall arts, signed basketballs, NBA posters etc.
Here are a few basketball related man cave items that will help you create the perfect sports man cave for a basketball fan.
Creative wall art prints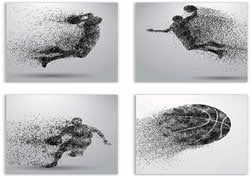 Wall art enhances the visual look of your man cave.
Although there are many different types of basketball related wall art these silhouette images
are striking and unique.
If you have created your sports man cave in a basement or other area where you needed to use vibrant white to reflect light this type of black color art will offer a really striking contrast.
Basketball neon light
Hanging this neon sign over your man cave bar or on the wall is a great way to show your love of the game.
It comes in various colors so choose one that looks good with the interior of your individual man cave.
Of course these signs work equally well for any other sport and come in a variety of designs and styles. Grab one here.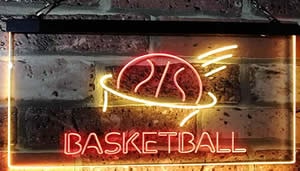 Engraved basketball man cave sign
This sign is a fantastic way to let visitors know where they are stepping into. Hang it on the door of your basketball sports man cave for maximum effect.
It is customizable with your name.
Of course you can get other sports themed signs as well.
Check out this neat engraved man cave sign here
.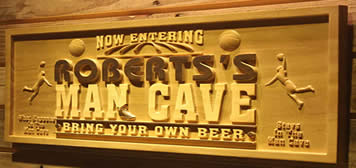 Mini basketball and hoop
Hang a small basketball hoop and practice your shots with a small basketball.
You can also get kits that are ideal for a basketball man cave like this fun mini basketball hoop with ball
.
Basketball mugs
Large enough for soup or better still put some hot chocolate in and fill the hoop with marshmallows.

Even if you don't intend to use them, these neat basketball mugs would make a great ornamental addition to your basketball themed man cave.
Check them out here
.
4 baseball man cave ideas that knock it out of the park
Use some of the following ideas to give your man cave a baseball touch that will surely mean you've made a home run.
You can add the usual décor items such as posters, helmets, balls, bats, etc. But don't stop there.
Add super cool items like baseball neon lights, 3D baseball gloves, baseball glove chairs and more to make your cave really come alive.
Here are some cool options to get your creative juices flowing.
Baseball glove chair and ball
This brown chair is designed to look like a baseball glove and is perfect for parking in front of the TV for the game.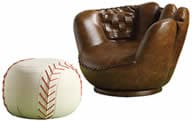 It is 32.5 inches in width and 27.5 inches high and sits on a swivel base for easy turning.
It comes with a 17 inch by 13 inch ottoman made to resemble a baseball with red lining marked against its white covering just like a baseball.
Let all your guests know who is the king of your baseball man cave with this neat chair and ottoman.
Check it out here
.
3D baseball non lamps
There are quite a few different types of neon lamps available that would be perfect for a baseball themed sports man cave.
Any one of these 3D images will help complete the baseball theme of your man cave. Their design looks innovative and glows with the help of batteries. So, you won't have to worry about any wires hanging.
I've included images of a few below but you can have a look through the various styles and designs here
.

Baseball Cushion Cover
This cushion displays a baseball player smashing the ball with a bat.

You can place these cushions on sofas or chairs to help create that baseball feel in your man cave.
There are many different deigns available that range from ball styled to gloves.
You can get the one shown in the adjacent image here
though it's a good idea to mix it up with several different styles.
Unusual and fun baseball décor
Of course there are a ton of other great décor items from baseball bat stands to lamps made from baseballs.
Looking at these items can really help you to form some ideas about how to decorate your baseball themed man cave.
Browse through these baseball decor items on Amazon
to give yourself some ideas.
For more ideas about creating a baseball themed man cave read this article.
Get stick with these 5 ice hockey man cave ideas
Got stick?
If ice hockey is your jam then it's time to freeze things up with these cool ice hockey man cave items.
Ice hokey rugs
Like other sports man cave themes using a themed rug is a great way to compliment the rest of your man cave.
Ice hockey themed rugs come in all shapes, sizes and designs and it isn't too difficult to find one that fits well with your overall color scheme and decor.
View a great selection of ice hockey ice hockey rugs here
.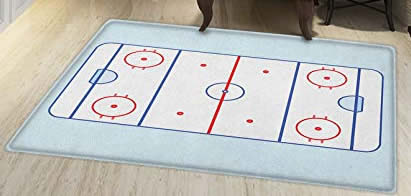 Ice hockey cushion covers
Browse these ice hockey cushion covers
to see how you can beauty your hockey cave sofa and chairs.
It is a good idea to mix it up with different covers.
Ice hokey wall decor
You can also buy posters and souvenirs of your favorite team and place it on your walls.
Wall decor ranges from removable decals and wall art to posters and clocks.
Check the different types of hockey wall decor here
.
Table hockey
We all know that you miss the shots you don't take so why not add a cool ice hockey table game to your sports man cave.
Bring the game to your man cave with this cool NHL Stanley Cup rod hockey table
.
The hockey cup
Enjoy soup, hot chocolate or coffee in this neat hockey mug.

This 14 ounce mug measures 7″ long x 5.25″ wide x 4.75″ high and has a small net attached.
Perfect for that strong coffee in the morning after a night with the boys watching the game and swilling beer.
Get the hockey mug here
.
7 cost  considerations associated with creating a sports man cave
Now that you've decided that you deserve a sports dedicated space of your own let's get down to the dollars and cents of creating a sports man cave.
Regardless of the specific sports theme that you choose the costs will be similar.
I have covered the costs of creating a man cave in this previous article and also shown you how to build a man cave on a budget but for ease of reading I'll talk a bit about costs here.
Cost if building sports man cave outside
Shed cost
If you are going to build your sports man cave from scratch then expect to pay between $17 – $24 per square foot to have a shed built in the backyard. You should also read this article that shows you how to do it.
Obviously the bigger the shed, the more it will cost. However, other costs will also go up in the process. Additional costs such as wiring, plumbing, and paint will increase also.
Weatherproofing
Obviously these costs will not apply if you are using a spare room in your home. For most other conversions it will be a consideration though.
I have covered the costs and steps involved in weatherproofing an outbuilding here but below is a quick rundown of potential costs.
You can get a good weatherproof paint for about $30 a gallon. As I outlined here you can save money by using different damp-proof paint for inside of the man cave.
If you want a more in-depth rundown of the costs associated with weatherproofing an outbuilding read this.
Utilities connections
Again, these costs will not apply if you use a spare room in your home. However, if you decide to create your sports man cave in an outbuilding or garage that has no electricity then be prepared to spend money for utility connections.
As I mentioned in the article How to Build a Man Cave in the Backyard you can usually get an outbuilding connected up to the electrical grid for about $500 or less and it is a fairly mundane and straightforward job for an electrician.
If you want access to running water and there are no water pipes then get ready to spend about $150 per hour on a plumber.
Insulation
Insulating the space is relatively cheap.
Simple insulating kits are all you need or, if you have the available budget, you can hire a professional to do the job.
The most popular forms of insulation in the USA are batt insulation
or lose fill
.
Also consider soundproofing the man cave. I have outlined all these steps under costs for insulation and soundproofing.
Climate control
Climate control is pretty much essential for any man cave.
You can have an HVAC system installed which will cost around $6,000 ($4,000 – $8000 for HVAC system, $2000-$3000 for installation).
But, of course you can do this much cheaper with simple electric or propane heaters and fans.
Man cave sports furniture
The most basic furniture you will need will include sofas, chairs, TV, and a table.
Obviously the costs of furniture will greatly depend on the items themselves and were you source them.
For more information about man cave furniture and a guide to choosing it read this article.
Sports décor and memorabilia
Décor and memorabilia will be probably be your biggest expense.
Below are a few simple examples of what you can expect to pay from the cheap to the ridiculously priced.
License plate tag (team/player): $9
Wall decal: $12
Plastic décor: $11
Favorite team blanket: $27
Team logo wall sign: $30
Neon LED team sign: $32
Football helmet crafted lamp light: $35
Large favorite team flag: $50.
Favorite team logo round table: $100-$150.
Hardwood coffee table with NFL logo: $200-$300
Themed sports chair: $200 – $300
Signed football: $150 – $300
Muhammad Ali Fight Gloves: $1.1 million
Some memorabilia can be very expensive. For example, a Paul Henderson jersey was recently sold for 1.275 million.
For most of us a replica Paul Henderson jersey would do just as well (as long as you are a hockey fan and Canadian).
The trick to getting the décor right in your sports man cave is to remember just 2 simple rules:
Keep the décor connected to your theme as much as possible (though if you like it and its unconnected use it).
Only put things in your sports man cave that you like and not because you think you ought to.