You want to have the best man cave décor, but admittedly, you're not sure where to start. Should you go for a themed space or one with a timeless charm? What if you want to personalize almost everything in sight? Can you?
No matter what kind of personal decorating taste you might have, in this guide, we have some awesome man cave décor ideas to suit every taste and budget. We'll cover garage décor, sports items for a man cave, and all sorts of other themes.
By the time you're done reading through this guide, you should have everything you need to decorate your man cave your way.
28 Unique Man Cave Décor Recommendations That Are Perfect For Any Den
You're super proud of your man cave, and rightfully so. Now you want the world to know it's yours whenever anyone comes to visit.
For the proud man cave owner some personalized man cave décor would suit especially well. Here's some of our top picks.
2  Essential man cave décor ideas for the walls
Man cave bar sign wall décor
If your man cave doubles as a home bar, you cannot go without this sign from Dye-namic Art
Sign Measures 8″ x 12″ and is a fun way to tell your "patrons" to bring their own booze.
This fun sign with curved and straight edges lets you proclaim your bar as "serving whatever you bring!"
The sign is lightweight and made from aluminum and given a glossy finish.
The pre-drilled holes make hanging this sign a breeze. If you want to hang it outside your outdoor man cave you can as it is weather and UV resistant.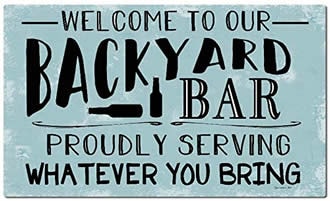 Man cave rules sign wall décor 
If you're not so much into drinking beer, that's okay. You'll certainly like a man cave rules sign that sets out your rules for your space.
A man cave rules sign can be generic or personalized with your name and the year you created your cave. Sounds good to us!
You can add a single name or even two if you so prefer as well as the date. If you want extra text on the sign, you have the freedom to include it on many of them.
Check out this great range of man cave rules signs here.

Man cave warning sign wall décor
Perhaps you don't want to invite everyone into your man cave. Access to your sanctum is by invitation only.
If so, then you need this man cave warning sign
. It measures 9 inches by 12 inches. Unlike the other signs thus far, this metal sign is designed to look rustic like a sign from an old military base.
The sign has a UV-PRO coating to add a high-gloss finish and protect it from the elements if you want to hang it outdoors.
This warning sign has a faded, rusted look that you'll love. No one can miss the red warning sign. Then, beneath that, it says "you are entering [your name]'s man cave." No one will step in by accident again!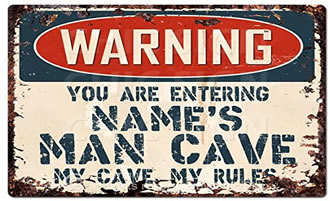 5 Rustic man cave décor ideas perfect for a home bar
There's a certain charm to rustic items that most of us just can't get enough of. Even if your don't have a rustic man cave, adding rustic items to your décor can really help set your man cave apart from the rest of your home.
If you want to fill your man cave with similar items, you can.
Rustic wooden American flag man cave wall décor
It doesn't get much more rustic than this. This wooden American flag from Etsy user BMRwoodcompany will make for stunning man cave wall décor.
This flag, recreated painstakingly from wood, gets charred by hand so no two will ever look alike. Then the entire thing receives several coats of lacquer so the wood stays sealed.
Now you can show your patriotism in your man cave and look badass at the same time. Americana doesn't get much better than this.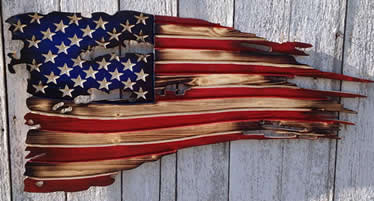 Beer patent art prints are perfect for a man cave bar
Need more man cave décor  for the wall? These beer patent art prints
from Wall Worthy Prints will fill up any empty space.
You get four prints in one order. Each measures 8″ by 10″. The Fuji Crystal Archive paper has some gloss but is otherwise matte to the touch. You will need to supply your own frames for these prints but they are so reasonably priced the extra cost should not be a concern.
There are also some other really cool patent prints from firearms to engines and even the starship Enterprise. I covered more about these print here.

Caveman man cave sign – speaks for itself
Here's another rustic touch for your space, this time from Liberty Imports. Their caveman-styled man cave wall sign
will add a touch of rustic earthiness to any space.
It's 1.5 inches wide, 5.5 inches tall, and 12 inches wide.
The entire sign has a wooden base that's coated with resin. The fake bones that are used to spell out the words "man cave" will get your buddies talking when they come over.
The sign attaches by a rope and even has hooks for speedy and easy hanging. Modern convenience meets caveman ingenuity!

Vintage wrench key holder is perfect for a garage man cave
Do you often lose your keys in your man cave? No more with this vintage wrench key holder
from KiaoTime.
This highly-rated wall sign can hold three sets of keys. It's designed to look just like an old-school wrench and is even made of cast iron. You can expect years of durability with this man cave addition.
This key holder measures 4 inches high and 9.5 inches long. It has a thickness of 1.75 inches.
Besides keys, you can also use this rustic item for hanging tools, hats, and coats (although not heavy ones). It's cool and functional!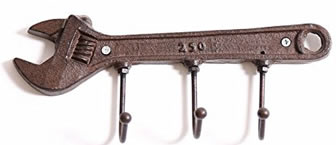 Wooden beer mugs – because glasses are overrated
Whether you want to drink from these on game night or you just use them as man cave décor you'll love these wooden beer mugs
either way.
Each mug can hold 20 ounces of liquid and includes a lid so you never have to worry about spills.
With a wooden base and stainless steel interior, these mugs will hold up if you do drink from them. Make sure you get a couple of mugs and then invite your favorite pals over.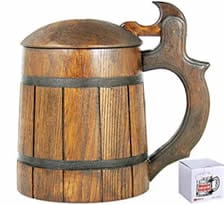 4 Awesome sports-themed man cave décor recommendations
Most men love sports, yourself included I'm sure. Even if you don't have a sports man cave you can still show your love for the game with some cool sports man cave décor items.
Whether you cheer for hockey, basketball, baseball, football, soccer, or all the above, these sports-themed man cave décor ideas have you covered.
Metal football wall art for the NFL fan
With a rustic touch that also fits the sports-themed man décor category, this metal football wall art
from BOLDHOUSE is a win-win.
If you have an NFL man cave then this little man cave décor item is the perfect piece for your wall.
It has a depth of 0.5 inches, a width of 7 inches, and a height of 13 inches.
Each football has a bright copper base that's painted brown to augment the natural hue. Then the football man cave décor gets distressed for that rustic feel. Finally, it receives an enamel finish to look nice and glossy.
You can lean this football art against a wall or even on the floor. If you have shelving that's large enough, you can put it there, too. Finally, you have the option to mount it to your wall.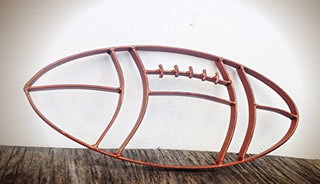 Vintage sports throw pillow covers allows you to celebrate your sport in comfort
Yes, now even your couch can proclaim your love of sports with sports themed pillow covers. Do keep in mind these aren't pillows, just throw pillow covers. Use them on pillows that measure 18 by 18 inches for a snug, perfect fit. You can pick up throw pillow inserts pretty cheap locally or online or get them when you order your pillow covers.
While the throw pillow covers below display football, basketball and baseball you have plenty of other options. You can also get covers with a soccer ball, a baseball, or a basketball along with slogans and famous sporting quotes.
Each soft burlap cover has a sleek, appealing look. At the back, the zipper stays hidden so you can cozy up on your pillow after a long night watching a big game.
You can view a wide range of sports pillow covers here
.

Premium dartboard cabinet set – no wall is complete without one
Make some room for a classy item that will make you the envy of all your sports buddies. This premium dartboard cabinet set
from Barrington looks so good, you don't even have to play darts to enjoy it.
The wood veneer with MDF provides a level of quality you'll love. The kit includes LED lighting, two scoreboards, six flats, six darts, and a sisal bullseye. The darts themselves have appealing flights as well as steel tips.
With such a cool addition to your man cave, why would you and your friends ever want to leave? Oh, that's right, you won't!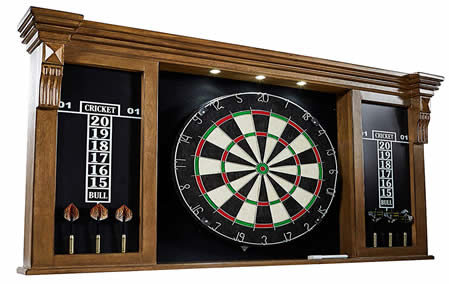 Sports themed furniture is a must for any sports fan
If you want to keep with a specific sports theme then why not go with sports-themed seating?!
You can get some amazing themed couches like this baseball glove chair. If you prefer a ball shaped chair, a football shaped chair or basketball shaped chair then you can get those too.
You can see a range of different themed couches here
from basketball to baseball to football and there's even a soccer ball chair!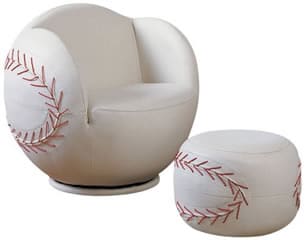 6 Garage man cave décor ideas for the petrolhead
Perhaps you have already converted your garage to a man cave, or you just wish you did. Either way, if you're a grease monkey through and through then you can liven up your man cave with these garage man cave décor ideas.
With these fun man cave décor items and ideas, you can let your personality shine through. Check out these awesome picks.
History of the mustang, sound clock brings the '60s to the noughties
Do you love driving and other motorsports? This history of the Mustang sound clock
from Mark Feldstein & Associates will have you smiling each time you see it.
It measures 13 inches wide and has a striking red base.
Anytime you turn the lights on in your man cave, your clock will light up. Just wait for a new hour to arrive and one of 12 cars will make an authentic Mustang sound.
From classic cars dating back to the 1960s to more recent Mustangs of the 2000s, this clock has 'em all.
To stop the sounds and the lights, simply turn off the lights in your man cave. A light sensor in the clock will deactivate.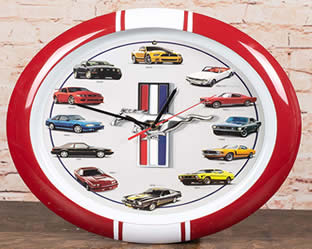 Harley-Davidson tin, embossed sign for Hog lovers
Are you an owner of a Hog that has pride of place in your garage or just a lover of the beauty that is Harley Davidson? Either way you can show your love with this tin embossed sign from Vintage Vending.
This appealing man cave wall décor has an orange background that says "Harley-Davidson: A Timeless Tradition." There's also an image of a gorgeous vintage Harley.
Circular in shape the sign is 13 inches tall and 15.75 inches wide.
The lightweight embossed tin includes pre-drilled holes. Now you just need to find some space in your man cave to hang this baby.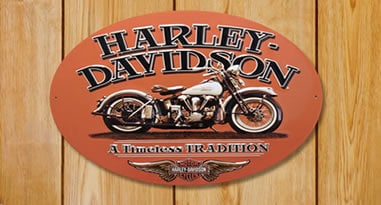 Gas/motor oil antique tin signs brings a retro feel to a man cave
For a truly vintage item that makes your man cave look more like a garage, you need at least one of these gas and motor oil antique tin signs
.
You get five pieces in all: two for Shell, two for Texaco, and one for Wakefield patent castor oil. However, there are other designs available from the same seller such as vintage license plates, route 66 signs and 1950's pin-up motorcycle girls.
Each sign measures 8 inches by 12 inches. Some stand vertically and others horizontally depending on the design. Their lightweight tin bases let you hang these signs quickly and easily. They're no muss, no fuss.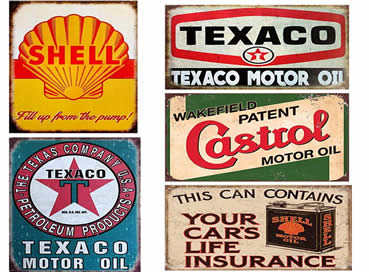 BMW blue double neon clock tells time with class
Yet another wall clock that's great for a man cave, this BMW wall clock
will augment your garage-themed space especially well. The clock, available on Amazon, has a depth of 5.5 inches and a diameter of 18.75 inches.
With its polished chrome finish, the clock has a cool, shiny look to it. The resin housing supports dual neon rings that light up electric blue. Both rings are blown by hand.
This BMW clock has Sweep Technology so it never makes a ticking noise. You'll just have peace and quiet in your man cave. The silkscreen-printed numbers stay safe from fingerprints beneath a glass lens base. You can adjust the neon lighting anytime with a pull-chain switch.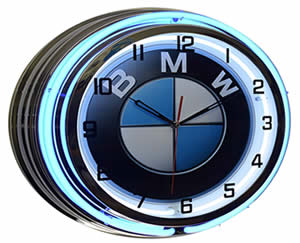 Personalized racing wheel wall plaque speaks of style & elegance
If you can't get enough of customized man cave décor then you'll definitely want this personalized racing wheel outdoor wall plaque from Home Wet Bar.
It's garage-themed as the entire plaque has a tire shape with a banner across the front that says "garage." You can also add in your name and the established date of your man cave.
If you don't quite like the plain pewter, you can choose from three other colors: dark blue/silver, red/silver, and black/silver.
This sign would work really well with the F1 engine espresso machine and racing wheel table.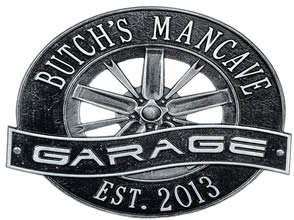 Dual-sided personalized hanging wall plaque is perfect for garage man caves
We also have to highlight this dual-sided personalized garage hanging wall plaque, which is another great pick from Home Wet Bar pick.
This double-sided plaque will take your man cave to the next level. It is perfect for hanging outside or just inside a garage man cave.
Both sides say the same thing, "[name's] garage, guy hideout." If you prefer, you can change all the text except "garage". So, you could easily change "Guy Hideout" to "Man Cave" or anything else you prefer so you have plenty of customization options with this one.
You get four awesome colors to pick from, the same ones we mentioned for the last item – dark blue/silver, red/silver, and black/silver.
Each sigh has a diameter of 12 inches and the aluminum has a rough finish you can feel good about. That's because each sign is made from repurposed metal that's eco-friendly.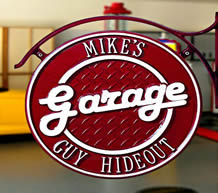 8 Awesomely unique man cave décor ideas you'll want today
These items don't quite fit in the above categories. They have their own special touches and flourishes that make them must-have items that fit in well with any type of man cave.
Whether you fill your own man cave with one of these unique items or several, your space will certainly stand out.
Authentic personalized German beer boot for making drinking fun again
Here's another drinking vessel you might want to display instead of use, although you can do either. It comes from Home Wet Bar.
So what's so unique about it?
As the picture below shows this glass has the shape of a real boot! It can hold half a liter or 18 ounces of fluid, so it's definitely not just for show. German beer boots come from the practice of literally drink beer from your own boot which was originally done by German soldiers nearly 100 years ago.
With a height of 7.5 inches, this beer boot will certainly make for an awesome centerpiece in any man cave environment. Coming straight from Germany, each glass boot gets blown into the ideal shape and can be fully personalized.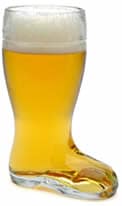 Cast iron hand ashtray for those celebratory cigars
You've already got a foot beer glass, so you might as well have this cast iron hand-shaped ashtray
to go along with it, right?
This interesting ashtray has a recycled cast iron base but is finished with silver or rust brown paint to give it an antique look.
It weighs 3.84 pounds and if you don't smoke you could use it as a place to put loose change or other small items. This neat and unique product from Comfify measures 9″ by 4″ by 2″.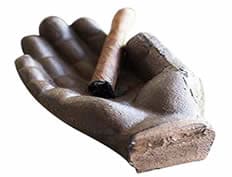 English bulldog cast iron bottle opener to remind you who won the War Of Independence
Another awesome cast iron pick is this this very unique bottle opener
that's the shape of an English Bulldog. With a depth of 1.5 inches, a width of 3.5 inches, and a height of 4 inches, it's big enough that you can display it proudly on the wall.
Each bottle opener gets a vivid paint job. Besides crimson red, you can also get this bottle opener in neon yellow and rich orange.
The intentional open mouth on the bulldog, which you use to open your bottle, looks especially great. Don't be afraid that you'll over-use this bottle opener, either, as it has an enamel finish for durability and extra shine.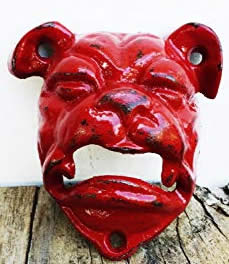 Phantom skull decanter with personalized rocks glasses bring class to your den
Our last drinking pick for your unique man cave décor comes also comes from Home Wet Bar (a website that's well worth a visit). Their Phantom Skull decanter makes for a nice decoration piece in a man cave bar.
The decanter has a Phantom Skull that has been expertly etched into the center. It's a 3D glass element viewable from multiple angles you turn the decanter, provided of course you pour lighter-colored liquid in there.
The decanter has a base of 3.75 inches and a height of 10.5 inches. You can fill it with 33 ounces of fluid.
The set of rocks glasses included with the decanter are also etched with a skull and come personalized. You can add up to two lines, including your name, a fun statement about your man cave, a year, or almost just about anything else you may want.
Each lowball glass measures 3.75 inches by 3.5 inches. They can hold 12 ounces of fluid.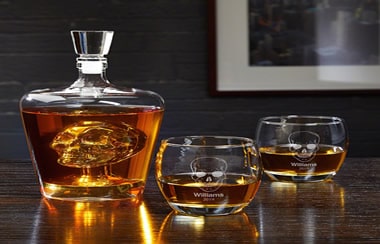 Arcade machines for some playable 80's nostalgia
Many guys who remember the 80's and 90's love to put arcade gaming machines in their man caves as a tribute to their childhood arcade visits.
But what if you don't have the room or the budget for these large, bulky machines?
Well there are some great machines available now that have a host of vintage arcade games on them. Most modern arcade machines are as small as a table but have large enough screens to replicate your old arcade days, like this one with 1,162 games from the 80's and 90's!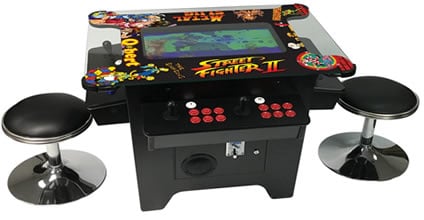 Casino slot machines bring Vegas to the man cave
If you want something a little different in your man cave then consider these casino style slot machines
that are replicas of the type of thing you see in Las Vegas hotel lobbies.
I wrote about creating a casino style man cave in this article but you don't need an entire Las Vegas styled man cave to get the benefit of adding a few casino machines. What's more it could be a fun way to save money or even make money from your buddies. 😉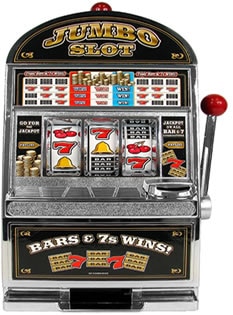 Nintendo controller coffee table for the avid man cave gamer
Do you have a retro gaming man cave or perhaps you just love old video games.
Did you used to love playing Nintendo games like Donkey Kong and Super Mario? Well how about playing them on a full size controller?!
If you have grown up with video games, such as Donkey Kong, Super Mario Bros., and The Legend of Zelda then you'll have a soft spot for old-school Nintendo gaming.
So, why not let yourself have hours of fun with a super cool Nintendo controller coffee table that adds to your man cave décor.
I wrote about this cool piece of man cave décor here where you can see a picture of it in use.
Man cave fridges can be fun
If you like to have a cold one in your man cave then you won't want to be running to the kitchen every time you finish a can.
So, you need a fridge for your man cave. But, like all things man-cavish no ordinary fridge will do.
With a wide range of cool fridges to choose from, like vintage 50's pop dispensers and Marshall amplifiers to a moving R2D2, Han Solo in carbonite and a host of others you can get a really cool fridge to suit any type of man cave.
I covered man cave fridges in more detail here in this article.

1 Super cool man cave décor idea that will light up any cave
This is such a huge topic that I have written an entire article on it and I urge you to read that.
Here are some of the more basic ideas from that article to help you get some ideas about cool lighting effects.
Super cool track lighting
Imagine having beer can lights and Bud bottle lights. Well you can with the cool track lights I wrote about here.
Or, what about some themed lighting such as a Harley Davidson headlamp that's been converted into a table lamp or what about some hanging lights made from snare drums?
For lots more cool lighting ideas read the aforementioned article.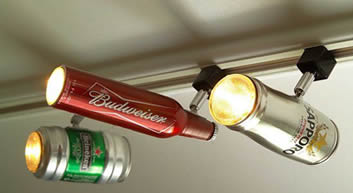 2 Man cave décor items with a twist
Man cave décor doesn't have to stop at the walls, the ceiling and the accessories.
Every man cave need furniture. And man cave furniture should never be boring!
Upcycled furniture is the only unique way to furnish your man cave
Don't settle for boring furniture when you can have really unique pieces for the price of some old junk.
Upcycling is the latest craze to hit DIY enthusiasts and man cavers. You just source some old junk, from barrels to abandoned vehicles and with a little bit of creativity and some work, you can turn them into stunning pieces of man cave furniture.
I demonstrated how to do this in the article about man cave furniture.

Multi-purpose furniture saves space while being fun
When space is at a premium but you don't want to comprise on fun think multi-purpose!
There are a ton of different multi-purpose fun items you can add to your man cave décor from these 3-in-1 foosball gaming tables to the 3-in-1 pool table (shown below) to the transforming dining table that can become a 7ft pool table or table tennis table.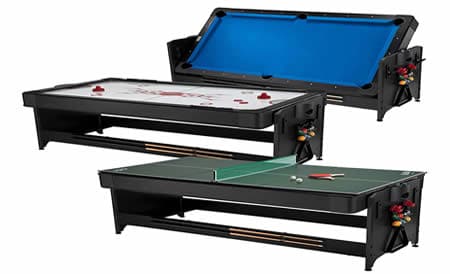 Summing Up My Man Cave Décor Recommendations
Your man cave looks kind of naked right now. With so many design ideas swirling around it's giving you a headache, you have no idea where to start. Instead of thinking of your plain man cave as a bad thing, reimagine it as a blank canvas. It's yours to do whatever you want with.
The ideas we shared above are easily combinable. You could cross rustic with sports man cave décor and go for some unique personalized signs and accessories. There's no limit to what you can do, so get out there and start decorating!
If you need additional help be sure to read the articles 100 Unique Man Cave Gift Ideas, Essential Items Every Man Cave Needs and 20 Man Cave Accessories You'll Be Sorry You Don't Have.