For you, baseball season never ends. You love the Yankees more than any other team, and you want to show your fanaticism in your man cave. You and a Yankees man cave go together like peanut butter and jelly, except right now you're missing the jelly.
Don't stress, as we have more Yankees man cave ideas than you'll know what to do with.
Top 10 Yankees Man Cave Designs You Can Copy Today
Let's get right into it, then!
1. Hit it out of the park with this Yankees man cave bar
Baseball and beer go together as well, just like our first man cave example shown below.
No, you're not looking at an image of one of the hottest sports bars in town. This is a private man cave.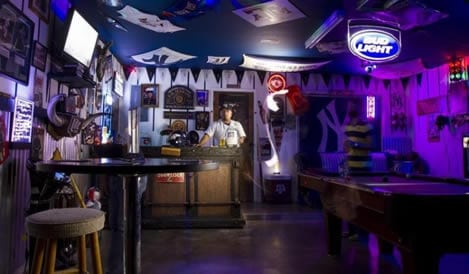 The cave is designed with the chic aesthetics of a beloved watering hole, while the man caver keeps his nods to the Yanks sparse but noticeable. For instance, how can you miss the Yankees signs, jerseys, and flags adhered to the ceiling?
The Yankees decorations have a bit of breathing room so they're not plastered right up there, thus calling even more attention to them.
However, you don't have to look hard for Yankees things as this man cave bar has more than a few. The giant Yankees wall art is still visible even though most of this bar is shrouded in mood-setting purple lights.
Replete with plenty of unique odds and ends (like the Miller Lite bull horns on the wall) as well as the bar standards like a pool table, we just hope there's no cover charge to get in!
The only thing we would change in this man cave is the furniture. We wrote an entire article on what furniture to use in your man cave and also have a great article about man cave bar stools that will give you some unique ideas for your bar stools (for instance we would use Yankees themed stools and tables in this man cave bar).
If you want to build your own man cave bar visit this page. If you need to build a man cave bar on a tight budget read this article first.
2. The Yankees memorabilia man cave madness
Who says you need a huge room in which to make your man cave? Small spaces have an intimate, cozy feel that's sometimes preferable over cavernous rooms.
Take, for instance, the man cave pictured below.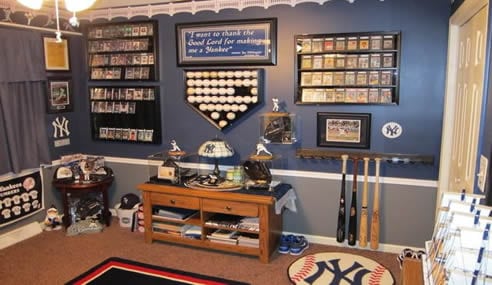 This man cave is a haven to all things Yankees and is filled with Yankees merch, and we quite like that about it. What it lacks in size, it makes up for in heart.
First, this man caver began by painting the walls the signature Yankees blue with some white and gray. Then he got simple colored curtains to match.
From there, he put up all his Yankees merch in one place, including baseballs, a dazzling array of cards, baseball bats, a small carpet, a lamp, and lots of other fun memorabilia.
Yankees decals on the walls and a Yankees mat helps complete the look and feel of the cave. Though this man caver has used a white red and blue mat there are many different Yankees variations available to suit all types of man caves and color schemes.
Who wouldn't want to spend time in here before the Yanks play?
If you lack the merch to match this man cave then fear not. For a huge range of authentic New York Yankees memorabilia visit Steiner Sports.
3. An attic conversion with a Yankees theme
Rather than disqualify an attic as a potential man cave just because it's got angled walls, take a step back and see what you can do with it.
Although the following man cave is also dedicated to the New York Mets it is a perfect example of what you can do with an empty unused attic.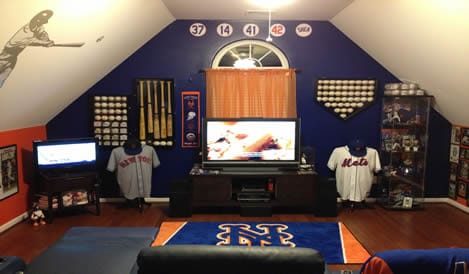 All you have to do is replace the Mets specific decor with only Yankees related décor and merch and you'd have the perfect baseball man cave!
Our next pick is an attic in a home, which means it's secluded enough to make the perfect man cave. Once it's fully decorated, you might find you prefer the slants of the walls over a room with a more traditional shape. The angular walls actually help draw attention to the baseball merch.
This man caver dug out his paint brush and made one wall dark blue and the others white and red.
He used a decal of a baseball player hitting it out of the park on one of the slanted walls as well. Again there are many different variations and sizes of baseball decals available
to suit all types of man caves.
Then he went nuts on the décor, hanging up his assortment of Yankees and Mets memorabilia including baseballs and bats. He used glass cases for his smaller merch. His colorful Yankees rug adds brightness and helps with the baseball theme. He cleverly hung a few of his favorite jerseys on mannequin bodies.
We often see jerseys framed, so using mannequins is another option to consider as it's a great way to showcase clothing.
4. The Yankees playroom for adults
Another space that any man caver on a budget can recreate is the one pictured below.
This Yankees man cave can be created in a small basement or spare room easily.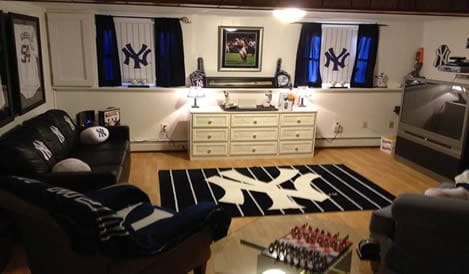 Instead of painting the walls like many man cavers before him, this guy kept the walls plain white and hung Yankees curtains instead. Against the white backdrop, the signature blue Y logo on the curtains really stands out.
The wraparound couches, each emblazoned with that same logo, circle around a TV (which could be bigger in our opinion). If getting the logo put on the couch sounds like too much hassle and expense then consider using these type of couch pillows insead
.
Other points of interest in this man cave include the Yankees throw rug, and wall art, and a baseball themed chess set on a glass table.
Imagine having your friends gather around and watch the World Series here. That'd be a moment for the books!
5. Small Yankees man cave shows you don't need a lot of space
Size doesn't have to be an issue!
Rather than do an ornate paint job, this savvy man cave owner used these new york yankees fatheads
featuring his favorite Yankees players.
The entertainment center has small touches of Yankees love as well, such as folded shirts and blankets.
Due to space restrictions this man caver has been very modest in his Yankees setup as too much merch could make the room feel oppressive. This example just goes to show what you can do even in the tightest of spaces.
Whether you have a spare room, a basement, or a garage in which to create your Yankees man cave, you will find this idea works for any of those spaces.
6. Old school Yankees man cave
Do you often hanker back to the good ole days?
You have nothing against the current Yankees roster, but you're more of a fan of the much older days of the team's history when it had real true hall of famers.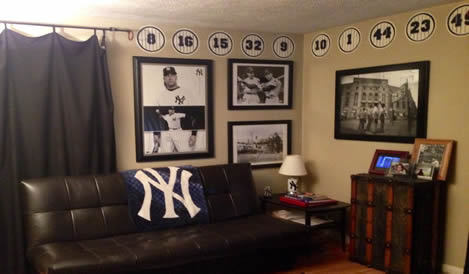 Well you can showcase that preference with a tasteful man cave like the one in the image below.
Perfect for a living room or spare room, this man cave doesn't have a ton of bells and whistles, but it is New York Yankees through and through. Its minimalist approach makes the décor touches stand out that much more.
For instance, you've got framed black and white photos of baseball players of yore. There are also baseball-shaped stickers of favorite Yankee numbers on both walls. The small Yankees lamp
blends right in.
We also like the Yankees throw on the black couch, as it adds cohesiveness to this man caver's efforts. All in all, this is one understated yet cool man cave!
We would hang a baseball glove 1971 patent print
to complete the look.
7. Mix and match Yankees man cave theme
You probably have other passions in your life besides baseball and the Yankees (hard to believe, we know).
This man caver likes movies as well.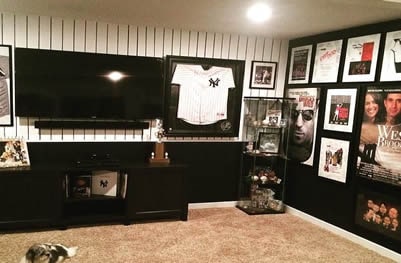 In his man cave, shown below, this man caver has married his two loves into one awesome man cave that somehow works really well.
On the one wall, he placed white wallpaper that has black vertical stripes just like a baseball uniform. It looks like the pinstripes on a Yankees baseball jersey. On this wall he has framed jerseys and pictures of the New York Yankees.
On the adjoining wall he went for solid black. He then added his favorite movie posters making sure the majority of them had white backgrounds to offset the black wall.
In the entertainment center nook is a collection of more Yankees stuff.
The glass case with all this man caver's baseball merch is much more obvious, even though it's tucked into the corner. If you have other interests besides baseball or even two teams you love, try making a dual room like this! For instance you could even make half the room a basketball man cave and half a baseball man cave.
8. Field of dreams in your Yankees man cave
Why go to the stadium when you can bring the stadium to you?!
This man cave sure is something extraordinary. The man behind the creation was fortunate in that he had a very large room to work with, though a basement or garage would do if you want to recreate this man cave.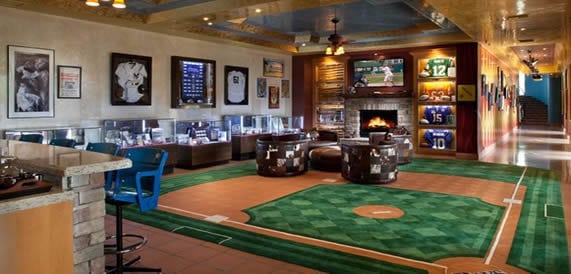 Hardwood flooring makes it much easier to just throw down some baseball-themed carpet, which looks like a real deal baseball diamond.
Now, this could really be an ode to baseball in general save for the Yankees jerseys on the walls. If you want to take this man cave one step further, then add all the Yankees merch you can shake a stick at.
9. A graffiti dream man cave – Yankees style!
Okay, so technically this is a bedroom, but if you change out the bed for a couch, then you can make it a man cave just as easily.
This funky, vivid space will require a lot of handiwork and skill with a paintbrush if you plan to do it by hand.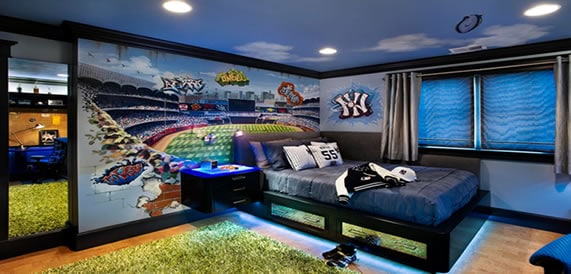 If you yourself don't have that skill, then you might want to consider hiring someone who does so they can deliver awe-inspiring results like these. Otherwise you can recreate the same type of image using a mix of decals.
The stunning colors, life-like detail, and graffiti style art meld together into a truly one-of-a-kind dedication to the Yankees and New York.
A ceiling painted like a blue sky blends in seamlessly with the wall art and gets augmented with skylights. If you can get furniture backlit with neon lights, that'll make this man cave look about 10 times more awesome.
10. The Yankees hall of fame man cave
Can't get to the Baseball Hall of Fame? No problem! Bring the Hall of Fame to you in your man cave.
The man cave pictured below has been created in a generously-sized basement space.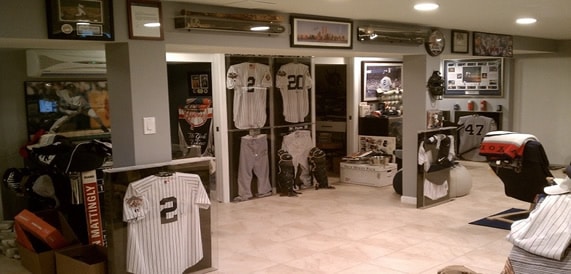 So, if you want to recreate this man cave make sure you have a room of a similar size if you want to pull this off. After all, it's the different levels that allow this man cave to have that Hall of Fame look.
Once you've picked your room, paint the walls a neutral color. Leave out the bright Yankees blues this time as the merc will fill in that hole. You don't want the walls to detract from what matters, after all, and that's the fruits of your years of avid collecting.
Get frames for everything you can, including jerseys, and glass cases for baseballs, bats, and other noteworthy memorabilia. Then you're all set!
You'll need some collectibles for this type of man cave like those authentic autographed collectables like these from SportsMemorabilia.com.
A final note for all you Yankees bleacher creatures
As a Yankees fan, you bleed blue.
Whether you have a bit of merch or a whole lot, you can easily show your passion for your favorite team with an incredible man cave inspired by one of the 10 on this list.
For more baseball inspired man caves read our article that has baseball man cave ideas that knock it outta the park.